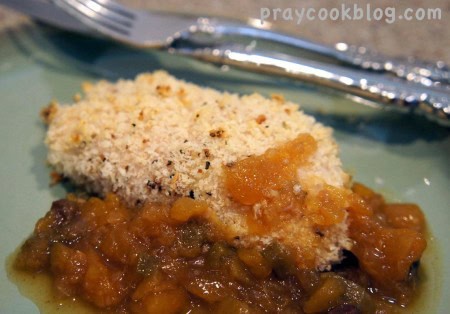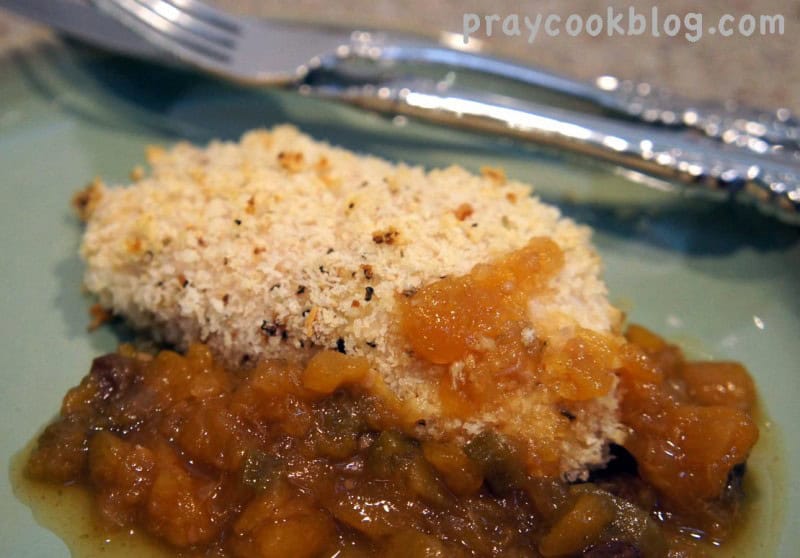 We eat chicken. A lot of chicken. Chicken is my favorite meat.  My sous-chef dish-washing mom loves to recount the story that when I was growing up I only ate chicken drumsticks and an occasional hamburger, when it came to meat.  I don't recall being that picky, but who am I to question mom?  My tastes have definitely matured — now I eat only white meat aka chicken breast! 🙂 (Mom is rolling her eyes right now.) Before you even say "how boring" let me ask you —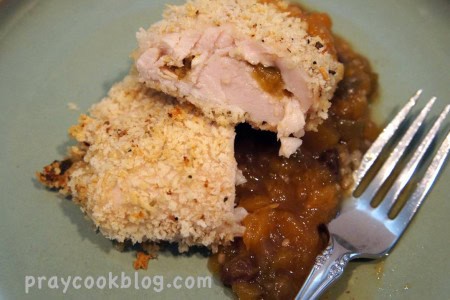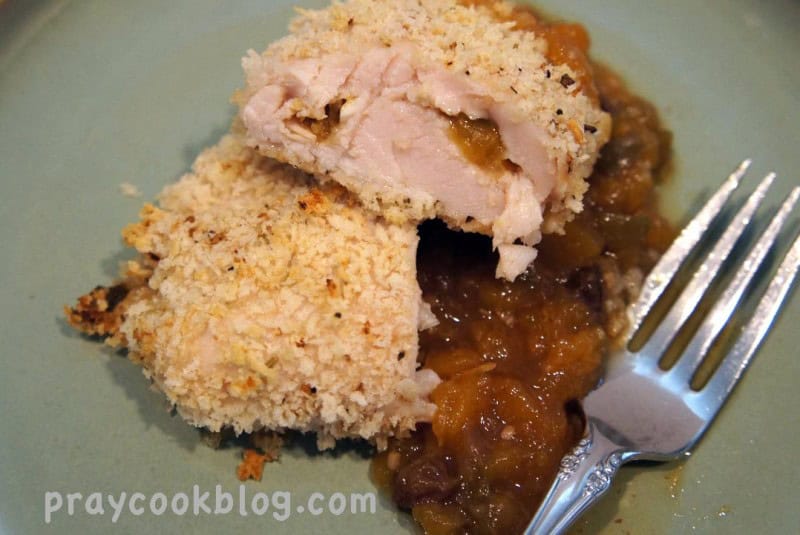 Does this chicken look boring?  I don't think so either!  It is fantastically delicious.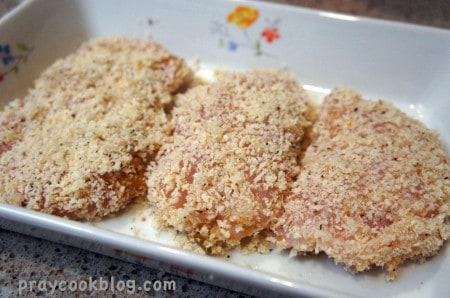 Not just because it is stuffed with my recently made Spicy Peach Chutney, it is fantastic because it only took a few minutes to put together,  30 minutes to bake and the chicken is moist and loaded with the spicy flavor from the chutney.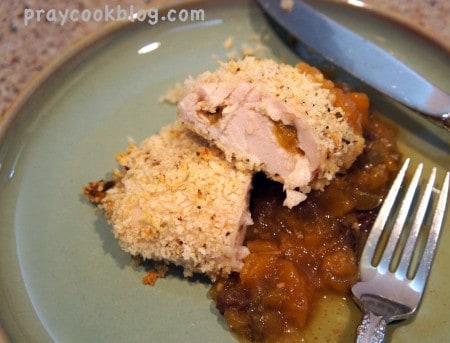 If you don't care to make your own chutney, this recipe is still work doing, just shop the jam and jelly isle at the grocery store and buy some peach chutney.  It may not be spicy, so you can always add in a few pepper flakes or 1/4 teaspoon cayenne pepper or red pepper of your choice. Stuffed chicken breasts can be so delicious, elegant to serve and wonderful to eat!
Happy Chicken Eating!
Blessings, Catherine
The beginning of the gospel of Jesus Christ, the Son of God. As it is written in Isaiah the prophet, "Behold, I send my messenger before your face, who will prepare your way,the voice of one crying in the wilderness:'Prepare the way of the Lord, make his paths straight,'"  Mark 1:1-3
Baked Chicken Stuffed with Peach Chutney
This moist and tasty chicken is as pretty a presentation as it is delicious!
Ingredients
4 halves - boneless chicken breasts (or as many as you need, 1 per serving)
1 jar peach chutney or 1 cup homemade spicy peach chutney
2 cups Panko bread crumbs
2 teaspoon garlic rosemary seasoning or favorite seasoning for chicken
Salt and Pepper, to taste
2 eggs, beaten
Instructions
Pre-heat oven to 350 degrees.
Mix together Panko bread crumbs and seasoning.
Pound each piece of chicken breast to about ¼" flat.
Spread 2 to 3 teaspoons chutney on middle of breast, depending on size of meat. Don't get the chutney too close to the edges.
Starting with short, roll-up each piece of chicken, securing with a toothpick.
Dip rolled chicken into beaten egg and then into Panko/seasoning mixture.
Lay on baking sheet.
Bake for 30 minutes or until chicken is done and nicely browned.
Serve with warmed chutney on the side.
Notes
This recipe easily adapts for a crowd. Can be made ahead of time and placed in the refrigerator for several hours before baking.