When You Want To Be Courageous
Be strong and courageous. Do not be afraid or terrified because of them, for the Lord our God goes with you; he will never leave you nor forsake you.  Deuteronomy 31:6
Be strong and courageous, because you will lead these people to inherit the land I swore to their forefathers to give them. Joshua 1:6
It's time for our Third cookbook giveaway!  Just head to the comment section and leave any comment to be automatically entered!  What is your "must have" recipe for the holidays?  Please comment and share with us that one tasty something you won't go through the holidays without.  Mine … Peppermint ice cream!  What is yours? Drawing to be held Monday, December 19 at 7:00 p.m. central time.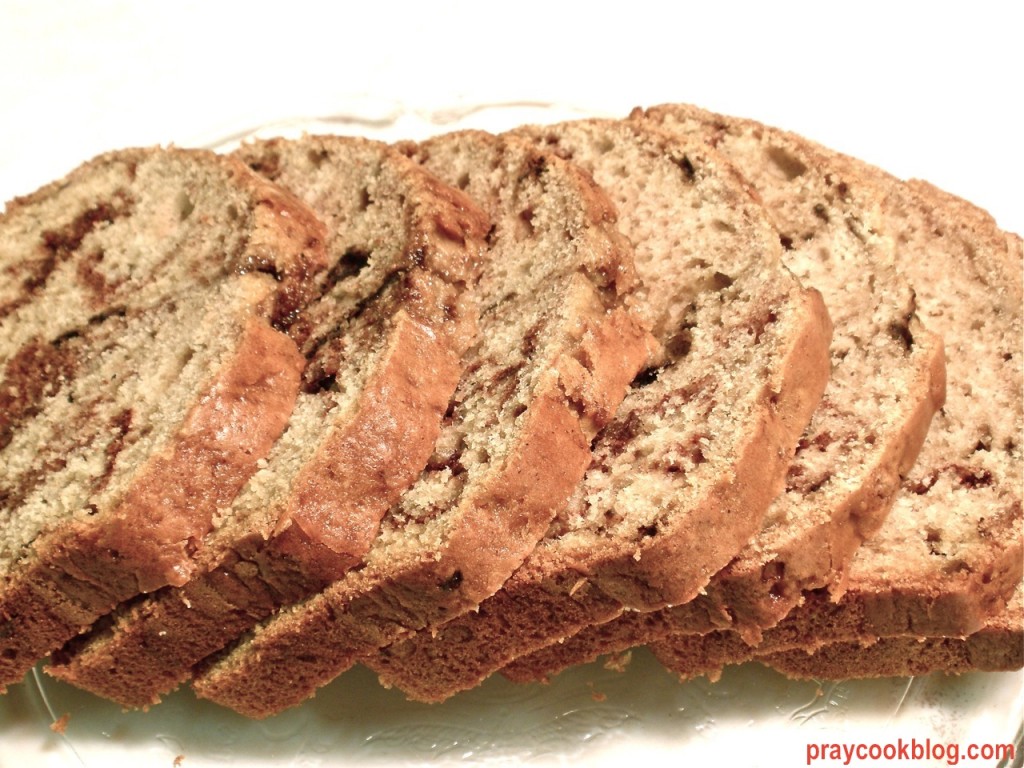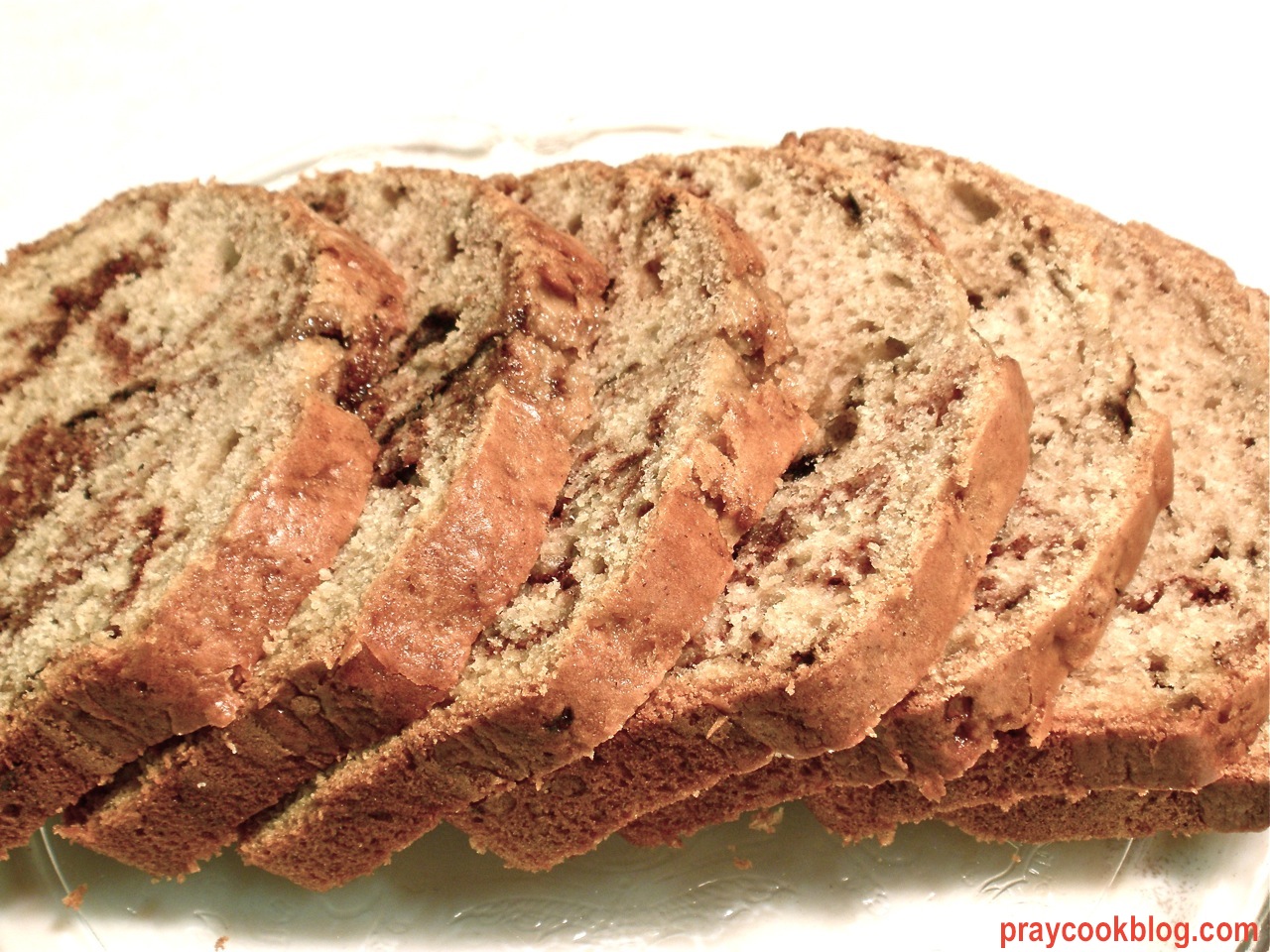 I love giving the gift of bread.  There is something about the aroma of fresh homemade bread that just brings everything into perspective for me.   If you are still wanting to do something special for a neighbor or friend, giving the gift of a quick bread may be just the thing!  If you don't have the time or inclination to make yeast bread, quick breads can be sweet or savory loaves.  The convenience of quick breads comes from the fact that they are leavened with baking powder and/or baking soda, not yeast.  So you can mix, bake and enjoy these baked goods in less time than traditional yeast breads.  Quick breads also make for a fantastic addition to Christmas morning breakfast, Christmas eve soup supper, or Christmas dinner!  Click HERE for some timely information about baking soda and baking powder!  Be sure and check for freshness in your baking powder and baking soda.  When I did, my baking powder actually has lost its leavening ability although it isn't expired.  My baking soda expired in 2005, but hasn't lost its ability to leaven.  Check this FACT SHEET to see how you can test your soda and powder.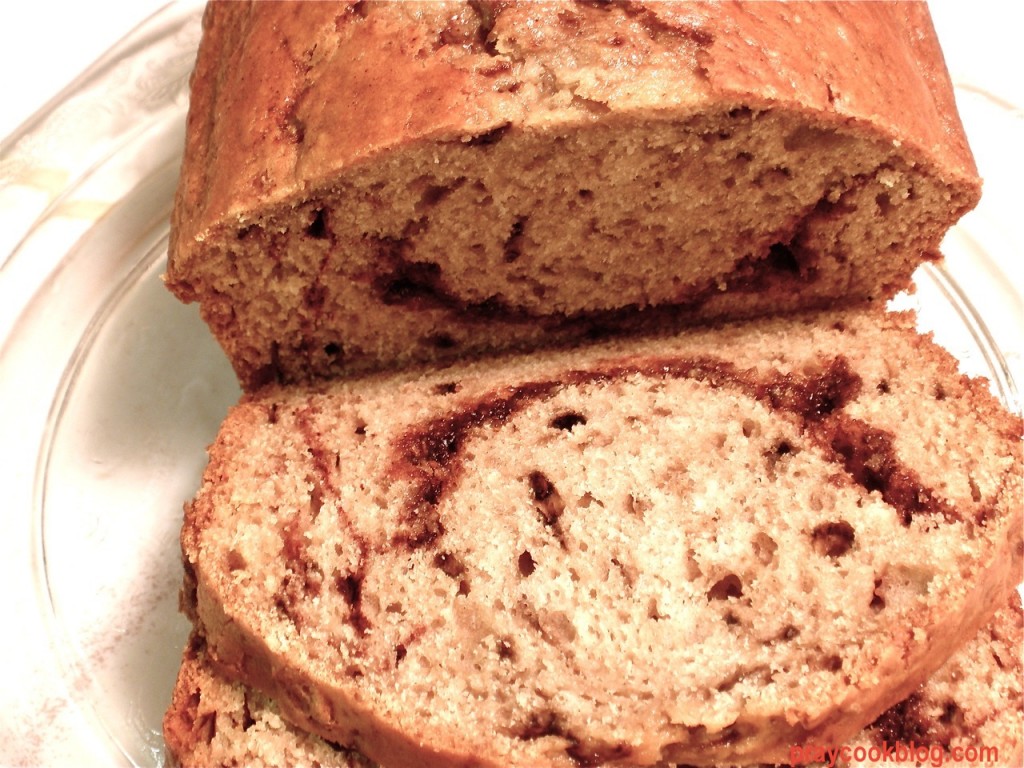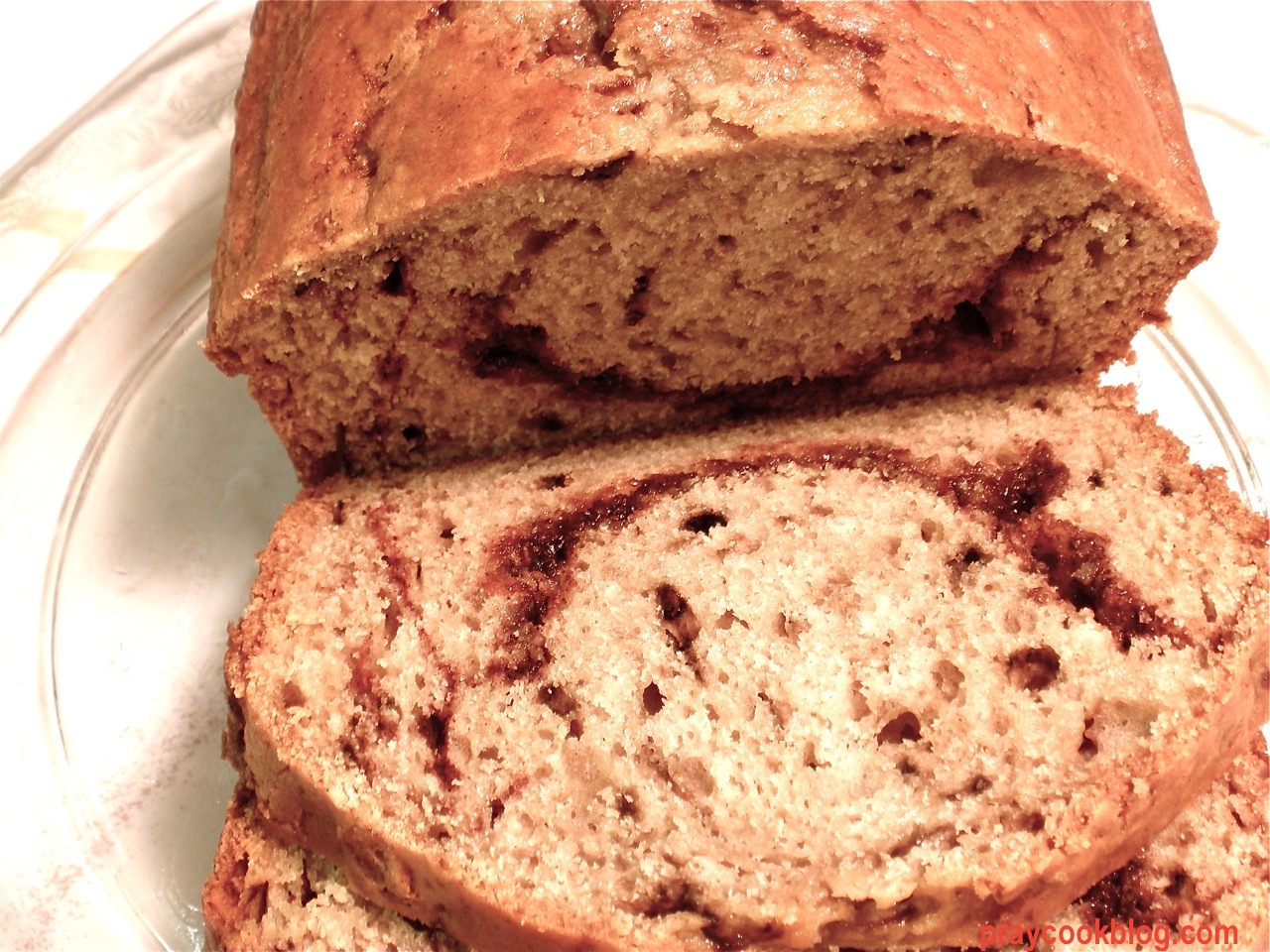 I recently adapted a cinnamon raisin bread recipe to come up with this absolutely fantastic Cinnamon Mocha Bread.  My two culinary consultants agree with me that cinnamon, cocoa and coffee flavors are a big hit when combined in this sweet bread.  As a matter of fact, it is so good you will think you are eating cake!  (Recipe posted below)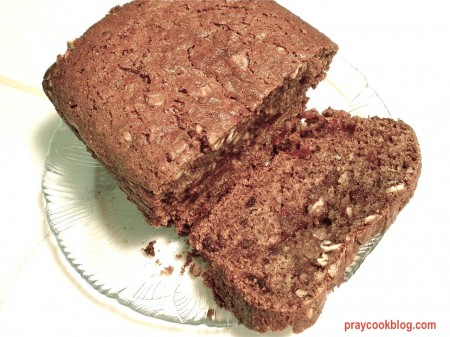 The second quick bread I made was this Date Pecan Tea Bread.  I add some Craisins (exchanged for 1/2 cup of dates) to give the bread a little coloring.  This dense bread recipe comes with a cream cheese spread, although we found it delicious with no added butter or spread. (Recipe posted below).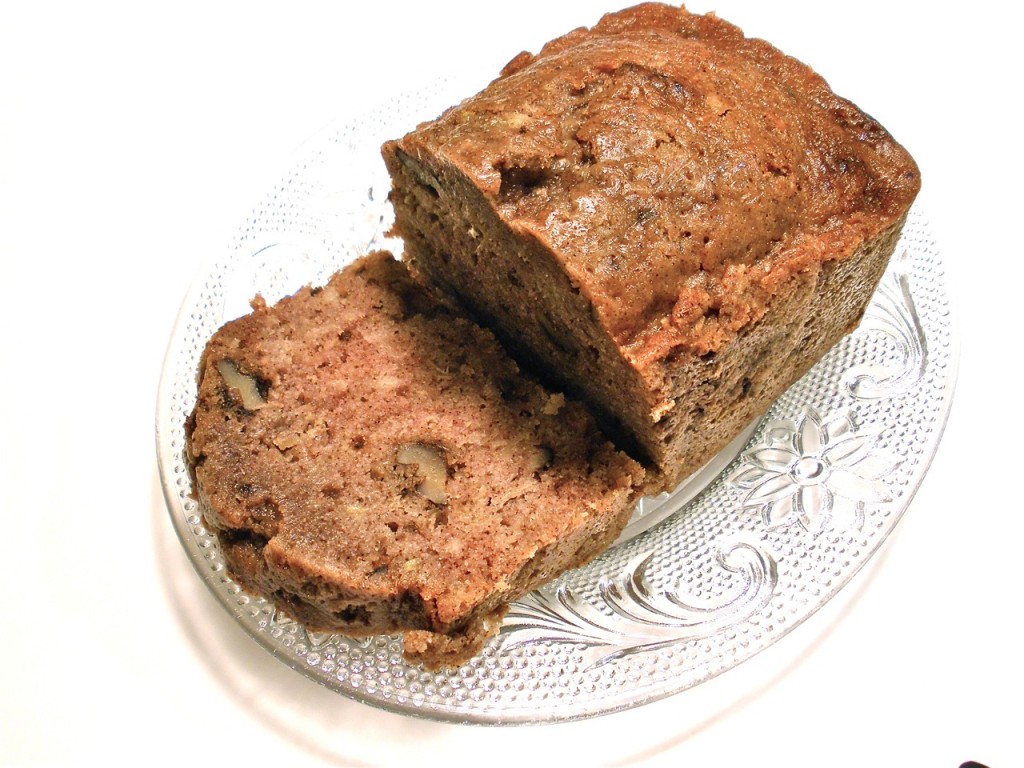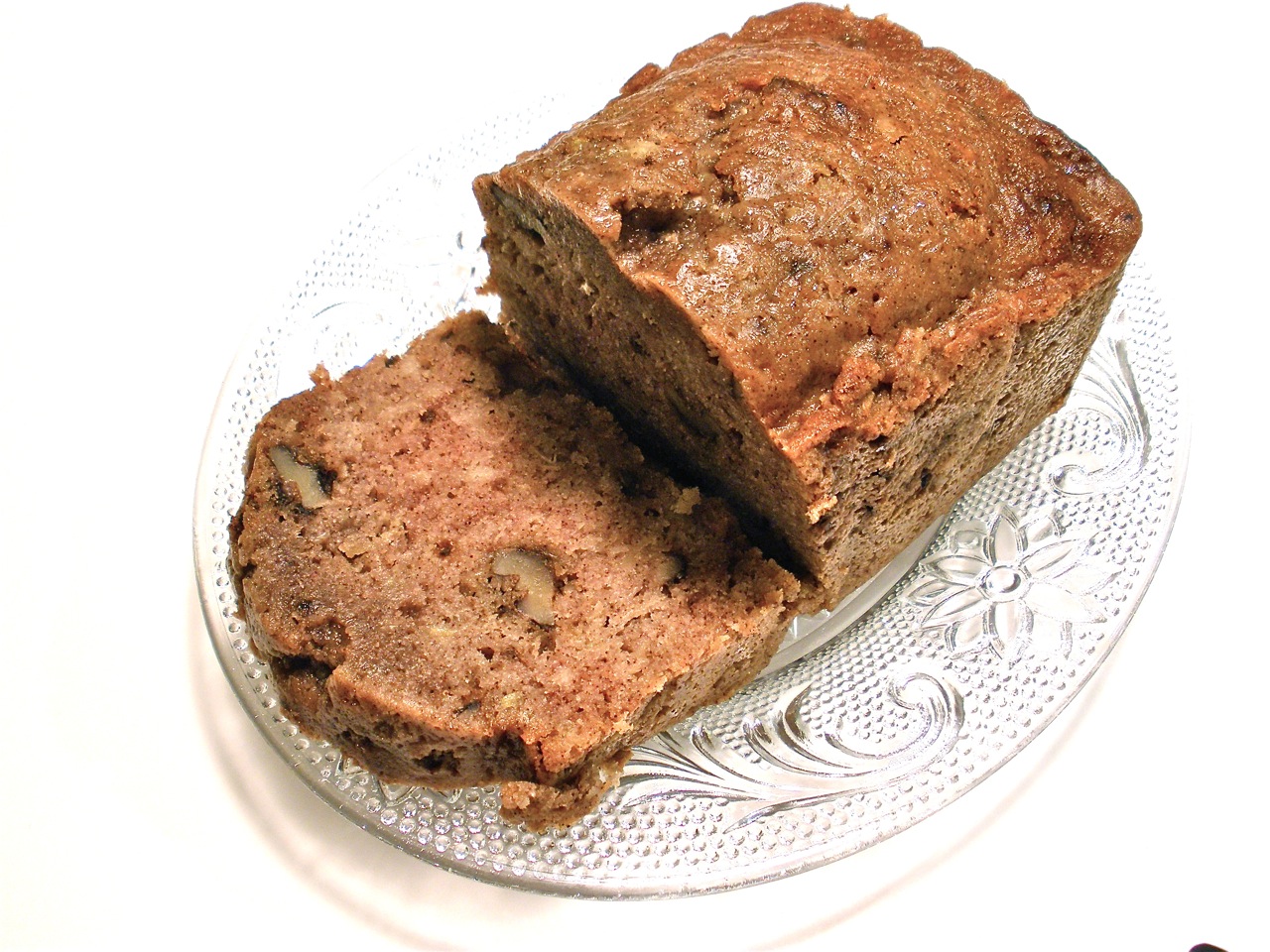 My last of the quick bread recipes for today is one of the best known of quick breads – and one of everyone's favorite – Zucchini Bread!
One of the best gifts anyone receives during the Christmas holidays has got to be "something lovin' coming from the oven!"  Zucchini bread can be made in small loaves for gift gifting or the larger loaf pictured in this post.  This bread was a gift to us from my sister-in-law, Donna.  We enjoyed it to the last drop!  Thank you Donna!
Don't forget to leave a comment to be included in today's drawing for the 2011 Southern Living Christmas Cookbook!
Many Blessings and Happy Cooking!


Cinnamon Mocha Bread

Swirls of cinnamon add eye-catching appeal to the delicious flavors blended by the coffee and cocoa. The combined mocha and cinnamon make for a bread so rich you'll think you are eating cake!

Author:

Adapted from Taste of Home Cookbook

Ingredients

4 cup All-purpose Flour
2 cup Granulated Sugar
3 teaspoon Instant Coffee Granules
1 tablespoon Cocoa
2 teaspoon Baking Soda
1 teaspoon salt
2 eggs
2 cup buttermilk
½ cup Canola Oil
½ cup raisin
3 teaspoon Ground Cinnamon

Instructions

In a bowl, combine the flour, 1½ cups sugar, coffee granules, cocoa, baking soda, and salt. In a small bowl, whisk the eggs, buttermilk and oil. Stir into the dry ingredients just until moistened. (Optional -- fold in raisins)

Transfer a fourth of the batter into each of two greased 8"x4" loaf pans. Combine cinnamon and remaining sugar; sprinkle half over batter in each loaf pan. Repeat layers.

Cut through batter with a knife to swirl.

Bake at 350 degrees for 55 to 60 minutes or until a toothpick inserted near the center comes out clean. Cool in pans for 10 minutes; remove from pans to wire racks to cool completely.


Notes

(1) Grease and flour pans well so the bread will not stick.

(2)  Raisins are optional.  In the picture raisins were not used.




Date Pecan Tea Bread

This moist, nicely sweet bread is excellent on its own and even better topped with the chunky cream cheese spread.

Author:

Taste of Home Cookbook

Ingredients

2½ cup Dates. Chopped
1½ cup Boiling Water
1¾ cup All-purpose Flour
1½ teaspoon Baking Soda
¼ teaspoon ground cloves
¼ teaspoon Ground Cinnamon
¼ teaspoon Ground Ginger
¼ teaspoon Nutmeg
2 tablespoon butter, softened
1¼ cup Granulated Sugar
1 egg, slightly beaten
2 teaspoon Vanilla Extract
1½ cup Chopped Pecans

Spread

3 oz cream cheese, softened
2 tablespoon dates, chopped

spread

2 tablespoon Pecans, chopped
1 tablespoon milk

Instructions

Place dates in a bowl, pour boiling water over dates. In a small bowl, combine the flour, baking soda, cloves, cinnamon, ginger, and nutmeg, set aside.
In a large bowl, beat butter and sugar until crumbly. Beat in egg and vanilla. Add flour mixture alternately with date mixture. Stir in pecans.
Transfer to a greased and floured 9"x5" loaf pan. Bake at 350 degrees for 65 to 75 minutes or until a toothpick inserted near the center comes out clean. Cool for 10 minutes; remove from pan to wire rack to cool.
In a small bowl, combine spread ingredients. Cover and refrigerate for 1 hour. Serve with bread.

Notes

(1) Be sure and grease and flour the pan well.  This bread is a little on the heavy side and will stick to the pan if not prepared well.

(2)  Can substitute some of the dates for dried cranberries for a little red coloring for the holidays!




Holiday Zucchini Bread

Nutty and moist Zucchini bread that gets eaten as quickly as it is made!

Ingredients

3 cup All-purpose Flour
1 teaspoon salt
1 teaspoon Baking Powder
1 teaspoon Baking Soda
2 teaspoon Ground Cinnamon
3 Eggs
1 cup Canola Oil
2 cup Granulated Sugar
3 teaspoon Vanilla Extract
2 cup Zucchini, grated
1 cup Walnuts, fnely chopped

Instructions

Grease and flour two 8 x 4 inch pans. Preheat oven to 325 degrees F.
Sift flour, salt, baking powder, soda, and cinnamon together in a bowl.
Beat eggs, oil, vanilla, and sugar together in a large bowl. Add sifted ingredients to the creamed mixture, and beat well. Stir in zucchini and nuts until well combined. Pour batter into prepared pans.
Bake for 50 to 60 minutes, or until tester inserted in the center comes out clean. Cool in pan on rack for 10 minutes. Remove bread from pan, and completely cool.
Serve warm or room temperature, with or without butter!

Notes

(1)  Sometimes I add ½ cup raisins or Craisins.