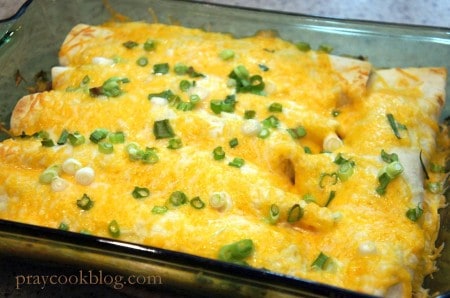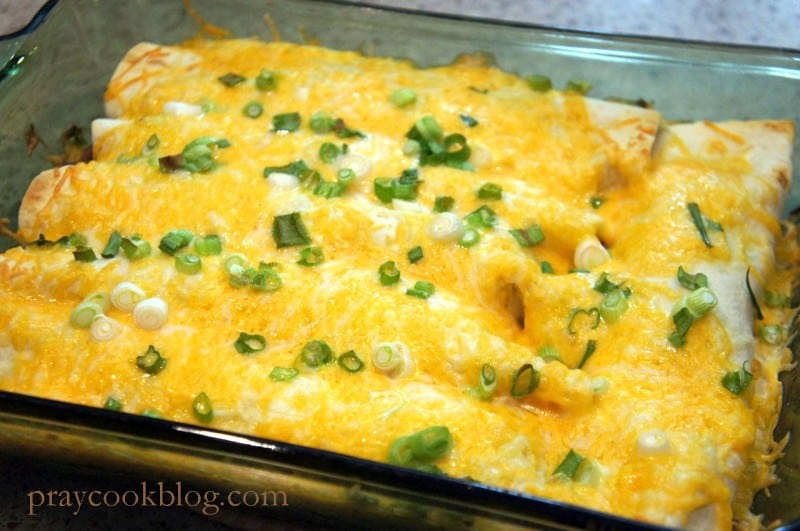 We don't eat a lot of Mexican food.  I know, crazy, huh?  But by the time I start adding up flour tortilla carbs and calories, throw in some red meat and smother in cheese, well you probably get the idea!  But when The Recipe Girl  posted a "healthy version" of a burrito casserole I couldn't resist!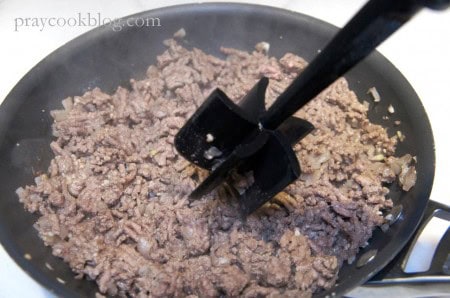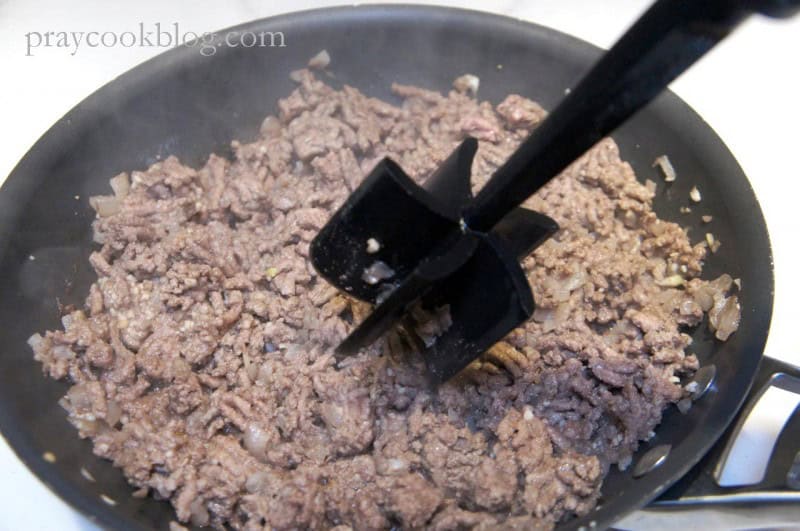 I used a really lean ground beef, but a ground turkey will work equally well. If you don't have one of these handy Mix and Chop kitchen tools I encourage you to get one.  This one came from Pampered Chef but I have seen them in kitchen stores now.  The beveled pinwheel blades efficiently chop and crumble foods for even cooking and seasoning.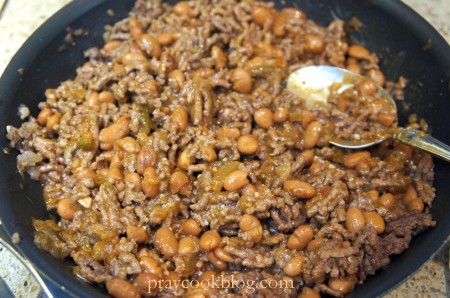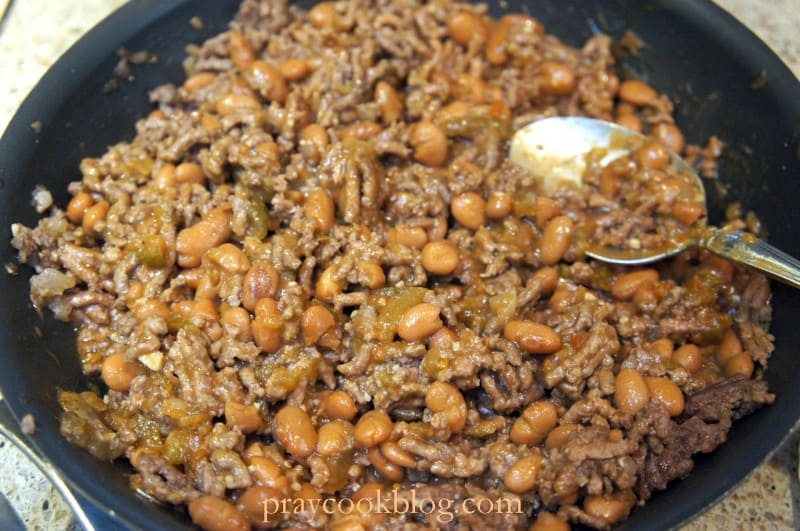 Chopped onion, minced garlic, oregano, cumin and salsa all mix to make this yummy filling.  The  Recipe Girl drains her chili beans before adding to the meat.  I didn't because that would drain off so much of the tasty seasoning in the chili beans. I used a little less salsa to make up for not draining off the beans.
This filling is divided among 10 flour tortillas, rolled up tight and placed in a baking dish.  I went a little heavy on the cheese, sprinkled on chopped green onions and baked until it was heated through and the cheese bubbly.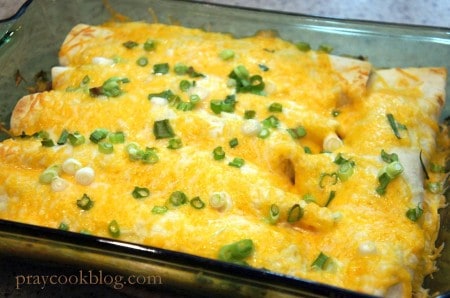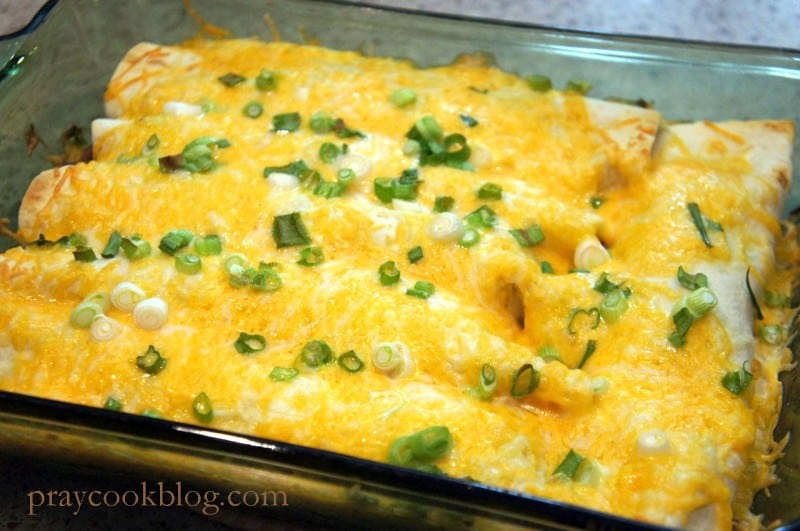 I planned to take another picture after we had eaten through part of this but we had a feast and the little bit leftover didn't look so pretty! 🙂  We all enjoyed this tasty dish with some Spanish rice and a green salad.
Happy Cooking!
Catherine
Beef Burrito Casserole
Fast, easy, delicious - just my kind of dinner!
Ingredients
1 lb. ground beef or ground turkey
1 small onion, chopped
2 tsp. minced garlic
½ teaspoon ground oregano
½ teaspoon ground cumin
One 14-ounce can chili beans
¾ cup chunky salsa
10 - 8 inch flour tortillas
2 to 3 cups shredded cheddar or jack cheese (or a combination)
3 green onions chopped
*Optional side ingredients: sour cream, salsa, and fresh avocado for serving
Instructions
In a large nonstick skillet, cook the beef, onion, and garlic over medium heat until the meat is no longer pink. Spoon out any fat. Add oregano, cumin and undrained beans. Continue to heat for about 5 minutes, then stir in ¾ cup salsa.
Preheat the oven to 350 degrees F. Spray a 13" x 9" glass baking dish with nonstick spray.
Spoon about ½ cup meat/bean mixture onto the center of each tortilla. Sprinkle with a pinch of shredded cheese. Roll up tightly and place the filled tortilla seam-side-down in the pan. Continue with the remaining tortillas and filling until you have filled all the tortillas and have them snugged into the baking dish.
Sprinkle with remaining cheese and sprinkle the green onions on top of the cheese. Cover with greased foil and bake for 20 minutes. Remove the foil and bake for an additional 5 to 10 minutes, until the cheese is hot and bubbly.
Serve burritos with sour cream, salsa, and avocado, as desired.
Notes
Adapted from www.recipegirl.com