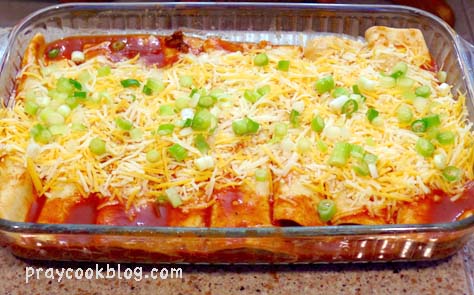 Sometimes I just get so hungry for Mexican food. Neither my sous chef dish-washing mom or The Chief  care all that much about eating out in Mexican restaurants.  I really think the problem stems from our total lack of control when it comes to the chips and salsa delivered to our table the minute we arrive.  At that point we are HUNGRY and we've been known to scarf down a basket of the crispy delights  before we even order our meal!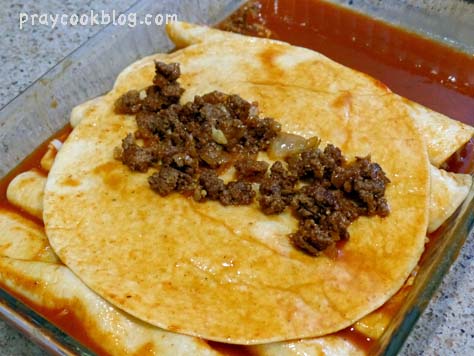 By the time our food arrives our stomachs are no longer growling and The Chief has already dripped salsa on his shirt.  The huge plate of pooling beans, rice, and enchiladas no longer hold the same appeal.
When Joy The Baker posted a step-by-step family event involving enchiladas, green olives and raisins I was intrigued and a bit hungry.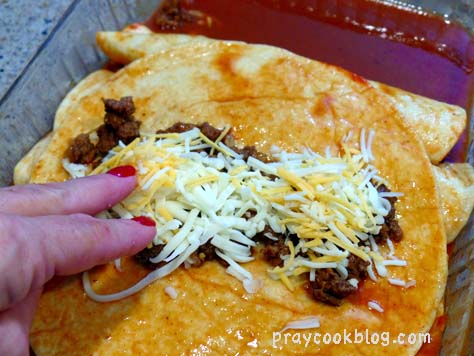 I confess, you will not find green olives or raisins in my adapted recipe. After reading several reviews from those who couldn't resist the addition I decided to forgo the "gourmet" enchiladas and stick with what I know.  One of her reviewers simply said, "Yuck."  That was enough to have this conservative eater (sorry folks, I'm not so adventurous) reaching for extra onions and cheese!  When I broke out the jar of jalapenos I knew something special was happening.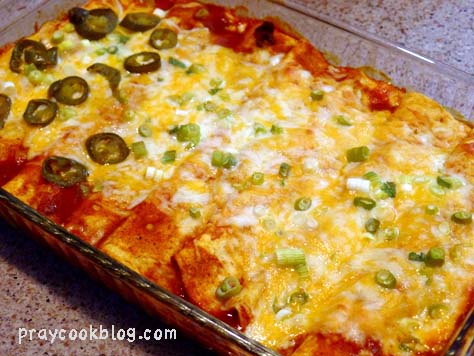 I don't like dry enchiladas and there is plenty of sauce in this batch to keep them soft, cheesy, and perfectly yummy.  I like the addition of chicken broth to the store-bought enchilada sauce. You'll see a few jalapenos sprinkled across one end of the dish for my Chief Jalapeno-eater.  Sprinkled green onions were exciting enough for my sous chef dish-washing mom and I!
I use flour tortillas rather than corn tortillas.  I just like them better for enchilada's but you can use either one.  Just remember you will need to lightly fry the corn tortillas if you go that route.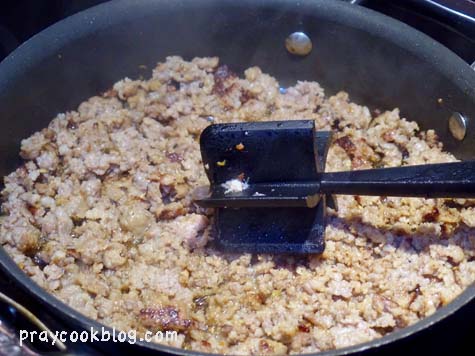 This "mix and chop" is one of my favorite kitchen utensils.  If you have the chance to buy one – do it!  As ground beef or sausage cooks this little mincers-mixer-chopper breaks up the meat into nicely proportioned pieces.
Don't let the seemingly long list of ingredients or instructions keep you from making these wonderful enchiladas.  Just a little prep time in the kitchen will turnout a stellar meal!  A nice green salad and a modest amount of chips and salsa rounded out our Mexican dinner. The dinner conversation centered around how much my family likes eating Mexican food – at home!  🙂
Happy Tortilla Rolling!
~Blessings, Catherine
Ephesians 5:19-20  (esv)
"addressing one another in psalms and hymns and spiritual songs, singing and making melody to the Lord with your heart, 20 giving thanks always and for everything to God the Father in the name of our Lord Jesus Christ,"
Beef Enchiladas
Let the festivities begin when these enchiladas are on the menu. A terrific main dish for a fun family dinner!
Author:
Adapted by Catherine Daugherty
Ingredients
For The Sauce
1 tablespoon canola oil
1 tablespoon all-purpose flour
1 can (28 Ounce) enchilada sauce
2 cups chicken broth
½ teaspoon salt
½ teaspoon ground black pepper
For The Filling
1 tablespoon canola oil
1 small yellow onion, chopped
1 clove garlic, minced
¾ teaspoon ground cumin
1 pound ground beef
⅓ cup enchilada sauce
salt and freshly ground black pepper to taste
To Assemble
10-12 flour tortillas*
3-4 cups grated monterey jack cheese and/or Mexican Fiesta Blend Cheese
green onions and/or jalapenos for garnish
Instructions
For the sauce, in a large saucepan over medium heat, add oil and flour and whisk together to make a paste, cooking for one minute until well combined. Pour in the enchilada sauce, chicken broth, salt and pepper. Bring to a boil. Reduce heat and simmer 30 minutes uncovered. Remove from stove to cool slightly before assembling.
To make the filling, in a large skillet, add beef, cumin, onion and garlic and cook, crumbling the meat with a wooden spoon or mallet until no trace of pink remains, about 4 minutes. Remove from heat and drain well in a colander. Return to pan, add about ⅓ cup simmering enchilada sauce and stir well. Season to taste with salt and pepper. Cool slightly before assembling enchiladas.
To assemble,
Place a rack in the center of the oven and preheat oven to 350 degrees. Pour ¾ cup enchilada sauce in bottom of 9" x 13" baking pan. Spread to even out. Dip each tortilla into red sauce, then remove to pan. Spoon meat and a little grated cheese into the center of tortilla. Roll up and end seam side down in the baking pan. Repeat until pan is filled. Pour extra sauce over enchiladas. Top with remaining cheese. Sprinkle with green onions and/or jalapenos.
Bake for 25 minutes or until bubbly.
Notes
* Can use 14 to 18 small corn tortillas, if you prefer. Heat 3 tablespoons of canola oil in a small skillet over medium heat. One by one, using tongs, fry tortillas in oil until soft, not crisp – about 30 seconds per side. Add a bit more oil to the pan as necessary between batches. Remove to a paper—towel lined plate. Repeat until all tortillas have been fried. The tortillas are now ready to assemble.

Recipe adapted from Joy The Baker.