When You Want To Be Understanding

Teach me your way, O Lord; lead me in a straight path because of my oppressors.  Psalm 27:11
Counsel and sound judgment are mine; I have understanding and power.   Proverbs 8:14
Merry Christmas!   I know it is the week of Thanksgiving, but for me Christmas came early this year in the form of this very cool 5 in 1 Cuisinart Panini Maker and Griddle!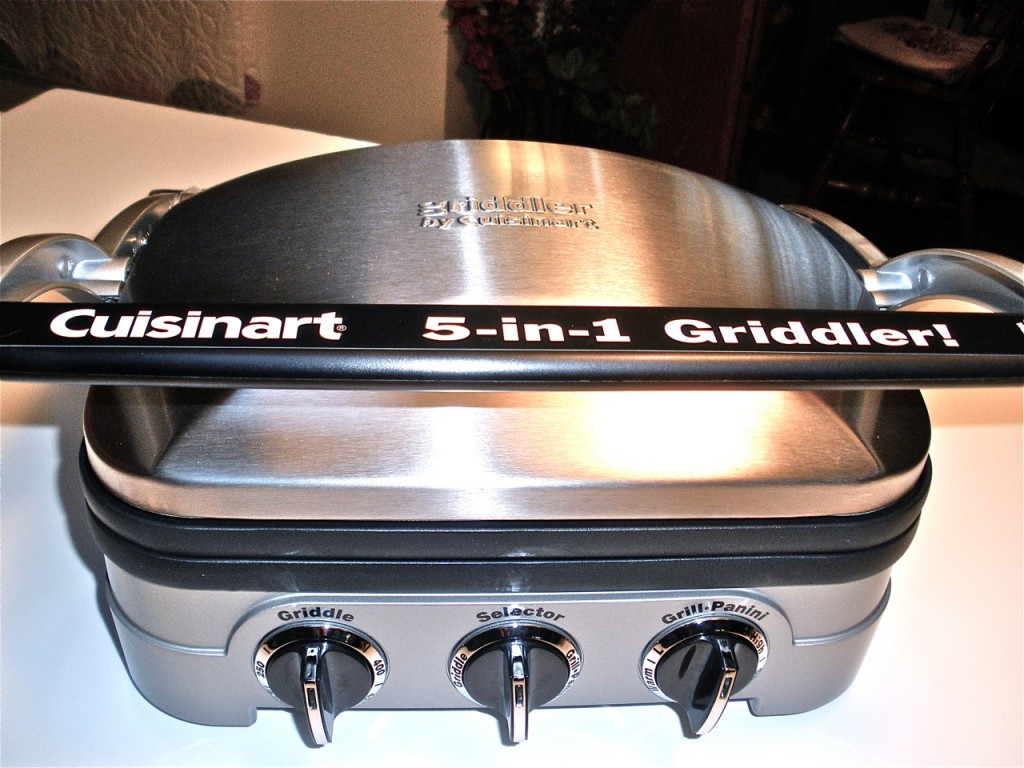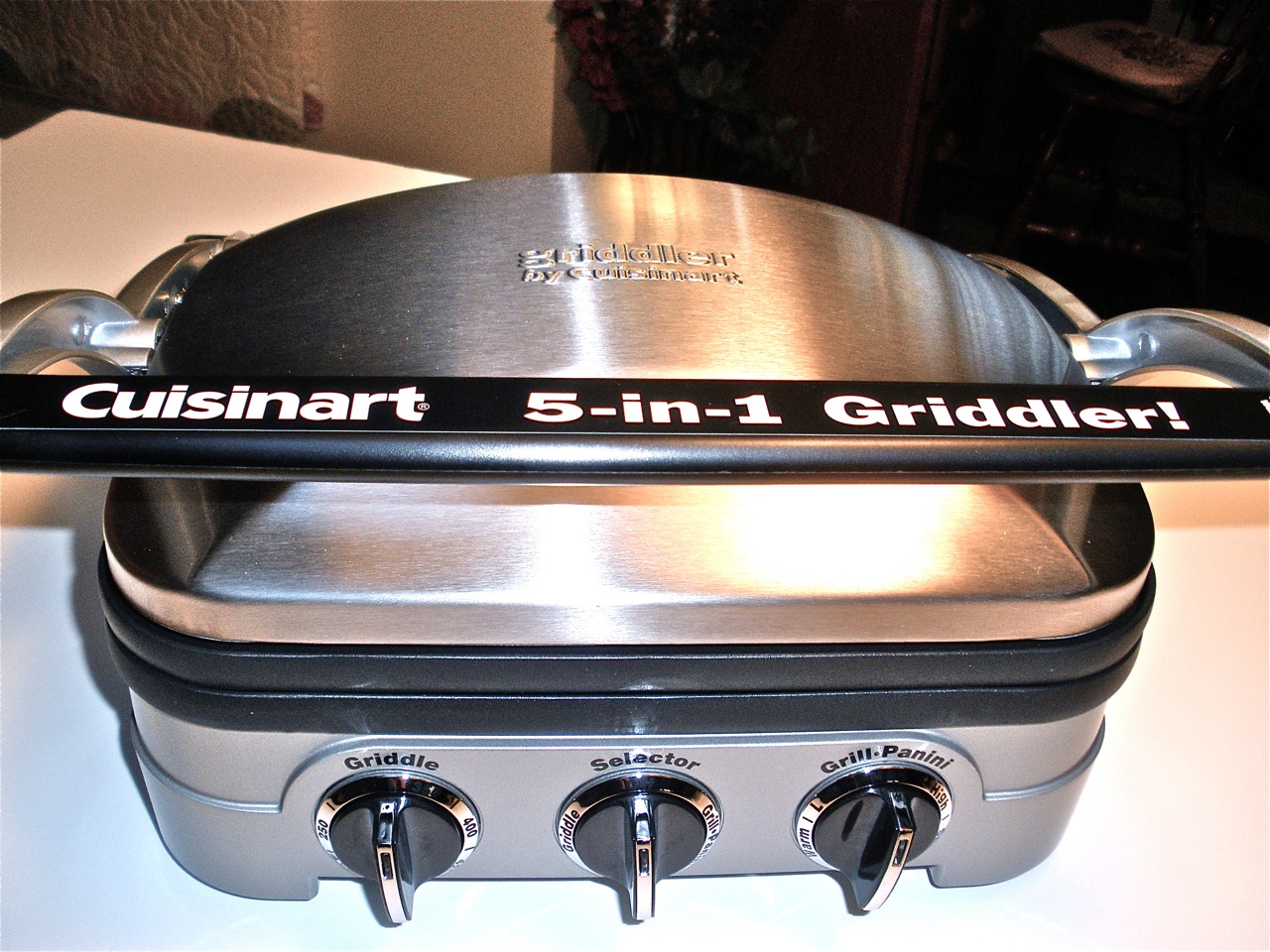 Remember my friend Sue who turned me on to the Victorio Food Strainer?  During a recent visit to her home she made a wonderful lunch that included Bistro Apple Panini's.  Oh my gosh!!!  I was hooked from the first bite.  Actually, I was enthralled watching her put them together, squish in a Panini grill and turn out perfectly browned, slightly crunchy sandwiches filled with the likes of apples, bacon, cheese, apple jelly and tarragon!!!  What's not to like?  I came home from Sue's talking (some would say "non-stop") about Panini's! On a recent browse through a kitchen shop, which mom, Lee, and I all love to do — Lee discovered this beauteous griddle/panini maker.  He said, "Do you want…" and I said "YES!"  That was it – Merry Christmas to me, early!  He is off the hook for anymore shopping this season and I am thrilled with my new kitchen gadget.  As for Sue, she reminded me that hers is old, well-used, and probably came from an auction or garage sale to start with, but I am going to invite her to lunch so that she can experience the panini craze she has me hooked on!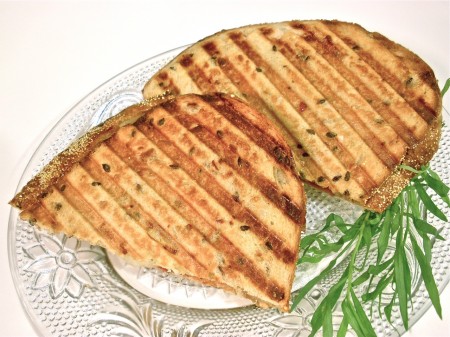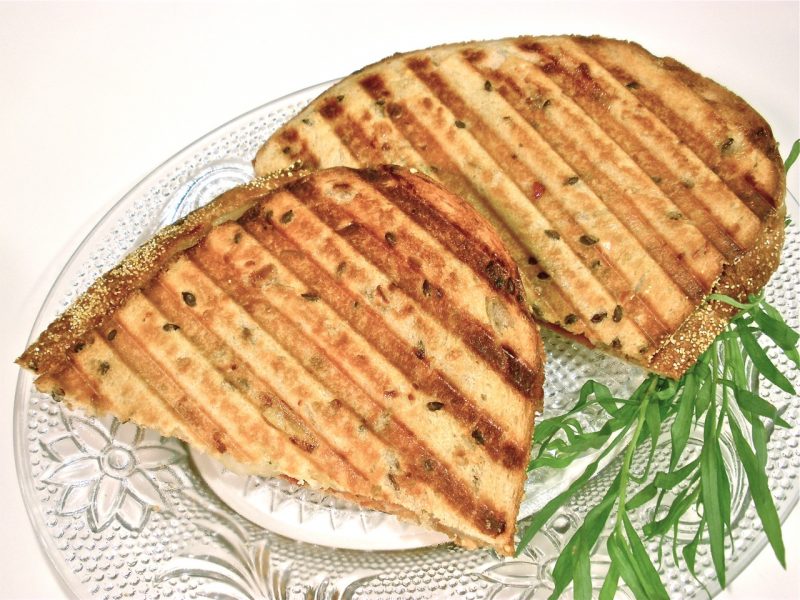 As for this recipe — I changed it up slightly using 5 Grain Sourdough (to make me feel healthier about eating the bread) and also I used Imported Smoked Gruyere Cheese. When I was at the grocery store and saw the Gruyere cheese I thought, "oh that is what I need for the Panini's."  Turns out the recipe calls for Havarti.  I am sure when Sue made this she didn't make the cheese mistake like I did.  However, the Smoked Gruyere was certainly delicious — so I know I can use either!  One more note — the bacon, apple, and tarragon go together so well that if you don't own a panini maker or an indoor grill, you can easily pan-fry or broil these tasty sandwiches.

Bistro Apple Panini
The bacon, apple and tarragon go together so well to create a fabulously tasty grilled sandwich. Panini are small, filled, bread rolls, which are sometimes toasted. They are Italian in origin, but now found in other countries.
Ingredients
12 thick slice Bacon
1 medium apple, peeled and thinly sliced
2 teaspoon lemon juice
½ cup Apple jelly
4 teaspoon Fresh Tarragon, minced
12 medium slice Sourdough bread
6 medium slice Havarti cheese
2 tablespoon Dijon mustard
3 tablespoon Butter or Margarine, softened
Instructions
In a large skillet, cook bacon over medium heat until crisp. Remove to paper towels to drain. In a small bowl, toss thinly sliced apple with lemon juice and set aside.

Place jelly in a small microwave safe bowl; microwave on high for 20 to 30 seconds or until softened. Stir in tarragon.
Spread jelly mixture over six bread slices. Top with cheese, apple, and bacon. Spread mustard over remaining bread slices, top over bacon. Spread outside of sandwiches with butter.

Cook on a panini maker or indoor grill for 4 to 5 minutes or until bread is browned and cheese is melted.

Notes
(1)  If you don't have a panini maker or an indoor grill, you can easily pan-fry or broil these excellent sandwiches.

(2) These pictures show Gruyere Cheese instead of Havarti.  I just bought the wrong cheese at the store -- but as it turned out Smoked Gruyere is absolutely wonderful too!