Walk Through The Bible In One Year
Week 17 reading plan per day
Click on the colored link to read each day's scripture.
Monday 1 Chronicles 1-2 , Tues 1 Chronicles 3-5,
Wed 1 Chronicles 6-7, Thursday 1 Chronicles 8-10,
Friday 1 Chronicles 11-17 ,
Saturday 1 Chronicles 18-23,
Sunday 1 Chronicles 24-26
Blessings as you read!
Memorial Day weekend is fast approaching! Do you have special plans?  The weather seems pretty good around the country and summer has definitely shown up in the South! The other day I posted my version of BBQ Chicken Pizza highlighting Mama Mary's thin pizza crust that I buy at Costco.  I meant to include this variation and …. I forgot.  I bought a bag of mixed little peppers that are some of the best tasting I have ever eaten. This is the same crust I used for the BBQ pizza, Marinara sauce that comes with it, sweet peppers and onion that had been lightly sautéed.  It sure makes a fast and easy dinner that can still be made at home at the end of a full day!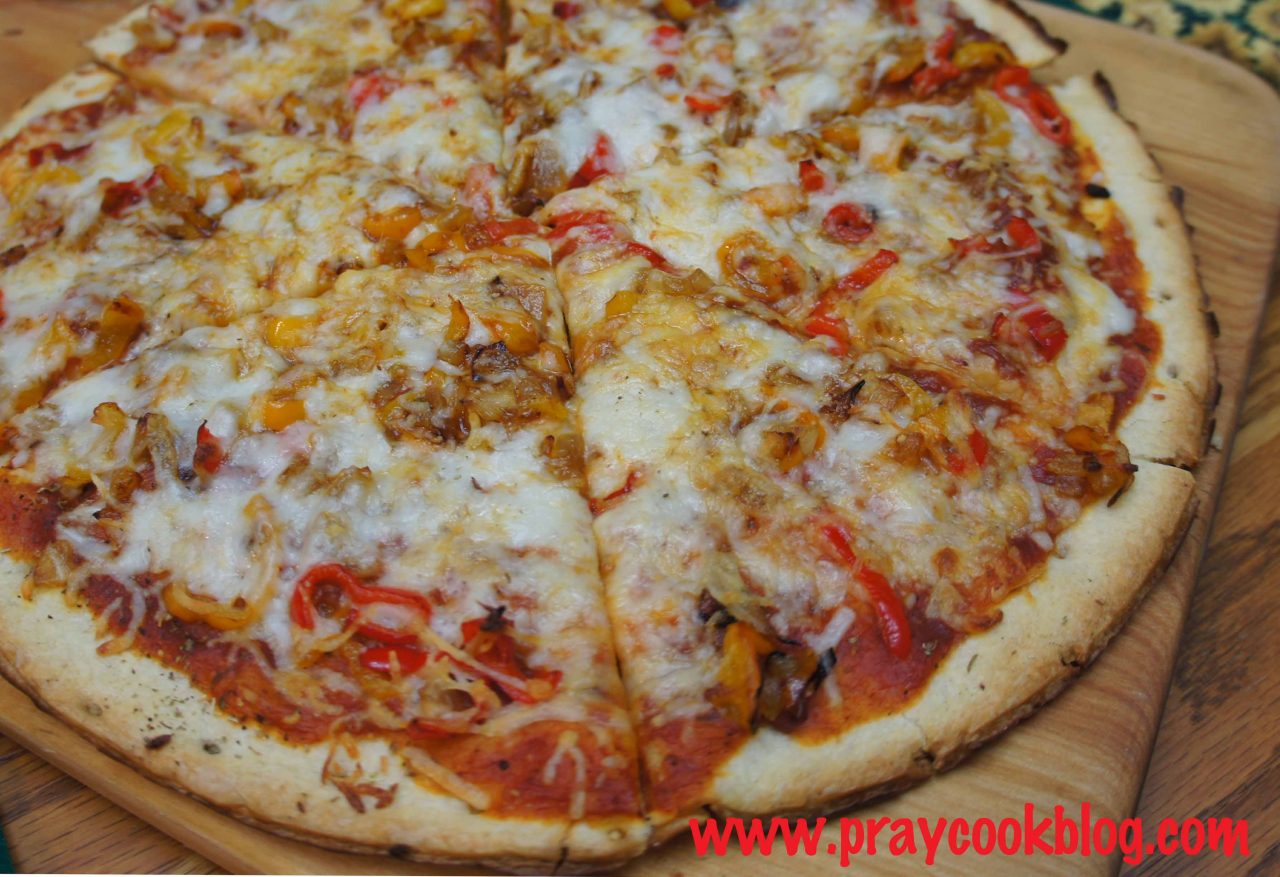 Several times a year we receive a magazine called Tennessee Home & Farm published for members of the Tennessee Farm Bureau. My Chief Culinary Consultant ("Chief" for short) usually reads it before me and promptly lets me know what recipes look like keepers.  This time berries appeared as the star ingredient in each recipe and I immediately zeroed  in on a blueberry salsa recipe.  It was shown with grilled chicken thighs.  Since I can't leave well enough alone and we don't care for cilantro (I know, the world LOVES cilantro –) I used the blueberry salsa concept and I am sharing my version of this recipe with you today.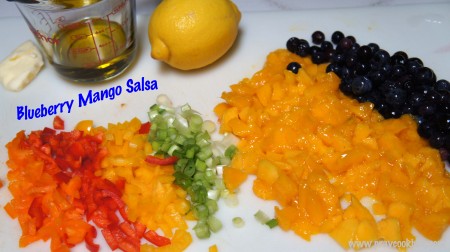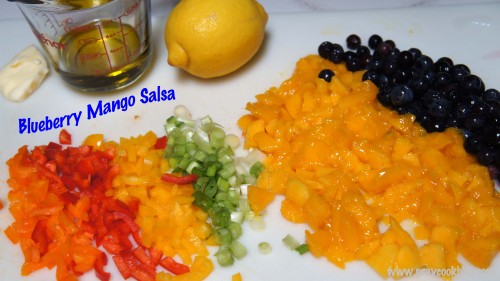 I can tell you this — their recipe looked good enough to catch my attention and my recipe turned out well enough that we are already talking about "the next time."  My sous-chef dish-washing mom and the Chief don't like Mango, they LOVE mango.  I started with a nicely ripe mango, the very last of my garden blueberries from last summer, and the sweetest red, green, orange, and yellow little peppers I have ever had.  I added a chopped Vidalia onion and the stage was set.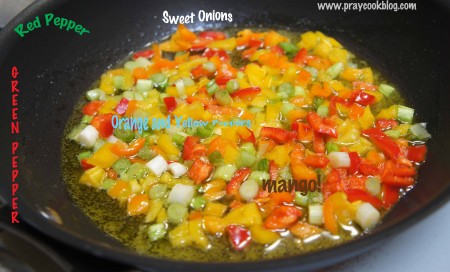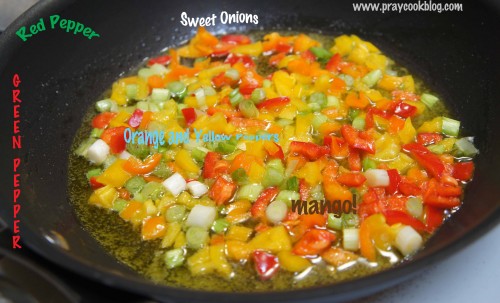 My sweet Chief and I can't understand why in the world a restaurant will serve a nice hot piece of meat or fish and then top it with ice-cold salsa.  This original blueberry salsa recipe did just that.  Mine, on-the-other-hand, was gently sautéed and the blueberries added at the finish. The peppers and onion blended so well with the sweet fruit flavors.  Deliciously warmed and tasty.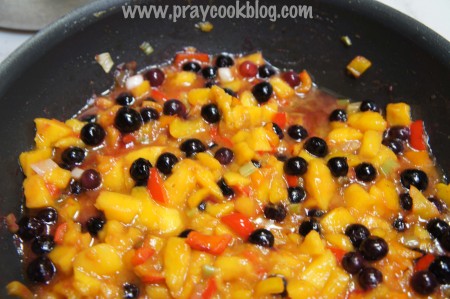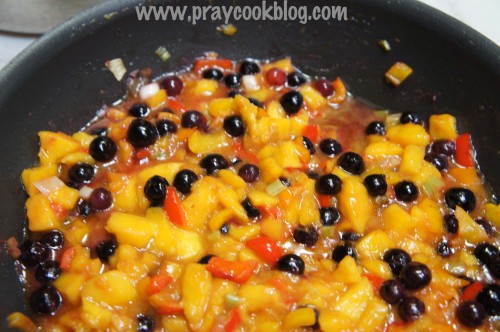 This salsa pairs well with grilled chicken or pork.  I served it will grilled Cod and honestly, my mouth is watering as I write this 🙂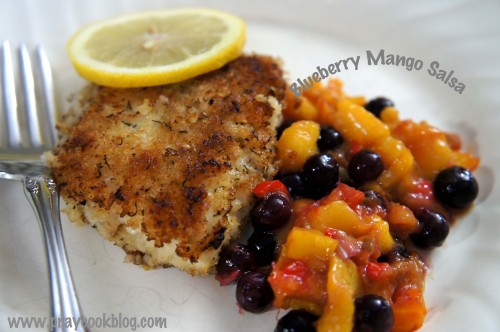 Many Blessings and Happy Cooking!

Blueberry Mango Salsa
Serve this warmed salsa on the side with grilled chicken, fish, pork or lamb! The fruity flavor melds perfectly with sweet peppers and onions for a salsa you can't get enough of!
Ingredients
2 cup blueberries, washed
1 Ripe Mango, diced
1 small Vidalia onion, chopped
1 cup Sweet Peppers
1 medium Lemon, juiced
⅓ cup Extra-virgin olive oil
1 tablespoon Butter
Instructions
Prepare fruits and vegetables, dicing all about the same size.

Heat olive oil and butter over medium heat. When hot add peppers and onions. Saute' until they are tender crisp, about 3 to 5 minutes. Add mango and turn down heat to low. Add blueberries and juice from one lemon. Keep over low heat until ready to serve.

Serve with grilled chicken, pork, fish, or lamb.

Notes
Multicolored sweet peppers can be purchased mixed in a small bag. Not only are the really pretty together, the flavors differ slightly from pepper to pepper and really make for a wonderful combination!