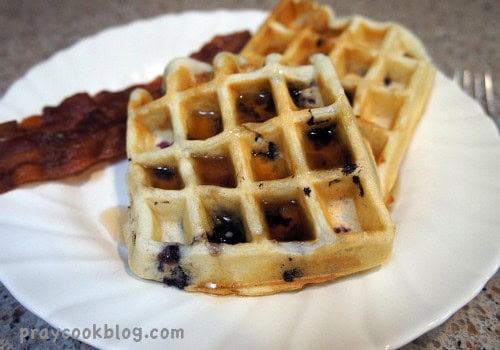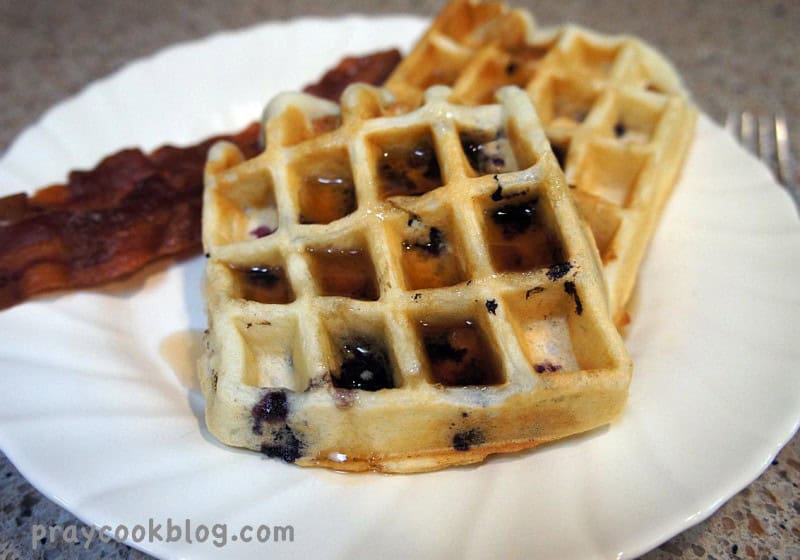 Can anyone tell me why 2 pancakes, 2 eggs, and a piece of bacon typically cost $3.99 or $4.99 at a restaurant and ONE WAFFLE will set you back $5.99?
Recently we were at our favorite breakfast place and my sweet-lovin' husband said, "I think I'll have a blueberry waffle today."  Since we typically order different items and then share everything, I said I would order some eggs and bacon and we could share.  But before the waitress even arrived he had already changed his mind.  $5.99 for one waffle only.  I said, "don't worry, I'll make waffles at home with our fresh blueberries!"  It's not that we are cheap … okay, maybe frugal. 🙂  Besides it's the principle of the whole thing!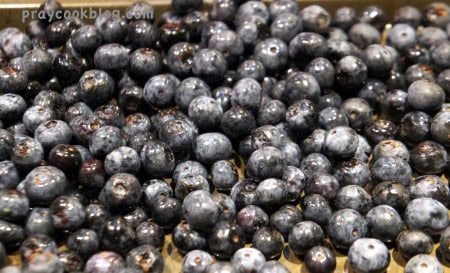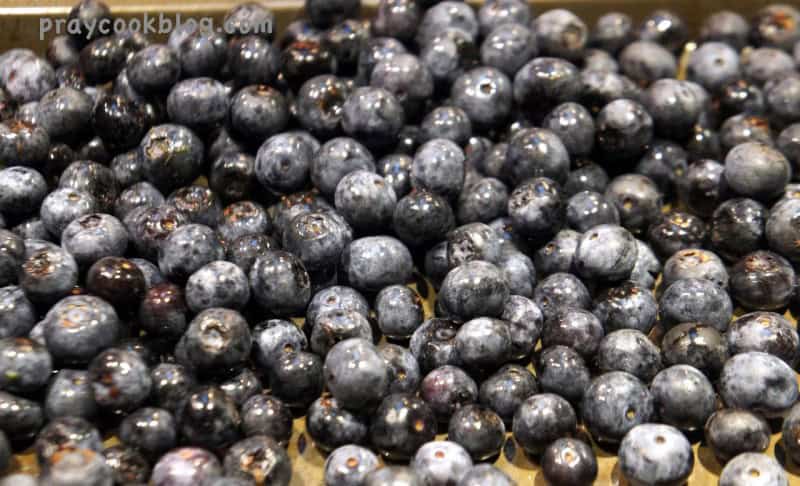 He picked the blueberries, I made waffles. We are soooo glad I did!
My pictures just don't do these waffles justice.  They were crispy on the outside, warm and blueberre-e-e-y on the inside!  I usually make waffles using my brother's recipe, Oh BOY! Waffles, but I chose to try a recipe that has the egg whites beaten separately from the egg yolks.  We like how fluffy this made the waffles.  I think you will like them too!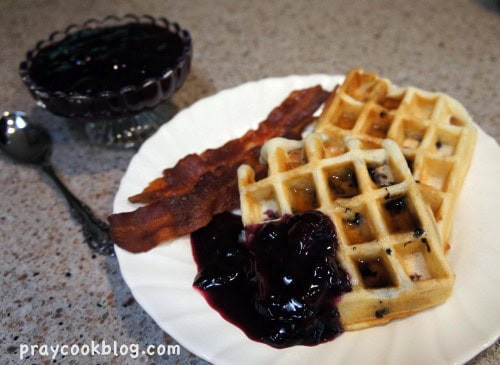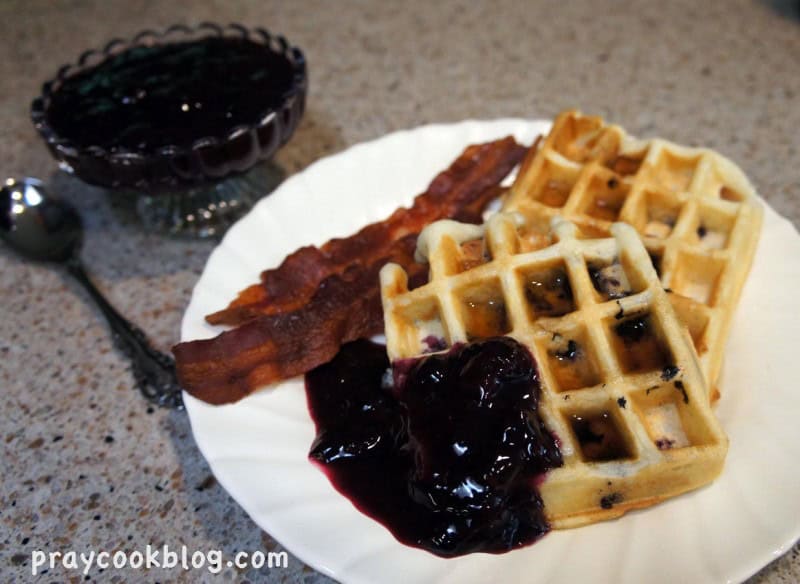 The sauce is very easy to make and delicious served hot!
Have a berry good weekend and happy cooking!
Catherine
Blueberry Waffles and Homemade Blueberry Sauce
Whether it is breakfast, brunch or breakfast for supper, it doesn't get much better than fresh, hot, blueberry waffles.
Ingredients
Waffles
1 cup fresh or frozen blueberries
3 teaspoons baking powder
2 eggs, separated
1 Tablespoon sugar
2 cups flour, sifted
1½ cups milk
½ teaspoon salt
¼ cup melted butter
Blueberry Sauce
2 cups fresh or frozen blueberries
¼ cup water
1 cup orange juice
½ cup white sugar
¼ cup cold water
3 tablespoons cornstarch
½ teaspoon almond extract
⅛ teaspoon ground cinnamon
Instructions
SAUCE: In a saucepan over medium heat, combine the blueberries, ¼ cup water, orange juice, and sugar. Stir gently and bring to a boil.
In a cup or small bowl, mix together the cornstarch and ¼ cup cold water. Gently stir the cornstarch mixture into the blueberries. Simmer gently until thick enough to coat the back of the metal spoon. This should take 1 to 3 minutes.
Remove from heat and stir in almond extract and cinnamon. Thin sauce with water if it is too thick for your liking. Serve over hot waffles.
WAFFLES: Beat eggs whites until stiff and set aside.
Sift together dry ingredients.
Slowly stir in milk, beaten egg yolks and melted butter.
Preheat waffle iron.
Fold blueberries into waffle mixture.
Gently fold in stiffly beaten egg whites.
Bake in hot waffle iron.
Notes
Recipe adapted from www.food.com