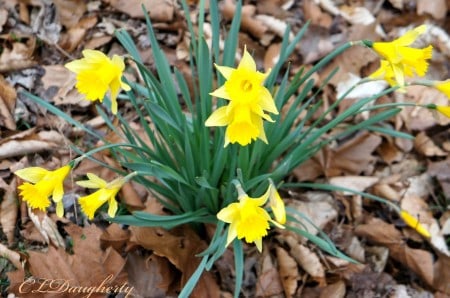 It's springtime in the hollow where I live.  On a recent walk to my neighbors as my feet were crunching through the winter worn leaves I spied these beautiful daffodils.  The bulbs were no doubt carried here by some wily squirrel that thought they had a wintertime snack buried in the forest.  Instead the bulbs waited patiently for just the right nod from God and then pushed their way through the cold still slightly frozen winter ground to brighten my day.  Regardless of what Punxsutawney Phil has to say, daffodils are my encouragement that spring really is just around the corner!

"For everything there is a season, and a time for every matter under heaven: a time to be born, and a time to die; a time to plant, and a time to pluck up what is planted; a time to kill, and a time to heal; a time to break down, and a time to build up; a time to weep, and a time to laugh; a time to mourn, and a time to dance; a time to cast away stones, and a time to gather stones together; a time to embrace, and a time to refrain from embracing;"   Ecclesiastes 3:1-8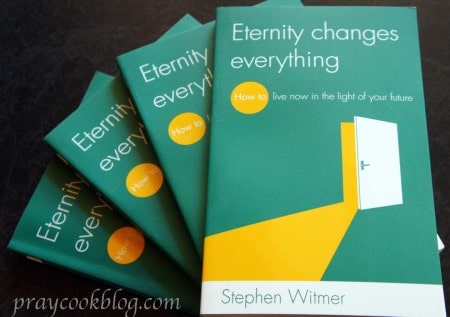 Congratulations to Denise for winning a copy of Eternity Changes Everything!  Thank you to all of you who left comments and entered the drawing.  To see the list from Random.org click here.  If you missed the review you can read it here.


St. Patrick's Day is Monday and I am wondering, are you making anything special to eat that day?  I offered Cabbage and Corned Beef to the Chief and he said "Cabbage, yes, corned beef – not necessary for me."  Hmmm. … what should I cook?  I am going to check out Foodista which should have some great tried and true recipes!  Let me know if you have any ideas for me!  Click HERE for some ideas I posted last year!
Have a blessed weekend,
Catherine