11 Consequently, faith comes from hearing the message, and the message is heard through the word about Christ.
Today, I am thankful for early retirement.  I owe that blessing to God and my husband!  The last two days I have been able to spend helping a friend who just lost her husband, at age 58. I would not have been able to do that if I still had a full time job.  I thank God for the opportunity to help others.
Sherri sent in this email: 
3 Things I am THANKFUL for:
God, Family & Freedom!
Thank you Sherri for sharing that with us.  What are you thankful for this thanksgiving season?  Please send in your comments so that we might share during the next weeks.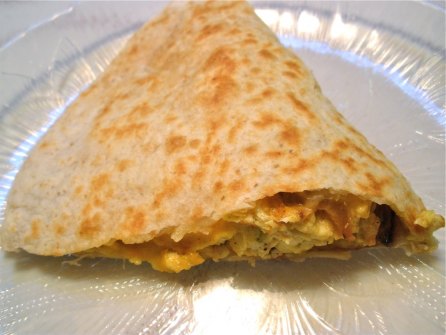 Have you ever had a breakfast quesadilla?  Mom and I were recently traveling and looking for a "breakfast place" and we came across a restaurant that turned out to be Mexican cuisine with a large breakfast menu.  Mom is a bacon and eggs kinda girl so that's what she ordered but I thought the breakfast quesadilla sounded great.  Turns out it was fabulous.  I couldn't wait to share this delicious breakfast idea when I got home.  I made these with bacon, eggs, taco flavored cheese and sauteed' onions.  Wow!  It will get your taste buds up and going!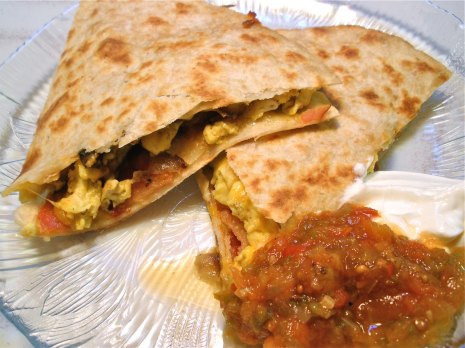 I added some homemade salsa and sour cream on the side.  It makes me hungry just looking at them again.  ¡Buen provecho! ¡Buen apetito! ¡Que aproveche!
Breakfast Quesadilla
Ingredients
6 eggs
2 teaspoon Sour cream
1 cup Taco cheese, shredded
6 piece Bacon, cooked crispy
1 onion
Sour cream and salsa
4 Tortillas
Instructions
Cook bacon until crispy. I like to lay my bacon flat on a cookie sheet, heat oven to 400 degrees. Cook for 10 minutes, then turn each piece and cook for another 10 minutes. It cooks the bacon flat and there is no grease mess. Just cool and drain on paper towel.

Slice onions and saute' in 1 tablespoon butter or oil.

In a small bowl, whisk together 2 teaspoons of sour cream and eggs. Mix well. Add eggs to cooked onions. Cook and stir over medium heat until completely set.

Layer tortilla as follows: cheese, scrambled eggs, crumbled bacon, cheese and top with tortilla.
Warm on griddle or in large fry pan over medium heat. Cook 2 minutes or so, watching to make sure they don't burn. Turn Tortilla and cook on other side.

Cut Quesadilla with a pizza roller into wedges. Serve with sour cream and salsa on the side.

Notes
(1)  Taco Cheese - you can use any kind of cheese you prefer, but I like to buy the pre-mix shredded taco cheese for my mexican dishes.

(2)  To easily flip the tortilla - when one side is cooked, place a large dinner plate on top of the tortilla and carefully pick up the fry pan and turn everything over onto the plate.  Then simply slide the tortilla off the plate back into the skillet to cook the second side.  Using hot pads, this is an easy way to flip the whole tortilla.

(3)  Adding the sour cream to your eggs makes them fluffier when scrambled.