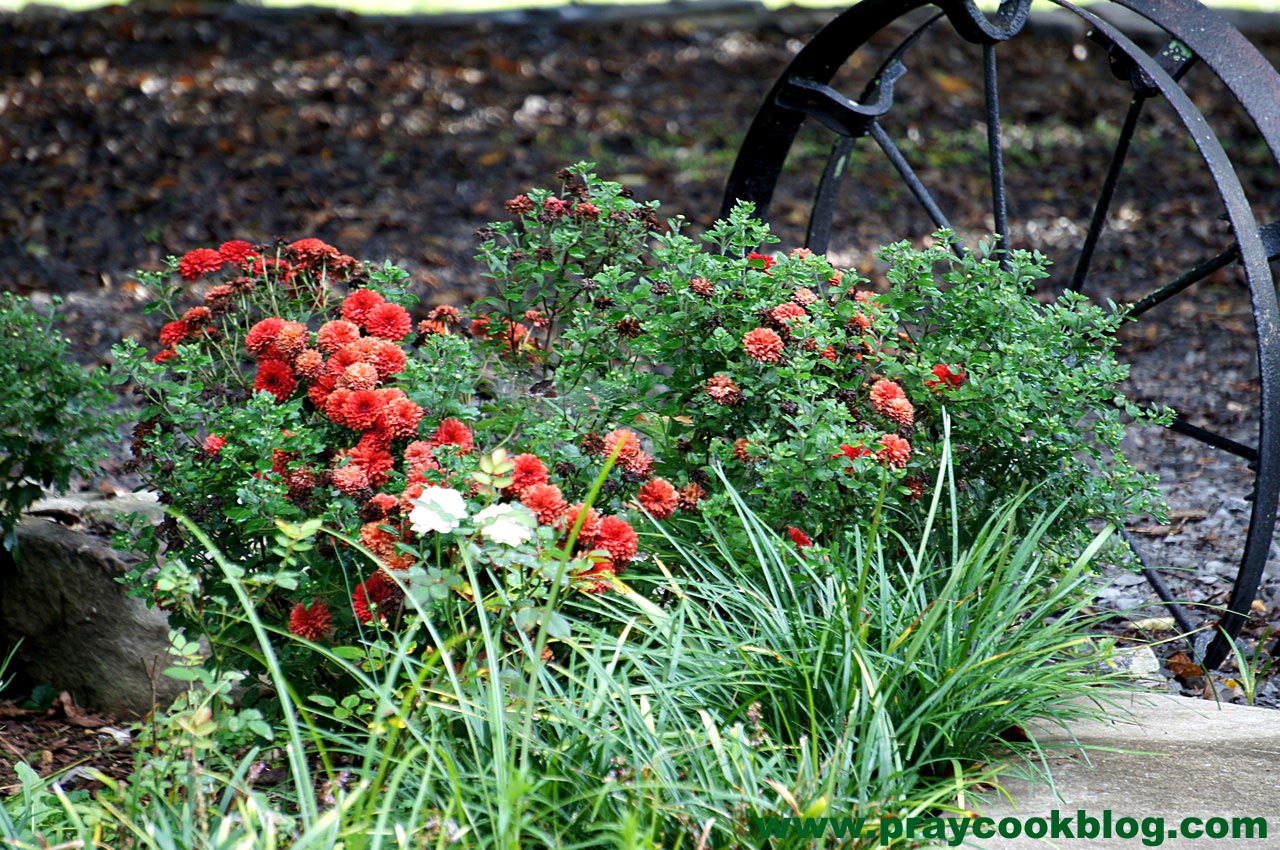 Even though the daytime temperatures are still creeping into the low 80's it is during the night these little mums are making their beauty known. As the night time temps dip to the 50's it is a clear signal to the fall plants — time to bloom! They have patiently waited through the drought and high heat of the summer, through hurricane force torrential rains in August and now it is their turn to show off their splendor throughout the fall.
This is my favorite time of year. Cooler temperatures encourage me to spend more time baking. I love that. I will still have my portable fan going full blast in my kitchen but during the fall it is open windows that will bring the cool air in to the house.  Last week I shared with you my go-to homemade pie crust recipe.  Today I want to share one of my favorite pie fillings — eggs + cheeses = quiche!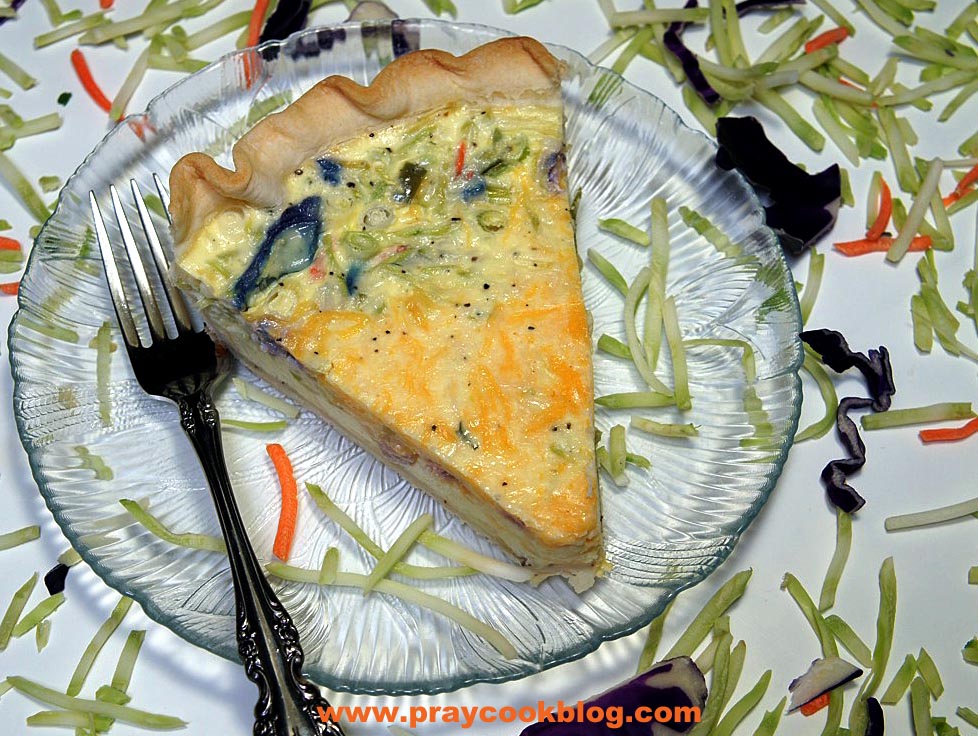 After following food blogs for awhile now, one thing I notice is that most bloggers have a "favorite"  food or two that continually pops up in their recipes. Tracey's Culinary Adventures posts dozens of pancake recipes while The Brown Eyed Baker — well, she bakes hundreds of yummy desserts! And me — while I try to share the best of what we are eating, I am finding quiche continues to show up on my radar.  I hope you don't mind.
It isn't that we eat quiche every week, but sometimes I like to make it for a breakfast, sometimes brunch, and sometimes even for supper. A variety of ingredients is what keeps me from getting bored with quiche.  Spinach, Roasted Red Pepper and Gruyere Quiche kind of speaks for itself filled with wonderful veggies and Gruyere cheese! Last Thanksgiving I posted one our favorites, Ham, Bacon, Egg and Cheese Quiche.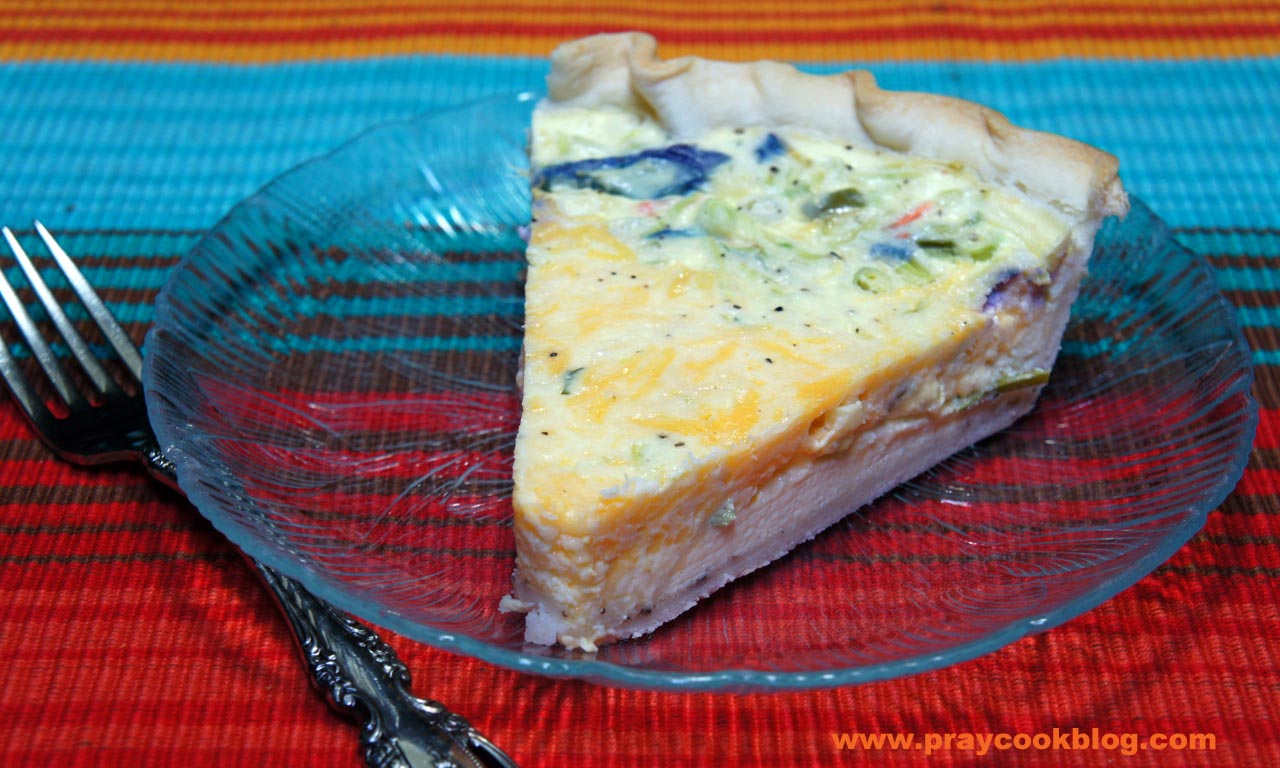 The basics for quiche are a pie crust, 4 eggs, evaporated milk or Half n' Half, and cheese. Beyond that, your favorite ingredients will turn the basic quiche into something outstanding!  Sometimes I use evaporated milk or if I have Half n' Half on hand I will use that.  In a pinch I have used 2% milk but the quiche isn't quite as rich tasting.
I buy packaged broccoli straw mix to add to spinach for yummy salads. It was with that plan in mind that I had the package of  the broccoli, carrots, and red cabbage in my crisper drawer.  For a light supper I decided to make a quiche with the package of "straws."  I had in mind it would be colorful and I wasn't disappointed.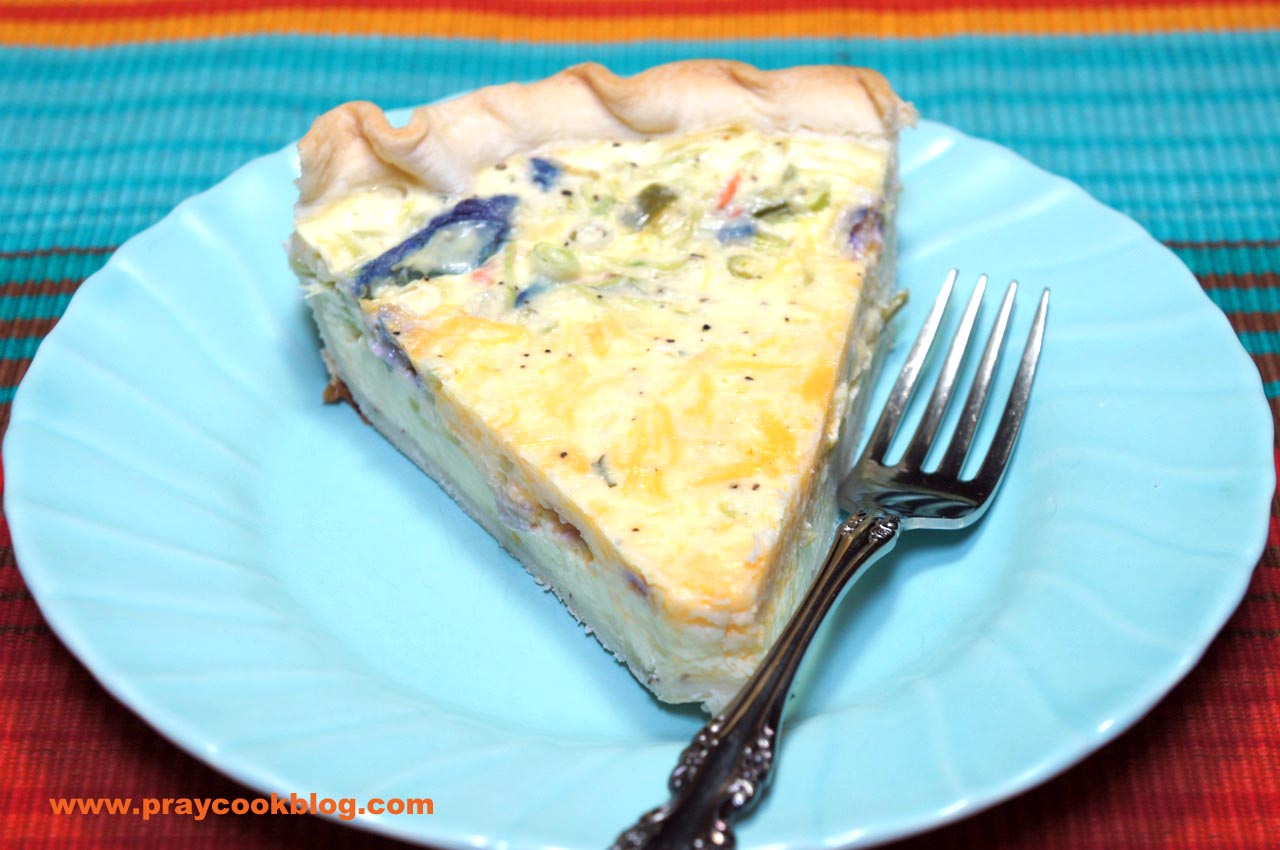 I was off to a good start with a little butter in a saute' pan. I added minced sweet onion, minced garlic and the broccoli straw mix. I cooked them until the veggies were all soft.  While they were cooking I sprinkled a bit of cornmeal in a pie plate. I placed a single pie crust in the plate and then crimped the edges.  A Pillsbury pre-made crust works fine or if you have time, making your own from my Flaky Pie Dough recipe will make an outstanding quiche.
The soft vegetables are spooned into the prepared pie crust then sprinkled with cheese.  I use a little pepperjack cheese along with cheddar whenever I can. The pepperjack adds a really nice kick to any quiche!  The eggs are beaten and mixed with the milk and salt and pepper. The mixture is poured over the vegetables and cheese and baked until the quiche is set in the middle.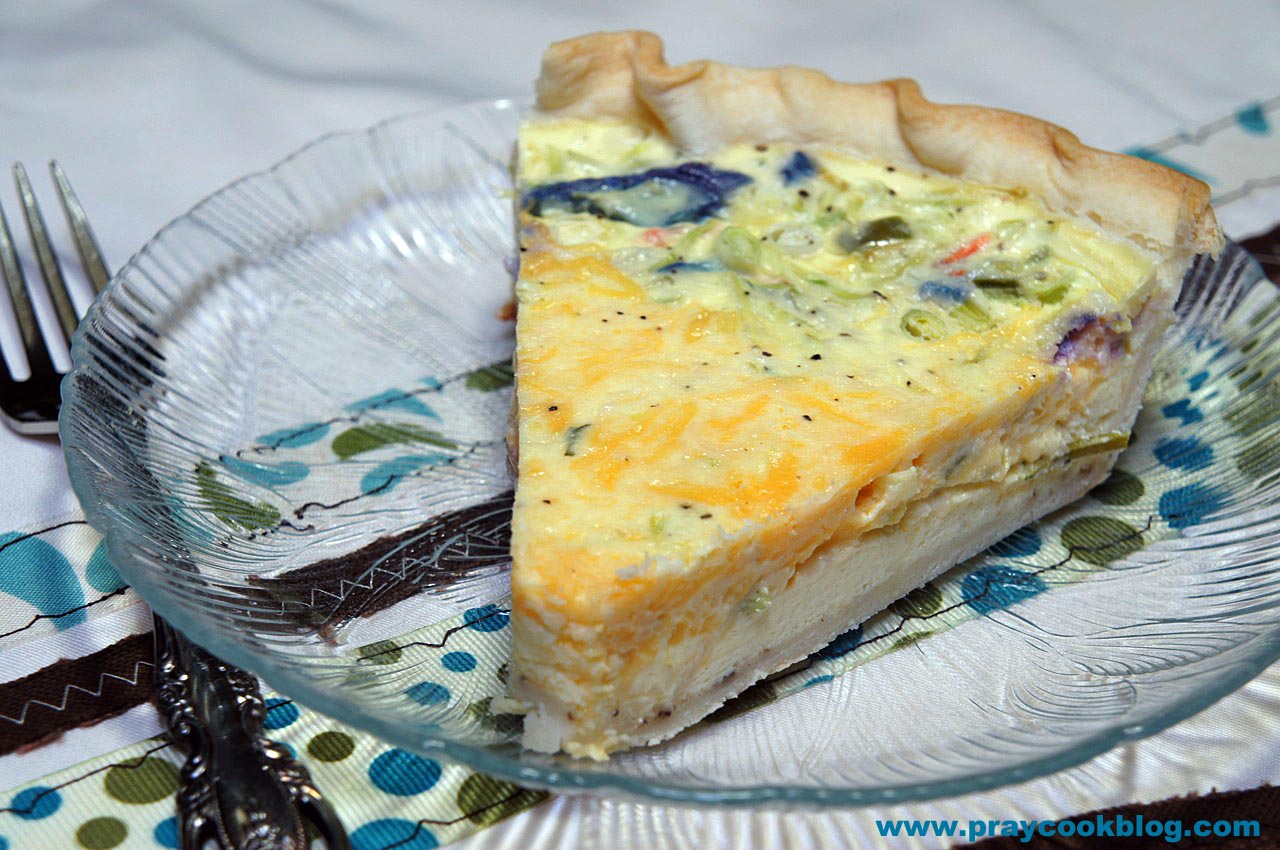 I would really love to know what your favorite quiche ingredients are.  Please leave a comment and share as I am always looking for another great quiche!
This recipe can be viewed and PRINTED from my Tasty Kitchen Recipe Box.
~Blessings, Catherine