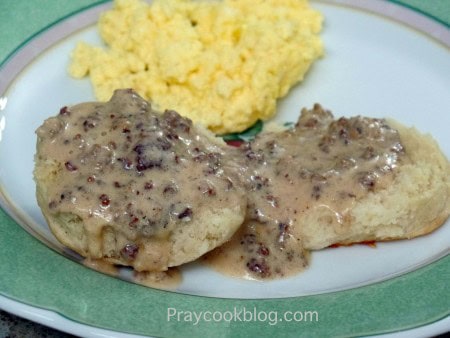 My step-son Bryan was coming for a visit and he sent me a picture of a mile-high biscuit from a restaurant in California, commenting about the "best biscuit" he ever ate.  To a slightly competitive cook that was basically throwing down the gauntlet!
Whenever the kids come home the Chief's biscuits and gravy are always on the breakfast menu.  My Chief gravy maker use to make the entire breakfast of biscuits and the gravy.  But for many years now I have been the biscuit maker and he makes the gravy.
I only just realized I have never posted the Chief's gravy recipe.  He says it takes his special touch.  I agree.  However, I am going to share his recipe with you and you can add your special touch to make it your own!
I decided since I needed to crank my biscuits "up a notch" I would go looking for a good ol' southern buttermilk recipe.  I found the one I wanted on Food.com.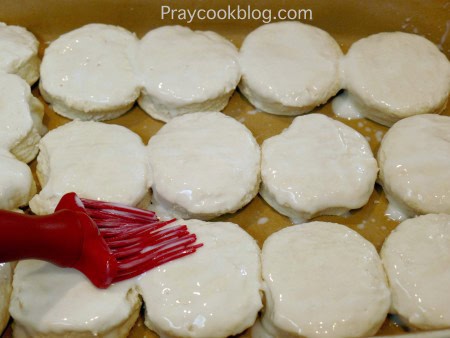 I chose it because I like the idea of basting the biscuits in buttermilk before baking.  I hadn't ever done that before.  I used my food processor which helps crumble the dough and butter together to resemble course cornmeal.
I added the other ingredients and the buttermilk just until combined.  The secret to soft, flakey biscuits is to not overwork the dough.  The tendency is to roll it around, pat it, turn it over and keep mixing. However RESIST that temptation and just mix until it holds together.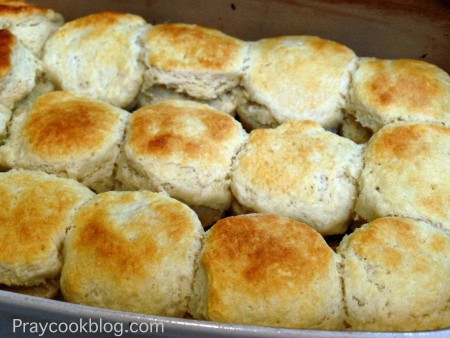 These biscuits were not mile-high but they are some of the best I've ever made! Flaky, soft, buttery, delicious!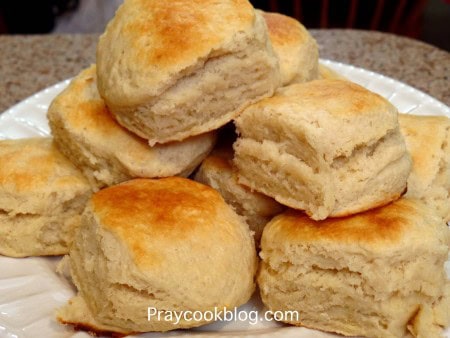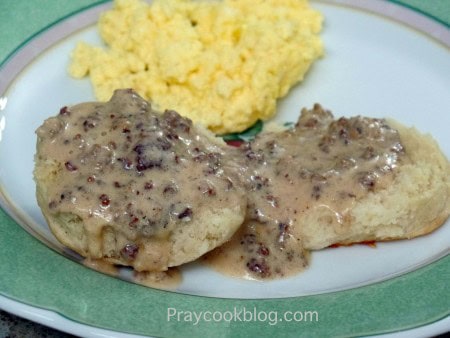 Topped with homemade strawberry jam or The Chief's gravy … either way you won't be disappointed.  I've included both recipes  below.
Happy Biscuits and Gravy Breakfast!
~Catherine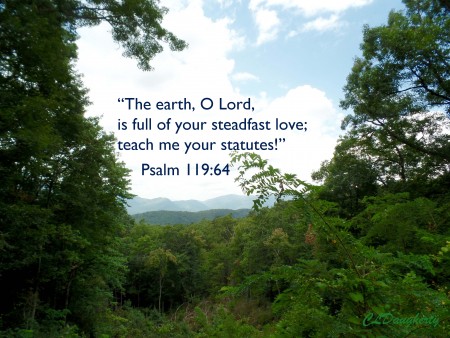 The Chief's Legendary Gravy
My husband was a cook in the navy and he perfected his gravy years ago. Today this gravy is legend in our family!
Author:
By Catherine Daugherty
Ingredients
1 lb. favorite breakfast sausage (We use Williams or Jimmy Dean)
2-3 Tablespoons all-purpose flour
1 tsp. Worcestershire sauce
½ tsp. garlic salt
Salt and Pepper to taste
4 to 6 cups of milk
Instructions
In a large skillet over medium heat cook sausage until well done, crumble fine or leave a little lumpy to suit your own style of gravy.
Add 2-3 tablespoons of flour stirring well to soak up pan drippings.
Add Worcestershire sauce, garlic salt, salt and pepper to taste.
Stir well over medium heat, mixing everything together.
Start adding milk – a little at a time stirring as you go. You can add 4 to 6 cups milk depending on how much gravy you want to make.
Turn heat down and let simmer on low. We simmer for about 1 hour to meld flavors together. During this time add milk as needed to keep gravy consistency. The longer you simmer the gravy the browner it will get. Keep adding milk to keep gravy texture.
Serve over biscuits or try slicing some fresh garden tomatoes and top with gravy.
You can stretch this recipe out adding more flour and more milk. The end result will be less sausage in the gravy but the flavor will be there.
Notes
* The garlic salt and Worcestershire sauce can be increased to suit your taste. Be sure and use a sausage that contains enough fat to give off some grease. Do not use a fat free or low fat sausage.
Buttermilk Biscuits Southern Style
When your gravy calls for the best biscuits possible, these flaky, soft, buttery biscuits won't disappoint!
Author:
Adapted by Catherine Daugherty
Ingredients
2 cups all-purpose flour, plus more for dusting the board
1⁄2 teaspoon baking soda
1 tablespoon baking powder
1 teaspoon kosher salt or 1 teaspoon salt
6 tablespoons unsalted butter, very cold
1 cup buttermilk (approx)
Instructions
Preheat your oven to 450°F.
Combine the dry ingredients in a bowl, or in the bowl of a food processor.
Cut the butter into chunks and cut into the flour until it resembles coarse meal. If using a food processor, just pulse a few times until this consistency is achieved.
Add the buttermilk and mix JUST until combined. If it appears on the dry side, add a bit more buttermilk. It should be slightly wet.
Turn the dough out onto a floured board. Adding flour as necessary, gently PAT (do NOT roll with a rolling pin) the dough out until it's about ½" thick. Fold the dough a couple times, gently press the dough down to a 1 inch thick. Use a round cutter to cut into rounds.
You can gently knead the scraps together and make a few more, but handle as little as possible.
Place the biscuits on a cookie sheet- if you like soft sides, put them touching each other.
If you like"crusty" sides, put them about 1 inch apart- these will not rise as high as the biscuits put close together. Brush with buttermilk.
Bake for about 10-12 minutes- the biscuits will be a beautiful light golden brown on top and bottom.
Do not overbake.
Notes
Recipe adapted from Food.com
Note: The key to great biscuits is in the handling of the dough.
The dough must be handled as little as possible or you will have tough biscuits.
The food processor produces superior biscuits, because the ingredients stay colder and there's less chance of overmixing.
You also must pat the dough out with your hands, lightly.
Rolling with a rolling pin is a guaranteed way to overstimulate the gluten, resulting in a tougher biscuit.
FREEZE: You can make these biscuits, cut them, put them on cookie sheets and freeze them. After frozen wrap in airtight container for up to a month.
When you want fresh biscuits, simply place them frozen on the cookie sheet and bake at 450°F for about 20 minutes.