Isaiah 6:8    Then I heard the voice of the Lord saying, "Whom shall I send? And who will go for us?"And I said, "Here am I. Send me!"
As requested by my daughter-in-law, Joddie, I promised a couple weeks ago that I would post this recipe for Cabbage Burgers.  My mom started making these when I was a kid.  I asked her about the recipe and she isn't sure exactly where it came from but it has been years since either one of us has followed an exact recipe when making them.  We have "added this" and "left out" that until they now have our own stamp on them!
It has taken me awhile to put this together because I first had to actually write down the recipe as I was making them.  Then, because we make several different kinds, I have put together a second recipe for "Italian Burgers", which I will post tomorrow, and a third recipe for "Veggie Burgers", which will follow these two.
If you have any questions about this process please email me.  The one thing I can promise you is that they are worth the effort!
Cabbage Burgers
 Bread Dough Options:
You will have good results with any of these options.  The frozen dough will give you a fast way to make your first cabbage burgers.  The Italian dough with some added herbs will give you tasty and crusty bread, while the Yeast Dinner Roll recipe will give you soft and slightly sweet bread.
Thaw dough or make from scratch.  While dough is rising, prepare filling.
Filling:
1 ½ to 2 lbs. hamburger
4 cups shredded cabbage – one medium head of cabbage, take off the outside leaves and shred or chop by hand or through a food processor. Since cabbage cooks down so much you can chop the cabbage as coarse or as fine as you like.
1 large onion, chopped
1 red or green pepper – or half red and half green, chopped
1 lb. Swiss cheese or Pepper Jack cheese or a combination of both- shredded
1 teaspoon pepper
1 teaspoon salt
Cook and drain hamburger with chopped onion.  I like to rinse in a colander with warm water to get most of the grease off.
Add salt and pepper to taste. Lots of pepper blends well with the Swiss cheese.
Return hamburger to the pan and add 4 cups shredded or chopped cabbage.  Cook until the cabbage is wilted – 15 to 20 minutes.
Drain again to remove the water and grease.
Take about 1 cup of bread dough, divide into individual balls.  Roll out each ball with a rolling pin or you can press it out with your fingers.  You will have about a 5" circle.  Should be about ½" thick  – and not so thin that it breaks through.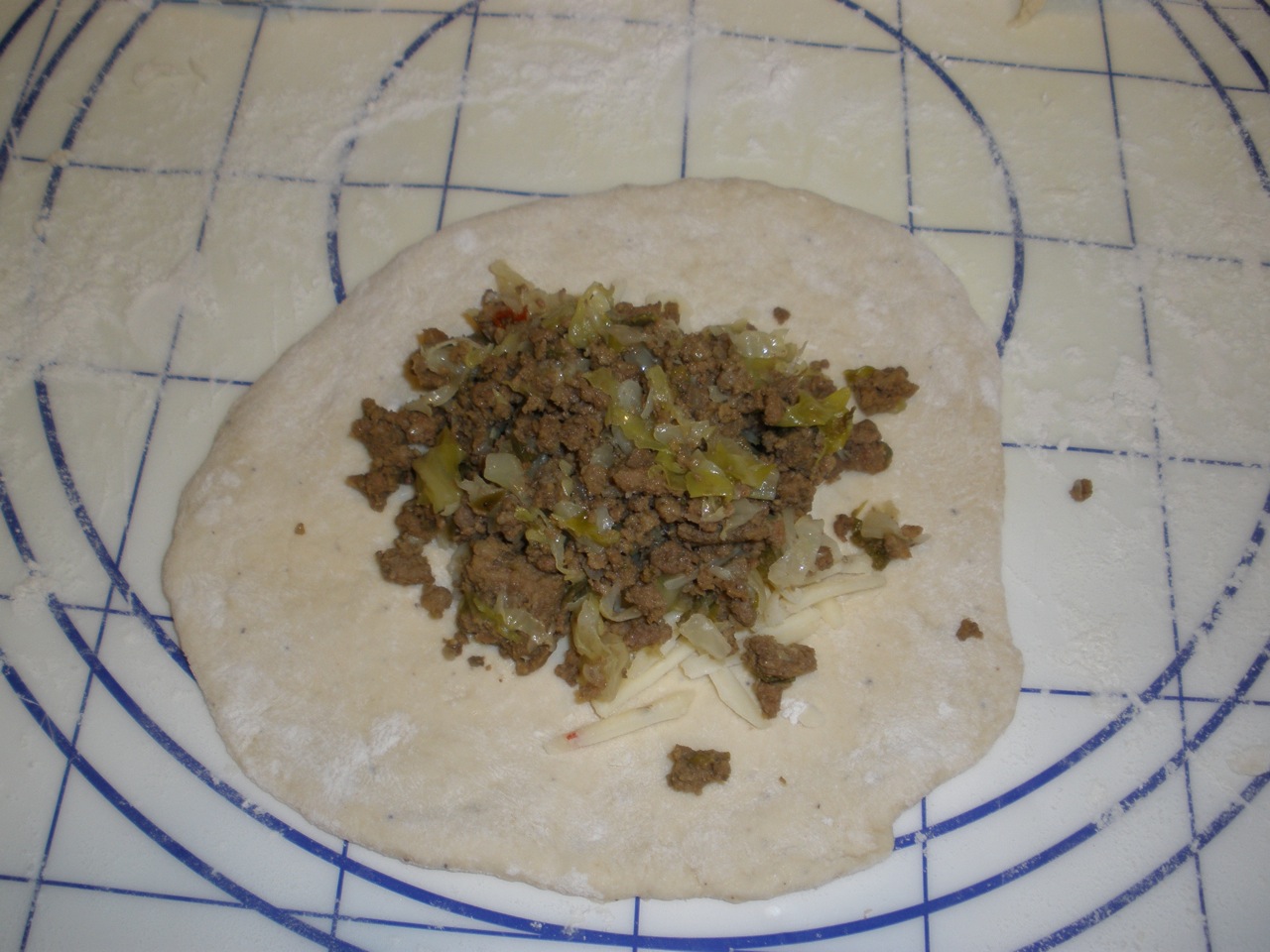 Place a tablespoon of shredded cheese in the middle of the bread dough.
Add two tablespoons of meat/cabbage filling.
Bring up 1/3 of the circle of dough into the middle.
Pull up the second 1/3 of the dough into the middle and pinch together with the first 1/3.
Pull up the final 1/3 of the dough and pinch together all sides of the dough and seal tight.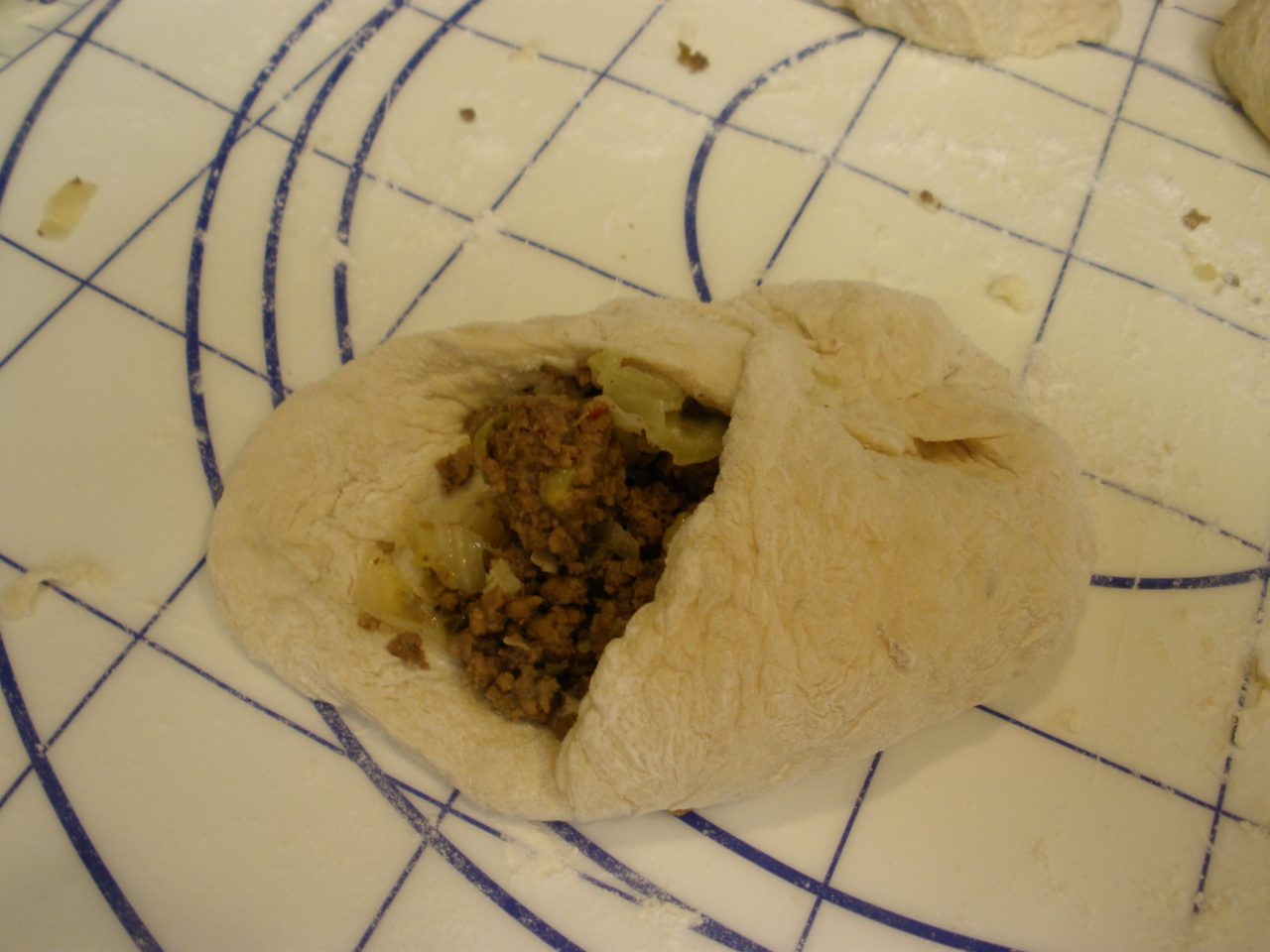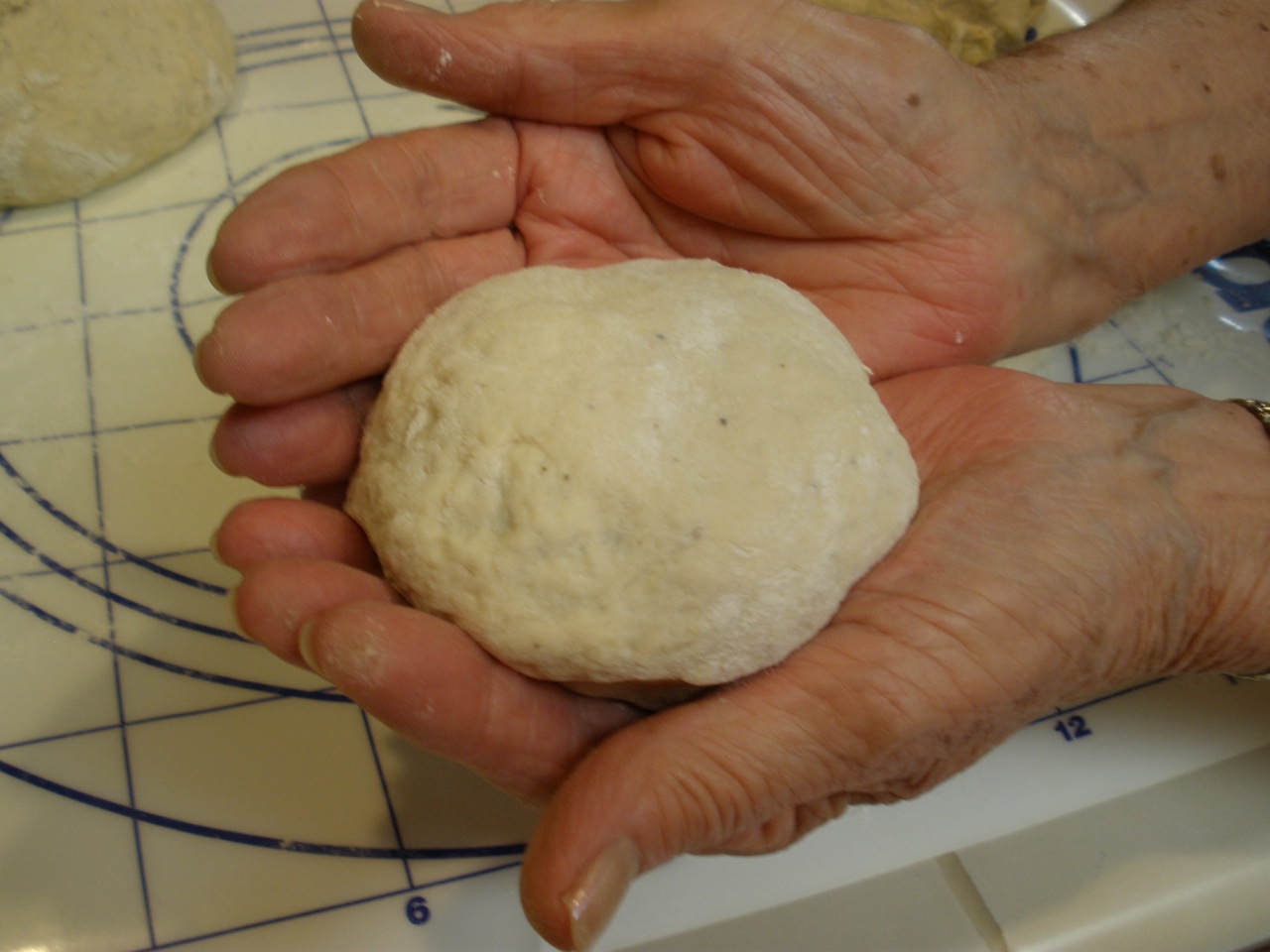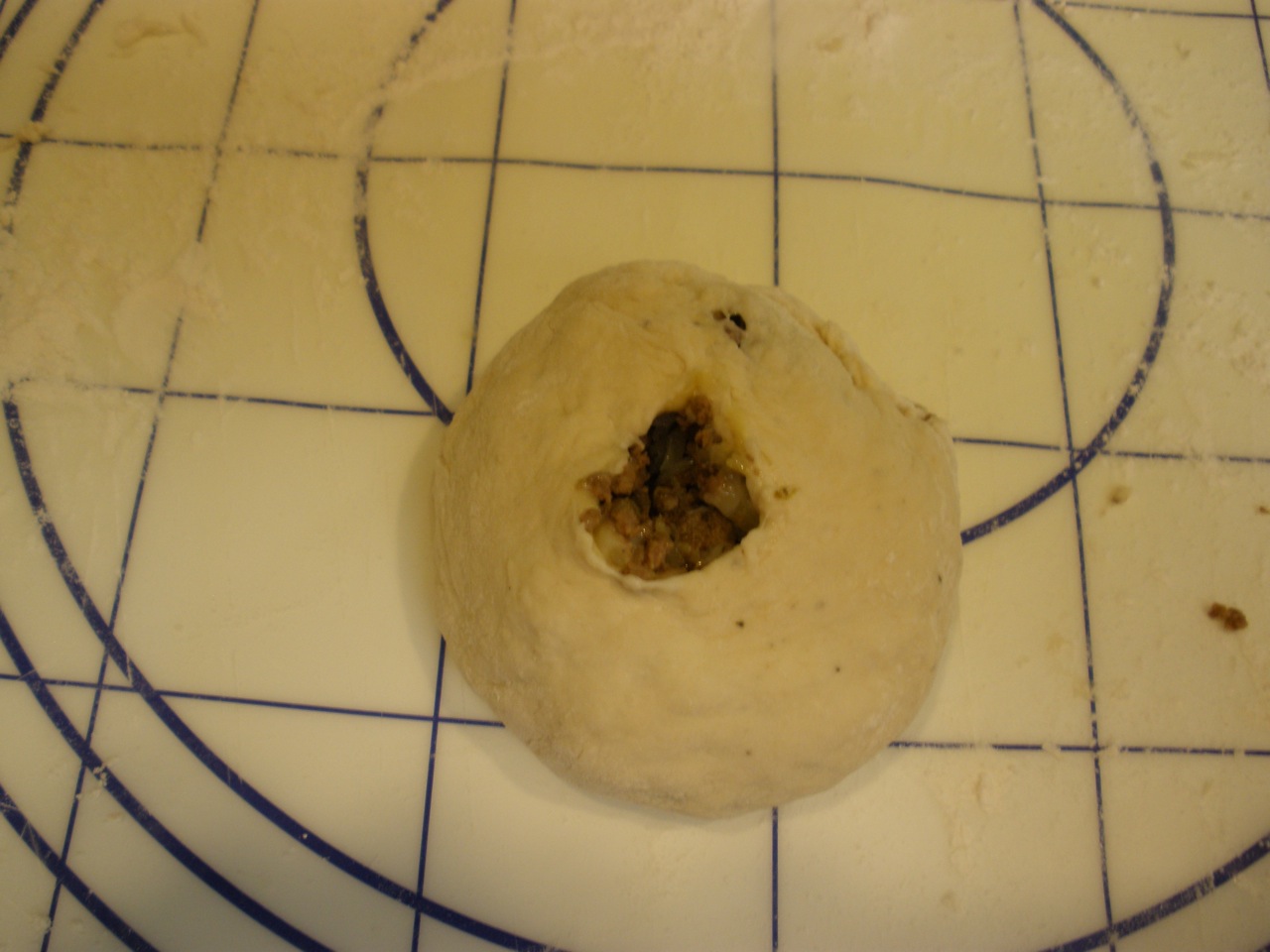 If the dough gets stretched too thin the filling will break through.  This makes a mess and you will have to "patch" with more dough or take out the filling and start this one over.
You can make these round, square, triangle, any way you want.  Just make sure they seal well, pinching closed the dough.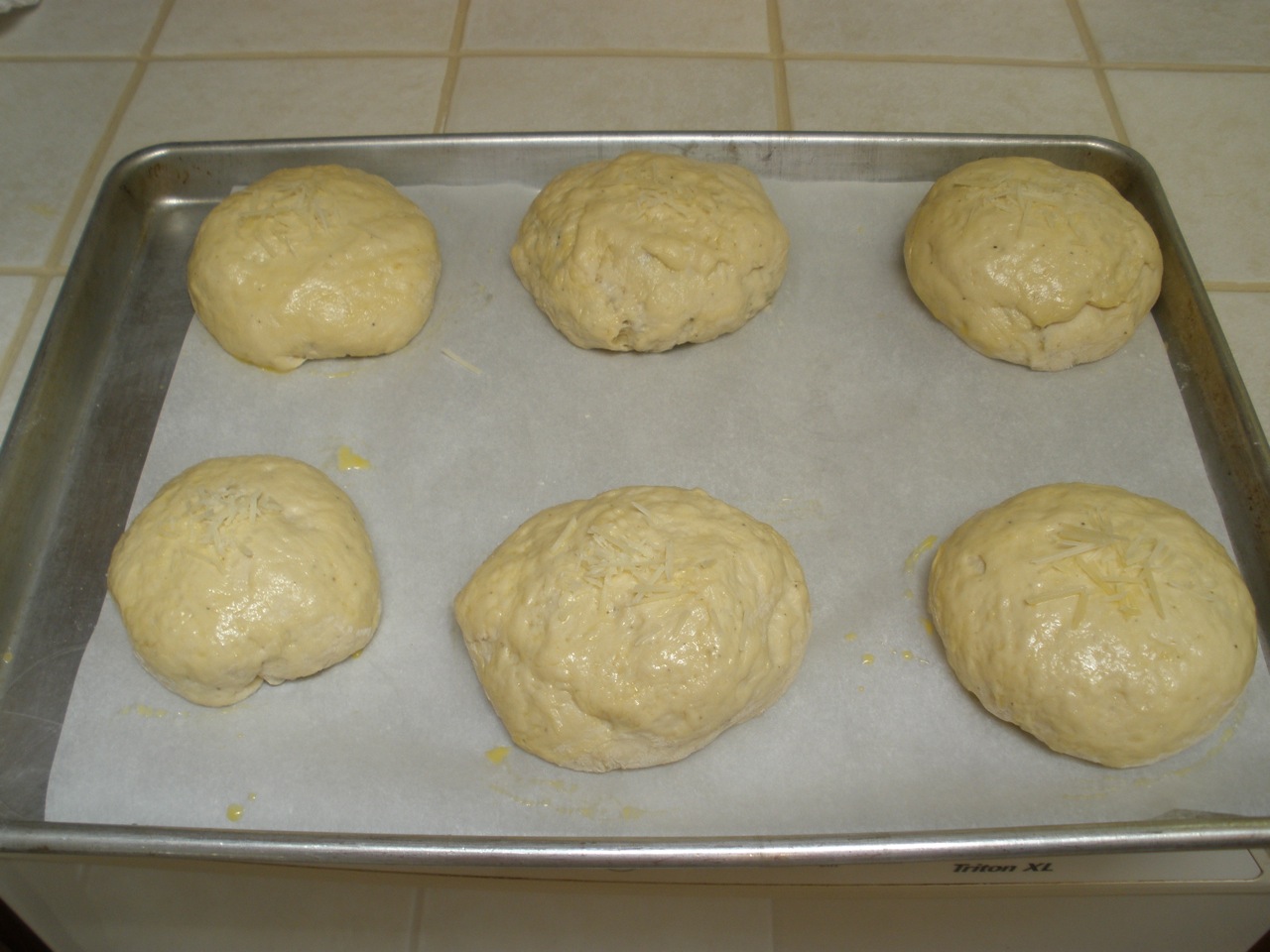 Place sealed side down on a cookie sheet.  Let rise about 30 minutes, while you continue to make the other burgers.
Mix one egg with 1 tsp water; beat it up until well mixed and frothy.  Take a pastry brush and brush the cabbage burgers with the egg mixture.  This will make the top of the burgers nice and evenly browned.
Bake at 375 degrees for 20 to 25 minutes until nicely browned.  Can be kept in the refrigerator for a couple days, then cover with foil and warm up in the oven.  Otherwise, eat some for dinner and freeze the rest for another quick lunch or dinner!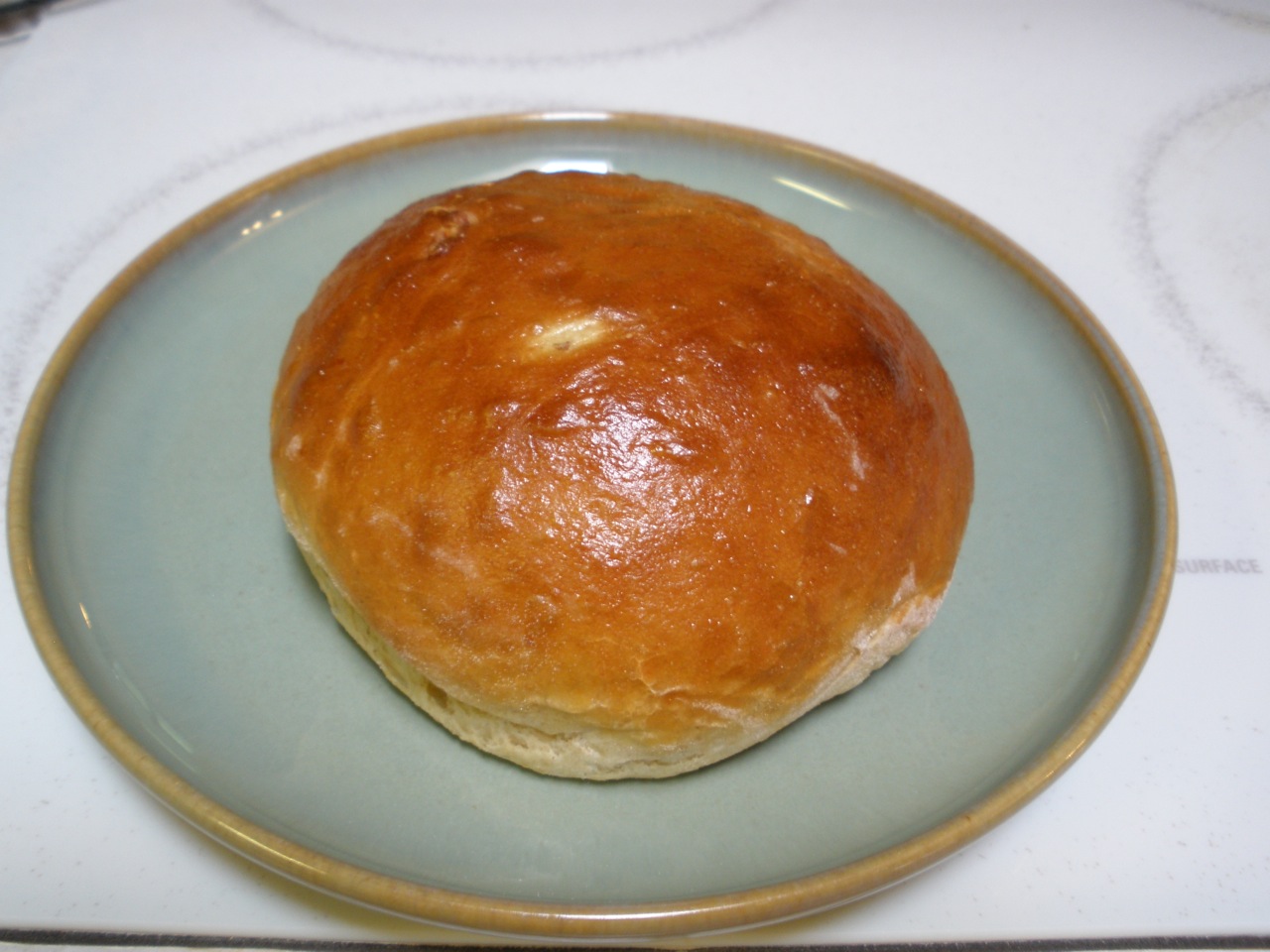 Notes:
If I put Pepper Jack cheese in some and Swiss cheese in others and I want to know which is which, I just sprinkle a little Parmesan cheese on top (after I brush with egg) of one or the other to tell them apart.
Serve plain or with ketchup on side.
Freeze well.  Fully bake them, cool completely, wrap in aluminum foil and place in plastic freezer bag or Tupperware container.  Freeze for up to a couple months.
Can microwave to re-heat but you have to be careful because too long in the microwave will make the bread dough tough and will ruin the burger.
Next:  Catherine's Italian Burgers – my own variation and my family's favorite!