It's a busy family filled week in our home. I already told you my mother-in-law is visiting and part of that visit includes celebrating as her sister Emma turns 101 years old today!  Longevity runs in the family with their oldest sister Lena turning 106 years old last May.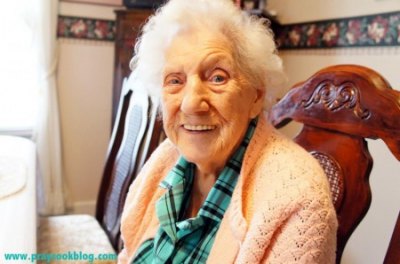 I wanted to take a cake to Emma but she doesn't eat a lot of sweets.  Since we were making a morning visit I turned to a real "coffee" cake,  birthday cake to do the trick. I adapted the recipe from one I found on Cooks.com.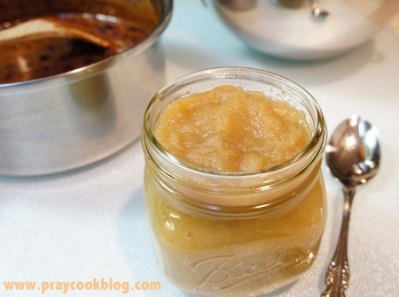 I had fresh cranberries and walnuts on hand.  Opening up a jar of applesauce I made last summer, I was all set!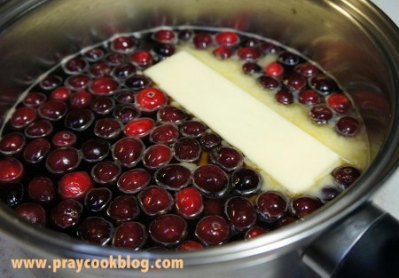 This recipe starts with perked coffee.  I used instant coffee granules in 1 1/2 cups hot water, but if you have some extra morning coffee that works well too!  I added fresh cranberries (although dried cranberries or raisins can be used),  sugar, unsalted butter, walnuts and seasoning all added to the coffee.  The mixture is then brought to a boil and left to simmer for 10 to 15 minutes.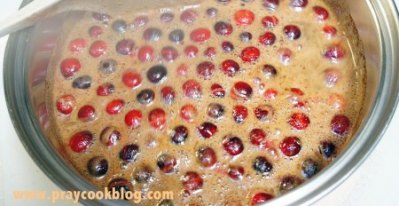 I couldn't get the steamy simmering to clear long enough to snap a picture so … steamy it is!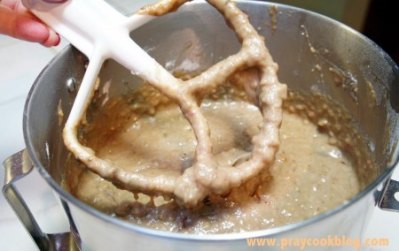 After cooling down the coffee mixture the baking soda, salt, flour, baking powder and applesauce are added to make up the batter.  After mixing well, I poured this into a Bundt pan and baked for 35 minutes until a cake tester inserted in the middle comes out clean.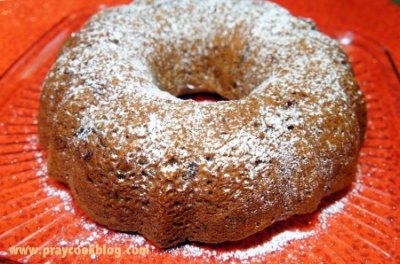 A sprinkling of powdered sugar and we were ready to go 'a visiting!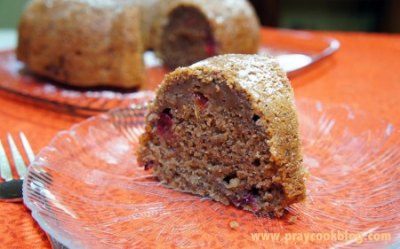 The cake is dense and rich. It is slightly sweet but not overly so. The applesauce replaces the need for oil and adds to the moistness.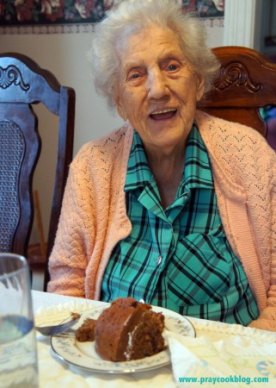 Happy Birthday Aunt Emma!
Celebrating 101 Years Old with Old Fashioned "Coffee" Cake
Ingredients
1½ cups sugar
1 cup raisins, or dried cranberries, or fresh cranberries
½ cup unsalted butter
1 teaspoon cinnamon
½ teaspoon pumpkin pie spice
1 cup finely chopped walnuts
1½ cups coffee, perked or instant
1 teaspoon baking soda
1 teaspoon baking powder
2½ cups flour
pinch of salt
¾ cup applesauce
Powdered sugar for sprinkling.
Instructions
In a medium saucepan, add sugar, fruit, butter, cinnamon, pumpkin pie spice, walnuts and coffee.
Bring to a boil, simmer on low heat for about 10 minutes. Set aside to cool.
When cooled, add baking soda, baking powder, salt, flour and applesauce.
Mix well. Preheat oven to 325 degrees. F. Bake on middle rack about 35 minutes or until a cake tester inserted into the middle comes out clean.
Cool, sprinkle with powdered sugar and serve.
Have you checked out ZipList yet?
"How to Save Recipes"


"Save your favorite recipes on the web right to your ZipList online recipe box. You can even add ingredients from each recipe to your shopping list and take it all on-the-go to the store with ZipList's free mobile app. To add a recipe to your list or recipe box, just click the "save recipe" button. Then sign up using your email address, Facebook or Twitter account. You can get the free mobile app for your iphone or android from ziplist.com."
~Blessings, Catherine