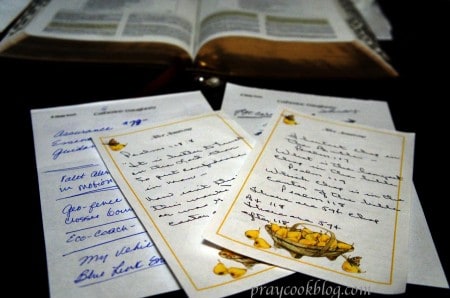 For me it doesn't matter if it is the middle of the night or the middle of the morning, my mind is making lists.  Thinking ahead.  Making plans.  Running through the "what ifs".
Am I the only one? Does anyone else over-plan, over-think everything?
The rest of the household was still fast asleep when I sat down for a few quiet moments with God.  The coffee is made, the oatmeal is ready to cook, and the table set for breakfast.
Here is what I read: (Jesus Calling by Sara Young)
"REST in ME, My child. Give your mind a break from planning and trying to anticipate what will happen.  Pray continually, asking My Spirit to take charge of the details of this day." 
How does He know, what I need to hear, when I need to hear it? 
1 Thessalonians 5:16-18  says:   "Rejoice always, 17 pray continually, 18 give thanks in all circumstances; for this is God's will for you in Christ Jesus."
"Remembrance of Me is a daily discipline. Never lose sight of My Presence with you. This will keep you resting in Me all day, every day."
Psalm 62:5
For God alone, O my soul, wait in silence, for my hope is from him.
Dear Father God,  
How thankful I am for the soul food you give me each day. For the words from scripture that remind me You are on this life journey with me.  You are the one holding My hand.  Thank you for easing my mind, slowing my desire to make lists and especially for showing me who is in control, and that it isn't me!  With thanksgiving from me heart, in Jesus Name.  Amen.
~Have a Spirit-filled day!
Catherine