Walk Through The Bible In One Year
Week 18 reading plan 1 Chronicles 27 – 2 Chronicles 29
Click on the colored link to read each day's scripture.
Monday 1 Chronicles 27-29 , Tues 2 Chronicles 1-5,
Wed 2 Chronicles 6-9, Thursday 2 Chronicles 10-15,
Friday 2 Chronicles 16-20,
Saturday 2 Chronicles 21-25,
Sunday 2 Chronicles 26-29
Blessings as you read!
After my recent post for the ultimate comfort food, Macaroni and Cheese, Sandy wrote and said, "Your mac and cheese recipe reminded me of a recipe that's on my bucket list — Patti Labelle's Macaroni and Cheese. If you've not seen it before, Google it. Calls for 2+ cups of half and half, and 3 or 4 different cheeses. My-oh-my — my mouth waters just THINKING about it!"  Sandy knows me well and she won't be surprised to know it only took me seconds to look up Patti's mac 'n cheese recipe.  I have it on my "make it soon" list even though we will have to eat salads for a week before and a week after 🙂  If you can't wait for me to lower my cholesterol first, check out her recipe HERE.  Thanks Sandy!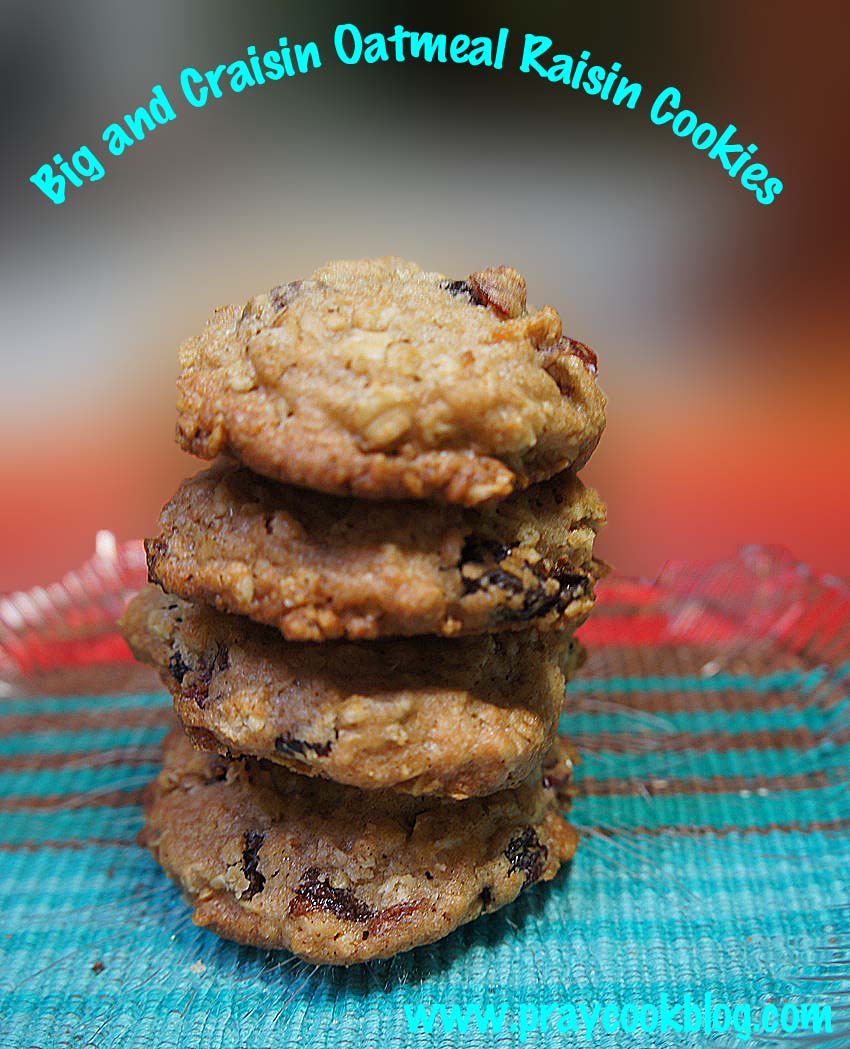 Soon we will be attending our bi-annual family reunion. I will have hours upon hours of play time with my grandchildren and my children 🙂  I absolutely can't wait.  So this week I started doing what all good Grandmothers do when they are going to spend time with their grandchildren … bake cookies~!!!  I solicited help from Great Grandma (previously known to you as my sous-chef, dish-washing mom) and she got right to work.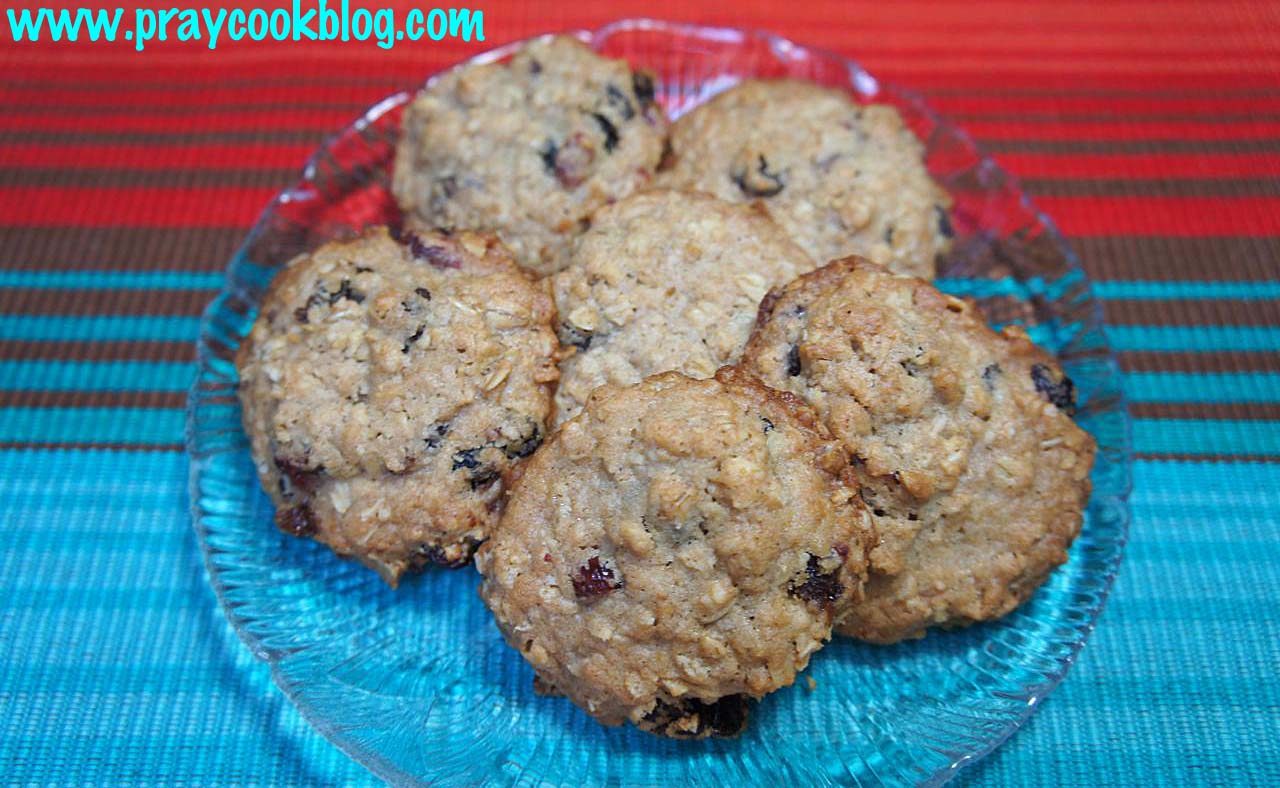 On Mother's Day, Carmen from Baking is my Zen, made Big and Chewy Oatmeal Cranberry Cookies for her mother.  One look and I knew I would be taking her recipe for a test drive.  As is so typical in the world of recipes, Carmen got the recipe from Norah's Menus and Recipes.  She then tweaked it to suit her taste.  I liked the idea of Craisins in the recipe but added some raisins too!  Since the cookies are going to the family reunion we left out the nuts because we have plenty in the family.  Oops, I mean we have family who can't eat nuts. 🙂
I try to refrigerate my cookie dough overnight before baking.  HERE are a couple of reasons why.  Thank you Carmen – this is definitely a keeper recipe!  We used a medium-size cookie scoop (not as big as an ice cream scoop), baked them for 20 minutes and the result was a nicely crisp on the outside and chewy on the inside perfectly size cookie.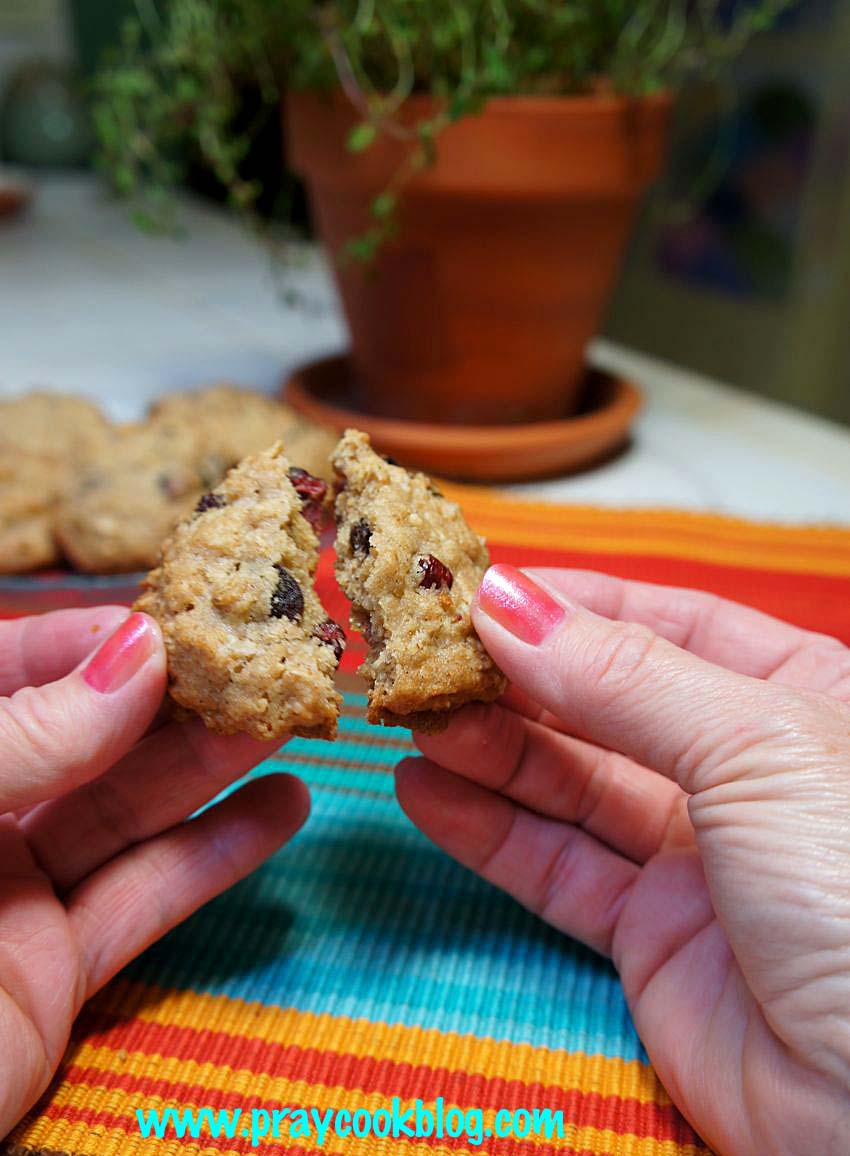 Many Blessings and Happy Baking!
Chewy and Craisin Oatmeal Raisin Cookies
Deliciously chewy cookies loaded with craisins and raisins and nuts if you want them.
Author:
Adapted from Baking is my Zen
Ingredients
1½ cup All-purpose Flour
½ teaspoon Salt
½ teaspoon Baking Powder
2 teaspoon Cinnamon
1 cup Unsalted butter
1 cup Light Brown Sugar, packed
1 cup Granulated Sugar
2 Eggs, at room temperature
1 tablespoon Pure Vanilla Extract
3 cup Old-Fashioned Oats
¾ cup Craisins
¾ cup Raisins
1 cup Walnuts, chopped
Instructions
Whisk the flour, salt, baking powder, and cinnamon in a medium bowl and set aside.
Beat the butter and sugars at medium speed until light and fluffy, about 2 minutes. Scrape down the bowl. Add eggs, one at a time, and mix until combined, about 30 seconds, scraping the bowl again. Add vanilla extract and mix to combine.
Decrease speed to low and slowly add the dry ingredients until combined, about 30 seconds. Mix in oats, craisins, raisins, and walnuts (if you use them.)
Chill dough for an hour or more. I chilled it overnight. Chilling helps keep the cookie from spreading out too much while baking.
Set oven temperature to 350 degrees F. Line baking sheets with parchment paper. Use an ice cream scooper or medium size scoop to place dough on the parchment lined baking sheet. Space cookies about 1½ inches apart (2" apart if using an ice cream scooper.)
Bake 20 to 25 minutes depending on amount of dough used. My cookies were done with a medium scoop and took 20 minutes to bake. Secret to chewy cookies - don't over bake!
Cool cookies on baking sheet for 2 minutes. Using a wide metal spatula, transfer cookies to a wire rack. Cool to room temperature.

Wrap individually in plastic wrap to keep cookie texture chewy. Can be frozen if need be.

Notes
I bake my cookies one sheet at a time to insure even heating and browning.  If you choose to back two at a time, rotate the sheets halfway through the baking time.