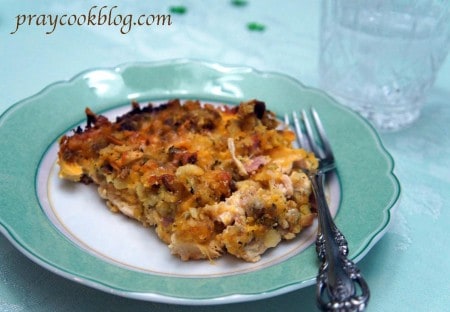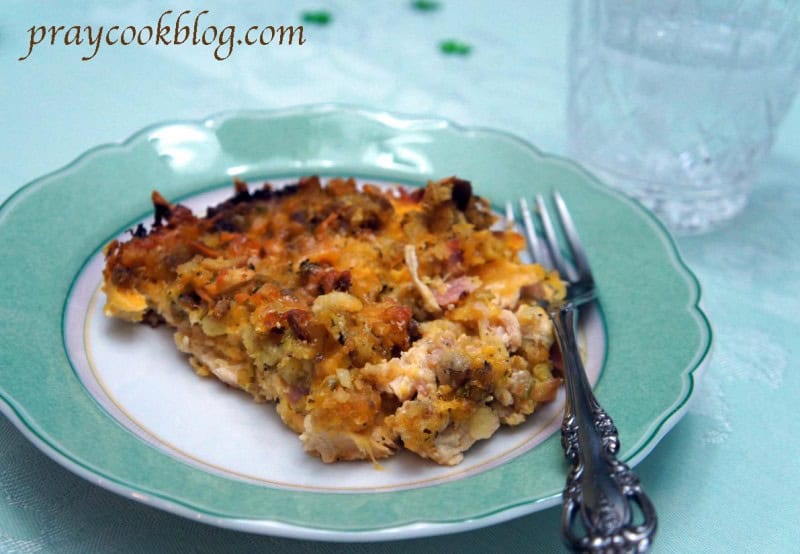 I haven't blogged since Easter except for a tribute to my son's birthday.  LIFE came at us fast the last 3 weeks.  Sweeping across the country is winter bronchitis and flu and we didn't dodge the bullet this year.  Sadness struck our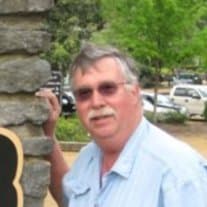 neighborhood as we lost our good friend and neighbor, Kevin, to the ugliness of cancer.  The landscape of our country lane will be forever changed without Kevin's happy, positive attitude and willingness to be the best neighbor anyone could ask for.  We pray for his wife and family as they grieve the loss and yet celebrate his life.
This morning as I was trying to figure out how to start today's blog post I read a post from Max Lucado called "Give Us This Day Our Daily Bread."  I think he wrote it just for me and you.
Many of us have trouble relating to the prayer, "God, give us this day our daily bread." Because our pantries are so packed and our bellies so full, we seldom ask for food. More likely, we need to ask for self-control and say, "God, help me not to eat so much."
You won't find books on surviving starvation, but you will find shelves loaded with books on losing weight. That doesn't negate the importance of the prayer, however. Just the opposite. We pray only to find our prayer already answered!  At some point it occurs to you that someone is providing for your needs.
You take a giant step in maturity when you agree with King David's words in 1st Chronicles 29:14, "Everything we have has come from You, and we only give You what is Yours already." Long before you knew you needed someone to provide for your needs, God already had!
What a terrific reminder of the blessings God gives to us before we even ask!  The recipe I have to share with you today was a blessing that came from our neighbors, Gaye and David.  One late afternoon Gaye just showed up at the door with a casserole hot out of the oven.  Dinner's ready!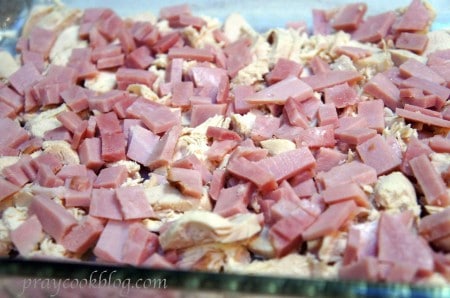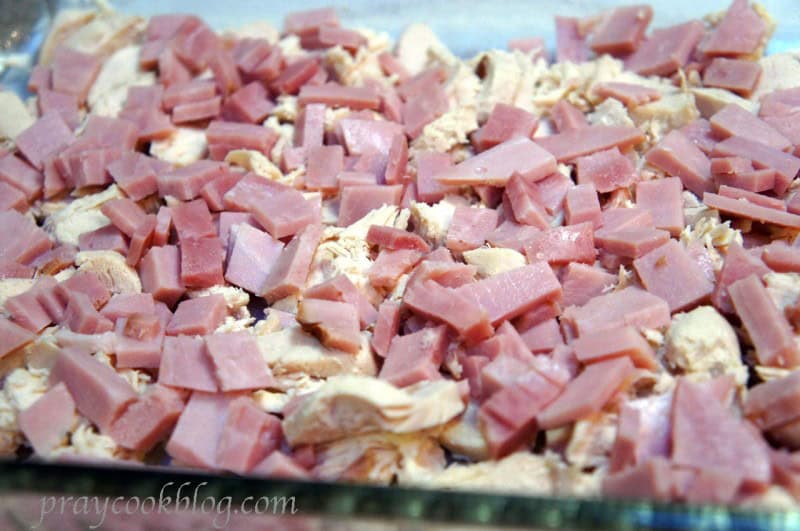 We liked it so much I have made it twice, tweaking the sauce just a little each time.  The base for the casserole is diced chicken and ham.  This is a good recipe to use up leftover meat if you have it.  If not, it is easy to cook up a chicken breast and dice up some ham.
The next layer is Swiss cheese and 1/2 the cheddar cheese.  The original recipe then calls for mixing 1 can of condensed cream of chicken soup and milk together.  I prefer to make a sauce and not used the canned stuff.  It is so easy to make a sauce and not end up with all the sodium and preservatives in cream of chicken canned soup.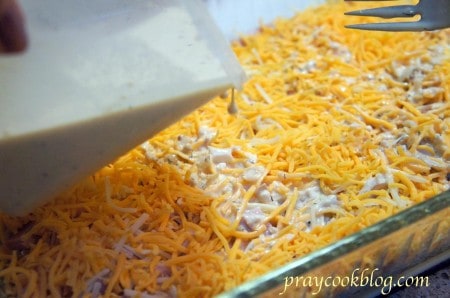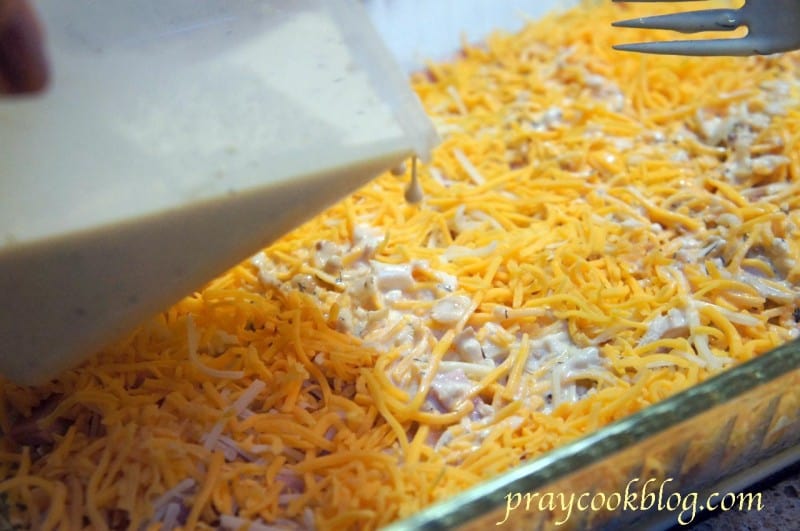 The sauce is poured over the meat and cheese layers.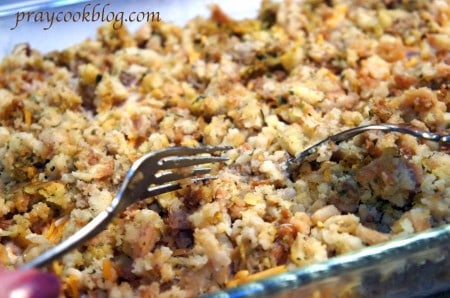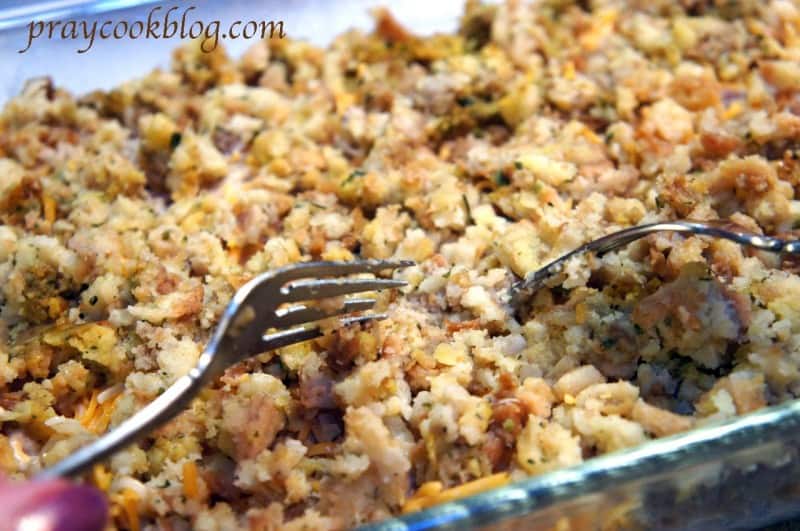 And the crowning touch is a package of reduced-sodium stuffing mix.  The stuffing is made according to the directions on the box and then layered over the meat/cheese/sauce.  The remaining cheddar cheese is sprinkled on top and the casserole is baked covered for 35 minutes and uncovered for an additional 10 to 15 minutes.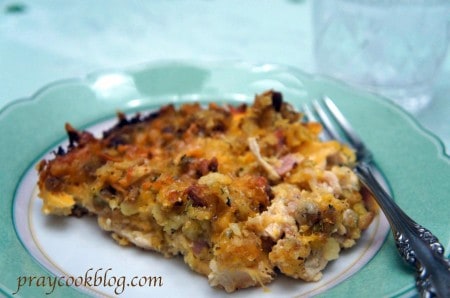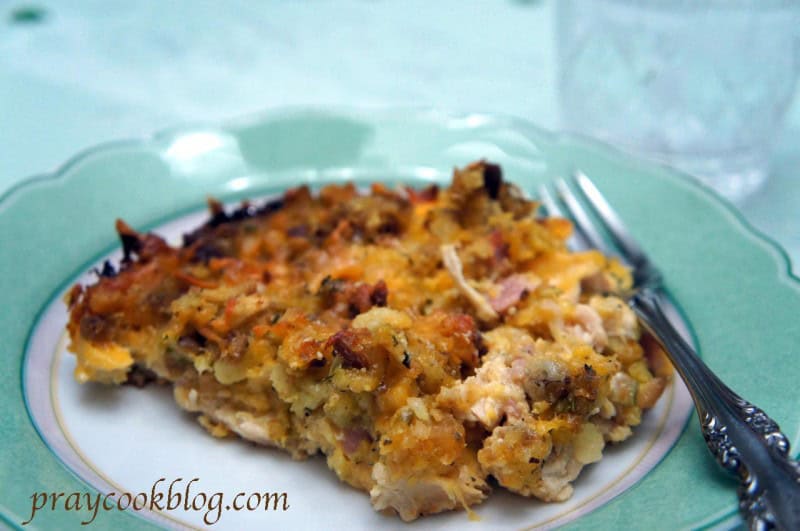 The  flavors are absolutely wonderful together and definitely give the taste of a "chicken cordon bleu" without the fuss!  The recipe originally came from Taste of Home and indicates this casserole can be made and frozen for up to 3 months, thawed in the refrigerator overnight and then baked when ready to serve!
Happy Cooking!
~Catherine
Chicken Cordon Bleu Casserole
The chicken and ham flavors meld into one cheesy fabulous casserole that will leave your family asking for more!
Ingredients
1 package (6 oz) reduced-sodium stuff mix, make according to package directions
4 cups cubed cooked chicken
½ teaspoon pepper
2 cups diced cooked ham
1½ cups shredded Swiss cheese
1 cup shredded cheddar cheese
Homemade cream of chicken soup
1 tablespoon butter
1 cup finely chopped celery
1 tablespoon finely chopped onion
1 tablespoon all-purpose flour
¼ teaspoon salt
1 teaspoon chicken bouillon granules or base
2 cups milk
Instructions
Prepare stuffing mix according to package directions. Set aside.
In a medium size saucepan, over low heat, melt butter, add celery and onion. Saute' until they are tender. Stir in the flour, base or bouillon, and salt until mixture is smooth and bubbly. Stir in milk, gradually, stirring constantly. When well mixed remove from heat.
Grease a 13" x 9" baking dish. Layer chicken, ham, pepper, Swiss cheese, and ½ the cheddar cheese.
Pour cream of chicken soup over the the meat and cheese mixture. Cover with stuffing mix. Sprinkle with remaining cheddar cheese.
At this point the casserole can be covered and frozen for up to 3 months. Otherwise, cover with foil and bake at 350 degrees for 30 minutes. Uncover and bake an additional 10 to 15 minutes longer or until cheese is melted and casserole is bubbly. Serve and enjoy!
To use frozen casserole:
Thaw in the refrigerator over night. Remove from refrigerator 30 minutes before baking. Cover with foil and bake at 350 degrees for 30 minutes, uncover; bake 10 to 15 minutes longer or until heated through and cheese is melted.
Notes
One can of condensed cream of chicken soup and ½ cup milk can be used in place of the homemade chicken soup sauce.
* One tablespoon of prepared mustard can be added to the chicken soup sauce to give the casserole a slightly different, yet yummy flavor.

Recipe adapted from Taste of Home