A Walk Through The Bible In One Year
Week 11 reading plan per day
Click on the colored link to read each day's scripture.
Monday Joshua 1-4. Tues Joshua 5-8, Wed Joshua 9-12,
Thursday Joshua 13-16, Friday Joshua 17-20,Saturday Joshua 21-22, Sunday Joshua 23-24
Today begins week 11 of our walk through the Bible in one year. If you are just starting, don't worry — Start right where we are. You can always access the other sections of the story in the WORD POWER section of my blog. Or you can also start from the very beginning with week one today and go forward. Either way, jump right in! And may God open our hearts to His Word. I am finding this an incredible journey. The words are coming alive for me in story after story. And I am reaping blessings in the mostly unlikely of places. I hope you will join me in this walk this year!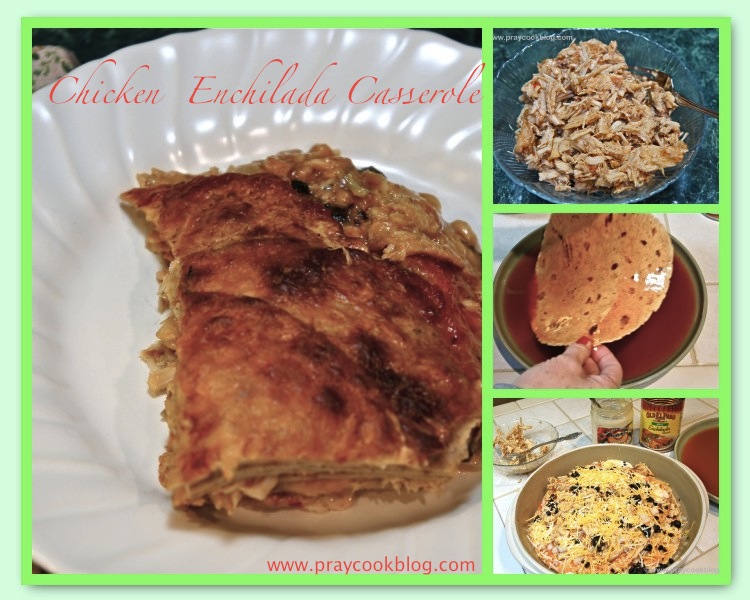 After the holiday weekend I feel like it has been forever since I was blogging!  I have also been battling an internet service that hasn't been functioning all weekend.  That was probably by divine guidance … but hey, it is up and running now!  I am so excited to tell you about the Chicken Enchilada Casserole that I have made since I was … well, let's just say,  a long time!  But before that I have to do some bragging, um, I mean blogging about my awesome better half.  If you have been with me very long you will know that I am absolutely head-over-heals enthralled and in love with my husband.  Daily he walks through life with me in the most incredible way and on a regular schedule he runs through life running up and down the back roads of Tennessee.  Occasionally, he enters a marathon run or a half marathon.  This past weekend he ran the Oak Barrel Half Marathon sponsored by the local running club, Mach Tenn and Jack Daniel's Distillery.  We are quite blessed to live in the beautifully peaceful hills that surround Lynchburg, Tennessee and this half marathon brings thousands of people to this beautiful little town, first to run, then to stop by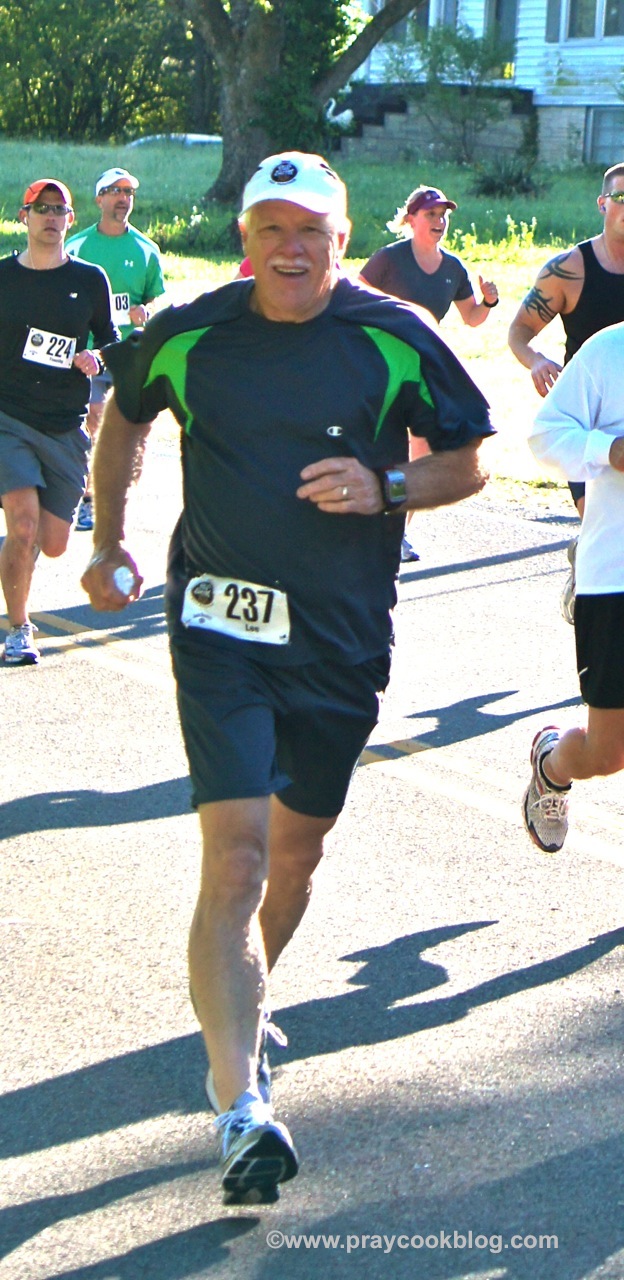 Jack Daniel's Distillery for some … lemonade — and I am not talking about Lynchburg Lemonade — made with the world-famous hometown ingredient.  No ma'am, we live in a "dry" county and Jack Daniel's sits right in the middle of that dry county.  That means no  serving liquor in this county 🙂  So … when you visit JD's you can buy a commemorative bottle of Jack, but you will be only served … lemonade, made with lemons and water 🙂
I digress …. ah yes, he runs.
My job? you may be wondering.  (1) Take the picture.  (2) Kiss him when he crosses the finish line.  I love my job!  After the race, Jack Daniel's Master Distiller, Jeff Arnett, is on hand to sign medals and bottles.  Great job Lee!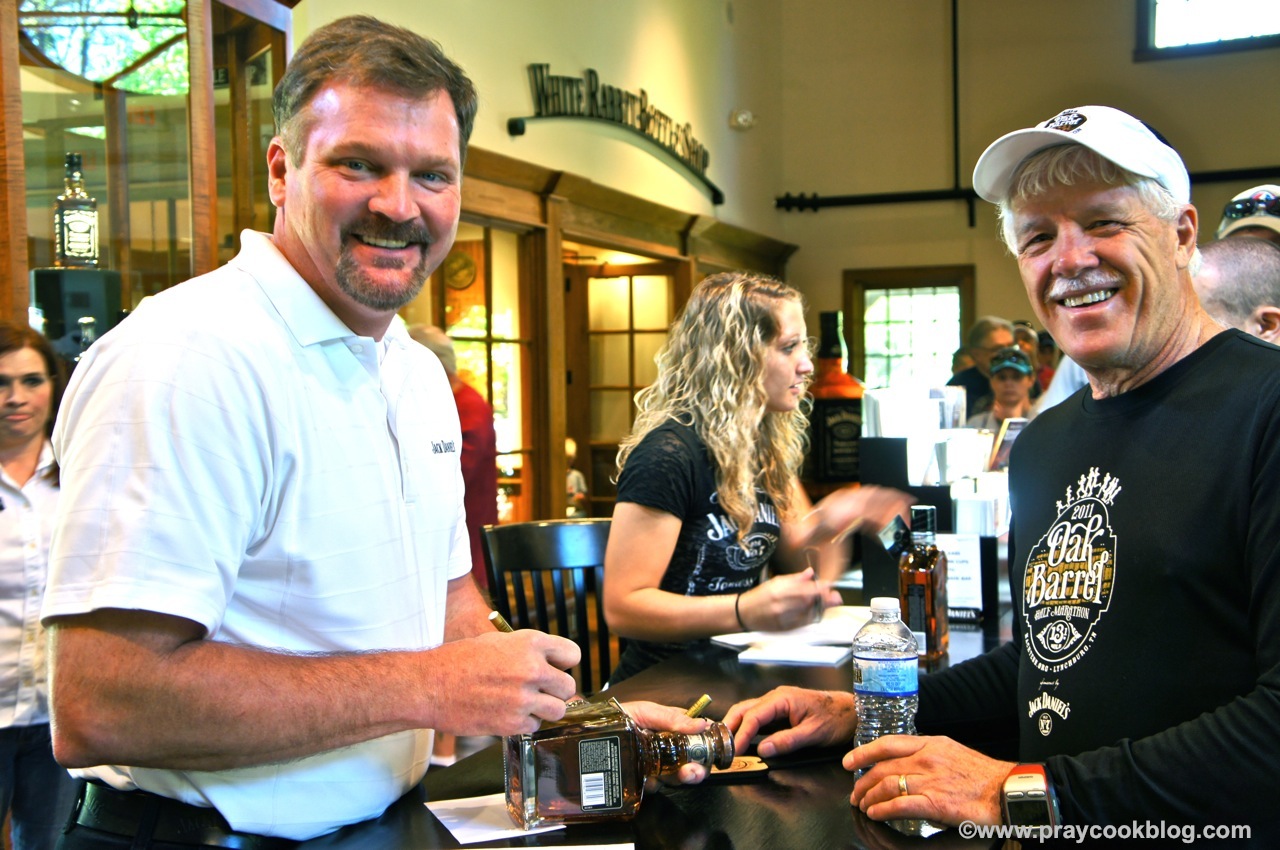 You may be wondering how I am going to segue from all that to Chicken Enchilada Casserole…. well, here goes!  After holiday meals of ham, turkey, lamb, potatoes, salads, veggies, desserts, desserts, and more desserts I am always ready for Mexican food!  Something different.  One dish, a salad on the side and it's dinner! I love this recipe because it can be made either with beef or chicken and turns out wonderful every time.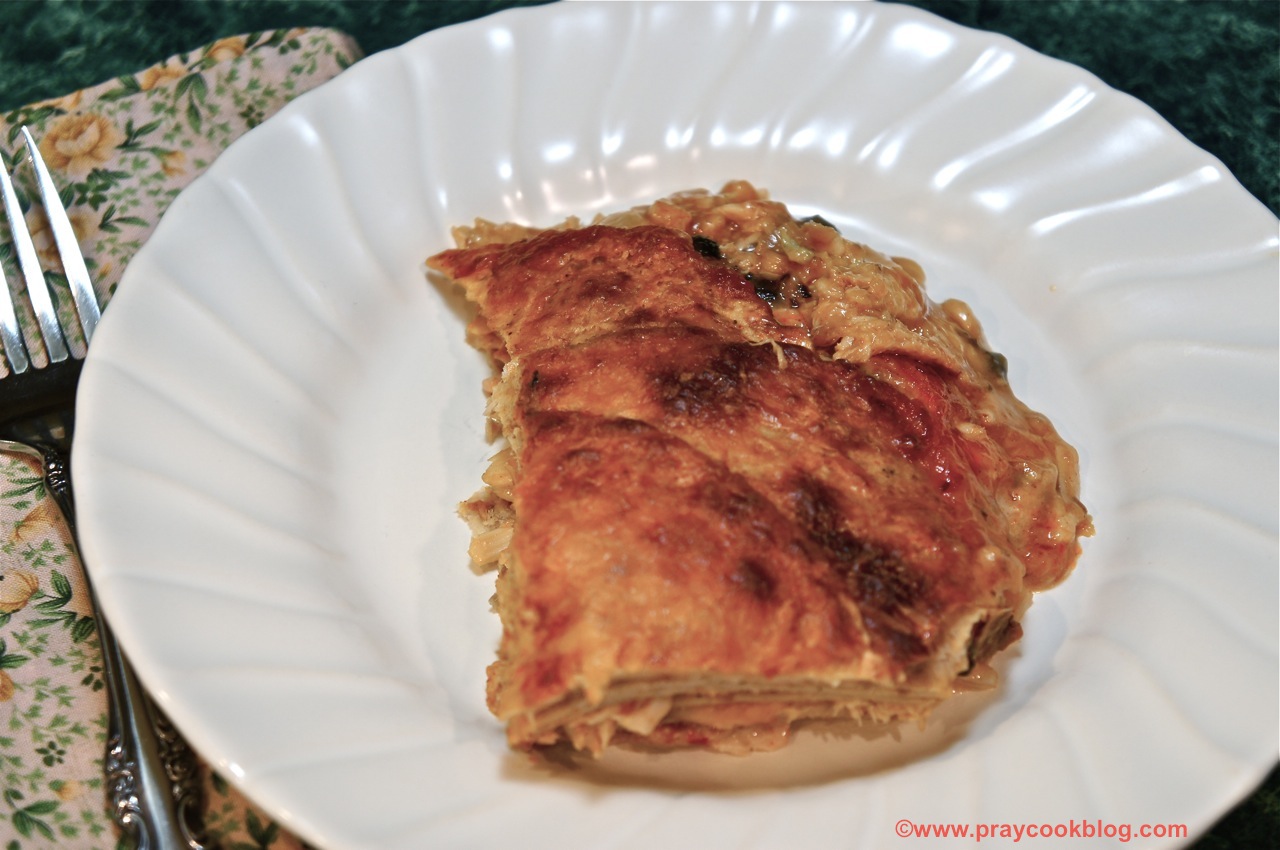 Recently, Ginger, one of the awesome hair stylists at Davis & Company, told me how she cooks chicken in a crock pot to later use in casseroles.  This recipe is so remarkable I can't believe I haven't been doing this for years.  Sadly, I haven't been — but on a high note — I am now.  Start with putting about a cup of salsa (more or less) in the bottom of the crock pot.  Add chicken breasts.  I have done as many as 6 and as few as 2.  Cook on low for about 4 to 6 hours.  Using a fork pull the chicken apart shredding it as it cooks.  This will be easy to do when the chicken is well cooked.  Stir the juices and salsa into the chicken as you shred it.  Leave the chicken to cook until ready to use.  If you aren't making a mexican flavored dish, just use a cup of chicken broth for liquid instead of the salsa — result is the same when shredding the chicken.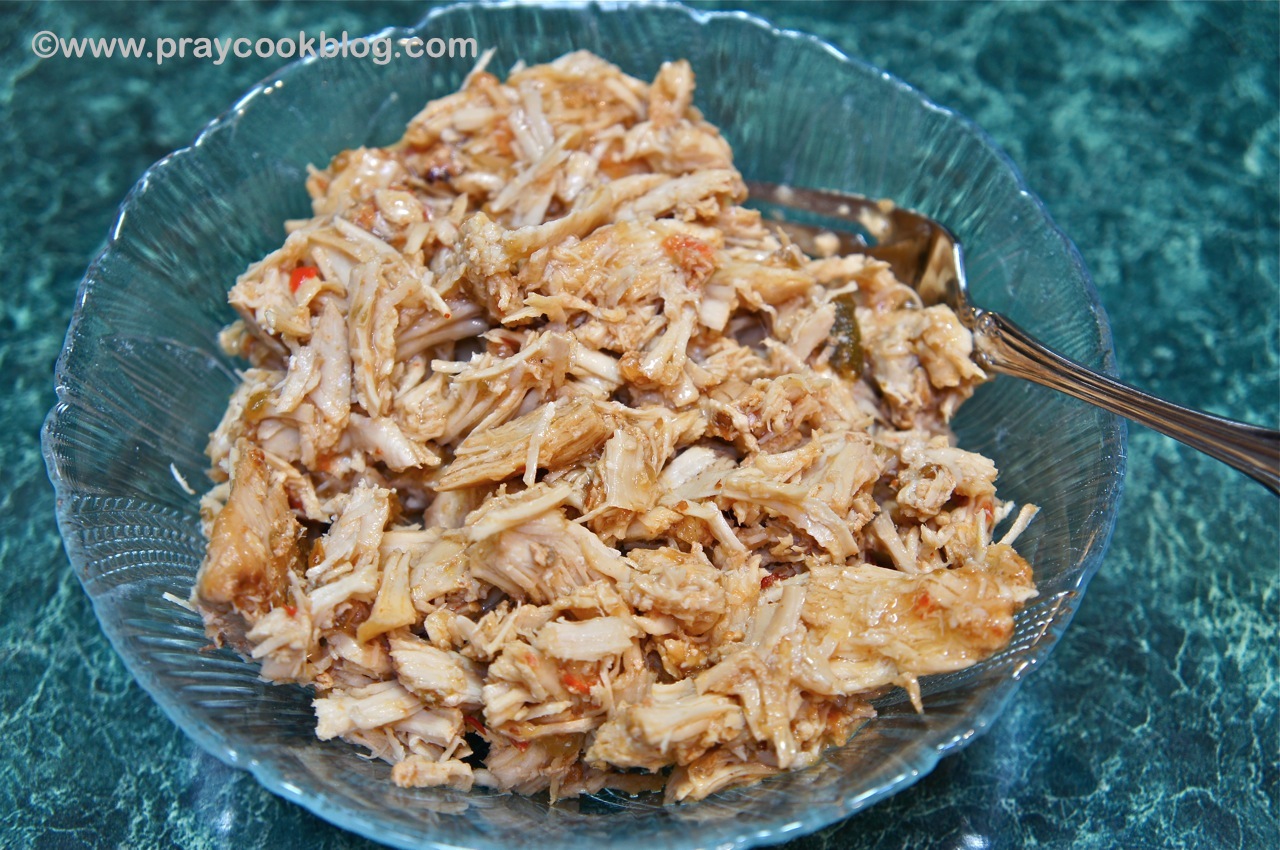 When you are ready to assemble your casserole, pour some enchilada sauce into a plate with a little lip. Dip tortillas on each side to coat with sauce.  I use mild sauce but you can crank it up a notch to taste!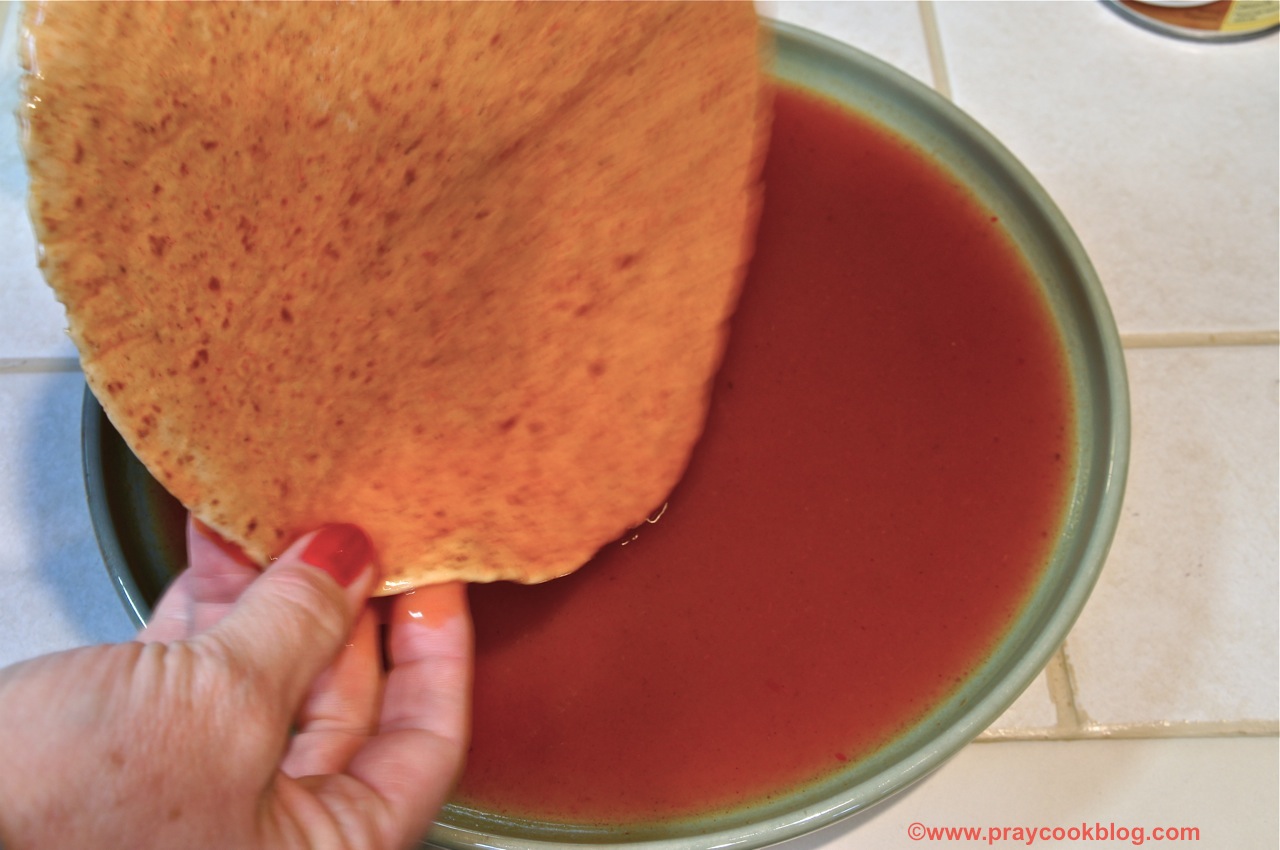 Starting with a little extra sauce in the bottom of your dish, start the layering.  Tortilla dipped in enchilada sauce, cooked shredded chicken, cheese and a few black olives.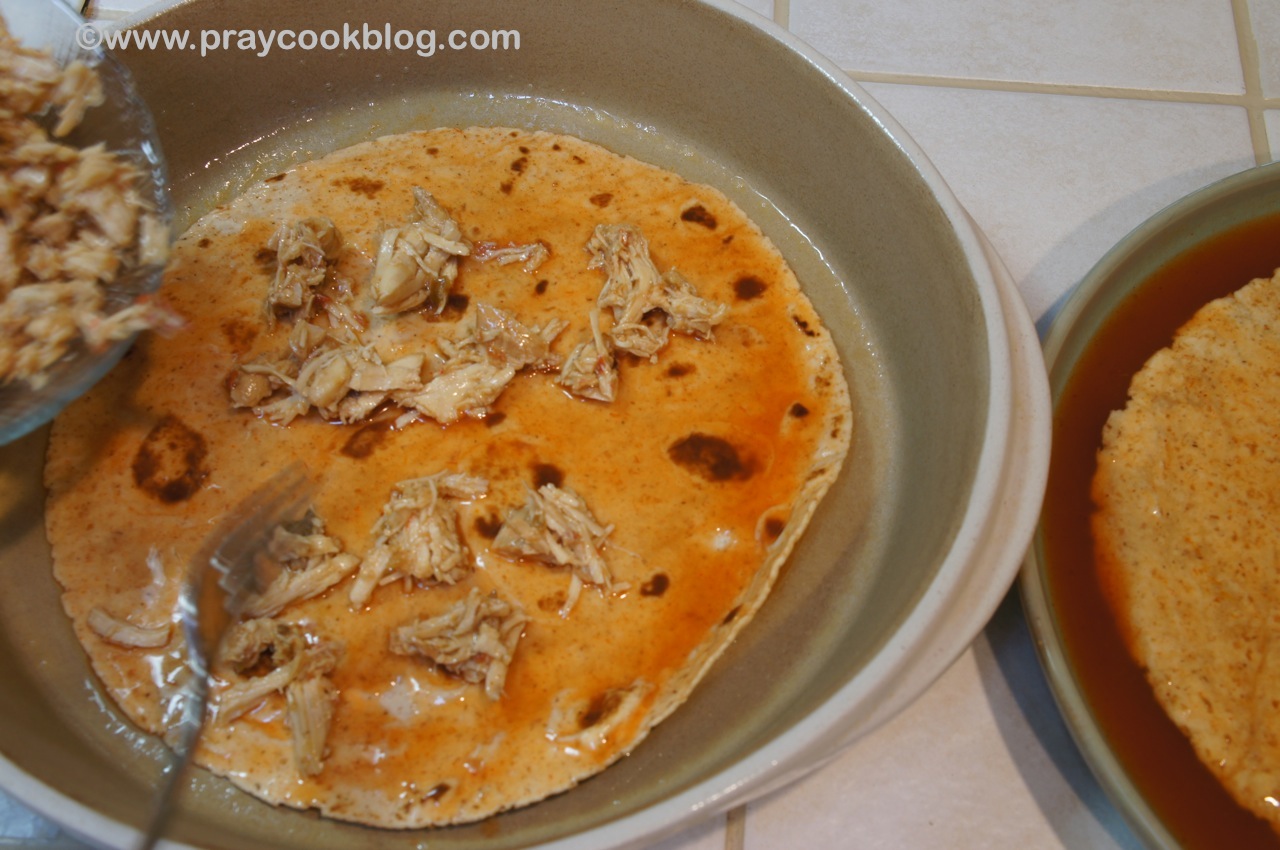 Continue layering using 7 or 8 tortillas – based on the size of your dish and how many folks you are feeding.  I like to use mexican style cheese which is a blend of finely shredded Monterey jack, mild cheddar, queso quesadilla and asadero cheeses.  Olives are optional, but I like them for a little color and flavor.  When you have filled your dish.  Bake it until the top is brown and the sides are good and bubbly.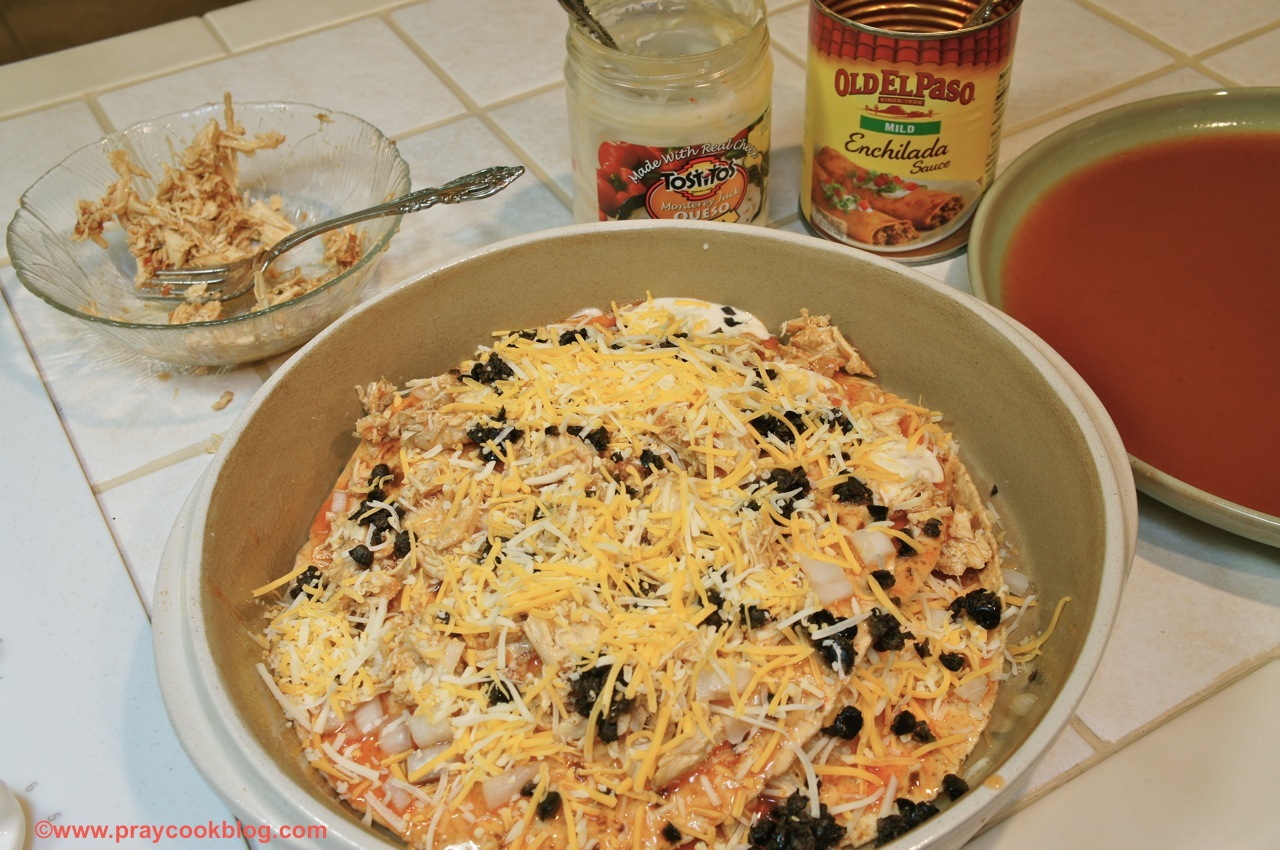 I like to serve with a green salad and a few tortilla chips!
Chicken Enchilada Casserole
A fantastic blend of mexican flavors, soaked up by the tasty tortillas, shredded chicken and lots of gooey cheese!
Ingredients
8 Flour Tortillas
1 can Enchilada Sauce
8-12 oz Mexican Style Shredded Cheese
¼ cup Diced Black Olives
½ cup Diced Fresh Onion
2 large Chicken Breasts
1 cup Salsa
Instructions
Place approximately 1 cup salsa in the bottom of the crock pot. Add 2 chickens breasts and cook 4 to 6 hours on low. Shred chicken after about 4 hours, mixing well with the salsa. Continue to cook, adding water or chicken stock if the chicken gets dry. When cooked shred and set aside for casserole.

Pour Enchilada sauce onto a large plate. Dip tortilla on both sides and place in the bottom of a greased baking dish. Dish can be round, square or oblong. A 9" round or 8"x8" square pan or even an 8" x 11" pan works fine. Just cut tortilla to fit if necessary.

Layer sauced tortilla, sprinkle with chicken, black olives, finely chopped onion and cheese. Continue to layer until the baking dish is nearly full or all ingredients used up!

Finish casserole with remainder of the cheese. Bake at 350 degree F. for 30 to 45 minutes until casserole is browned and bubbling all over.