Walk Through The Bible In One Year
Week 13 reading plan per day
Click on the colored link to read each day's scripture.
Monday 1 Samuel 1-4, Tues 1 Samuel 5-10, Wed 1 Samuel 11-14,
Thursday 1 Samuel 15-17, Friday 1 Samuel 18-21,
Saturday Samuel 22-25, Sunday 1 Samuel 26-31
Blessings as you read!
Happy Monday!  I just figured out I can change the color of my blog title.
Baby steps … anyway, tell me, do you like this color … kinda bright pink?  I tried RED because I love red.  But it seemed too "in your face".  What do you think?  I really, really need your opinion!  Please leave me a comment!
Today I'm excited to share with you a recipe for Easy Chicken Tetrazzini.  This recipe comes from my sister-in-law, Liz.  We have eaten it many times in her home and it is always delicious.  After serving spaghetti and meatballs recently I decided I wanted to use the leftover sauce for lasagna.  Now, what to do with that bowl of spaghetti?  I called Liz.
This is an easy recipe.  It can be made by starting off with a simple roux or cream of chicken soup and some chicken broth will work in place of the roux.  In my case — I made the roux and added a can of cream of chicken soup.  Yes, unfortunately I have always been an overachiever :),
Liz often times uses some red or green bell pepper in her Tetrazzini.  I had some roasted red pepper and it turned out a perfect flavor combination with the chicken.
Leftover chicken or turkey can be used or in my case I simply simmered a couple of chicken breasts then shredded them while they were still warm.  Recently my friend Cheryl wrote and shared that she used rotisserie chicken in my Chicken Enchilada Casserole  recipe.  Rotisserie chicken works great in this recipe also!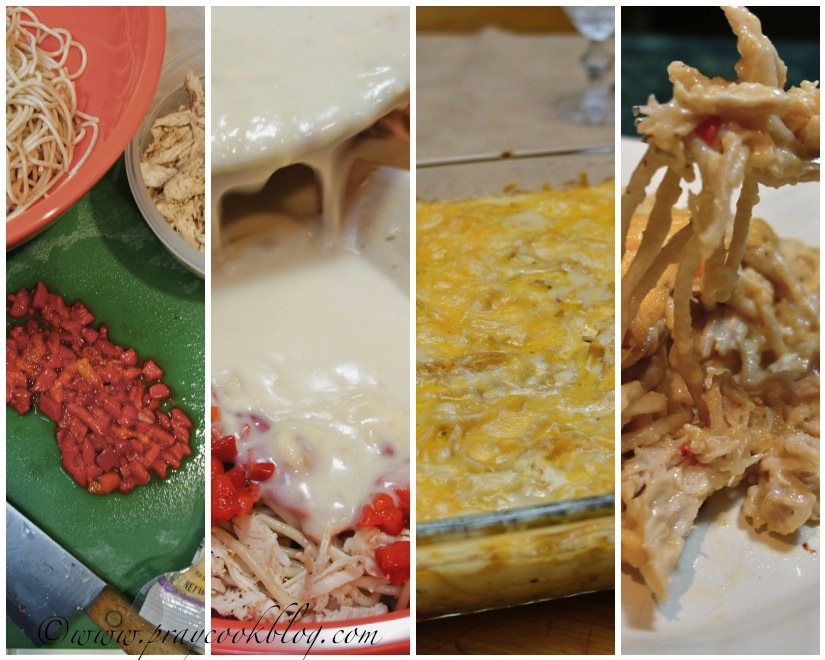 So here you go … mix it all up, include some of your favorites like roasted red pepper, green peppers, mushrooms, olives, or green chilies … add some cheese, bake.  Done!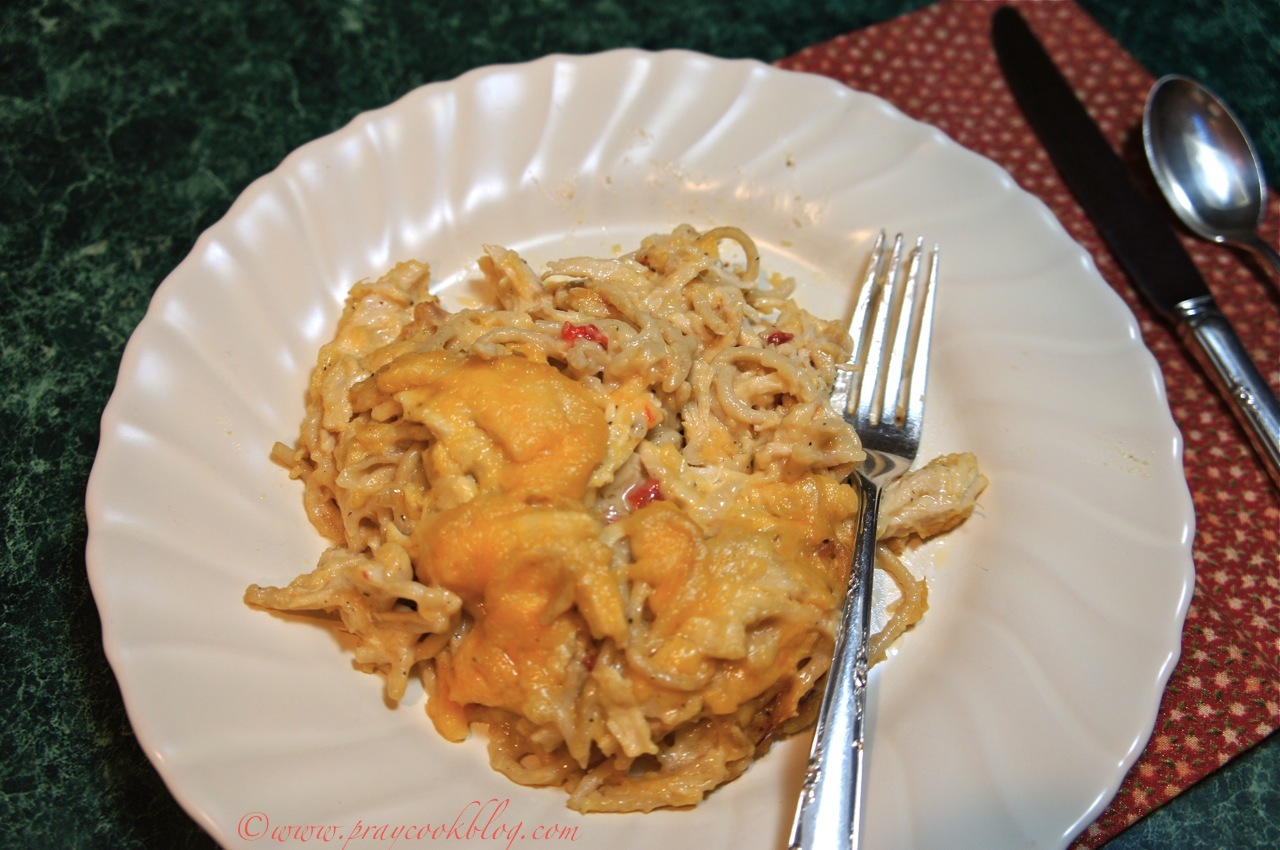 I used a Fiesta Cheese mix which included shredded Monterey jack, cheddar, queso quesadilla, asadero cheese and I added pepper jack!
First bite …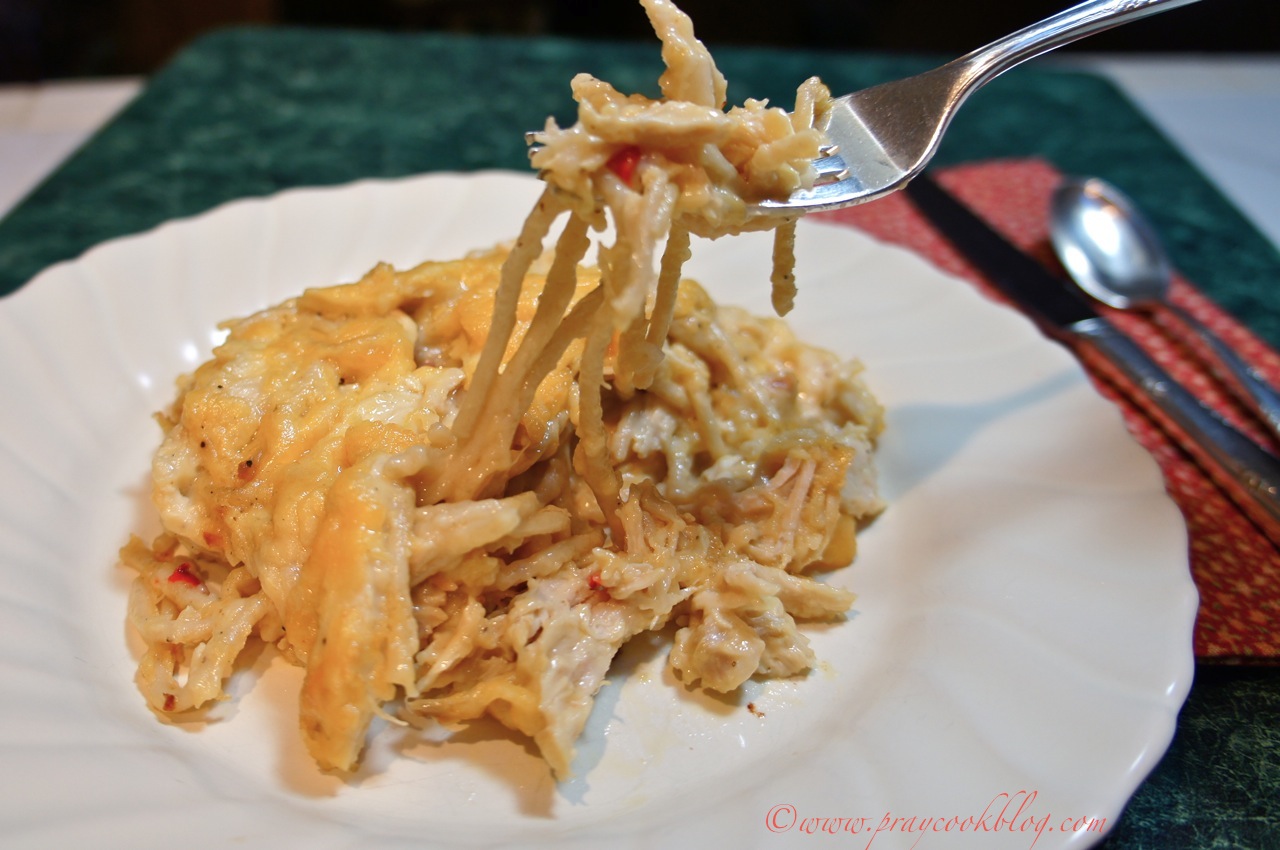 I should have made this a long time ago!  Liz, thanks for sharing.
My chief culinary consultant, sous-chef-dishwashing-mom, and I all agree the second time around the flavors were even better than the first!  Ya'll know I love adding "this or that" to recipes to change-up the flavor a bit and this is a perfect recipe to use leftover chicken or spaghetti and add nothing to it or whatever you have on hand!  Definitely my kind of dish!
Bon Appetite'

Chicken Tetrazzini
Baked spaghetti and chicken in a delicious creamy sauce. A family pleaser for sure! A wonderful use of leftover spaghetti or chicken.
Ingredients
1 lb Cooked and drained spaghetti
4 Chicken Breasts, cooked and shredded
1 to 2 can Condensed Cream of Chicken Soup
2¼ cup Vegetable or chicken broth
¼ cup Butter
1 small White onion, chopped
8 oz Shredded Cheese
2 tablespoon Flour
½ cup Chopped Roasted Red Pepper
½ cup Mushrooms
½ cup Chopped Green Pepper
Instructions
Melt butter in medium skillet and saute' onions until translucent (about 5 minutes.) Add flour and mix well, gradually whisk in the chicken broth, continuing to mix. Stir in cream of chicken soup. This should make a nice creamy pourable sauce. If sauce is too thick add a little water or milk to thin. Should be just about gravy thickness.

In a large mixing bowl stir spaghetti, shredded chicken, ½ the cheese, roasted red peppers and any additional ingredients you may prefer to add. Pour sauce into bowl. Mix well.

Place spaghetti mixture into a 9"x13" greased baking dish. Sprinkle remaining cheese on top. Bake 350 degrees F. for 30 minutes or until bubbling well and cheese is melted.

First Bite!

Notes
(1) Cheese - use 8 ounces of your choice.  I like to mix several cheeses including a bit of pepper jack for a little heat.

(2) Red pepper, green pepper, mushrooms, all optional according to your preference and taste.

(3) If you don't want to make the roux, use 2 cans of cream of chicken. If you make the roux, you may only need 1 can of cream of chicken.