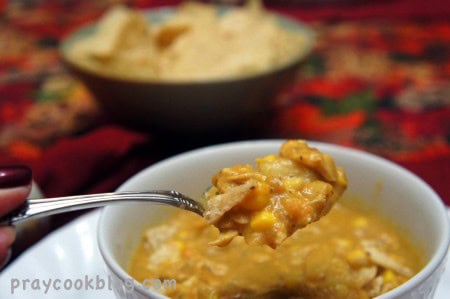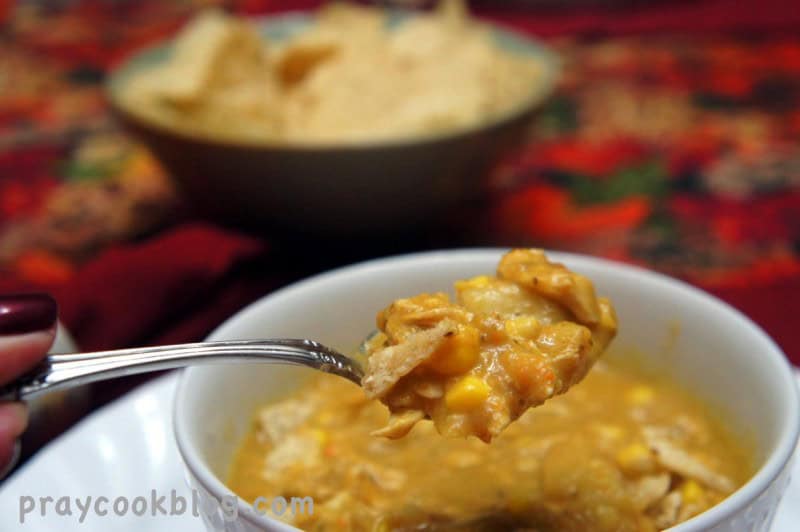 It's fall. Days are cooler and nights are cold.  The soup kettle is on in our home. When I think of chowder it is clam chowder or corn chowder that comes to mind.  When I saw this recipe for chipotle chicken chowder, originally from Cooking Light, it piqued my curiosity.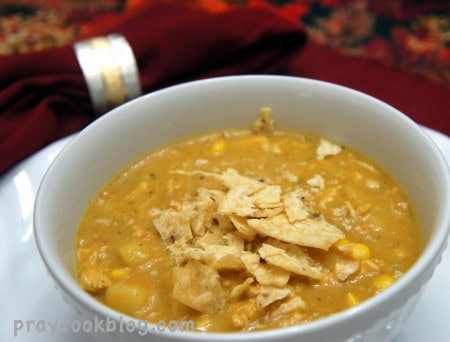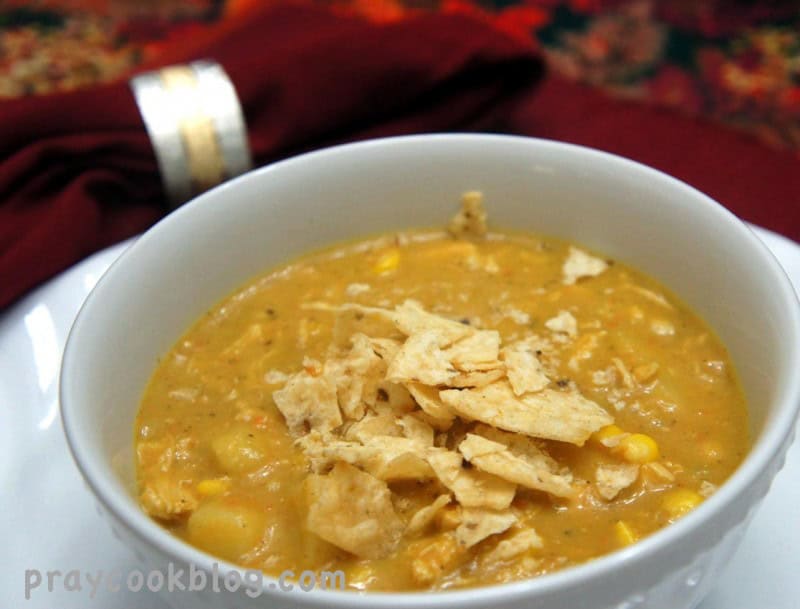 The word "chowder" means a seafood or vegetable stew — or thickened soup.  This meal-in-a-bowl fits that description well. The soup is spicy. Not the burn your lips off spicy, just a nice, slow, warm glow from your lips to the soul of your feet!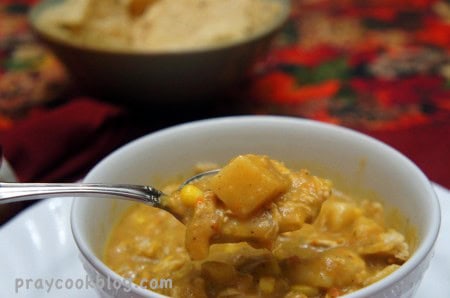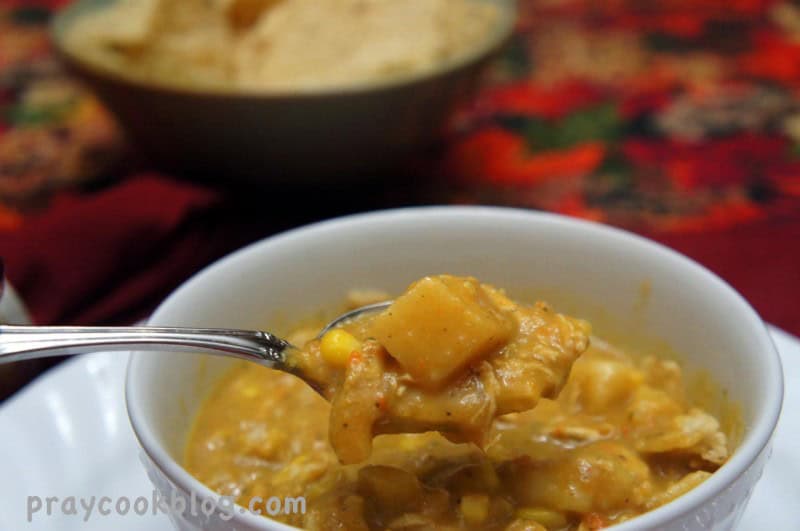 It is so thick, rich, and creamy it can be eaten with a fork (but use a spoon and get every tasty bite!) We topped it with crushed tortilla chips instead of crackers.  A perfect crunchy salty addition!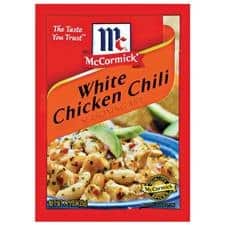 I made a few revisions (corn instead of hominy, precooked, shredded chicken) and I kicked it up a notch with one of my favorite seasoning packets … White Chicken Chili.  I don't like to cook the chicken in the chicken stock I am using for the soup.  That's just me. I precook it first and then add to the soup.
An added bonus — the flavors continue to meld in the refrigerator for a few days after making this and it gets better with every serving.  This chowder also freezes well for a ready-to-go meal another day.
Happy Cooking!
Catherine
"Give thanks to the Lord, for he is good; his love endures forever."       Psalm 107:1
Chipotle Chicken Chowder
A little bit spicy, a whole lot flavorful, and perfect for a cool fall or winter night's meal.
Serves:
10 to 12 servings
Ingredients
1 to 2 lbs. boneless, skinless chicken breast cooked and shredded
1 tablespoon extra-virgin olive oil
1 chipotle chile in adobe sauce, minced
2 medium onions, diced
2 large carrots, diced
2 large celery ribs, diced
1 teaspoon ground cumin
½ teaspoon dried oregano
½ teaspoon dried thyme
6 garlic cloves, minced
8 cups chicken broth
1 (15.5 oz) can corn, drained
3 medium red potatoes, but into ½" pieces
½ cup heavy cream
1 McCormick White chicken Chili seasoning packet
* Crushed Tortilla chips for garnish (optional)
Instructions
Set a large Dutch oven over medium heat and add the oil. When the oil shimmers, add the chile, onion, carrot, celery, cumin, oregano, thyme, garlic and McCormick seasoning packet. Cook stirring occasionally, for about 7 to 8 minutes, or until the onion has softened.
Add chicken broth and cook for another 20 to 25 minutes. Remove from stove and cool slightly.
Use an immersion blender to puree the chowder until smooth. (Alternatively, you can transfer the soup to your blender in batches and do this too -- just be careful blending hot liquid. Return to the pot once smooth.)
Once the chowder has been pureed, set the pot back over medium heat, stir in the cooked, shredded chicken, diced potatoes, and corn. Bring to a simmer and cook, uncovered, for about 20 minutes or until the potatoes are fork tender.
Just before serving add heavy cream and continue to heat, slowly until ready to serve.
Garnish with crushed tortilla chips and Enjoy!
Notes
* The McCormick White Chicken Chili seasoning packet may seem redundant with all the other spices, but it adds another layer of seasoning that really makes this chowder stand out.

!Adapted from Cooking Light