Walking Through the Bible in One Year —
Bringing the Story to Life
Week 3 reading plan per day:
Monday (Gen. 43-45) Tuesday (Gen. 46-47)
Wednesday (Gen. 48-50) Thursday (Exodus 1-3)
Friday (Ex. 4-6) Saturday (Ex. 7-9)
Sunday (Ex. 10-12)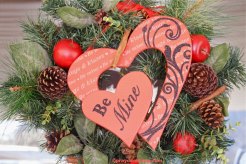 Happy Valentine's Day! I hope you are having a sweet day today.  Whether you share this day with a lover, a friend, a neighbor, or a special family member, it is a terrific day to say "I Love You" to those who are important in your life.  I received an early Valentine's gift from my darling husband.  Since receiving a new camera for Christmas I started taking a series of photography classes.  The beginner's class (which I am in now) requires a full standing tripod.  I was using a small counter tripod to take foodie pictures for this blog but my Valentine gave me a fabulous full standing tripod that is very nice.  In honor of that new tripod I took this picture while on a photo shoot in downtown Columbia, Tennessee.  This is the front window in a "balloon" shop and it really got me in the mood for Valentine's Day!  This photo was shot in the dark of night and without a flash.  I didn't even know cameras could do that!  See how much I am learning already 🙂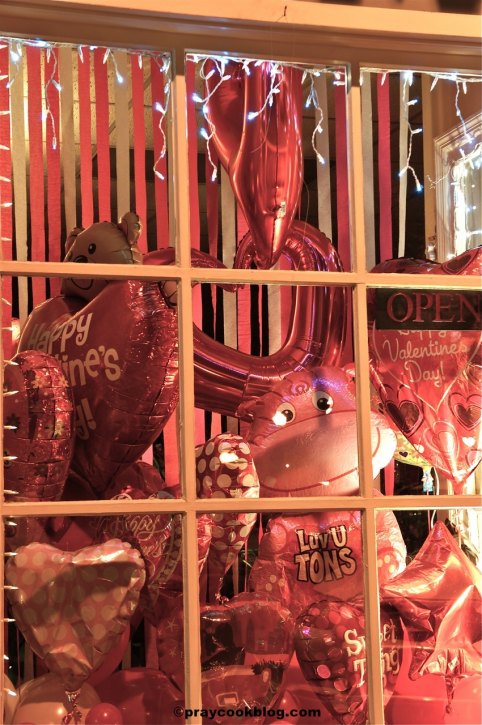 Since it seems that chocolate is synonymous with Valentine's Day I recently asked mom if she would make her family-famous Tommy Cake for us.  This fast and easy, incredibly moist chocolate cake recipe can be found under several other names including Texas Sheet Cake and Chocolate Buttermilk Cake.  Mom recalls with perfect clarity the very day she first ate this wonderful cake.  We were visiting my Aunt Rose and Uncle Bob in Friend, Nebraska.  Mom says that when we arrived Rose was just pulling this cake out of the oven.  She added the frosting to the hot cake and let it cool a bit while the visiting commenced.  The cake was then eaten, slightly warm and melt-in-your-mouth delicious!  Mom says she couldn't wait to get the recipe from Aunt Rose!  The rest is really history as my mother has been making this cake on a regular basis ever since.  I even included it in my Walnut Grove Bed and Breakfast Cookbook.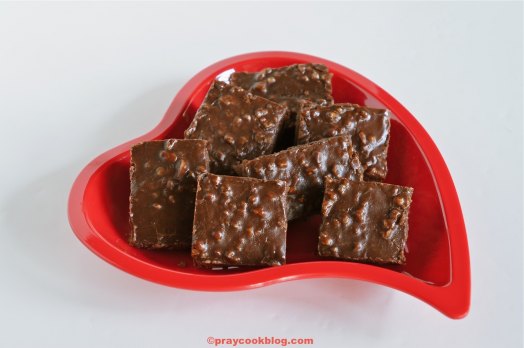 I have made this cake many times when I need a last minute dessert or need to take a dessert that will feed a group!  I also really like the fact that the ingredient list is made up of items I most generally keep on hand.  Sometimes I don't have buttermilk, but the powdered kind works just fine in this recipe.  All-in-all for a chocolate Valentine's treat or a dessert any day of the year — this is a keeper recipe.  Thank you Aunt Rose 🙂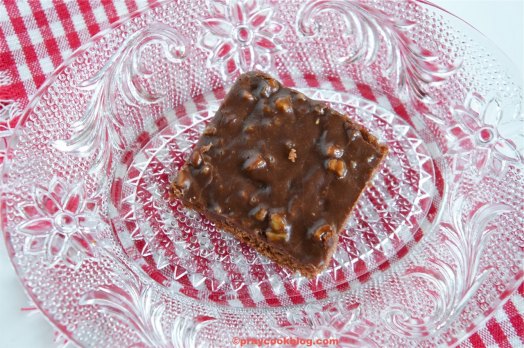 Have a great day!
Many Blessings and Happy Cooking!


Tommy Cake

Tommy cake is easy and wonderful whether you call it Texas Sheet Cake or Chocolate Buttermilk Cake! I have seen this same recipe called all three!

Author:

Walnut Grove Bed and Breakfast Cookbook

Ingredients

2 cup Granulated Sugar
2 cup All-purpose Flour
1 cup Butter or Margarine
1 cup Water
6 tablespoon Cocoa
2 large Eggs, slightly beaten
½ teaspoon Salt
1 teaspoon Vanilla Extract
½ cup Buttermilk
¾ teaspoon Baking Soda

Frosting

2 tablespoon Cocoa
3 tablespoon Milk
⅓ cup Butter or Margarine
2 cup Powdered Sugar
1 cup Chopped Walnuts or Pecans

Instructions

Mix together sugar and flour.
Bring to boil 1 cup butter, 1 cup water and 6 Tablespoons cocoa. Mix well stirring until boils. Remove from heat and pour into the flour/sugar mixture.
Mix in eggs, salt and vanilla. Add soda to the buttermilk and add to the cake mixture. Stir well. Pour into a greased 10" x 13" cookie sheet type pan. Bake 350 degrees F. for 30 minutes.
During the last 5 minutes the cake is baking, prepare the icing. In a saucepan add cocoa, milk and butter. Bring to boil until butter is melted, stirring well. Add in powdered sugar. Stir well making sure all the powdered sugar is incorporated in the butter and milk mixture. Optional nuts: if you are adding nuts you can add them into the frosting or sprinkle over frosting after spreading on hot cake.
After taking cake from the oven, spread frosting over the hot cake. Cool. Cut into squares. Enjoy!


Notes

I typically always use nuts unless serving to someone who can't have them.