A Walk Through The Bible In One Year
Bringing the Story to Life
Week 8 reading plan per day:
Click on the colored link to read each day's scripture.
Monday (Numbers 18-20) Tuesday (Numbers 21-22)
Wednesday (Numbers 23-25) Thursday (Numbers 26-27)
Friday (Numbers 28-30) Saturday (Numbers 31-33)
Sunday (Numbers 34-36)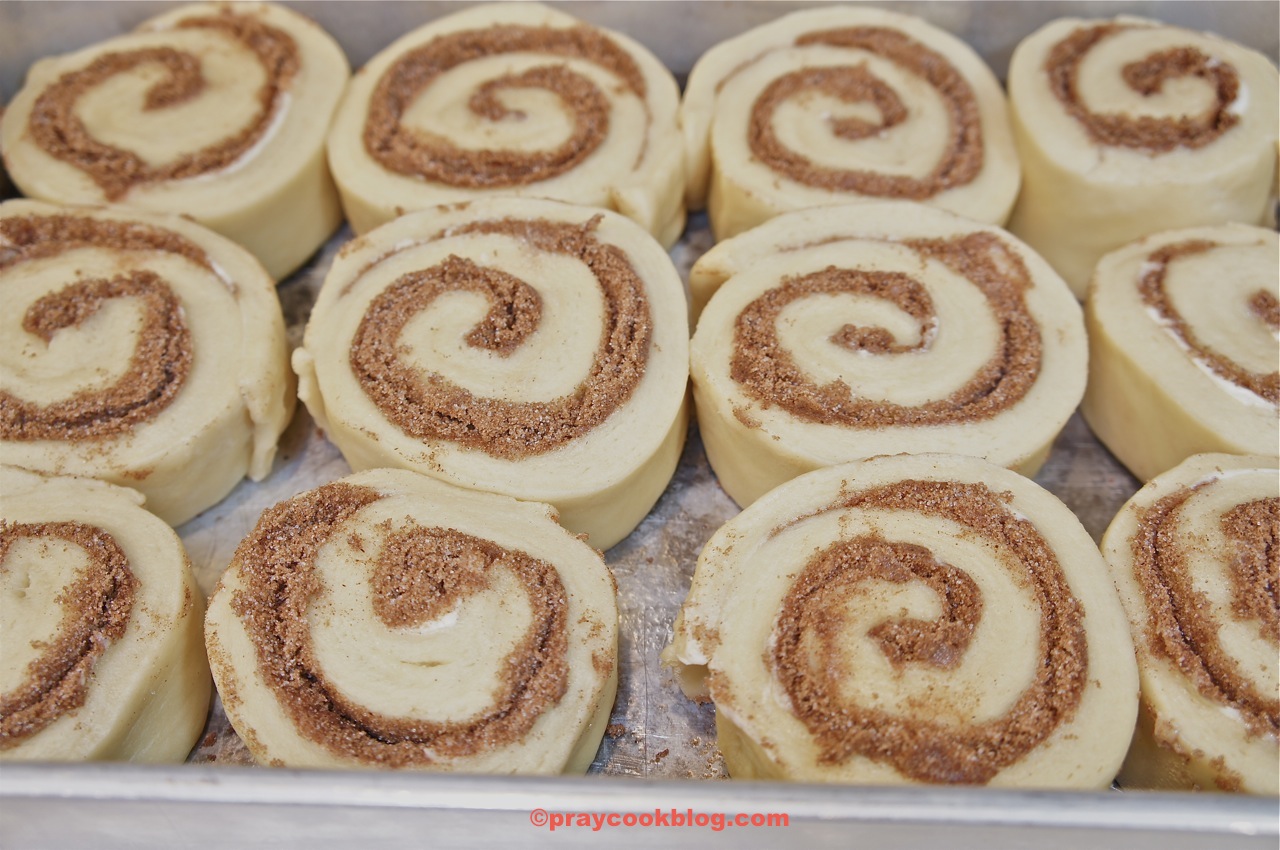 I love bread. I can pass up chocolate, candy, brownies, and most cookies. But take some fresh bread out of the oven and it is all over but the shoutin' for me! Years and years ago I started making bread using a box of bread dough mix I would buy at the grocery store.  Even then I managed to make some bricks.  I am quite sure I was kneading it too death but fast forward 40 years (yikes!) and my soul sings loud and clear when a batch of cinnamon rolls look like these as they are getting ready to rise to the occasion.  When I was making these it was the marathon baking day before my cousin Jill was arriving.  This is the same day my beloved Kitchen Aid mixer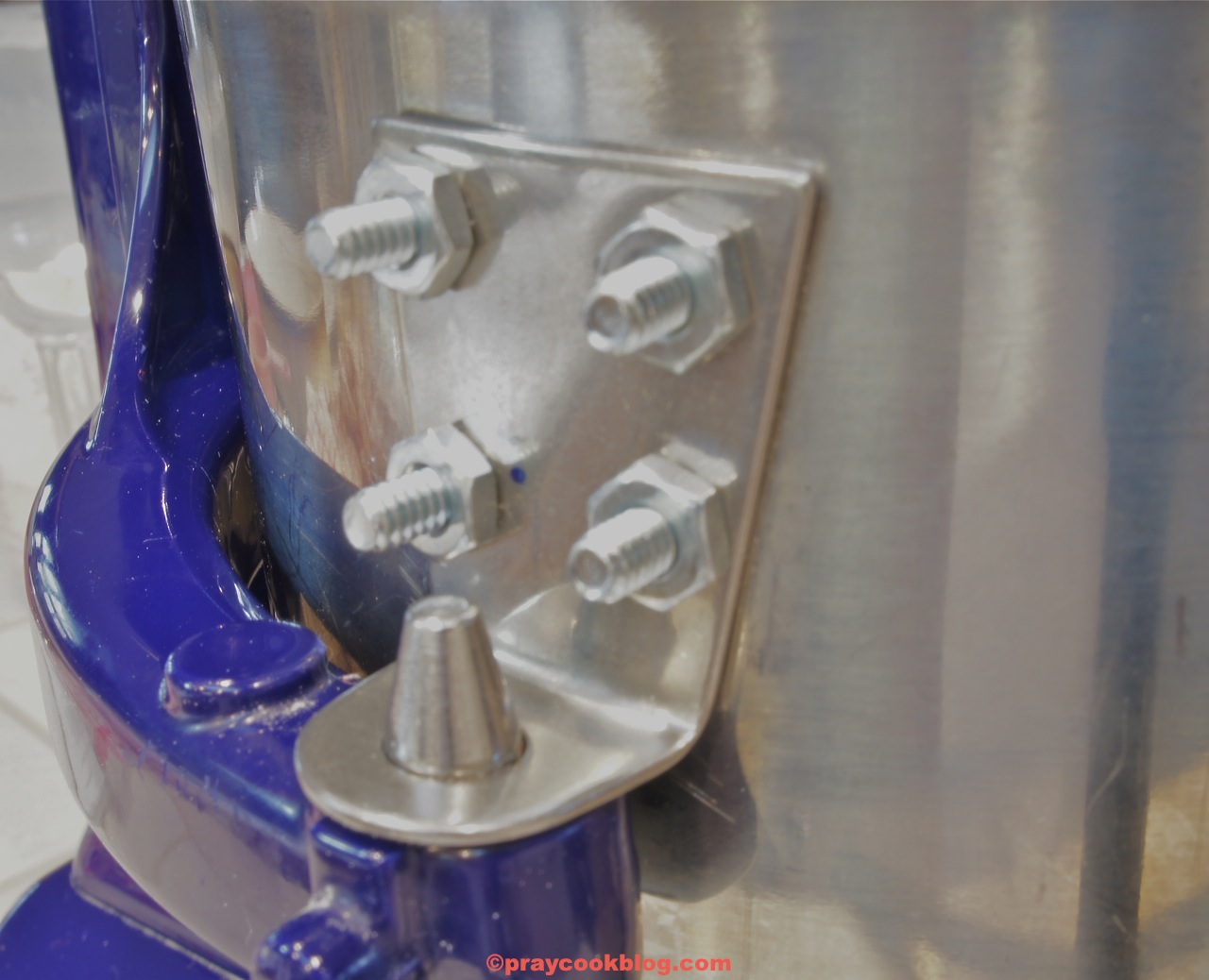 threw itself off the hook scaring me to death!   Thanks to my man-of-all- trades and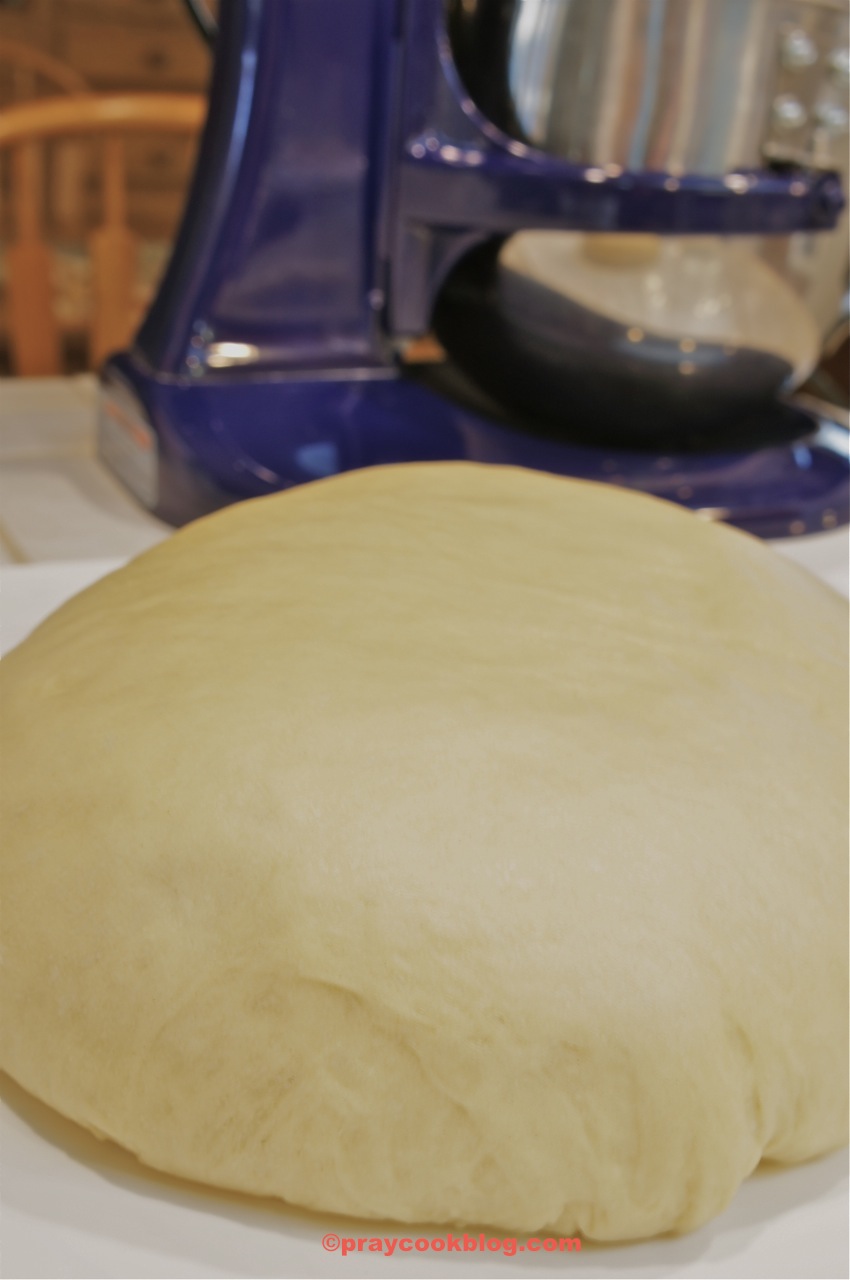 chief culinary consultant, this Kitchen Aid is working great and has taken on a new look 🙂  After the repair it works beautifully turning out this stunning loaf of soft, stretchy dough.
I use several different bread recipes including TWD:BWJ White Bread,  My Yankee Dinner Rolls,  Homemade Wheat Bread, and My Best Dinner Rolls and when I am looking for a recipe these days I go to my blog first and usually to print it out.  I was so surprised when I went looking for my cinnamon roll recipe to find I have never posted it.  This recipe is called Harvest Cinnamon Rolls.  I have had it in my arsenal of recipes for some time.  However, when I Googled the name so I could tell you where it originally came from, I found the same recipe all over the internet.  So, suffice it to say — it came from the internet! 🙂   It calls for Vital Wheat Gluten and I always use this because it helps sweet bread dough to rise better with more elasticity.  If you don't have any on hand the results will still be good, just better with it.  When making finishing a cinnamon roll I don't think you can do any better than Buttercream Frosting.  The more the better! 
After all this build up to my awesome cinnamon rolls I must confess I "forgot" to take pictures when they were done.  I was busy – I had company coming!  So, after the fact we only had a few left and this was the best picture I could squeak out.  Hopefully it will be enough for you to know that you too can make these awesome cinnamon rolls!
Many Blessings and Happy Cooking!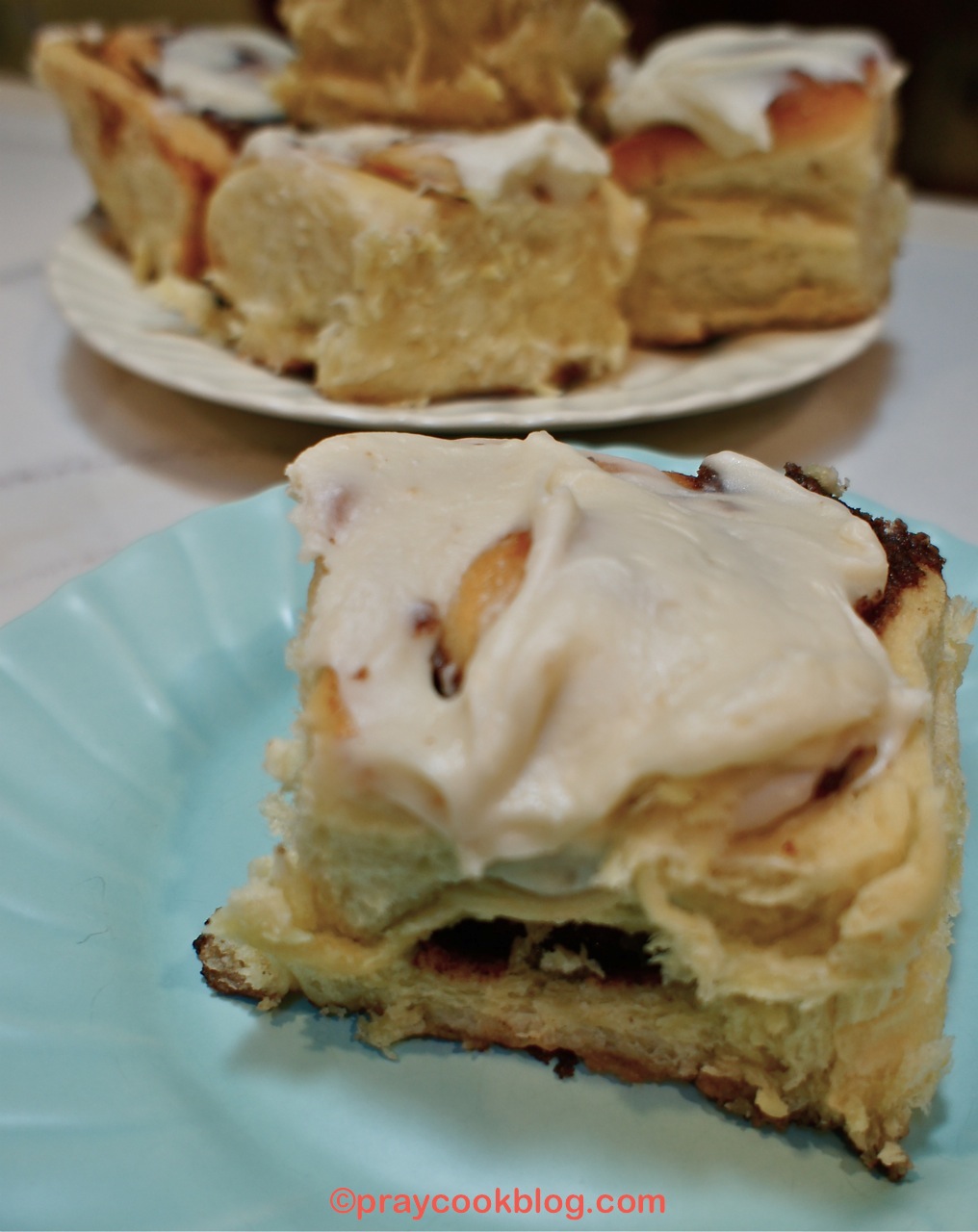 Harvest Cinnamon Rolls

Cinnamon rolls that rise to any special occasion as easily as everyday breakfast! Soft, tasty, and dripping with buttercream frosting!

Ingredients

1 cup Milk
¼ cup Warm Water
1 teaspoon Pure Vanilla Extract
½ cup Butter
2 Eggs, slightly beaten
½ teaspoon Salt
½ cup Granulated Sugar
5 cup Bread Flour
1 tablespoon Vital Wheat Gluten
3 teaspoon Instant Dry Active Yeast

Cinnamon Filling

½ cup Butter, melted or softened
1 cup Brown Sugar, firmly packed
3 tablespoon Ground Cinnamon
1 cup Chopped Nuts

Buttercream Frosting

2 oz Cream Cheese
¼ cup Butter, room temperature
1 cup Powdered Sugar
½ teaspoon Pure Vanilla Extract
⅛ teaspoon Lemon Extract or oil

Instructions

Stir yeast into warm water. Let yeast bloom, 5 to 10 minutes. In a Kitchen Aid mixer or bread maker, combine milk, yeast water, butter, eggs, salt, sugar, flour, and wheat gluten. Mix until ingredients form a soft dough, continue kneading the dough for 10 minutes until dough is soft and pliable. Place dough in a greased bowl and rise until double in size, 45 minutes to 1 hour. Butter a 9" x13" x 2" baking pan and set aside.

After dough has risen, roll and stretch into approximately 15" x 24" rectangle.
Brush ½ cup softened butter over the top of the dough with a rubber spatula or pastry brush. Combine rest of cinnamon filling ingredients. Sprinkle cinnamon filling over the butter on the prepared dough. Starting with long edge, roll up dough, pinch seams to seal. (NOTE: Rolling the log too tightly will result in cinnamon rolls whose centers pop up above the rest of them as they bake.)
With a knife, lightly mark the dough into 1½" sections. Using a serrated edge knife, saw very gently through the dough cutting approximately 15 rolls. Place cut side up in prepared baking pan, flattening them only slightly. The unbaked rolls should not touch each other before rising and baking. Do not pack the unbaked cinnamon rolls together.

Cover and let rise in a warm place for approximately 45 to 60 minutes or until doubled in size. After rising, rolls should be touching each other and side of pan. Preheat oven to 350 degrees F. Bake approximately 20 to 25 minutes in a regular oven until they are a light golden brown. Remove from oven and let cool slightly.
In a medium bowl, combine cream cheese and butter until creamy. Add powdered sugar, vanilla extract, and lemon extract until well mixed and creamy. Refrigerate frosting until ready to use and then bring to room temperature before spreading.

Spread buttercream frosting over the cinnamon rolls while still warm. Best served warm.


Notes

Day Before Option:  After the rolls are cut, but before they have risen, they can be covered with plastic wrap and refrigerated overnight.  Before baking, allow rolls to warm completely and rise in a warm place.

Freezing Option:  After rolls are cut, but before they have risen they can be wrapped in plastic and placed in a freezer for up to 1 month.  Remove 10 to 12 hours before planning to bake.  Let rolls thaw and rise in a warm place.  ** Rolls can be placed on the counter top overnight to thaw and raise.