Recently I was surfing through a variety of food blogs and I came across Fifteenspatulas.com.  As I browsed through Joanne's pictures, I came across a  really curious looking picture.  At first I thought it was a coconut macaroon.  Having just come off the sugar highs from Banoffee Pie and Topsy Turvy Apple Pie, I didn't think I could face a macaroon.  Then I read the recipe for Crispy Ridged Mashed Potato Mounds!  MASHED POTATOES oh my gosh, I can wrap my taste buds around that!  I immediately started planning dinner around making Crispy Ridged Mashed Potato Mounds.  Turns out this is an original recipe from Joanne.  I followed the recipe — mostly, and the little mounds were great! 
However, I couldn't wait to start messing with the recipe and making it my own.  So, I treated my family to mashed potatoes TWICE this week.  The second time I made these tasty treats with garlic and chives and a quick spray of  I Can't Believe It's Not Butter!  Pair them up with a steak hot of the grill and it is dynamite!  Thanks Joanne for a creative new look at mashed potatoes.  Here is my take on this fun recipe.
Crispy Mashed Potatoes
Ingredients:
Flavoring  Options:
2 sprigs fresh rosemary or
2 teaspoon fresh chives and 1 teaspoon minced garlic for serving with beef or
Your favorite spices!
Directions:
Preheat the broiler (you want it to be preheated for at least 15 minutes before we broil the mounds later on.  This ensures even browning).
Peel and roughly chop the potatoes into large chunks.  Place in a pot of heavily salted cold water and bring to a boil.  Cook until fork tender.  Drain.
While potatoes are cooking:  Remove the leaves from the rosemary sprigs by running your fingers down the stem.
Place rosemary in a saucepan with the half and half.  Bring to a simmer, then cover with a lid and let steep for 10 minutes.  ** Use same technique to infuse a chive/garlic flavor instead.
Strain the rosemary out of the half and half.
** If you use chives and garlic, do not strain.
Add butter and cream to mashed potatoes.  Season with salt and pepper to taste and mash until smooth.
Dollop the potatoes into 8 mounds on sheet pan covered with spray oil or parchment paper.
Take a fork and press little ridges into the potato mounds.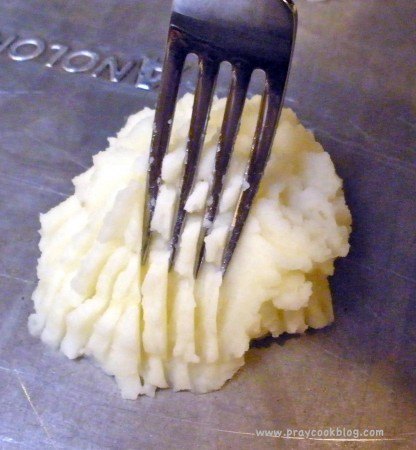 This works easiest by starting at the bottom and pulling upward from the bottom of the mound to the top.
Make sure you have preheated your broiler for at least 15 minutes, then pop these under the broiler about 5 inches away from the heat.  Watch carefully (and don't walk away) until they are brown on the edges, then pull them out.
Spray with "I Can't Believe Its Not Butter" (tasty and pretty!)
Serve and enjoy!
BEFORE


AFTER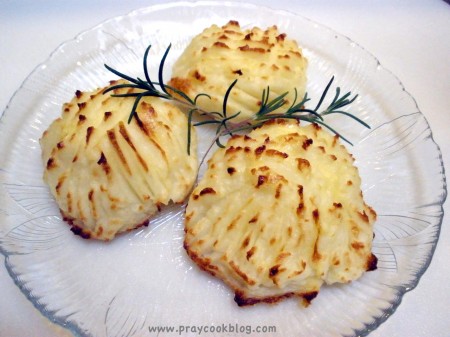 Noteworthy:
If you have anything baking in the oven, you can add the potatoes for about 10 minutes of baking, then broil for 5 minutes or until crispy brown, speeds up the browning process.
Maybe next time ….
A macaroon (/mækəˈruːn/ mak-ə-roon) is a type of light, baked confection, described as either small cakes or meringue-like cookies depending on their consistency. The original macaroon was a "small sweet cake consisting largely of ground almonds"[1] similar to Italian or Moroccan amaretti.
The English word macaroon and French macaron come from the Italian maccarone or maccherone. This word is itself derived from ammaccare, meaning crush or beat,[2] used here in reference to the almond paste which is the principal ingredient.
Most recipes call for egg whites (usually whipped to stiff peaks), with ground or powdered nuts, generally almonds. Alternatively, coconuts can be used. Almost all call for sugar. Macaroons are sometimes baked on edible rice paper placed on a baking tray.