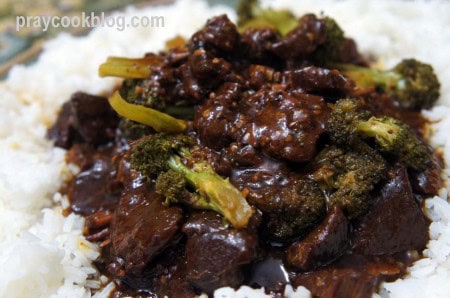 Are you on Facebook?  If so, have you seen the zillions of recipes that are finding their way from wall to wall?  Of course you have, we all have!  I've been tempted to try this one and then try that one.  But, this summer and I've been very picky about the recipes I have taken time to make.  But, when I saw the Crockpot Breakfast Casserole — I kinda got curious.  So curious in fact, that I made the dumb thing.  I should have known better – even in a Crockpot it doesn't take 6 to 8 hours to cook a batch of sausage, eggs, and cheese.  I stayed up late so I could turn the Crockpot on about 11:00 p.m. (late for me!)  By 4 a.m. I could smell breakfast.  It was done. Ready to serve.  But who will I serve it to at 4 a.m.?  I put it on "warm" and went back to bed.  At 8:00 a.m. we ate a rather rubbery, slightly green, eggy casserole.  Yuck.
I have seen a bazillion recipes since then.  However, I was just having a Facebook conversation with my niece Crystal about Crockpot recipes and the Crockpot Beef and Broccoli caught my eye.  I had a nice Eye-of-Round roast in my freezer, fresh broccoli in the crisper drawer and the rest is history.  Note to Crystal – this is a keeper recipe.  Easy to put together before you leave for school in the morning, dinner for the family when you arrive home at the end of the day!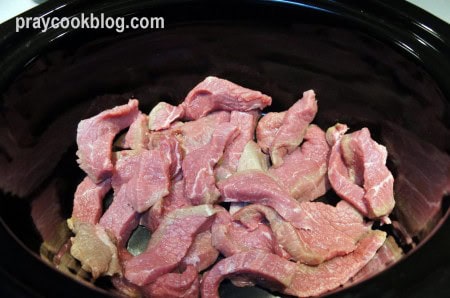 Eye of round is a pretty intimidating piece of beef. It's an extremely lean cut taken from the hindquarters of the cow, which gets a lot of exercise. It needs slow cooking to turn it into a melt-in-your-mouth piece of deliciousness.
I tried to slice it as thin as possible but some of my pieces were thicker than others.  In the end it didn't matter at all.  All of the meat became so tender it was amazing!
The sauce becomes gravy with a little help of some cornstarch during the last 30 minutes of cooking.  This beautifully rich and luscious gravy tastes as good as it looks!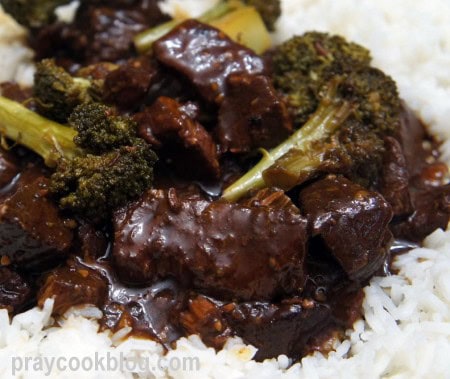 Jasmine rice is a perfect accompaniment, along with a veggie egg roll!
All tastes of yummy!
Happy Crockpot Cooking!
~Catherine
Crockpot Beef and Broccoli
A Crockpot dinner - set it and forget it. 8 hours later prepare to serve a meal your family with love!
Ingredients
1 lb. boneless beef chuck roast or Eye-of-round roast, sliced into thin strips
1 cup beef bouillon
½ cup soy sauce
⅓ cup brown sugar or honey
1 Tablespoon sesame oil
3 garlic cloves, minced
2 teaspoons cracked black pepper
2 Tablespoons cornstarch
Fresh broccoli florets (as many as desired)
Hot cooked rice (brown rice, jasmine, or white rice)
Instructions
Place sliced beef in a crock pot.
In a small bowl, combine beef bouillon, soy sauce, brown sugar or honey, oil, garlic, and cracked black pepper. Pour over beef. Turn Crockpot on low for 6 to 8 hours.
30 minutes before serving: remove ¼ cup of sauce from the crockpot into a small bowl. Add cornstarch, mix well and stir back into the sauce and beef.
Turn Crockpot on high and add broccoli.
Cover and cook on high for 30 minutes. The broccoli with cook and the sauce will thicken into gravy.
Serve over hot cooked rice.
Notes
If your Crock pot is fairly large, double this recipe to serve 6 to 8 people. I used 2 lbs. of Eye of Round roast and doubled the rest of the ingredients.

For a crisper broccoli, cook 20 minutes instead of 30.