Growing up in Nebraska, homemade chicken and noodles was a favorite meal of mine.  My sous-chef dish-washing mother would buy a whole chicken in a can.  At that time, there was no such thing as fresh deli rotisserie chicken, like we can buy now in most grocery stores, Sam's or Costco.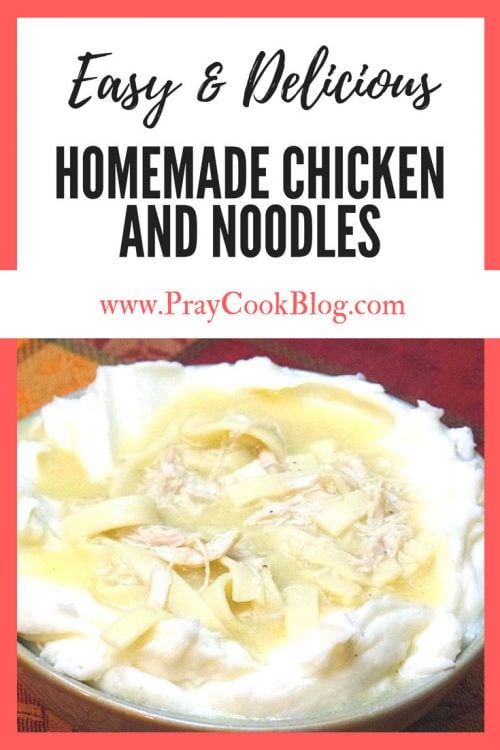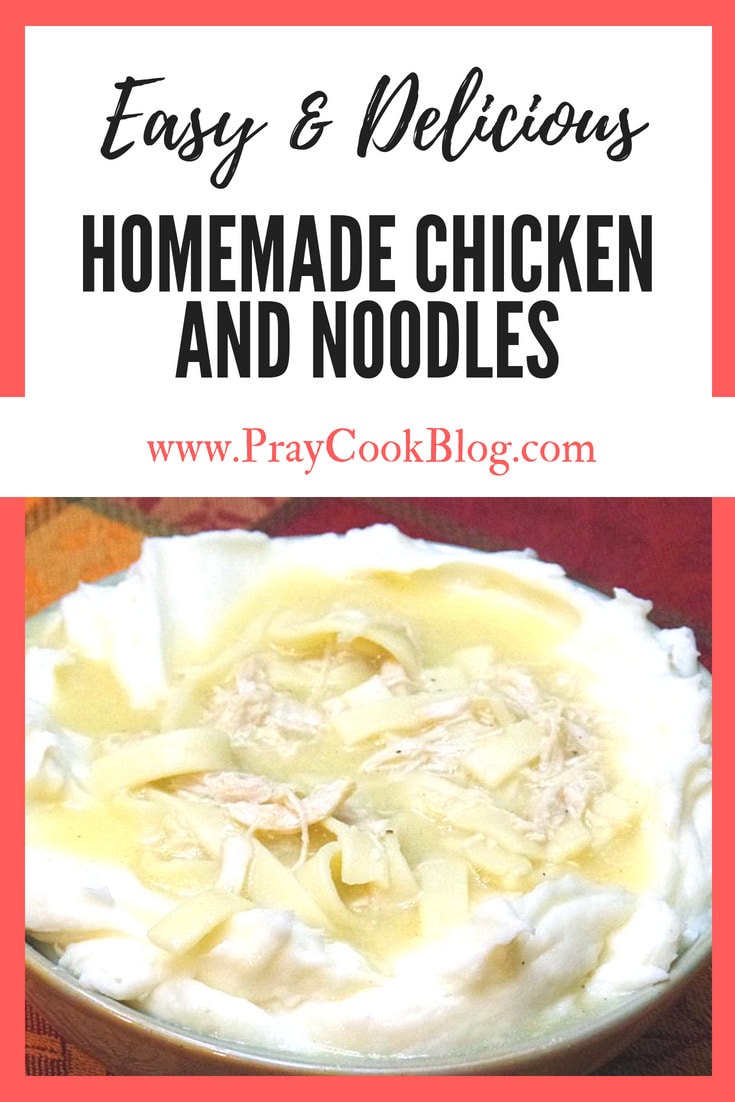 I remember when mom would open that can and dump out the gelatinous goop of meat and bones.  She would painstakingly pick the bones clean placing the meat in a pot of boiling water that would become a thick, beautiful, fragrant start to her homemade chicken and noodles.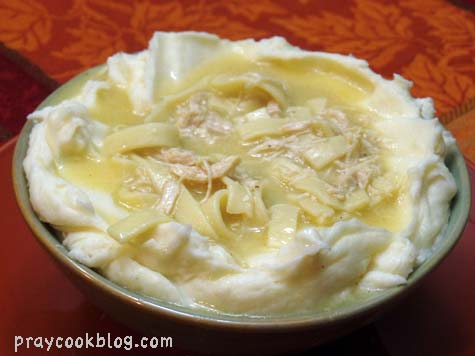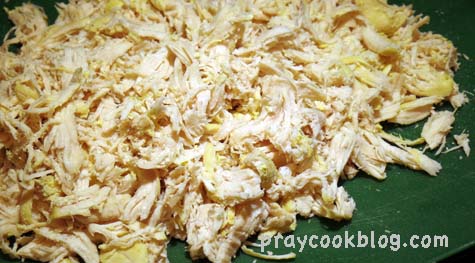 Once married and cooking on my own, I never could bring myself to buy a big can of that pre-cooked whole chicken.  Instead, I would buy a few chicken breasts, cook and shred them and use them in various main dishes, including chicken and noodles.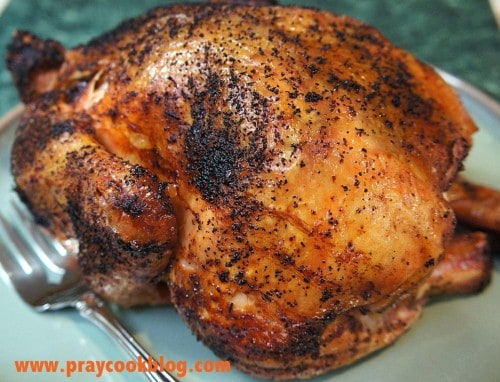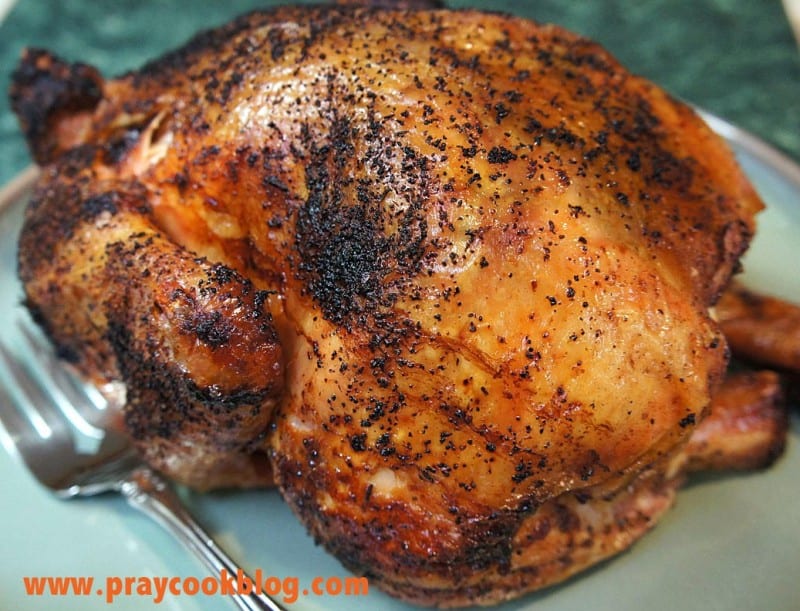 Today, I prefer to start with rotisserie chicken, either from my grill or from the local market.  We dive into this hot and tasty chicken enjoying it alongside a baked sweet potato and some vegetables. It is the chicken leftovers that turns ordinary chicken and noodles into extraordinary comfort food!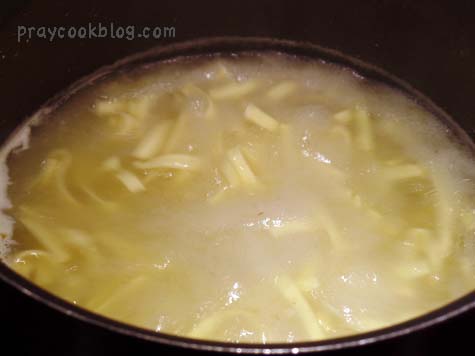 Sometimes I make homemade noodles (recipe for those below too), but when I can find Amish noodles I stock up for recipes such as this one.  They cook up perfect, don't get mushy and last through several warmings as we eat the leftover chicken and noodles.  I cook the noodles in chicken broth, homemade or store-bought.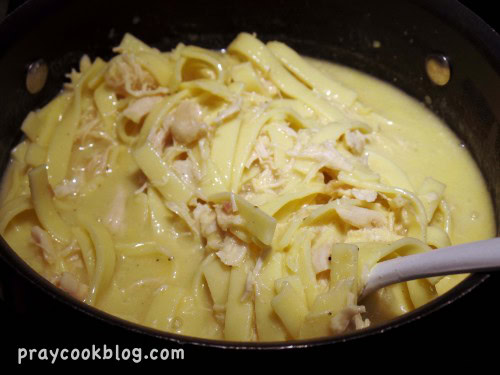 After the noodles have cooked in the broth, the cooked chicken, minced onion, and a can of cream of chicken soup brings this pot of goodness over the top!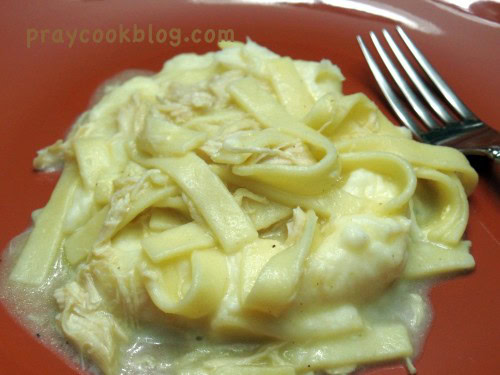 Not everyone serves their homemade chicken and noodles over mashed potatoes.  This is the way my sous-chef dish-washing momma did it, and so this is the way I enjoy and recommend it. 🙂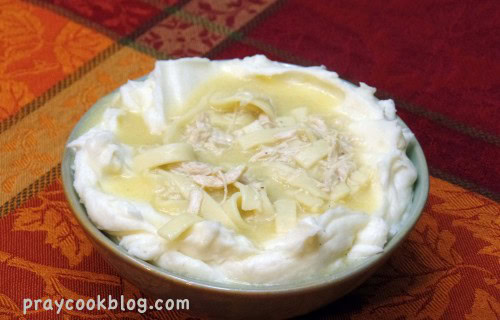 For the ultimate comfort food dinner, I urge you to put your homemade chicken and noodles on your "wanna make this soon" list.  Btw – leftover turkey works well also.  Just saying!
The recipe at the bottom of this post gives you a couple different options for the chicken.  For convenience,  chicken and noodles can be made and then placed in the Crock Pot on low for a few hours until ready to serve. (Add more water if needed.)
Do you eat homemade chicken and noodles on mashed potatoes?  Let us know in the comments below!
Have a blessed Week!
~Catherine
p.s.  I hope you enjoy a few of my favorite Bible verses on blessings:
"And my God will supply every need of yours according to his riches in glory in Christ Jesus." -Philippians 4:19
"Every good gift and every perfect gift is from above, coming down from the Father of lights with whom there is no variation or shadow due to change." -James 1:17
"fear not, for I am with you; be not dismayed, for I am your God; I will strengthen you, I will help you, I will uphold you with my righteous right hand." -Isaiah 41:10
Easy (and Delicious) Homemade Chicken and Noodles
I grew up eating chicken and noodles over mashed potatoes. It is still one of my favorite comfort foods. This recipe is really easy but packs a wallop of flavor!
Author:
Adapted by Catherine Daugherty
Ingredients
1 whole cooked rotisserie chicken or 1 lb. of chicken breasts, cooked and shredded
5 Tablespoons chicken base (bouillon)
8 ounces Amish style thin to medium egg noodles
4 Tablespoons unsalted butter
1 Tablespoon dried onion
1 can cream of chicken soup
salt and pepper to taste
Instructions
Debone your cooked rotisserie chicken, shredding the meat as you go. Or cook chicken breasts and shred.
Fill a large pot with 8 cups water, add butter and 5 tablespoons chicken soup base or bouillon. Bring to a boil making sure all the soup base dissolves. Add noodles and cook for 8 to 12 minutes until the noodles are soft.
Add 1 Tablespoon minced dried onion and 1 can cream of chicken soup. Add in shredded chicken.
Reheat to a simmer but do not boil. At this point, you can keep on the stove on low until ready to eat or for up to an hour.
Serve over mashed potatoes.
Notes
Chicken and noodles can be served over mashed potatoes or by themselves in a bowl with biscuits on the side.

*Add more water if after cooking the noodles the broth is completely soaked up. This dish should be a little soupy, but thicker than a noodle soup. The noodles and cream of chicken will help to thicken the broth.
**For convenience, chicken and noodles can be made and then placed in the Crock Pot on low for a few hours until ready to serve. (Add more water if needed.)
Easy Homemade Egg Noodles
Homemade noodles are quite easy to make and wonderfully delicious! These are quick and can be cooked right away!
Author:
Adapted by Catherine Daugherty
Ingredients
1 egg, beaten
½ teaspoon salt
2 tablespoons milk
1 cup sifted all-purpose flour
½ teaspoon baking powder* Optional
Instructions
Combine all ingredients together in a large bowl or food processor. Mix well. If using food processor just pulse on and off to mix well.
Once fully combined form the dough into a ball.
Flour a flat surface and roll the dough out.
Once the dough reaches ¼″ thickness, cut the dough into strips, the width can vary depending on if you want a thin noodle or a thicker noodle.
Cut the strips into your desired length.
At this point, the noodles can be left to dry for several hours or they can be cooked right away.
Drop them directly into the soup you are making, or into boiling water.
They should float once fully cooked.
Notes
*The baking powder makes for a thicker noodle. For thinner noodles omit the baking powder.