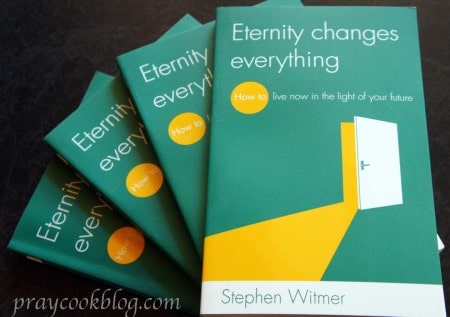 I have a lot of opportunities to read and review books.  Most I turn down because of other time commitments. But occasionally a book comes along that the title just grabs me.  Such is the case with Eternity Changes Everything written by Stephen Witmer.  As soon as I began reading the first page I knew this inspired writing was just what I needed to read.
Stephen is Pastor of Pepperell Christian Fellowship  in Pepperell, Massachusetts and teaches at Gordon-Conwell Theological Seminary.  The book reads easily and is loaded with excellent illustrations and food for thought.  Stephen makes a beautiful case for getting excited about our future and about eternity.
Some of my favorite quotes from the book:
"If you know Jesus and know that his death is the source of your life, you have life.  You don't need to be anxious, to feel a faint terror at funerals, to lie awake wondering if you'll make it."
Stephen adds, "Knowing Jesus makes all the difference for our future; and knowing our future makes all the difference for our present.
The Biblical references he uses are so pertinent to living today that through his words he shows us how to live now in light of our future!  Stephen gives us practical ways we can live in this world while preparing for our eternal world and life with our Heavenly Father.
I like the book so much I want you to read it!  So — I'm giving away a copy to one lucky reader!  Just leave a comment on this post, on Twitter, or on my Facebook page and your name will be entered to win!  Follow me on Pinterest for an extra chance to win (be sure and leave a comment telling me you are following on Pinterest!) I will give away the book on March 15th.  Just leave a comment, I love hearing from you!
Wrapping this up I think you can get the best idea about this book directly from the author himself.  Enjoy the video and God Bless!
Catherine
Full Disclosure: I received a free copy of this book in exchange for an honest review.