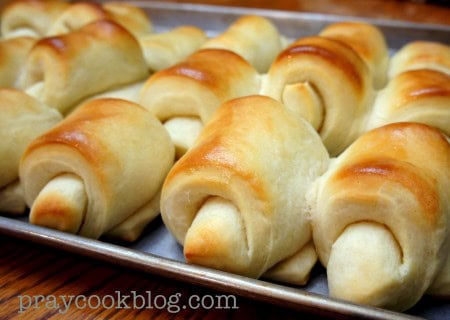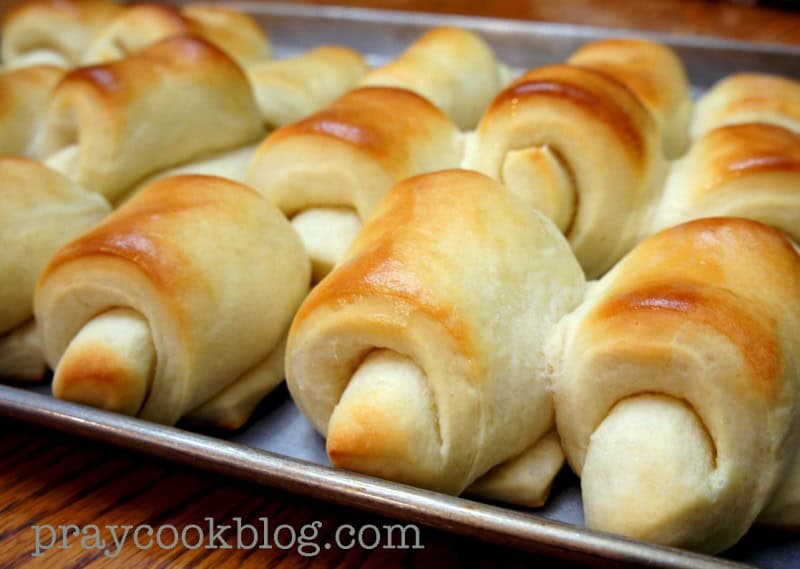 For 6 six years in the 1990's we lived in Murray City, Utah. It is a wonderful place to live and work. Murray City is a suburb of Salt Lake City and part of that vast metro valley that is surrounded by the mountains of the Wasatch Range.
It was at The Lion House in Salt Lake City that I first experienced Lion House Rolls.  The Lion House was built in 1856 by Brigham Young to accommodate his enormous family.  Today it is an event center and restaurant. Over the years I forgot how wonderful these yeasty rolls are. It wasn't until after the spring visit of our friends Shannon and Paul did these rolls cross my path again.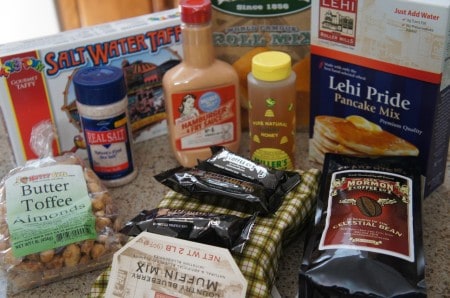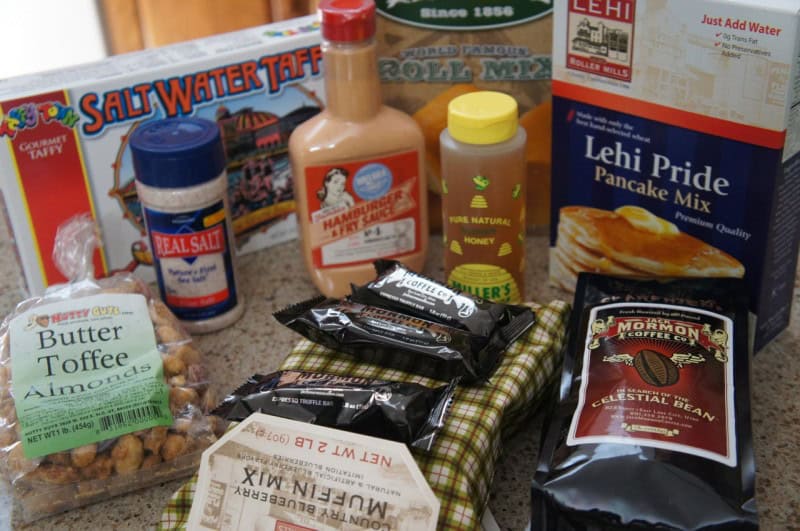 After spending a week with us Shannon and Paul sent us a fun gift box filled with unique "Utah-made" items. A mix for authentic Lion House Rolls was included in the gift. When I made the rolls my family flipped over them.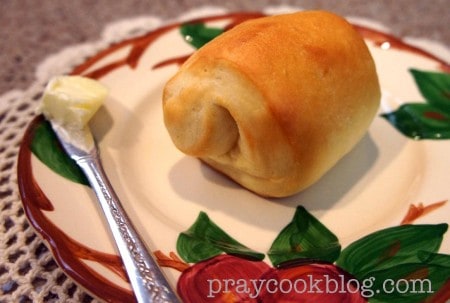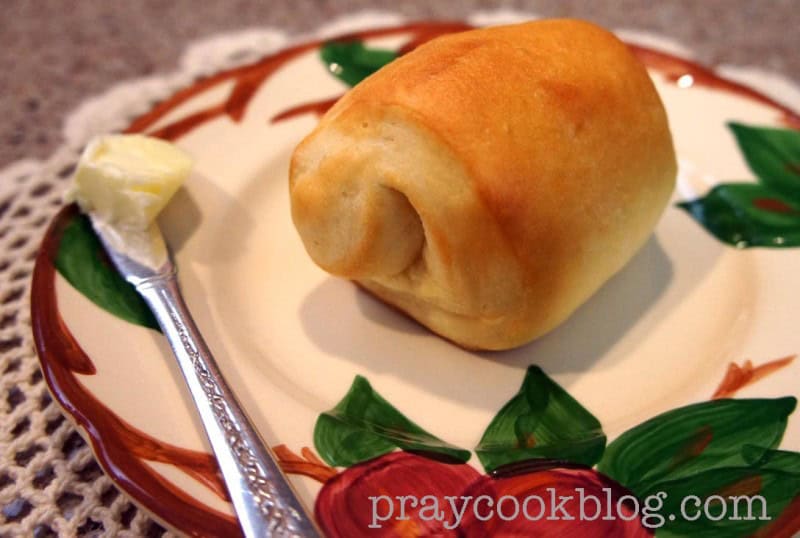 Over the years I have made a lot of yeast rolls. Many recipes have come and gone through my recipe box. Occasionally I will have a "keeper" like My Best Dinner Rolls or maybe even Yankee Dinner Rolls.
After I made the rolls both my sous-chef dish-washing mom and The Chief asked how they were going to get some more of those rolls. Google to the rescue! When I searched the internet for the recipe I found it in many places.
After looking at recipes until my eyes crossed I decided on using the recipe posted by Deborah at Taste and Tell Blog.  Deborah did a great job photographing the step-by-step process, which you will find here.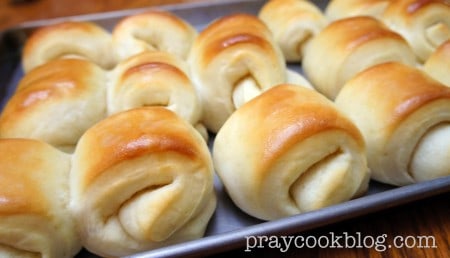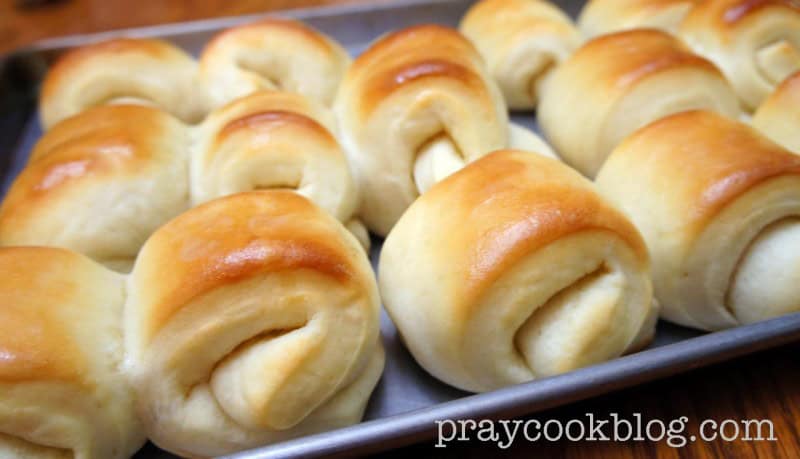 The batch makes about 28 to 30 rolls. You will see from my pictures that I wasn't very consistent in cutting and sizing the rolls. Practice will make those perfect and I plan to practice again real soon. The dough is soft, fragrant and really lovely to work with.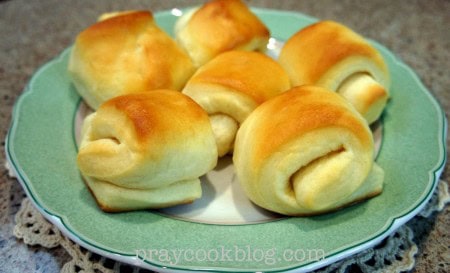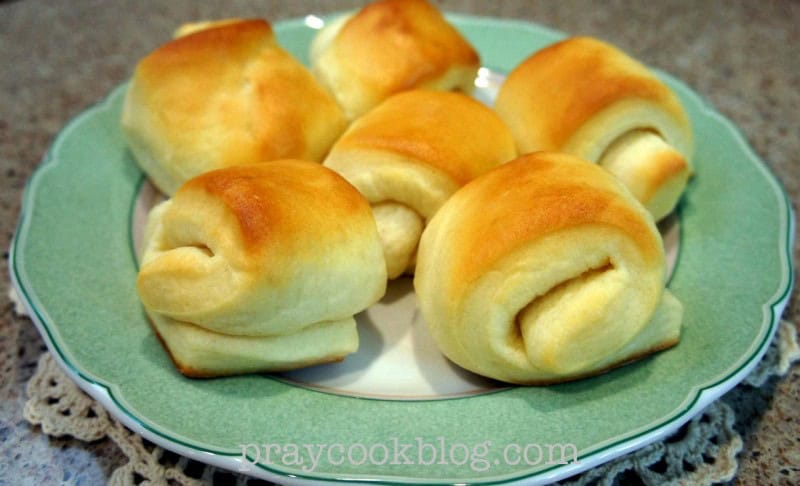 We ate rolls. We shared rolls with our neighbors. I put a couple in the freezer for a rainy day. Any way you use these rolls they will be a hit. I promise!
As I write this blog post I am already mentally checking my calendar to see when I can make them again.
Happy Baking!
Catherine
"I am the living bread that came down from heaven. If anyone eats of this bread, he will live forever. And the bread that I will give for the life of the world is my flesh."          John 6:51
Famous Lion House Rolls
You won't have to travel to Salt Lake City to feast on these famous rolls. They are as close as your own kitchen! Yum!
Ingredients
2 cups warm water
⅔ cup nonfat instant dry milk
2 tablespoons active dry yeast
¼ cup sugar
2 teaspoons salt
⅓ cup butter, softened
1 egg
5-5½ cups flour (you can use all-purpose or bread flour)
3 tablespoons butter, melted, plus softened butter for brushing on top after the rolls are baked.
Instructions
In the bowl of a stand mixer, combine the water and the milk powder and stir to dissolve the milk. Add in the yeast and a tablespoon or so of the sugar and allow the yeast to bloom for 5-10 minutes. Add in the remaining sugar, salt, butter, egg and 2 cups of the flour.
Mix on low speed until all of the ingredients are wet, then mix on medium for 2 minutes. Stop the mixer and add 2 more cups of flour, mix on low until combined, then on medium for 2 minutes. The dough will be getting stiffer at this point. Continue adding flour, ½ cup at a time, until the dough is soft and tacky, but not sticky.
Place the dough in a greased bowl and turn to coat. Cover with plastic wrap and allow to rise in a warm spot until doubled in size.
Sprinkle a work surface lightly with flour. Divide the dough in half. Roll out one half of the dough into an 11x14-inch rectangle. Brush the top of the dough with half of the melted butter. Using a pizza cutter, cut the dough in half horizontally right down the center. Slice the dough into rectangles about 2x4" big. If you hold your hand out so that your hand forms an "L" shape, it can help to be your guide for sizing.
Roll or flip the rectangles, buttered side in, and place on a greased baking pan with the end resting on the baking sheet. Repeat with the second half of the dough.
Cover with a towel or plastic wrap and allow to rise until doubled.
Preheat the oven to 375F. Uncover the rolls and bake until they are browned and cooked through, 15-20 minutes. Brush with softened or melted butter while they are still hot.
Notes
Recipe from Deborah at www.tasteandtellblog.com