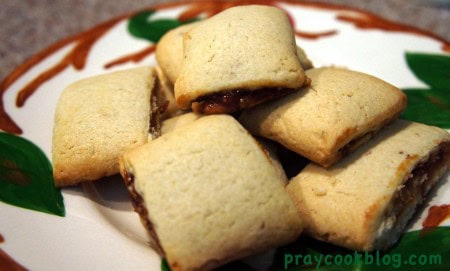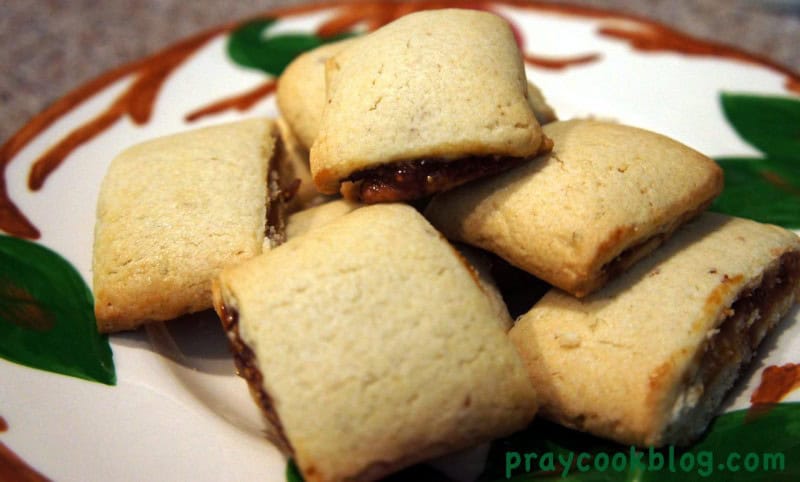 You're darn tootin' he loves fig newton! We cannot even mention fig newtons in our house without someone breaking out into this little jingle.  So let's just say there was a chorus of singing going on when I ventured into the do-it-yourself fig newton land. This is my third figgy recipe to share.  I started off with Fig Preserves, then jumped right in with a Ham and Fig Grilled Cheese Sandwich and these Fig Newton Cookies ended up thrilling my Chief Culinary Consultant and my sous-chef dish-washing mom to no end!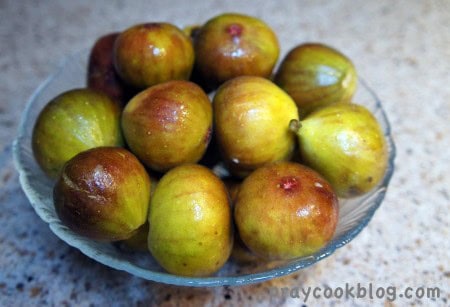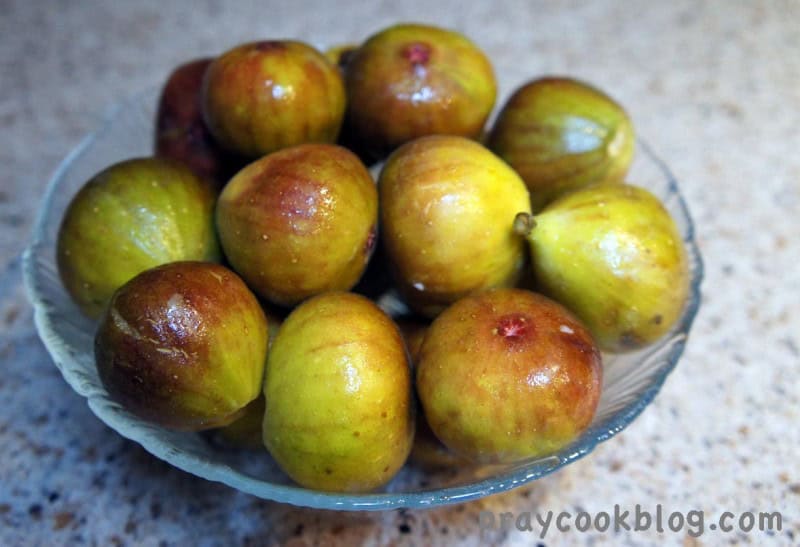 After picking fresh figs the end of August, I knew I just had to surprise The Chief and make one of his all-time favorite cookies — Fig Newtons. A quick Google search and I began to read about this famed cookie.
Fig Newtons were introduced in 1891 by the Kennedy Biscuit Company, one of a number of regional bakeries that merged in 1898 to form the National Biscuit Company, later known as Nabisco. "The Kennedy Biscuit Company named all their products after surrounding communities, including cookies and crackers called 'Shrewsbury,' 'Harvard,' 'Beacon Hill,' and so on. According to the folks at Nabisco "There is no doubt (in our minds) whatsoever that the Fig Newton is named for Newton, Massachusetts."  Studying my map of the commonwealth, all I can say is, thank heavens Kennedy Biscuit wasn't near Belchertown.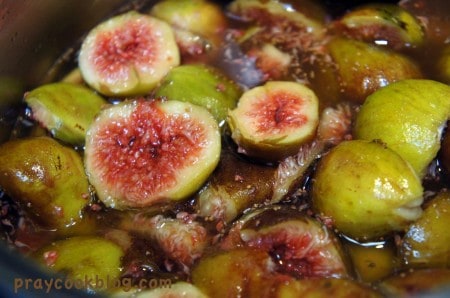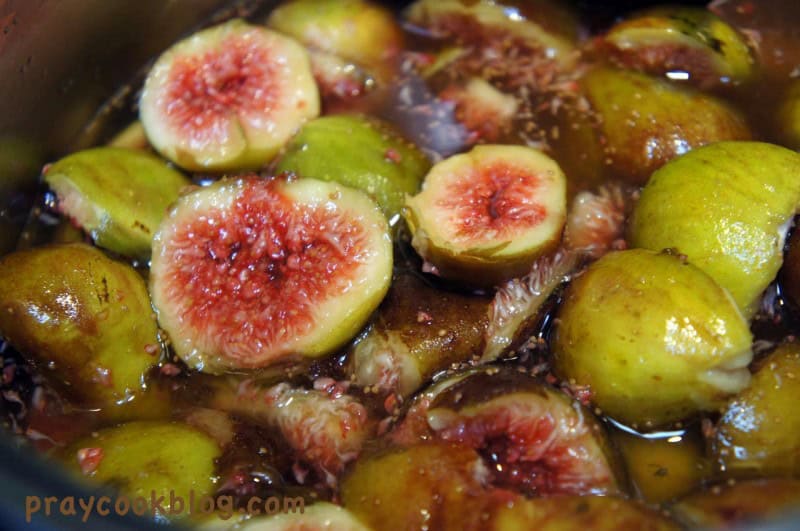 Since Newtons get their unusual shape from an extrusion process, it really never dawned on me that I might actually make Fig Newtons. But lo and behold give me a pot full of simmering figs and figgy newtons start dancing in my head!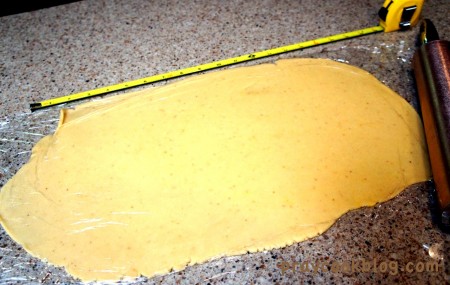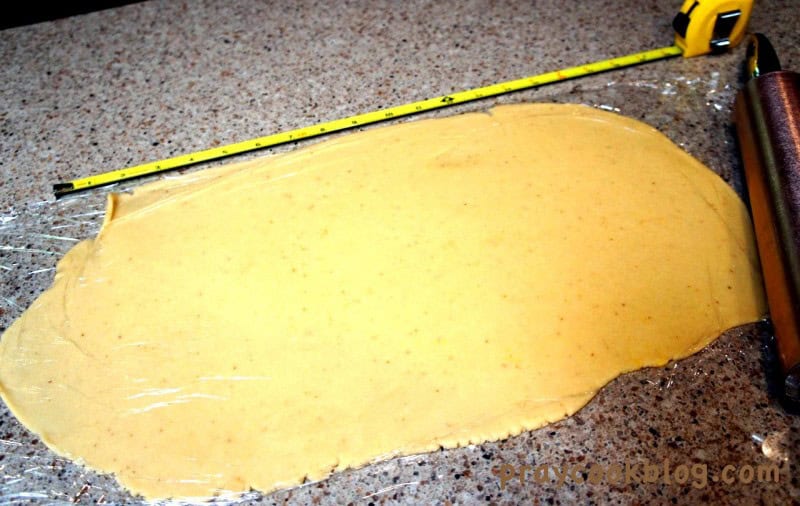 While the figs simmered away in a mixture of water, apple juice, and sugar, I creamed together butter, sugar, and orange zest in my food processor.  Adding an egg, vanilla and flour I get a wonderfully soft dough.  I rolled the dough out on a piece of plastic laying on my counter top.  Then I covered it with another piece of plastic and let it rest in the refrigerator for 2 hours.
This gave me time to finish cooking the figs, cooling them down, and making them into fig puree using my food processor.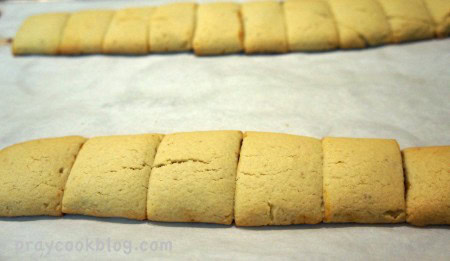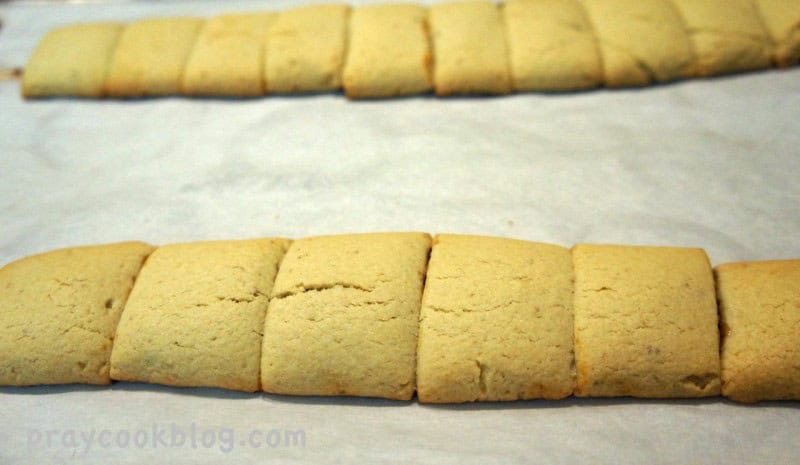 I was so intent in making my Fig Newton knock-offs that I completely forgot the camera sitting 2 feet from me!  Luckily I was following a recipe from the blog Oh Nuts! and you can click here and see step by step pictures of this process! Once you have four filled log rolls they are placed 2 to a cookie sheet.  Each log is cut into 1 1/2″ slices.  After cutting into slices, I left the log roll together and didn't separate out each cookie.  I am glad I did because they baked up very even and only needed a gentle slicing once they were cooled.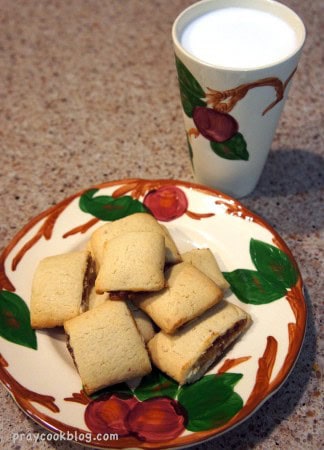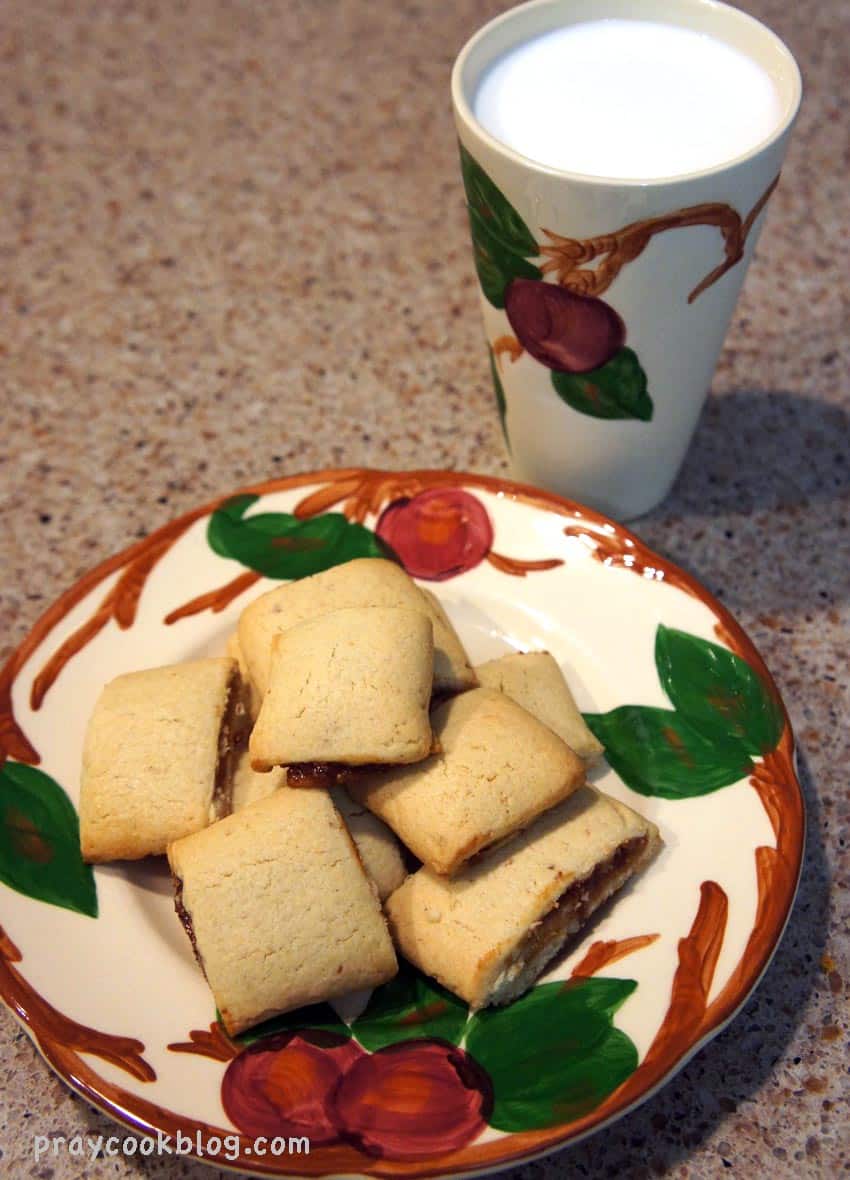 My sweet husband feasted on this plate of cookies just as soon as they were cool enough to handle.  A big glass of milk completed the indulgence!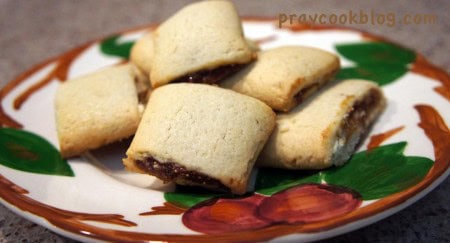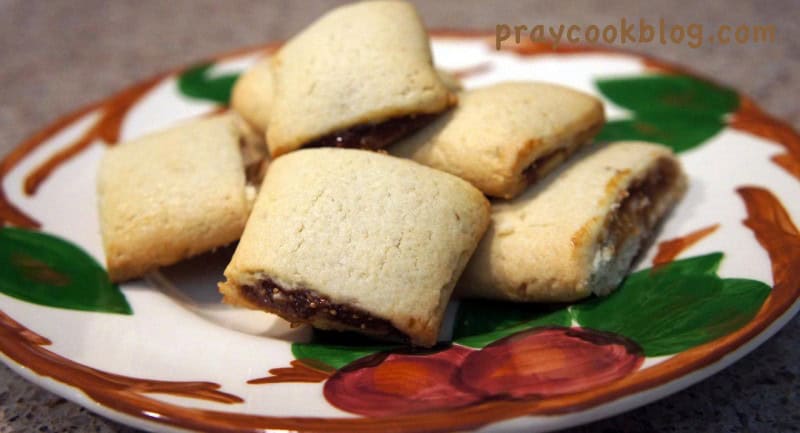 My sous-chef dish-washing mom was completely surprised when I delivered these to her door.  Both cookie aficionados declared these diy Fig Newtons to be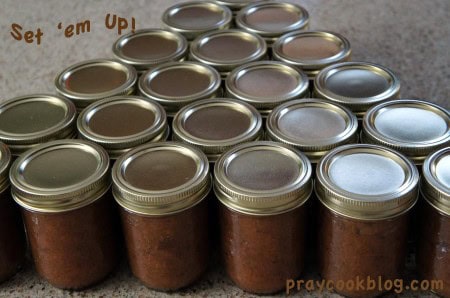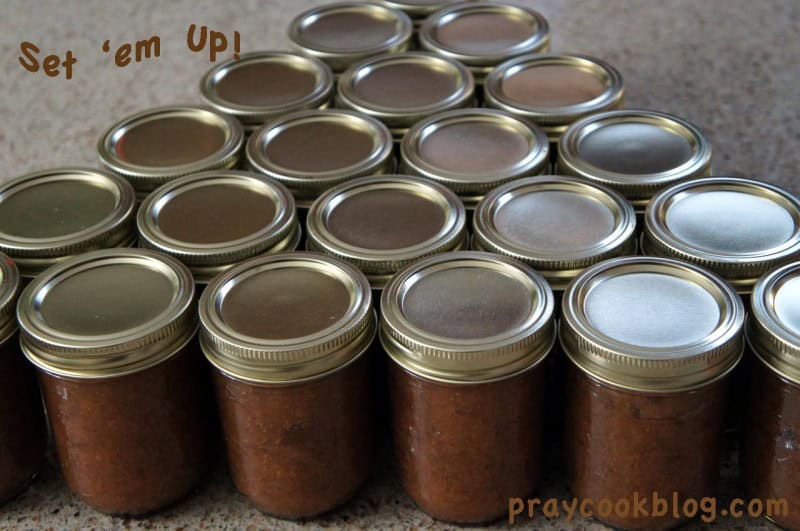 the best they had ever eaten.  (I realize they say that just to keep me in the kitchen, but for what it's worth – I always believe them!)
Since making these cookies I canned 23 half-pints of fig paste and I am quite sure we have another batch of Fig Newton Knock-offs in our future!
Happy Baking!
Blessings, Catherine
Fig Newton Knock-Offs
Yes you can make delicious Fig Newtons at home!
Ingredients
2 cups finely chopped figs, fresh or dried
1 cup apple juice
¾ cup sugar, divided
¾ teaspoon grated orange zest, divided
½ cup unsalted butter (1 stick)
1 large egg
1 teaspoon vanilla extract
1½ cups flour
Instructions
In a medium saucepan, combine the chopped figs, 1½ cups of water, apple juice and one-fourth cup of sugar and bring to a boil. Reduce the heat to low and cook at a bare simmer for 1 hour, until the figs are so soft that they're spreadable. Transfer to a food processor fitted with the steel blade, add ¼ teaspoon orange zest and process until smooth. Remove and allow to cool to room temperature.
While the figs are cooking, cream together the butter, remaining one-half cup sugar and one-half teaspoon orange zest in the bowl of a stand mixer fitted with the paddle attachment, or a food processor for 2 to 3 minutes on medium speed. Scrape down the bowl and paddle or beaters. Add the egg, vanilla extract, and beat in. Scrape down the sides of the bowl and the paddle. Add the flour and beat on low speed until the dough comes together. Shape the dough into a flat rectangle, wrap it in plastic wrap and refrigerate for 2 hours.
Place racks in the middle and lower third of the oven and heat the oven to 350. Line 2 baking sheets with parchment paper.
Unwrap the dough and center it on a lightly floured piece of parchment paper measuring 12 inches by 16 inches. Lightly flour the surface of the dough and place a large piece of plastic wrap over the dough to prevent it from sticking while it is rolled out. Roll out the dough to the dimensions of the parchment; it will be less than one-eighth-inch thick.
Cut the dough lengthwise into four (12-by-4-inch) strips. Spoon a line of filling down the center of each strip, leaving one-half-inch of room on either side. To roll the dough over the filling: Gently lift the long edge of the parchment under the first strip and roll it, along with the dough, over the filling, carefully peeling the parchment away as you go. Roll half-way over filling, then roll half way over filling from the opposite side. You should have a sort of log-shaped roll. Because the dough is thin, it may crack; if this happens, allow the dough to sit so it warms a little, then try again, being gentle and using the parchment under the dough to force it to fold over. When the roll is complete, gently slide a flat cookie sheet under the log and transfer it to the parchment-lined cookie sheet. Pinch the ends of the log closed. Repeat with the three remaining strips, placing 2 logs lengthwise per cookie sheet.
Using a serrated knife, slice each log on the diagonal into 1½" pieces. Bake, rotating the baking sheets from top to bottom and from front to back halfway through, for 20 to 25 minutes, until golden. Remove from the oven and allow to cool on a rack. Cut bars apart and enjoy! The bars will keep, stored airtight, for 2 days.
Notes
You will most likely have extra fig paste left over. Use it for toast, biscuits, or as a tasty moist addition to cake.
Recipe adapted from www.gonuts.com