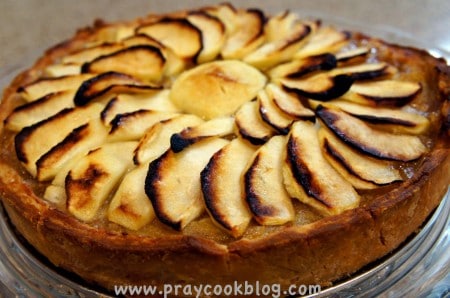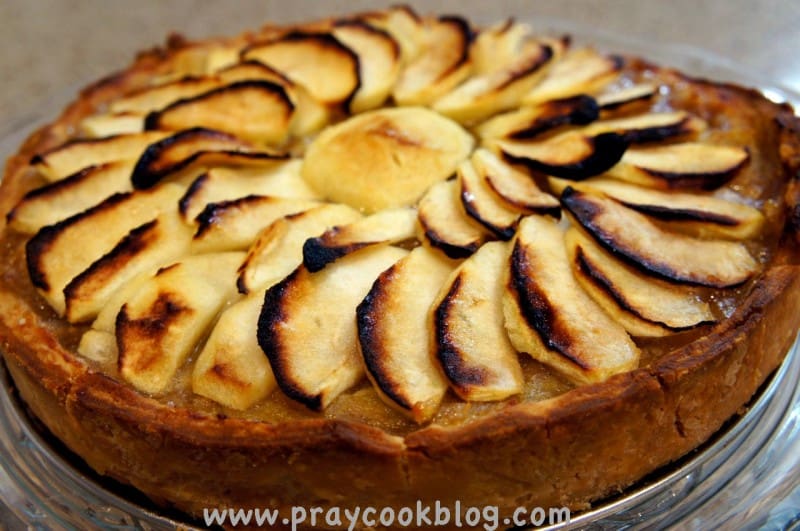 It Tuesdays With Dorie which means I have baked from Dorie Greenspan's book,  Baking With Julia.  I've never made a french apple tart and this week's recipe got my attention. Dorie writes, "This open-faced tart is beautiful … beneath the gossamer blossom is what the French call a compote, a sweet, thick purée of oven-roasted Granny Smith apples."  Are you interested?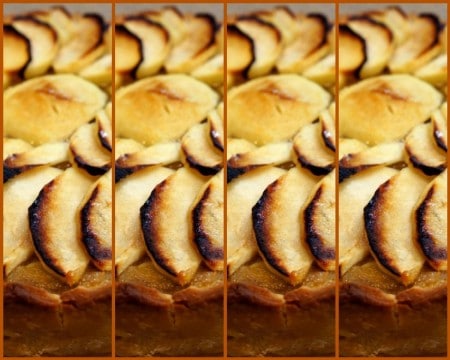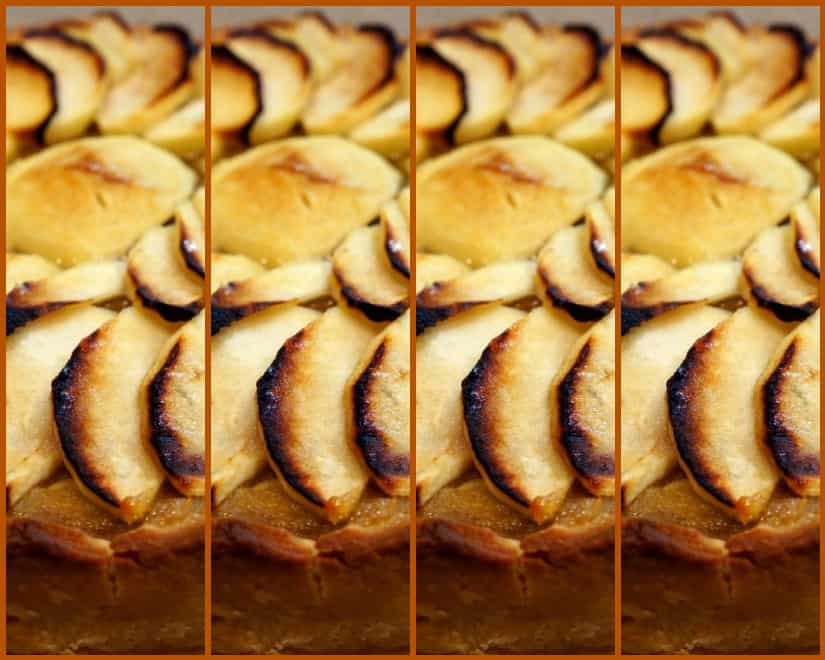 In Dorie's cookbook this recipe takes up 2 1/2 pages. That turns me off.  I took one look down through the recipe and thought it seemed so time-consuming.  My best baking projects are fast and easy and look like they took a long time.  🙂 Yes, I am fickle like that.  But, I am happy to report — this isn't nearly as time-consuming as it seems at first glance.  And the finished tart is … well, worth it!  Also, my granddaughter, Tayler, is here visiting and she cheerfully helped me as my Chief Designer!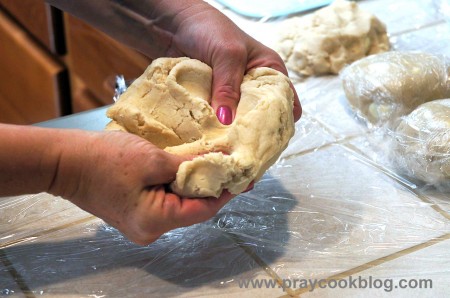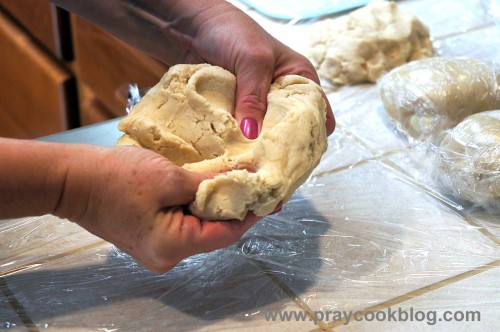 First things first …the recipe calls for 1/4 recipe Flaky Pie dough.  This has become my very favorite pie dough recipe and you can get it here. I was immediately happy and "all in" because I keep this pie dough frozen for just such a moment as this!  I thawed the pastry dough over-night in the refrigerator. First thing in the morning I placed it in my 9″ springform pan and baked it.  While it was baking I started chopping apples.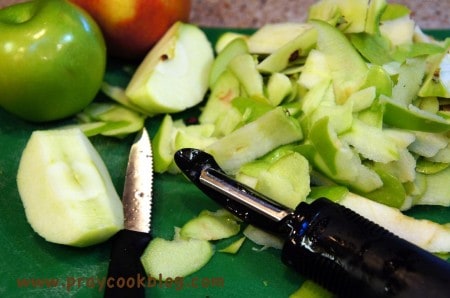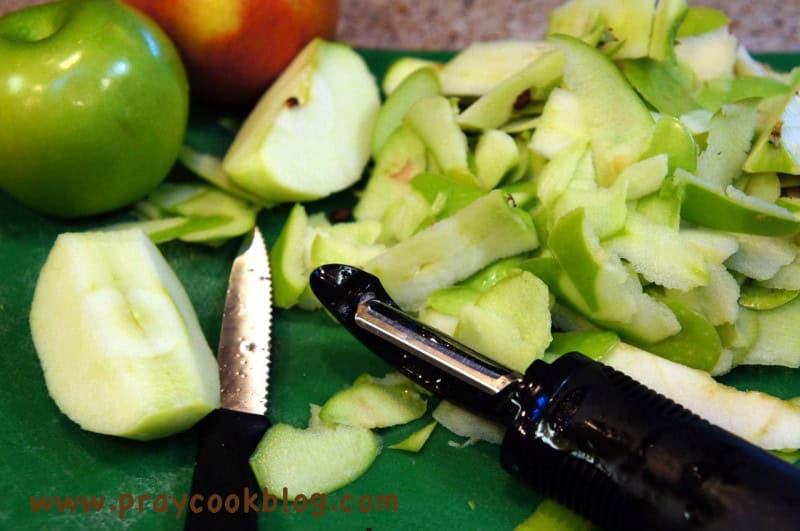 The recipe calls for Granny Smith apples.  I used mostly Granny Smith and a couple of Gala apples too.  Apple chunks are tossed with sugar, flour, cinnamon and fluffy bread crumbs.  This recipe calls for very little sugar but the result won't give it away.  What intrigues me is that those apples could be cooked down in a pan on the stove or in a skillet stove-top.  But instead, it calls for spreading them on a baking sheet and roasting them.  Interesting.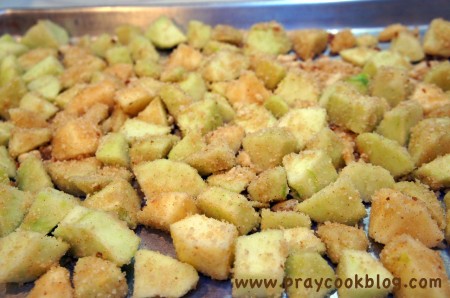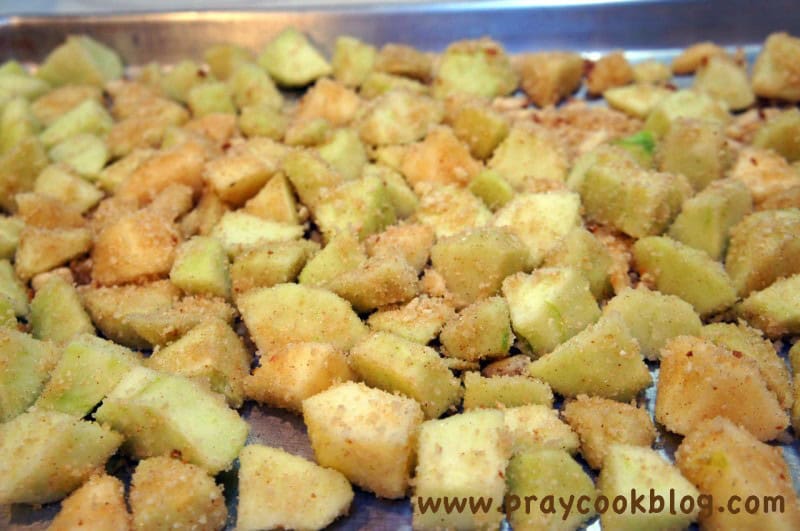 Before I started this recipe I decided I wasn't going to take pictures except of the finished tart. As you can clearly see I went for my camera before I finished slicing the apples.  The colors are so pretty and I so want to share that with you!  The apples roasted for 20 minutes and were gooey, caramelized and wonderful! THAT picture would have gone right here … but I forgot to take it! 🙁


The roasted apple compote is spooned into the baked pastry shell.  At this point my chief designer, Tayler, began working her magic.  We peeled apples, dipped them in lemon juice (to help keep them from browning) and she began the task of layering the apples. We had room for two circular layers and one rosette in the middle.  After brushing with melted butter and sprinkling with Turbinado sugar, our tart baked for 30 minutes.  The tart was done but the edges not quite dark enough so I turned the broiler on for just 2 minutes to give the edges the stunning black effect. The recipe suggests sprinkling with white sugar but I always keep Turbinado on hand and if you do too, then by all means use it for the sprinkling on the top.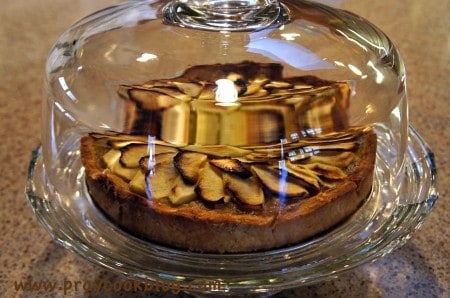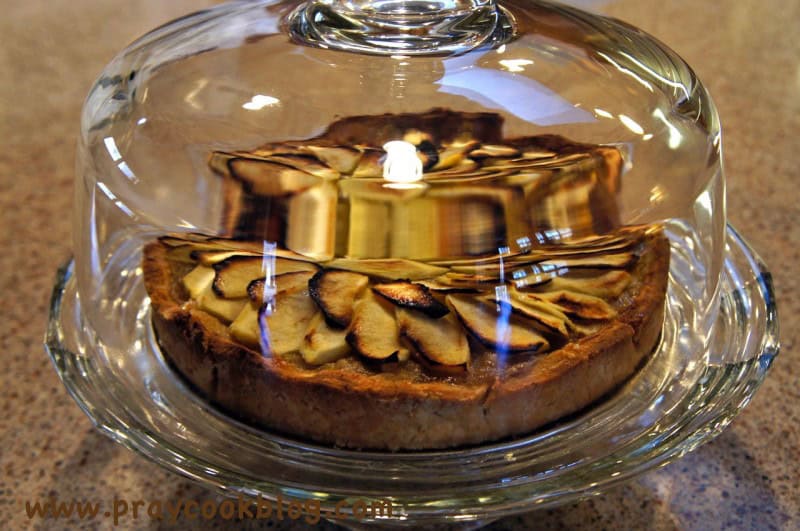 Our tart didn't stay under this cover long since it was the crowning touch to our Sunday dinner shared with family.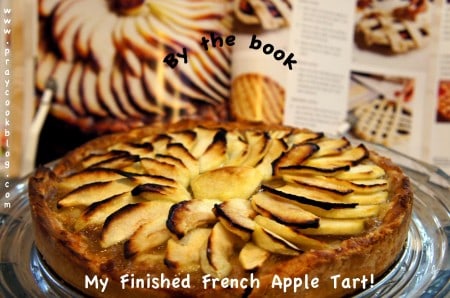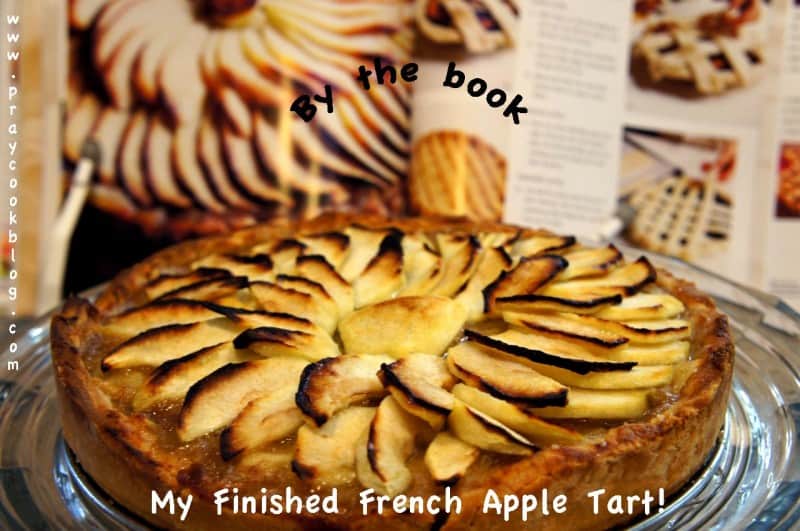 This tart is not overly sweet making it a perfect finish to any dinner.  (Only 3/4 cup sugar in the entire tart.)  The roasted apple purée is a perfect contrast to the crackle of the crust and the pure apple flavor of the topping.
The contributing baker for this recipe is Leslie Mackie.  This recipe is hosted by TWD baker, Gaye of Laws of the Kitchen.  She will post the full recipe on her blog.
As for me and my family — we will be making this again!!
Blessings and Happy Cooking!
~Catherine
"Be not deceived; God is not mocked: for whatsoever a man soweth, that shall he also reap. For he that soweth unto his own flesh shall of the flesh reap corruption; but he that soweth unto the Spirit shall of the Spirit reap eternal life." Galatians 6:7-8 ASV