Walk Through The Bible In One Year
Week 21 reading plan Job 14 through Job 42
Click on the colored link to read each day's scripture.
Monday Job 14-18, Tuesday Job 19-22,
Wednesday Job 23-28, Thursday Job 29-32,
Friday Job 33-36, Saturday Job 37-39,
Sunday Job 40-42
How is your week going?  Summer has "officially" started although I suspect, for most of us, we have felt summer for some time 🙂 Tonight I was blessed to be on a beautiful boat ride at sunset.  This picture was taken from my iphone.  Is it a phone that can take quality pictures or is it a camera that allows you to make a phone call? Either way, a beautiful sunset.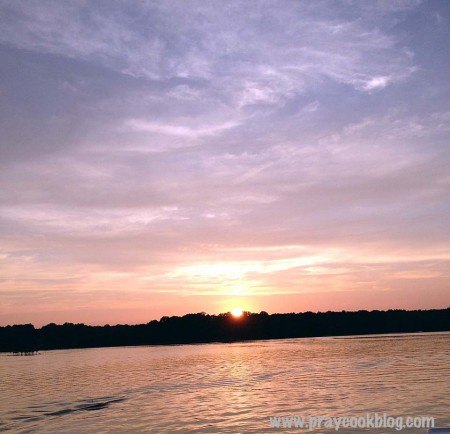 Believe it or not our garden produce has started to come in.  And when I say come in that is exactly it.  My Chief gardener goes out the door and some time later comes in carrying baskets loaded with cucumbers, yellow squash and now green beans! This picture is just the beans and one row of corn!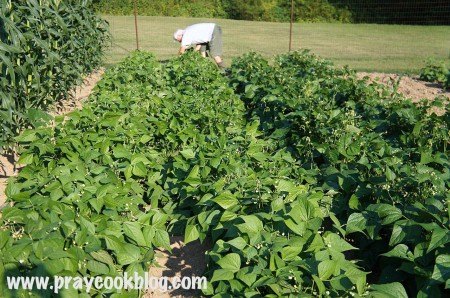 Oh my gosh, isn't early for the garden produce to be coming in?  I am grateful for the fresh everything, but that also equates to cook it, can it, freeze it, gift it, …. well, you get the idea.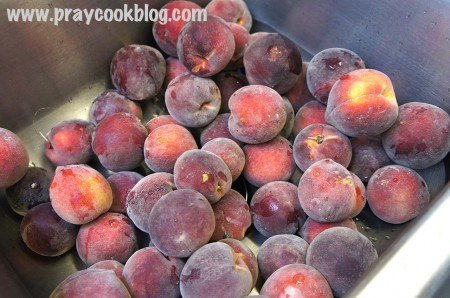 My sister-in-law called on Monday and said "do you want some peaches?"  PEACHES! ALREADY?~  Of course I can't say no.  Turns out she had peeled, cut, and canned for 3 days and the last few layers in the box were just too much!!!  A super peach salsa recipe will be coming your way soon!   So for today I am going to share a really great summer appetizer with you and then get back to … cooking, canning, and freezing!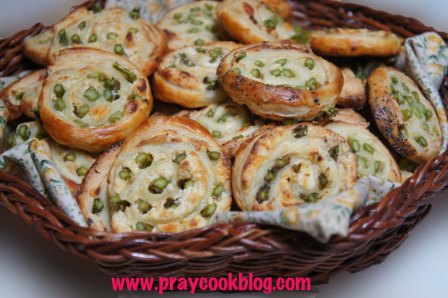 Now, who doesn't like puff pastry?  I love the stuff.  I've bought Pepperidge Farm Puffed Pastry Sheets  for years.  Yesterday I went to buy it at the local Wal-Mart and they were out. But the tag in the empty space place said $4.43.  I was thinking, "wow, that has gone up in price.  I thought it was $3.00 +/-".
So on to Kroger.  Yep, they had it.  $5.35!  Yikes, I almost didn't buy it.  I am seriously considering learning how to make it.  In the meantime, I bought the box (2 sheets) and a bundle of fresh asparagus.  I am glad I did.  The asparagus pinwheels are so good and quite easy to make.  I first found the recipe in a cookbook called "Notably Nashville" compiled by the Junior League of Nashville.  I love Junior League cookbook recipes!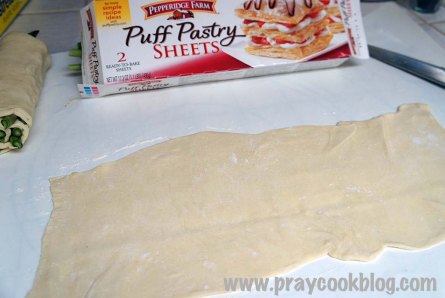 This easy appetizer recipe starts out with thawing the puff pastry.  Once thawed, cut the sheet in half and roll it out a little bit.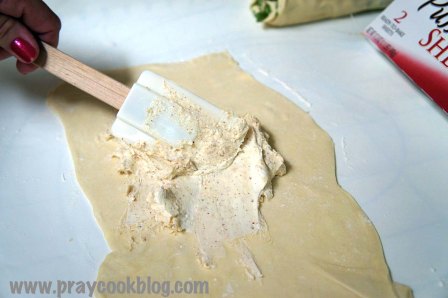 A mixture of cream cheese, sweet-hot mustard and Parmesan cheese is spread over the pastry.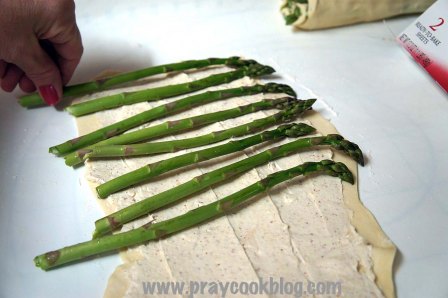 I cleaned and gently steamed asparagus spears.  They are then laid across the cream cheese laden puffed pastry.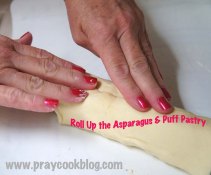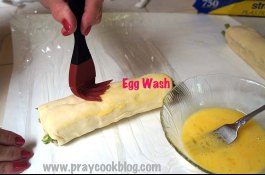 The pastry is then rolled tight and brushed with a beaten egg.  Poppy seeds can be sprinkled on or not.  Totally optional to the taste (in my opinion!)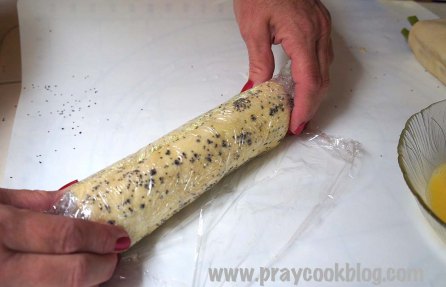 Each log is rolled up in plastic wrap and placed in the freezer for 30 to 45 minutes.  After freezing they will be easier to slice.  At this point they can be left in the freezer for up to 2 weeks.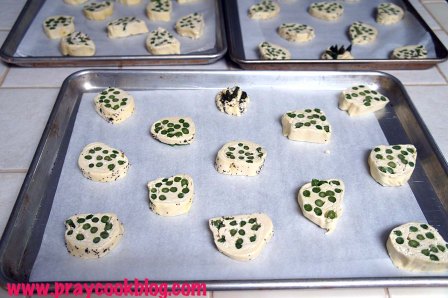 When ready to use, remove from freezer, thaw slightly, and slice in 1/2″ thick slices.  After thawing, bake  the pinwheels.  Serve warm or at room temperature.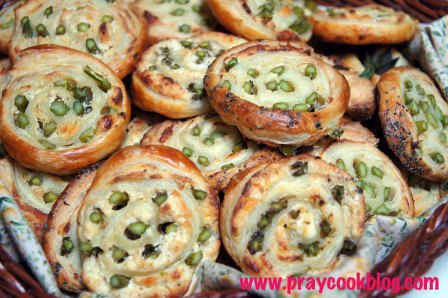 Each pastry sheet (made into 2 rolls) will make about 20-24 pinwheels.
Have a blessed rest of the week and happy cooking!
~ Catherine

Fresh Asparagus and Puff Pastry Pinwheels
A delightful summer-fresh asparagus and puff pastry appetizer.
Author:
Notably Nashville
Ingredients
16 to 20 Asparagus Spears
½ cup Sweet-hot mustard
4 oz Cream Cheese
1 Sheet Frozen Puff Pastry, thawed
1 Egg, beaten
Poppy Seeds to taste
¼ cup Parmesan cheese, shredded
Instructions
Trim the asparagus and steam or simmer in boiling water for 3 minutes or until just tender-crisp. Do not over-cook. Immerse in cold water, drain and chill in refrigerator.
Combine the mustard, cream cheese, and Parmesan cheese in a small bowl and mix until smooth. Roll the puff pastry ⅛" thick on a lightly floured surface. Cut into halves lengthwise. Spread each pastry half with cream cheese mixture.

Arrange 8 to 10 asparagus spears along the narrow edge of each pastry and roll the pastry tightly to enclose the asparagus.

Brush the rolls with egg and sprinkle with poppy seeds (optional). Wrap in plastic wrap and freeze until firm enough to slice.

When ready to bake cut in ½" slices and arrange the slices on a baking sheet lined with parchment paper. Bake at 440 degrees for 15 minutes or until golden brown.

Enjoy!

Notes
Log rolls can be frozen for 30 to 45 minutes, sliced and baked.  Or the rolls can be stored in an airtight container and stored in the freezer for up to 2 weeks.  Thaw slightly, cut into ½" pieces and continue to thaw.  Once thawed bake immediately.