I am absolutely crazy about this dessert!  It is so simple to make, I actually made it and baked it while I was preparing our dinner the other night.  When my sous chef dish-washing mom and the Chief realized there was something in the oven they both got pretty excited.  I haven't been baking much lately and so a fresh blueberry tart was a huge hit!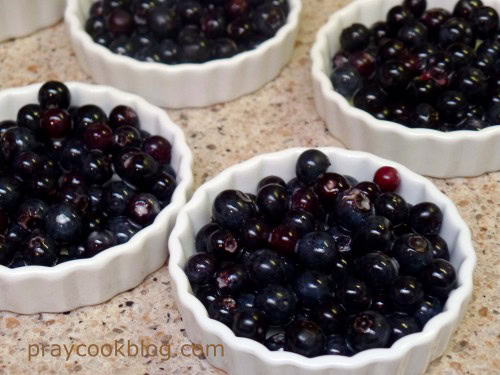 What I really like about this recipe is that it is low sugar and high on berry flavor.  I started with the berries, a little corn starch and a little white sugar mixed together and spooned into the bottom of these little glass tart dishes.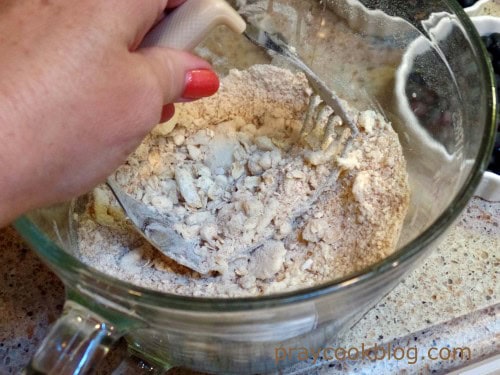 Then I mixed up a topping of flour, oats, brown sugar and butter.  I used the pastry blender but I could have also crumble this in my food processor or with my fingers!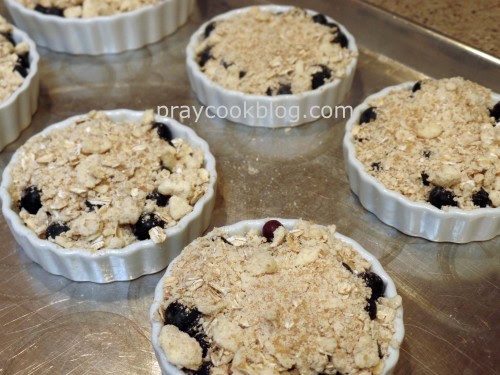 I placed 6  small  4 1/2″ tart dishes on a baking sheet and it is a good thing I did!  These little rascals spilled a little juice over the edge as they bubbled and baked.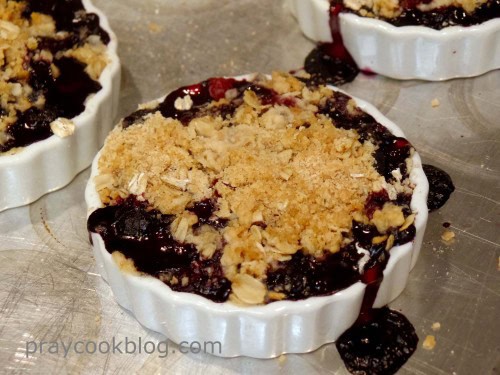 They only take 20 minutes to bake and are ready to eat after just cooling a bit.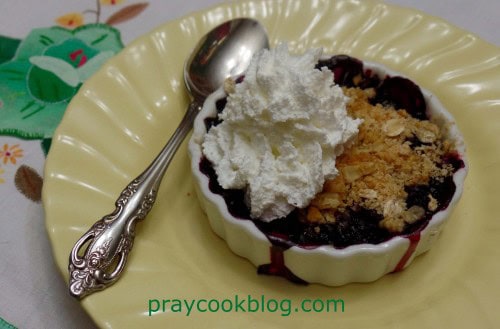 Just because we think everything goes better with real whipped cream I served with a dollop on the side.
Blueberries are plentiful this time of the year and very good for you. I started Googling nutritional information to share and let me just say – there is a ton of it out there and it is all good!
Hope you have a berry good week!
~Catherine
But the fruit of the Spirit is love, joy, peace, patience, kindness, goodness, faithfulness, gentleness, self-control; against such things there is no law.   Galatians 5:22-23

Fresh Blueberry Crumble Tarts
From Taste of Home this is a fast, easy and wonderfully fresh fruit dessert. I can't wait to make it again!
Author:
Adapted by Catherine Daugherty
Ingredients
2 cups fresh blueberries
¼ cup white sugar
1 Tablespoon cornstarch
6 tart shells - about 4 to 5" each, Can use packaged graham cracker tart shells also
¼ cup all-purpose flour
¼ cup oats
¼ cup brown sugar
2 Tablespoons cold unsalted butter
Ice cream or whipped cream optional
Instructions
Preheat oven to 375 degree F.
In a bowl, toss blueberries with sugar and cornstarch. Lightly spray non-stick cooking spray in 6 tart dishes. If using prepackaged graham cracker tart shells no spray is necessary.
In a small bowl mix flour, oats, brown sugar; cut in butter until crumbly. Sprinkle over blueberries distributing evenly between 6 dishes.
Place tarts on a baking sheet. Bake 20 to 25 minutes or until topping is golden brown and filling is bubbly.
Serve warm or at room temperature. Top with ice cream or whipped cream if desired.
Notes
Recipe from Taste of Home.