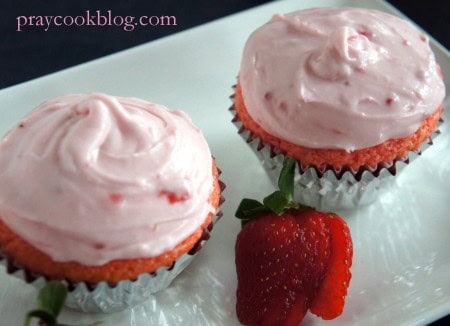 Today is the 3rd anniversary of my first blog post. At first I thought about saying something like, "it seems like only yesterday" that I started writing and sharing with the world via the internet.  But that isn't true. It seems like I have written this blog for a long time. When I push the Publish button today it will be my 513th blog post.
I have learned so much along the way. This includes a lot of technical blogging detail and how I can find wi-fi just about any place we travel! But most importantly I have learned that words matter.  That words I write (and speak) carry weight and there are implications and consequences when I share those words.
I've come to realize that sharing scripture is more than just re-printing words written from a particular version of the Bible.  That the scripture I share and the comments I make touch people's lives.  From your comments, emails, and support I've come to think of you more than friends and much like traveling companions that I care deeply about.
I thank you for taking time to travel this road with me. Today this blog averages between 150 and 200 views per day.  I am humbled when I think about those of you who stop by for a quick read, search for a tried-and-true recipe, or read a scripture that has guided me and is guiding me daily.
"When we consider the blessings of God—the gifts that add beauty and joy to our lives, that enable us to keep going through stretches of boredom and even suffering – friendship is very near the top."
—Donald W. McCullough, Mastering Personal Growth
Deuteronomy 5:32-33
You shall be careful therefore to do as the Lord your God has commanded you. You shall not turn aside to the right hand or to the left. You shall walk in all the way that the Lord your God has commanded you, that you may live, and that it may go well with you, and that you may live long in the land that you shall possess.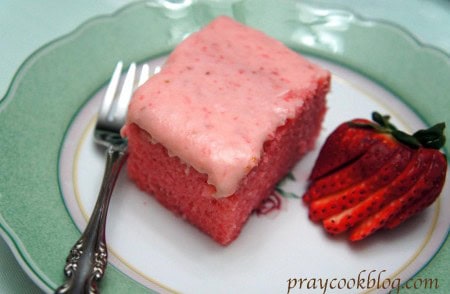 I like strawberries.  A lot. I particularly like them in the spring and early summer when they come fresh from Florida, California, or my brother-in-law's garden (hint-hint). Last Easter I made a fresh strawberry cake that is packed with flavor, incredibly moist and embarrassingly sweet!
Remember when I told you I planned to take fresh strawberry cupcakes to my friend Gaye, but she beat me to the punch bringing me Whole Wheat Almond Butter Sandwich cookies first?  Well, these were the cupcakes I was baking to take to her!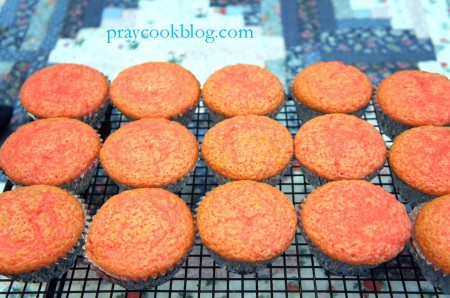 I was concerned that the Fresh Strawberry Cake recipe would be too dense in cupcake form.  So I used this basic recipe, cutting out some of the oil and adding a little more fresh strawberries.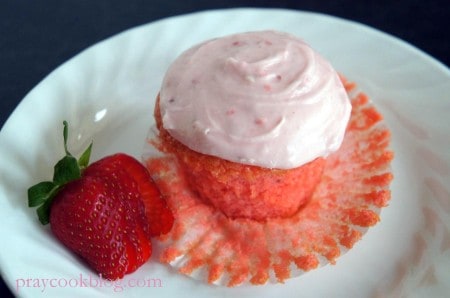 They turned out just perfect!  Really moist but not too much so!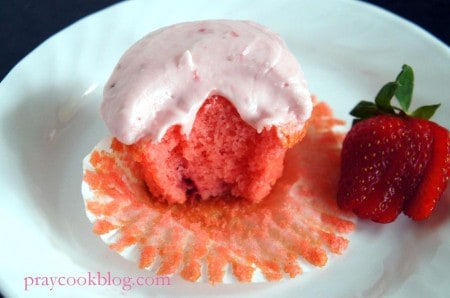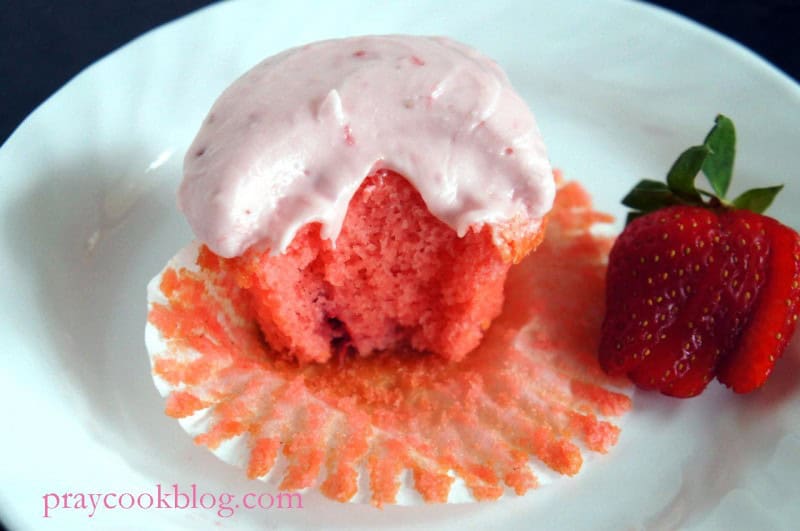 I intended to give this one to my sweet Chief Culinary Consultant.  But after one bite (for the picture) I couldn't stop myself.  It was gone before I knew what I had done. 🙁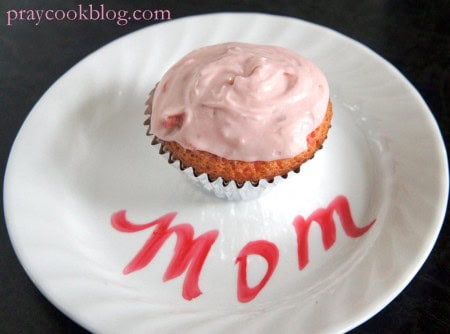 As I was dividing them up to go to the neighbors I asked my sous-chef dish-washing mom if she would like one for a snack that afternoon.  She said, "Well, it would be better to have one available and not want it, than to want one and not have it."  Huh?  Okay, this one I made for her and set it aside if she wanted it.   She did.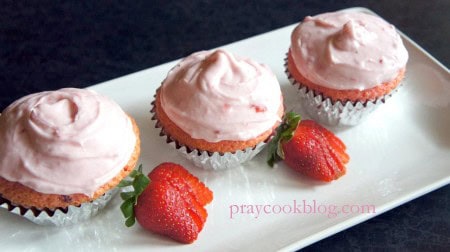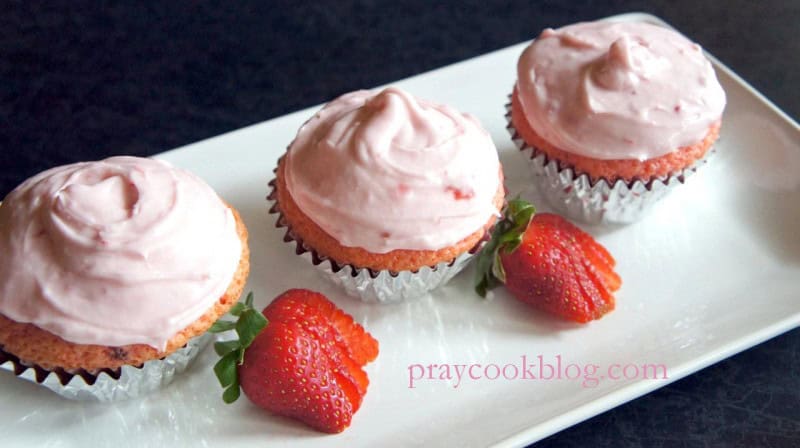 If you and your family like strawberries, do yourself (and them) a favor and make these wonderful cupcakes!  You will be glad you did.
Thank you from the bottom of my heart for reading this blog, sharing with family and friends, and sharing your comments and recipes with me!
Happy Baking,
Catherine
Fresh Strawberry Cupcakes Just In Time For My 3rd Blogoversary!
These cupcakes will turn any ordinary day into a party!
Ingredients
Cake batter
2 cups self-rising flour
2 cups sugar
3 eggs
½ cup canola oil
1 cup milk
1 cup fresh strawberries, mashed
1 small box dry strawberry jello
Strawberry Icing
½ stick butter, softened
4 to 6 cups powdered sugar (depending on preference of frosting stiffness)
¼ cup strawberries, mashed
Instructions
Mix all cake batter ingredients and pour into 24 muffin tins lined with cupcake liners.
Bake at 350 degrees for 20 to 25 minutes or until toothpick comes out clean.
While the cake is baking, make the icing.
Mix together all icing ingredients until smooth. Add powdered sugar and strawberry mash to your desired consistency. Mix well before adding more sugar or strawberries.
Once cake is cooled, spread the icing on the cupcakes.
Store the cake in the refrigerator. The cupcakes are best when chilled for at least 2 hours before serving. Remove from refrigerator 15 minutes before serving.
Notes
Any buttercream or cream cheese frosting can be used.