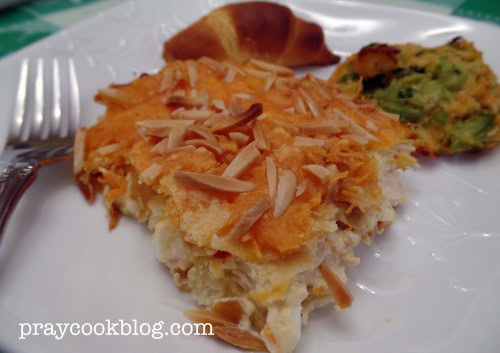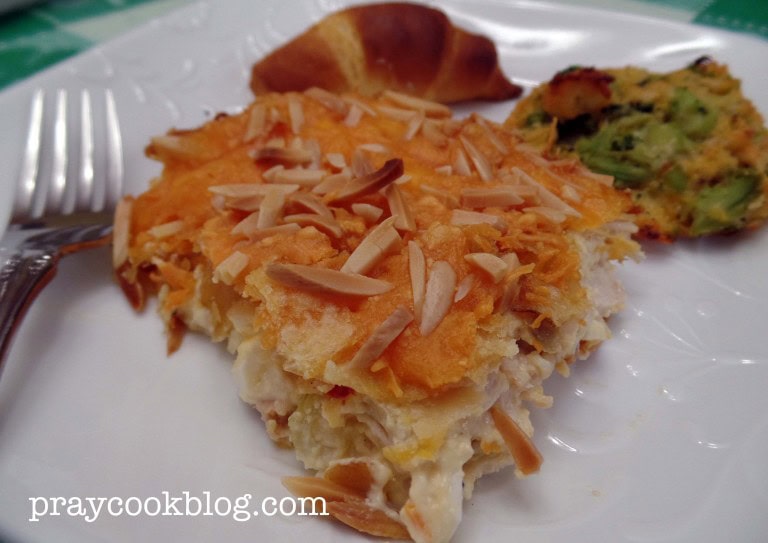 This recipe for hot chicken salad reminds me so much of my new favorite veggie casserole!  Before you think I've mixed up my fowl and my veggies let me explain.  Every once in a while I eat something that I just can't get enough of.  It is usually when lots of people are around and I either make a complete pig of myself or I restrain and then can't wait to get the recipe and head to the kitchen!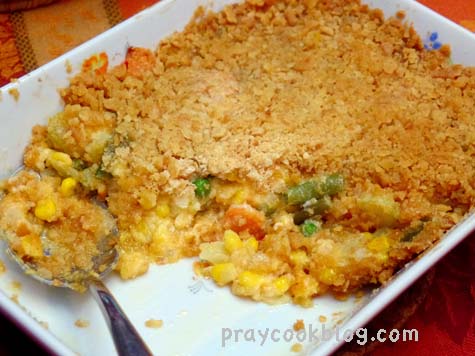 This happened to me when I ate the veggie casserole.  I was at a potluck function and I only took a little spoonful because I couldn't quite decide what was in it.  Bad move. After the first bite, I was trying to act inconspicuous as I quickly made my way back to the food table! 🙂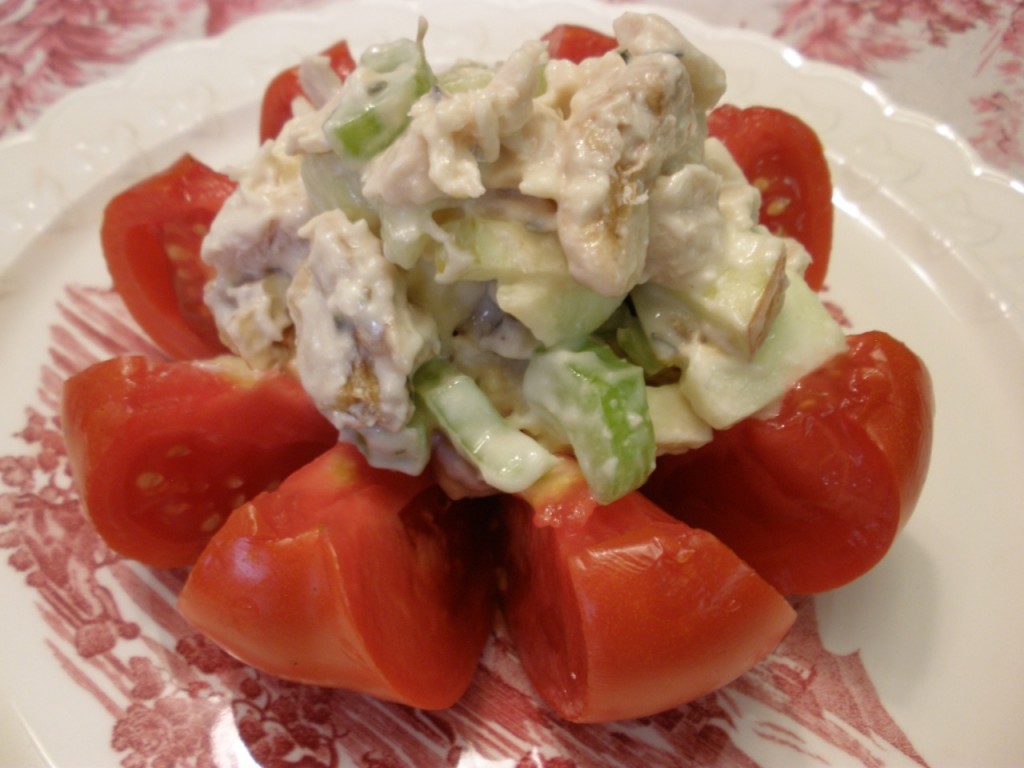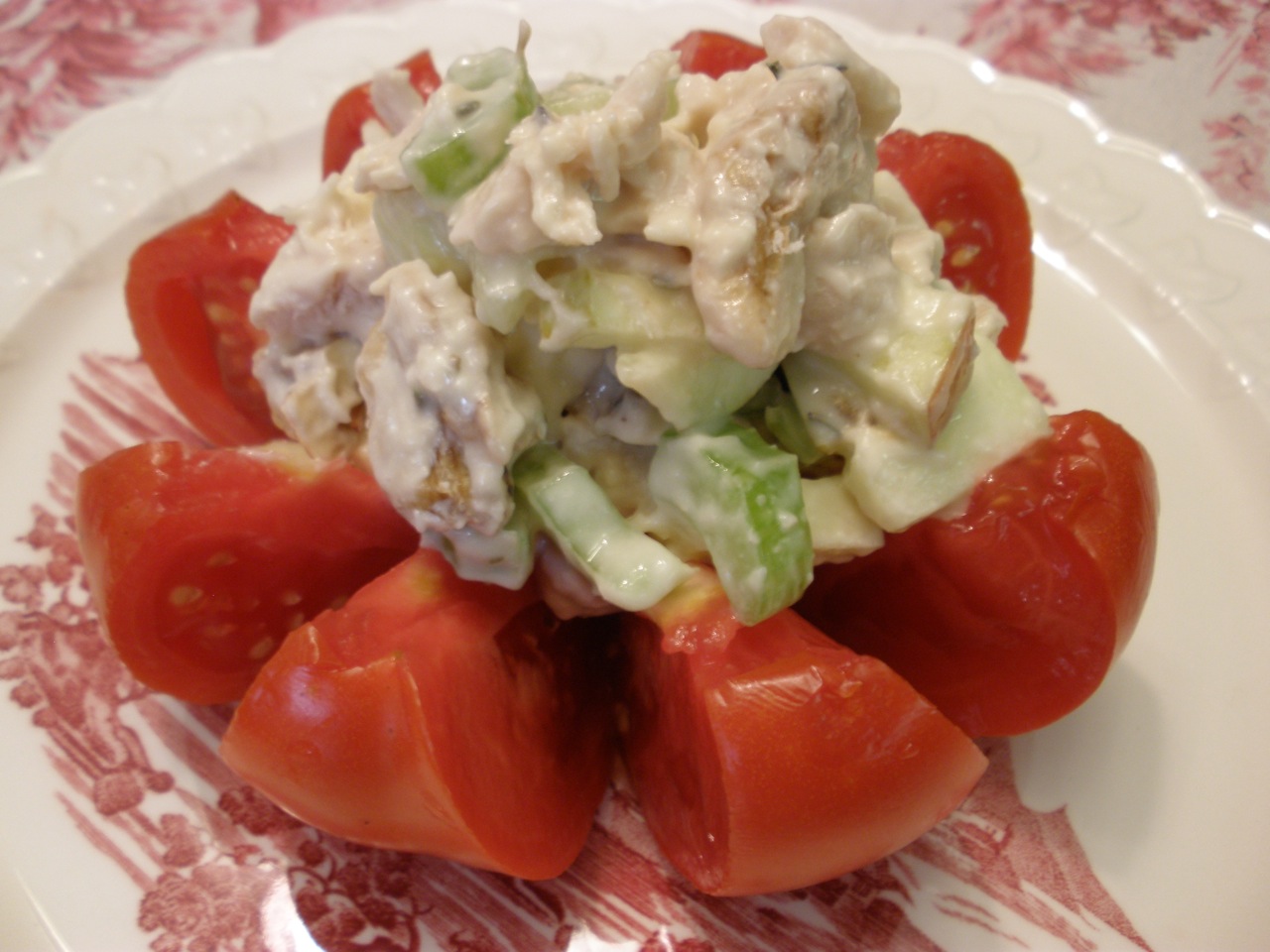 My friend Sue has always called me a chicken eater because I really do like most everything CHICKEN!  But chicken salad usually puts me over the moon.  Such is the case with my  sous-chef dish-washing mom's chicken salad.  Yum.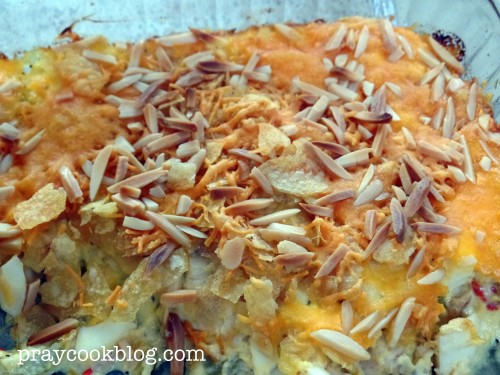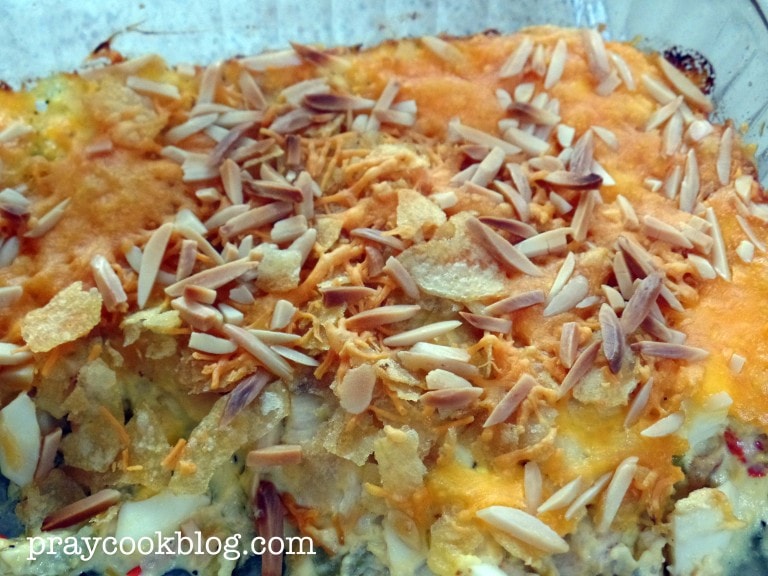 But hold the fork … make way for my new favorite hot chicken salad!

This recipe came from my friend Dinah and she received it from a friend of hers. I am changing the name to Friends Hot Chicken Salad! The great taste totally disguises the ease of making this dish.  This is a make-ahead dish and the flavors meld nicely overnight.  It is an absolutely perfect luncheon dish which I have now served several times!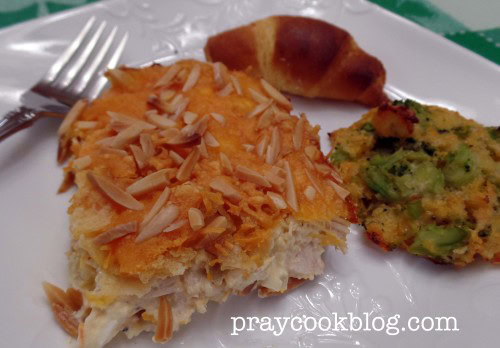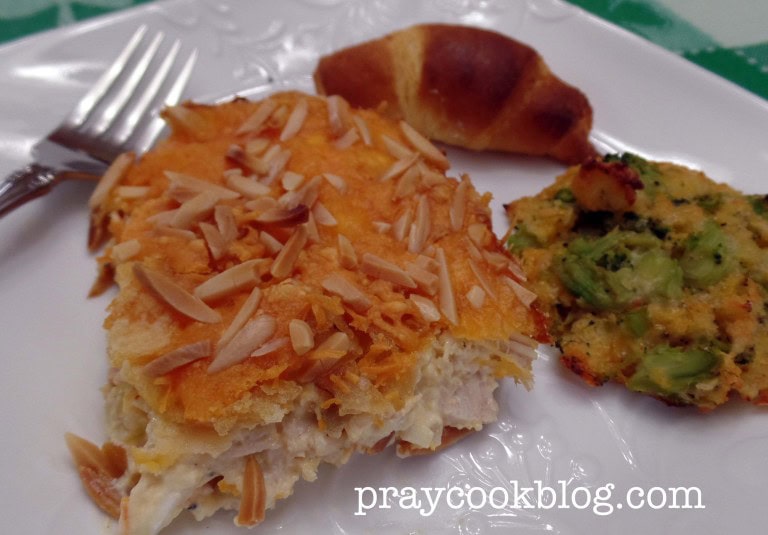 The last time I served the hot chicken salad, I paired it with a broccoli patty and a hot fresh-out-of-the-oven croissant!
I hope you like this as much as I do!
Happy Baking!
~Catherine
P.S.  Bobbeye, Mary and Jan — this is for you!

Friends Hot Chicken Salad
Hot Chicken Salad is over-the-top delicious, incredibly easy and one of those recipes everyone requests! This is a make-ahead dish and the flavors will meld nicely in the refrigerator overnight.
Author:
Adapted by Catherine Daugherty
Ingredients
4 cups cooked, cooled and chunked chicken
4 hard boiled eggs, sliced
2 cups chopped celery
2 tablespoons chopped pimentos
¾ cup mayonnaise
1 teaspoon dried minced onion
1 can cream of chicken soup
2 Tablespoons lemon juice
1 teaspoon salt
½ teaspoon ground pepper
Topping
1½ cups crushed potato chips
1 cup grated cheddar cheese
⅔ cup slivered almonds
Instructions
Combine all ingredients except the last 3 topping ingredients. Place the mixture in a lightly greased 9"x13" baking dish. Top with the crushed chips followed by the shredded cheese and slivered almonds.
Cover with plastic wrap and refrigerate overnight.
Remove plastic and bake at 400 degrees for 25 to 30 minutes until hot and bubbly.
Serve and enjoy!