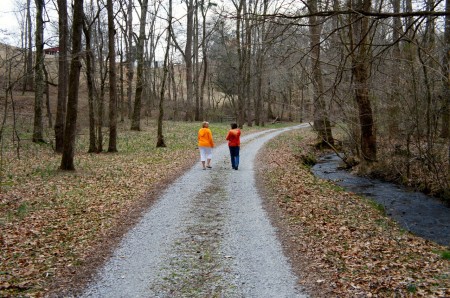 Recently my cousin Jill and her husband Jeff came for an overnight visit.  It was a perfect spring day that beckoned us to walk after our lunch.  Jill and I begin talking when she arrives and we don't stop until we reluctantly say good-bye.  As we walked down this country lane our "guys" walked behind us some distance — doing a bit of talking themselves!
After their departure I uploaded the photos I had taken.  Much to my surprise this one was among group.  Ah, that was the time when Jeff was carrying my camera …
John 15:12-15 "This is my commandment, that you love one another as I have loved you. Greater love has no one than this, that someone lay down his life for his friends. You are my friends if you do what I command you. No longer do I call you servants, for the servant does not know what his master is doing; but I have called you friends, for all that I have heard from my Father I have made known to you.
What a joy it is to spend time with family that are friends and friends that are family.
C.S. Lewis: 
"Friendship is unnecessary, like philosophy, like art… It has no survival value; rather it is one of those things that give value to survival."
Wishing you a blessed Sunday, spent with those you love.
Catherine