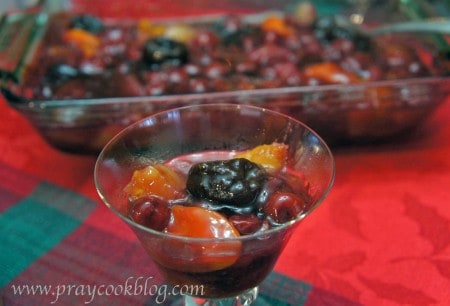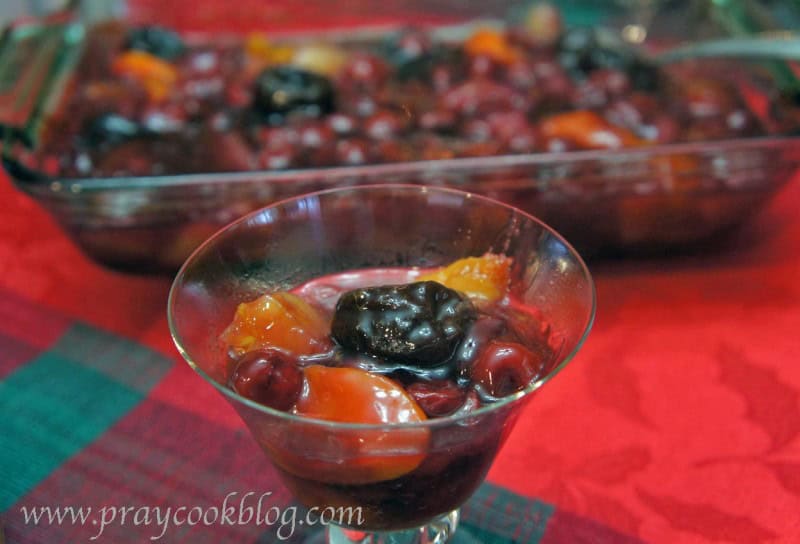 At a holiday luncheon my sous-chef dish-washing mom and I were served a warm fruit compote alongside a delicious egg strata.  Mom is absolutely crazy about fruit in about any form.  Me, not so much. As a matter of fact I usually loathe anything that even resembles cherry.  However, in the interest of politeness I took a couple bites of the fruit compote.  OH MY GOSH what have I been missing?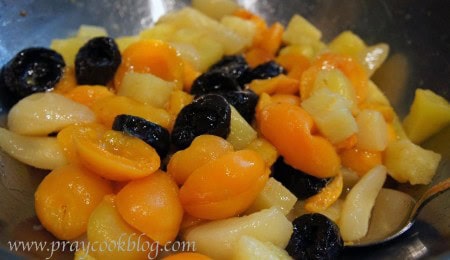 One glance at mom and I knew she was thinking, "can you make this?"  On the way home her excitement confirmed she couldn't wait to eat fruit compote again.  I told her I loved it also and would work on getting a recipe.  I was planning a light breakfast for Christmas morning.  I wanted  to surprise mom and the Chief  with an out-of-this-world hot fruit compote.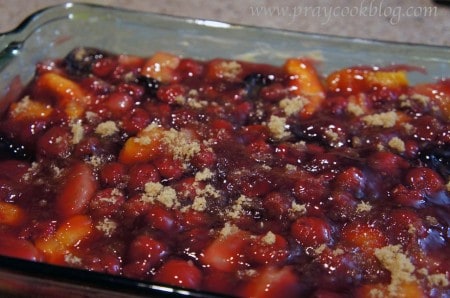 I went searching around the internet finding lots of recipes.  I decided on one I found at Taste of Home, with my own adaptions, of course.  The fruit compote we had been served had a distinct vanilla flavoring.  Note to self — add vanilla to the recipe. I also just recently discovered Angostura aromatic bitters.  Bitters are not bitter when added to food and drink, but has the ability to marry flavors.  It works by enhancing the flavor of ingredients in food preparations to  bring out the best in them without masking their true flavor.   I have no idea how this works but — IT WORKS!  I found the little bottle of Angostura bitters at my local grocery store.  Adding 6 to 7 dashes into this fruit recipe and it totally brought out the fruity flavors in an amazing way.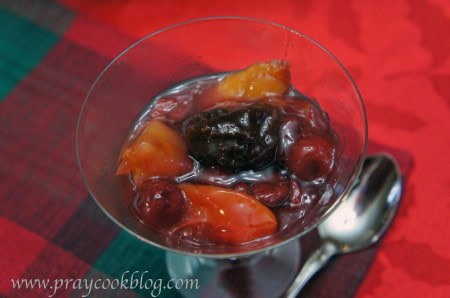 Ingredients are mixed up, baked for 40 to 45 minutes (while the egg casserole is baking) and ta-da a healthy and awesome fruit dish.  We have also enjoyed this as a dessert and was equally satisfying and delicious.  And yes, my sous-chef dish-washing mom was tickled-pink on Christmas morning when she realized there was fruit compote alongside a baked french toast for breakfast.  (French toast recipe coming soon!)
Make this soon, you'll thank me later.
~Blessings, Catherine

Fruit Compote
This sweet and colorful fruit compote is as perfect alongside an egg casserole as it is as an outstanding dessert. Angostura bitters bring out the very best in this fruit compote.
Ingredients
1 can sliced pears (15 ounces)
1 can sliced peaches (29 ounces)
1 can unsweetened pineapple chunks (20 ounces)
1 can apricot halves (15 ounces)
1 package pitted dried plums (20 ounces)
1 can cherry pie filling (21 ounces)
1 teaspoon vanilla
3 tablespoons Instant Tapioca
6 to 7 dashes of Angostura bitters* Optional
¼ cup packed brown sugar
Instructions
In a large bowl, combine the first 8 ingredients. Sprinkle with Angostura bitters and mix well.
Prepare a 9" x 13" baking dish with canola cooking spray. Pour fruit mixture into baking dish and sprinkle with brown sugar.
Bake for 350 degrees F. for 45 minutes to one hour until hot and bubbly. Serve warm.
Notes
The Angostura bitters is optional but truly enhances the fruity flavors.

* Lite canned fruit works well in this recipe or any home canned fruit in a light syrup.