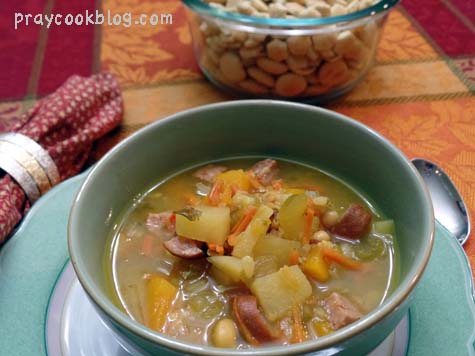 If you aren't a fan of delicious, warm, inviting, healthy, and easy … you may want to stop reading right now.  However, if you are all about using your slower cooker, filling the house with fall's fragrance coming from the kitchen, or you just love feeding your friends and family HEALTHY wonderful soup … then read on!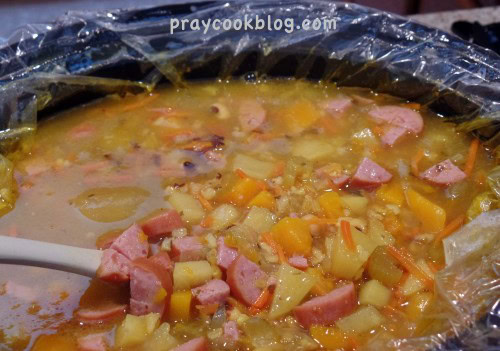 I am all about making a pot-of-soup every week during the winter. Generally the soup serves as a main dish for a night meal and then left-over lunches the rest of the week.   Almost always I will take 3 servings and freeze them for surprise soup night when life is particularly hectic and I don't have time to spend in the kitchen!
This soup came as a big surprise to us.  It has a blend of brown rice, black-eyed peas, yellow split peas, pearled barley, dried garbanzo beans, yellow-eyed Steuben beans, red lentils, spring wheat berries, quinoa and spelt berries.  I bought this as a Golden Harvest Soup blend, but it can easily be assembled using your favorite whole grains!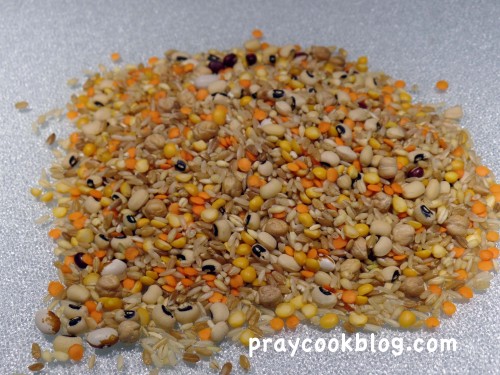 A whole grain has all of the essential parts and naturally occurring nutrients of the entire grain seed. Even if the grain is processed (cracked, rolled, cooked, etc.), all the nutrients in the whole grain should remain intact. Lucky for us, whole grains are not only a great way to improve your health, but they are surprisingly delicious and hearty as well.
While we're all familiar with oats and brown rice, there are plenty of other delicious and nutritious whole grain options to explore. Many of these whole grains are worth buying as they are not only good for you, but they're also widely available in the bulk bin or natural living sections of certain grocery stores.  Next time you're at the grocery store, keep an eye out for special whole grains like Amaranth (you can pop it like popcorn!), Farro, Millet, Buckwheat, Rye, Teff or quinoa.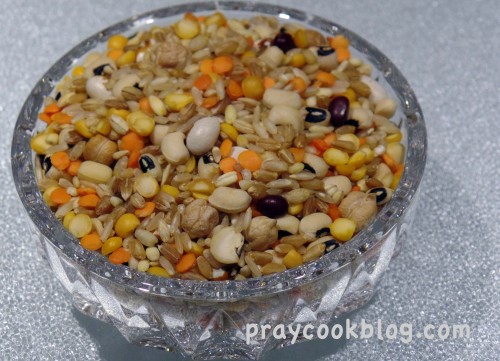 Take equal amounts of your choice of dried whole grains, beans, peas, lentils and brown rice and mix them together.  Store in air tight container.  Now you are ready for a winter's worth of healthy soups!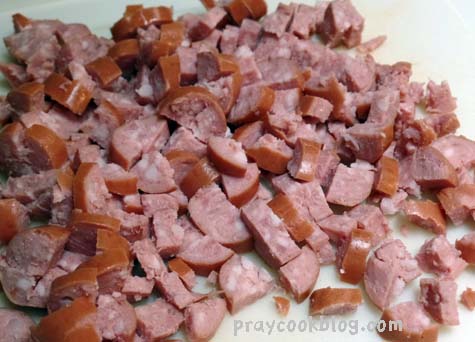 For this soup recipe, I used a turkey and beef smoked sausage, diced into bite-size pieces.   Diced, cooked chicken will work well or even diced ham.  This soup is quite versatile to your family's taste!
The secret spice that makes this soup pop is turmeric.  Don't leave it out — the flavor is fantastic and this gorgeous warm color is compliments of the turmeric.  I added onion, celery, carrot, white potatoes and a diced sweet potato.  You can add your favorite soup vegetables or leave out anything you don't care for.  Very adaptable.
The soup doesn't have to be cooked in the Crock Pot, but it sure makes it easy.  Have a souper week and happy cooking!  (Recipe is posted below.)
Blessings,
~Catherine
Taste of soul food:
"For Christ also suffered once for sins, the righteous for the unrighteous, that he might bring us to God, being put to death in the flesh but made alive in the spirit,"    1 Peter 3:18 ESV

Golden Harvest Healthy Chunky Soup
Souper healthy, souper delicious and a winter's staple main dish soup!
Author:
Catherine Daugherty
Recipe type:
Main Dish Soup
Ingredients
1 cup soup blend: beans, rice, lentils, dried whole-grains
4 cups water
1 cup diced onion
1 cup diced celery
1 cup diced carrots
1 cup diced white potato
1 cup diced sweet potato
2 Tablespoons chicken base or bouillon
1 teaspoon turmeric
½ teaspoon black pepper
½ teaspoon parsley flakes
2 to 3 cups diced turkey & beef smoked sausage*
Instructions
Soak the soup blend of dried grains, beans and lentils overnight in 3 cups of water. Drain off the water and add 4 cups fresh water into a medium size pot.* Add chicken base and simmer until tender, about 2 hours.
Add remaining ingredients and continue to simmer until vegetables are tender, at least 30 to 45 minutes.
Serve with salad and crusty bread!
Notes
* Grains can be cooked on low in Crock Pot for about 4 hours, then add remaining ingredients until ready to serve.
** Cooked diced chicken, turkey or ham can be used in placed of smoked sausage.
Easily doubled or tripled. Can freeze in airtight container for up to 3 months.