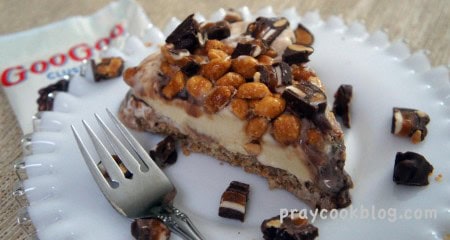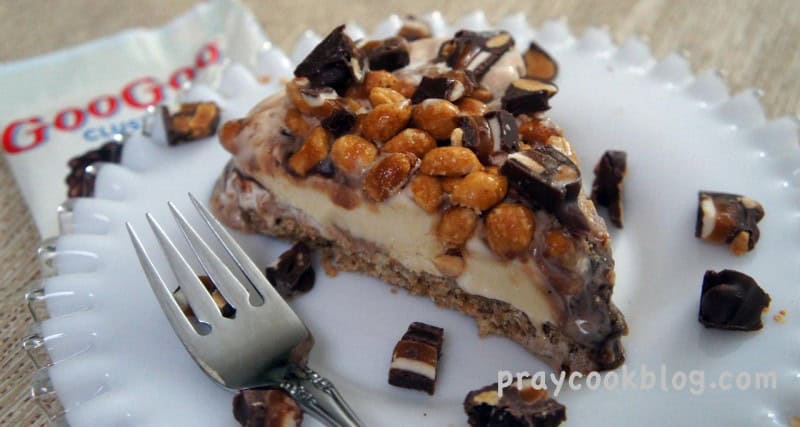 Early in the summer we received the Tennessee Home & Farm magazine published by The Tennessee Farm Bureau.  We always enjoy reading articles about local folk and items of interest.  However, both my Chief Culinary Consultant and I turn to the pages filled with recipes first.  This Goo Goo Pie recipe took front and center as we began to drool.  "I hope you make this one", says the Chief.
Growing up in Nebraska I never ate a Goo Goo Cluster until arriving in the South.  Goo Goo Clusters are a southern treat! In 1912, in a copper kettle at the Standard Candy Company at Clark & First Avenue in Nashville, TN, the world's first ever combination candy bar was invented. A roundish mound of caramel, marshmallow nougat, fresh roasted peanuts and real milk chocolate; its renegade shape was more difficult to wrap than the conventional rectangular or square shap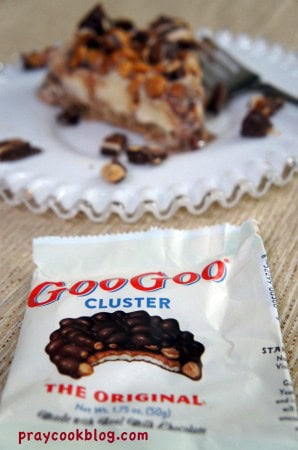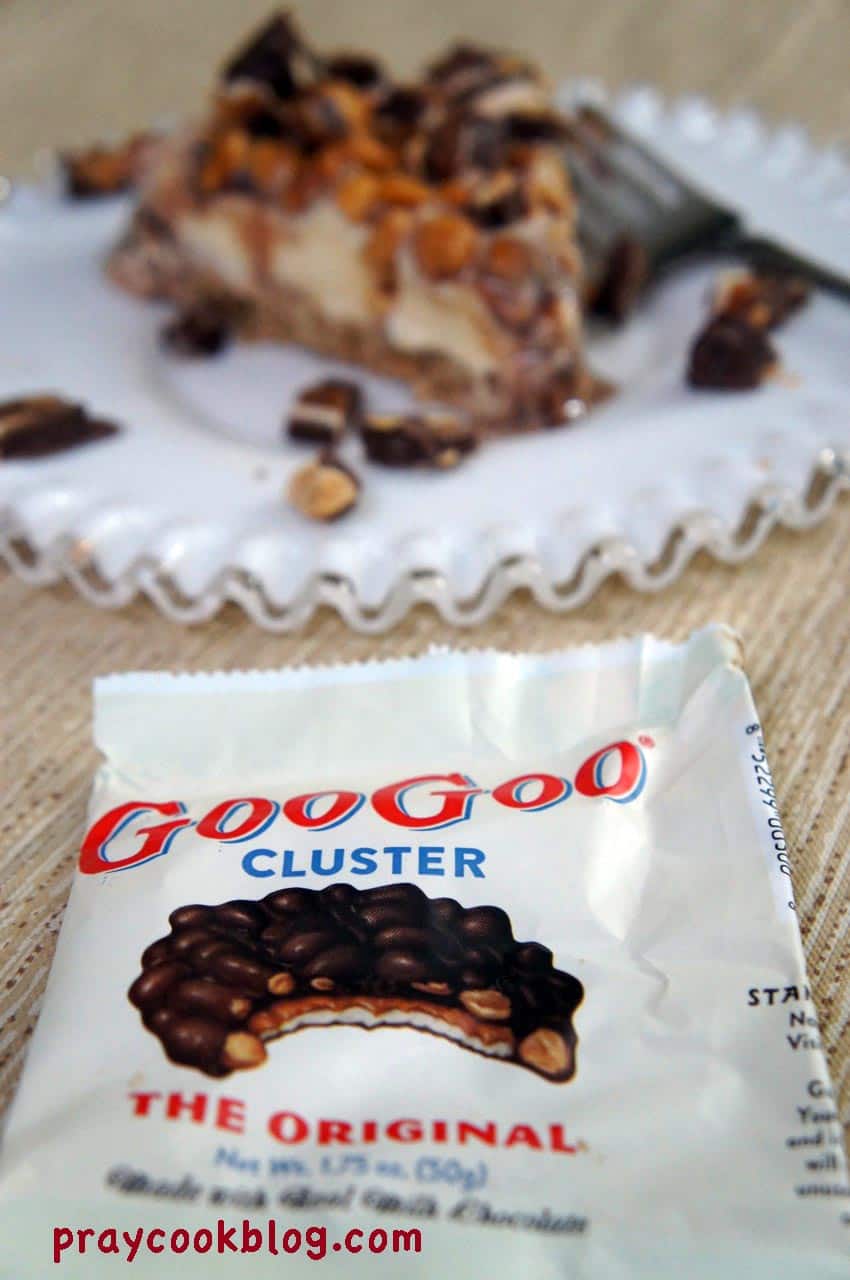 es of the day. More importantly, this was the first time multiple elements were being mass-produced in a retail confection. Previous to the advent of the Goo Goo Cluster, candy bar manufacturing consisted of bars solely using chocolate, caramel or taffy. The Goo Goo Cluster represented the first time a bar consisted of more than just one principal ingredient.
When my sister-in-law Donna was visiting in June I told her of my plight:  I wanted to make this ice cream pie but I couldn't find the Goo Goo Clusters at the store.  Donna-to-the-rescue because she found them at the candy store downtown Lynchburg, just a few miles from my home. 🙂  Let the ice cream pie making begin! The pie ingredients mirror a Goo Goo layering caramel, marshmallow creme, roasted peanuts and fudegy chocolate!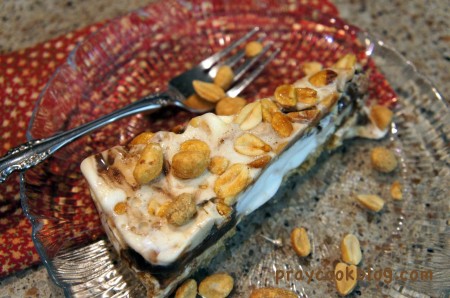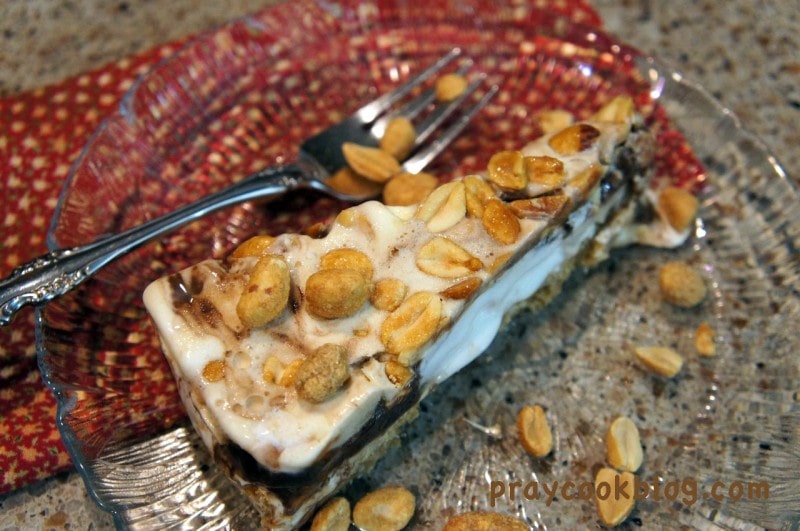 I doubled the recipe and made this scrumptious dessert in an 10″ springform pan.   If you don't have a springform pan a regular pie plate can be used. No matter what the occasion an ice cream pie is a real crowd pleaser!  If you cannot buy Goo Goo Clusters, don't worry — the pie itself mimics the Goo Goo and the actual clusters are used for garnish. 
Happy Eating!
Catherine
The Baptism of Jesus
9 In those days Jesus came from Nazareth of Galilee and was baptized by John in the Jordan. 10 And when he came up out of the water, immediately he saw the heavens being torn open and the Spirit descending on him like a dove. 11 And a voice came from heaven, "You are my beloved Son; with you I am well pleased."   Mark 1:9-11
Goo Goo Ice Cream Pie
Take a walk down memory lane with the taste of Goo Goo Clusters made into an ice cream pie!
Ingredients
1 chocolate cookie pie crust, 8" or 9"
1 cup marshmallow creme
½ cup caramel sauce
2 cups vanilla ice cream
1 cup chocolate fudge sauce
1 cup peanuts, lightly salted
1 Goo Goo Cluster, chopped, *optional
Instructions
Layer marshmallow creme evenly over the pie crust.
Spoon caramel over marshmallow layer.
Layer soft vanilla ice cream over the caramel.
Slightly warm fudge sauce in microwave so it will be pourable. Spoon quickly over ice cream.
Top with peanuts (and Goo Goo Cluster pieces if using), and freeze for several hours before serving.
Notes
The ingredients can be doubled and placed in a 10" Springform pan to serve 12 to 16 servings.
The chocolate cookie crust can be store-bought or made from crushed chocolate wafer cookies.