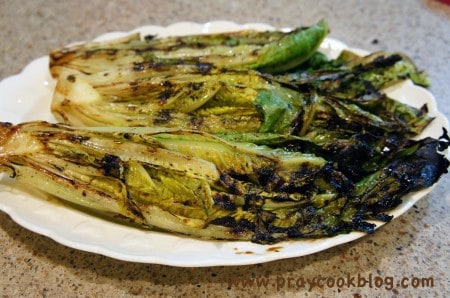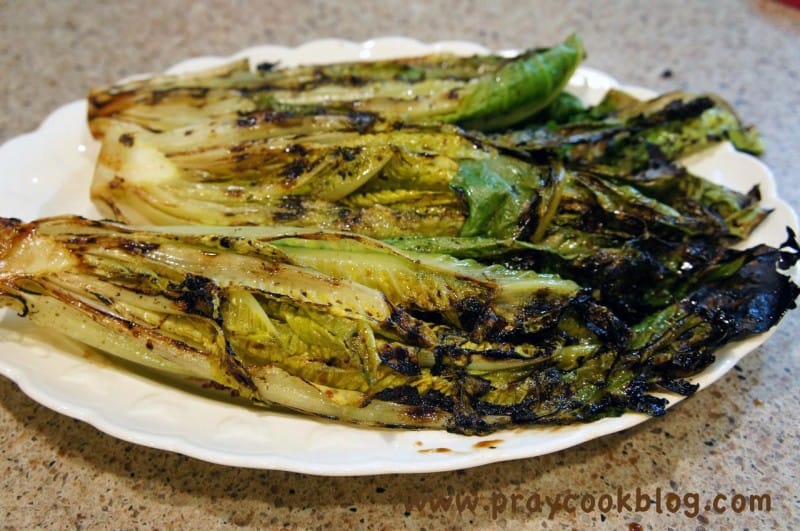 Before you think or say ich, hear me out.  If you like to BBQ your dinner on the grill, and you are typically a salad eater, you are going to LOVE this grilled romaine.  It is remarkably DELISH with flavors only olive oil, balsamic and a hot grill can make! I saw the picture on www.healthifiedmom.com and thought … what the heck?  My son had recently asked me to include healthier recipes occasionally on my blog and I thought — romaine — now that is healthy!  We were making our list for Costco (monthly trip) and I knew I could get some really nice large romaine hearts there.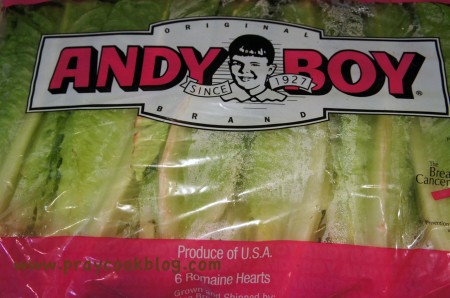 I was right.  Friday night was rolling around and we had a friend coming for dinner and an over-night stay.  Steak.  Yes, definitely steak for dinner and … grilled romaine?  All my life my mom has tried out first-time recipes on company.  I do believe she has passed that baton on to me.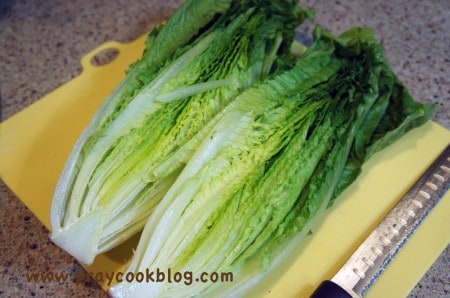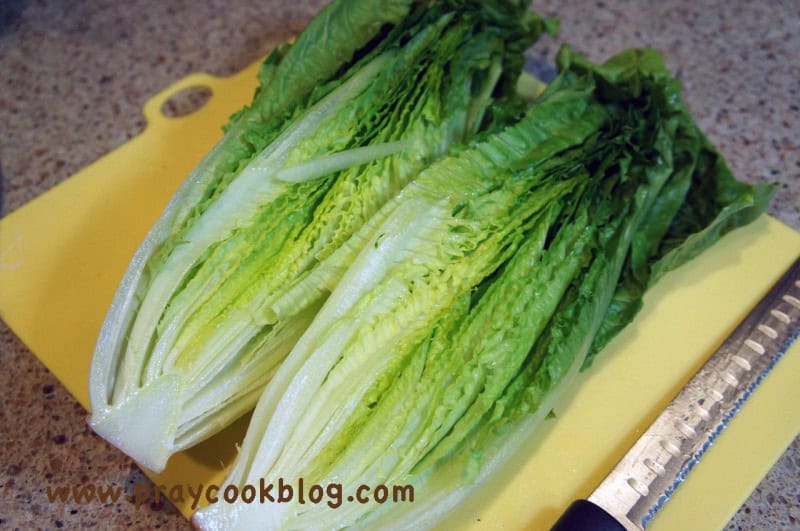 This takes all of 5 minutes to do.  Wash entire romaine heart (especially down near the root.)  Dry with a paper towel.  Cut in half lengthwise.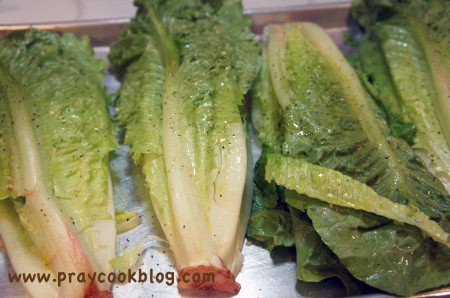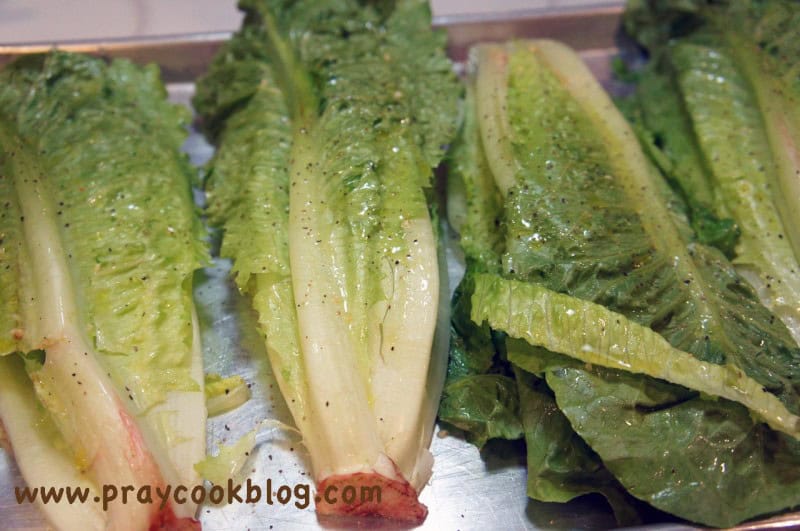 Drizzle olive oil (the good stuff) on all sides, getting inside where possible.  This is most easily accomplished with you hands or a brush.  The halved hearts are then sprinkled with salt and pepper to taste.  More for some, less for others.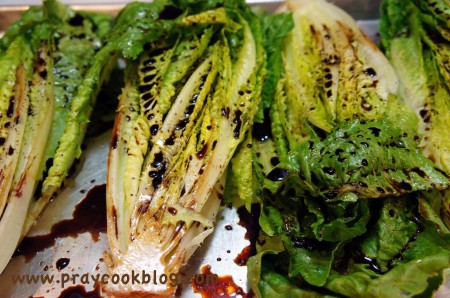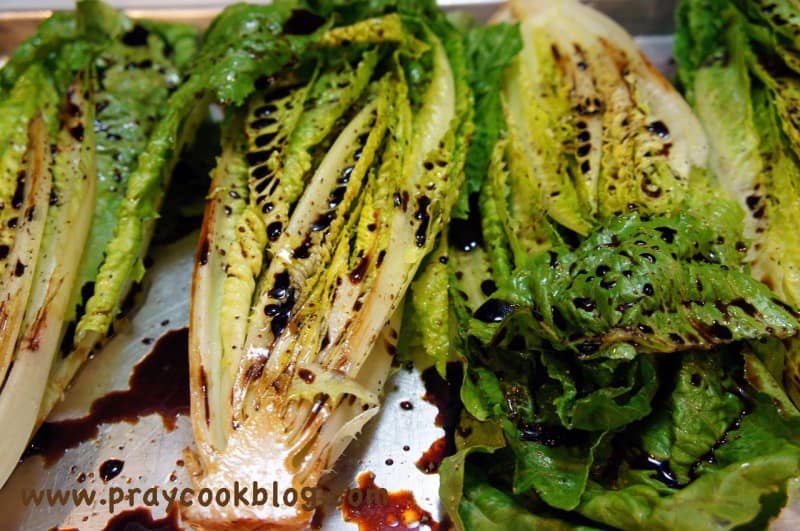 Final prep step is to drizzle balsamic vinegar (the good stuff) on all sides.  This also can be done to taste.  Once the grill is heated to medium high, place the cut sides down on the grill for 3 minutes or until slightly charred. Do not over cook.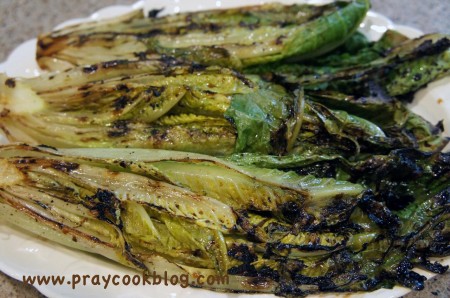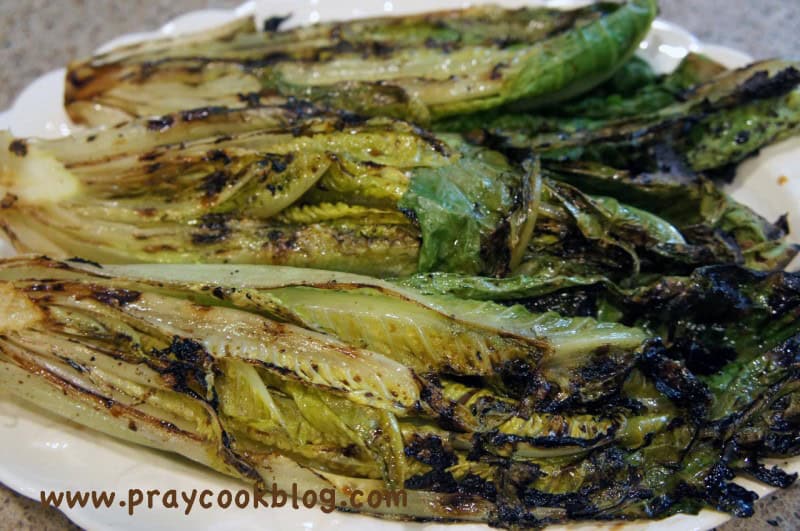 These are best eaten hot right off the grill.  We topped them with blue cheese, but you can eat them plain, sprinkle on some Parmesan cheese, crispy bacon or just about any yummy topping you wish.
Each one of these halves served one person.  We ate them with our meal but next time I will definitely time the meat so that we can eat these just prior to the meat coming off the grill.
Note to my sons: you guys are going to LOVE this! 🙂
~Blessings and Happy Cooking!
Catherine
Grilled Romaine Healthified!
Get your greens the tasty way via the BBQ grill! Healthy and delicious!
Ingredients
2 whole romaine hearts
1 to 2 Tablespoons olive oil (a high quality)
1-2 Tablespoons Balsamic vinegar (a good brand)
Salt and Pepper to Taste
Instructions
Heat grill to medium-high heat.
Half the romaine hearts lengthwise. Rinse each piece well, especially near the root. Dry with paper towels.
Drizzle olive oil on all sides, getting inside when possible.
Sprinkle with salt and pepper to taste.
Drizzle with vinegar on all sides.
Place romaine cut side down on the grill for 3 minutes or until slightly charred.
Remove from grill and eat immediately.
Notes
Top your romaine with Parmesan cheese, blue cheese, crumbled bacon, roma tomatoes or any favorite yummy topping!

Recipe adapted from www.healthifiedmom.com
Nutrition Information
Calories:
42 calories
Fat:
3.5 grams of fat