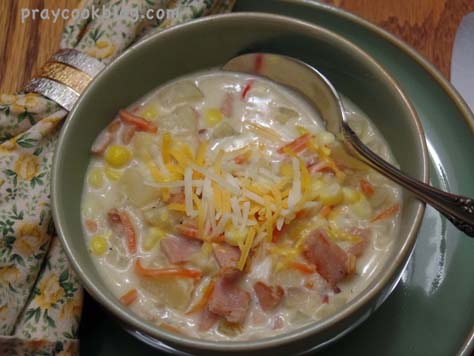 Are you ready for soup?  I am!
That is why I am starting my fall soup-a-thon  with a luscious ham, potato and corn chowder that is not only filling but very lovely in color and texture too!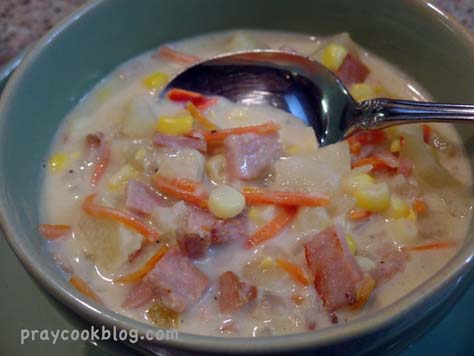 For me this soup started with ham that needed used up in my frig.  And then I had 2 potatoes left from the 5 lb. bag.  The corn … well, it came off the cob from a dinner earlier in the week.  Do you see where I am going with this?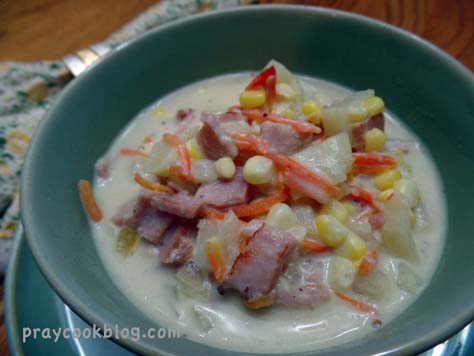 I thought I was being really clever.  Surely no one had ever thought of a "ham and potato" CORN chowder.  Right?  So I Googled those three ingredients and much to my surprise "Voila!"  there are all kinds of chowder recipes floating around with my 3 ingredients!  Go figure.
After reading through a few recipes I settled on the chowder recipe  by Kevin Lynch.  I made a couple of changes but all-in-all this is a keeper recipe.  I've made it twice and shared with friends.  This is one of those soups that keeps getting better with each passing day. About 5 days after I made it we had the last little bit for lunch.  My sous-chef dish-washing mom and Chief Soup Eater both agreed it was perfectly aged.

Ham, Potato and Corn Chowder
Comfort food at it's very best! This chowder is good to the very last lovin' spoonful!
Author:
Adapted by Catherine Daugherty
Ingredients
3 tablespoons oil or butter
1 onion, diced
2 carrots, diced
2 stalks celery, diced
2 cloves garlic, chopped or 2 teaspoons minced
1 teaspoon ground thyme
¼ cup flour
2 cups chicken broth
2 cups milk
1½ pounds potatoes, peeled and diced small (2 large potatoes)
8 ounces ham, diced
1 to 2 cups corn
salt and pepper to taste
Instructions
Heat 1 tablespoon butter in a large sauce pan and saute' the diced ham until nicely browned. Remove ham and set aside.
Heat the remaining oil in the sauce pan over medium-high heat, add the onions, carrots and celery and cook until tender, about 8-10 minutes.
Mix in the garlic, thyme and flour and cook until the flour is lightly browned, about 2-3 minutes.
Slowly stir in the broth, deglazing the pan as you go, add the potatoes, bring to a boil, reduce the heat and simmer until the potatoes are tender, about 10-12 minutes.
Add the milk, ham and corn, cook until heated, thickened and season with salt and pepper.
Enjoy!
Let soup season begin!
Have a souper weekend,
~Catherine