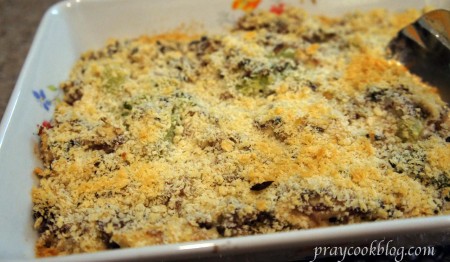 One of my favorite new websites is www.livebetteramerica.com.  It is dedicated to Health, Food, Fitness, and Relationships.  The term healthified has been coined from the writers and I enjoy learning how to take an original recipe and healthify it by lowering the fat content, sometimes lower sodium and always lower calories.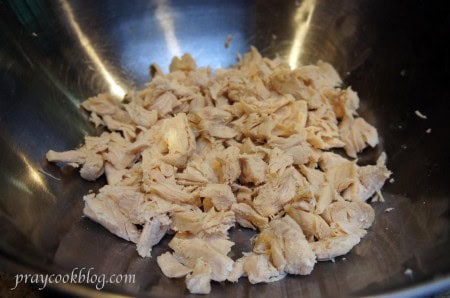 I started this casserole with cooked, shredded chicken, although the recipe says leftover turkey works equally well.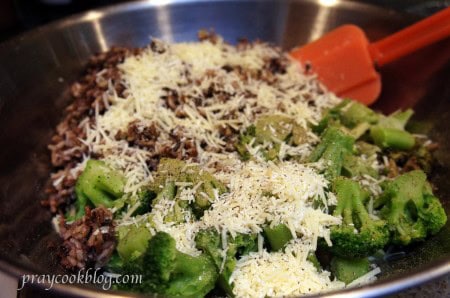 Brown rice, wild rice, vegetables, and Parmesan cheese are added.  I used leftover roasted broccoli, but any vegetables — fresh, frozen, or canned works.
The creamy texture comes from fat-free sour cream, reduced-fat Alfredo pasta sauce and chicken broth.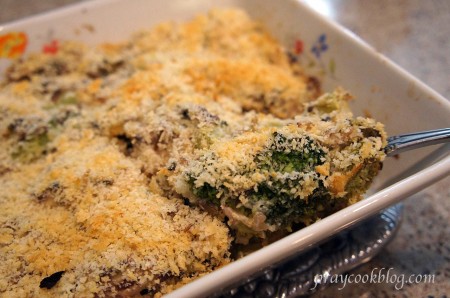 Sprinkled with Panko bread crumbs and baked until browned and bubbly the delicious scent will fill the kitchen.
We ate this twice and the second time was actually even tastier than the first! It is one of those casseroles that gets better a day or two in the refrigerator.
My Chief Culinary Consultant gave this two thumbs up! Half of the batch I mixed up and froze, ready to bake on a moments notice.
Happy Cooking!
Catherine
Verse of the Day
"bearing with one another and, if one has a complaint against another, forgiving each other; as the Lord has forgiven you, so you also must forgive."
Colossians 3:13 ESV
Healthified Chicken and Wild Rice Casserole
82% less saturated fat, 75% less fat, and 43% fewer calories than the original recipe. Delicious and healthy way to use leftover chicken or turkey!
Ingredients
Water for cooking rice, according to package directions
¾ cup uncooked regular long-grain brown rice
¾ cup uncooked wild rice
1 container (15 oz.) reduced-fat Alfredo pasta sauce
1 cup fat-free sour cream
½ cup reduced-sodium chicken broth
¼ cup grated Parmesan cheese
¼ teaspoon dried thyme leaves
½ teaspoon poultry seasoning
¼ teaspoon pepper
4 cups cut-up cooked chicken or turkey
1 bag (12 oz.) frozen mixed vegetables, thawed
½ cup Panko bread crumbs
Instructions
In a 3 quart saucepan, cook brown rice and wild rice according to package directions.
Heat oven to 350 degrees F. Spray 13" x 9" baking dish with cooking spray. In a very large bowl, mix pasta sauce, sour cream, broth, Parmesan cheese, thyme, poultry seasoning, and pepper until well mixed. Stir in rice mixture, chicken (turkey) and vegetables. Spoon into prepared baking dish.
Sprinkle entire casserole with Panko bread crumbs. Bake uncovered 40 to 50 minutes or until edges are bubbly and bread crumbs are lightly browned.
Notes
Recipe adapted from www.livebetteramerica.com