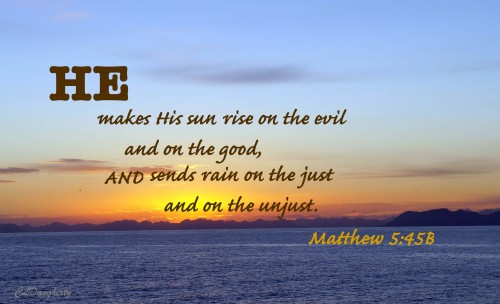 This morning as I opened my daily devotional I found this scripture.  Matthew 5,6, and 7 is known as The Sermon on the Mount and this line of scripture is plucked from an area under the subtitle of Love Your Enemies. What a timely message in light of all the evil being brought throughout our world today.
In His Sermon on the Mount, Jesus tells us that God is gracious to all humanity.  We don't have to watch more than a few minutes of any 24-hour news channel day or night to wonder how God is gracious to any of us.  But I wonder that from my human perspective.
From God's perspective, He wants every one of His creation to spend eternity with Him.  Everyone.  Not just the "good" ones, the pretty ones, the nice ones, but everyone.  What a picture of His grace.
Isaiah 41:10
So do not fear, for I am with you;
    do not be dismayed, for I am your God.
I will strengthen you and help you;
    I will uphold you with my righteous right hand.
Fear not.  He's got this.  We can trust Him.
1 Thessalonians 5:18
 "give thanks in all circumstances; for this is God's will for you in Christ Jesus."
Today I choose to fear not. Today I choose to give thanks.
French novelist Alphonse Karr wrote, "Some people are always grumbling because roses have thorns; I am thankful that thorns have roses."
My prayer for you today is that you will focus on the roses in your life. Give thanks to God in all circumstances and watch Him pour out His love, mercy, grace and understanding on you. If you have a hard time finding a reason to thank Him, then ask Him to show you how to be thankful. He will.
God Bless You All,
~Catherine