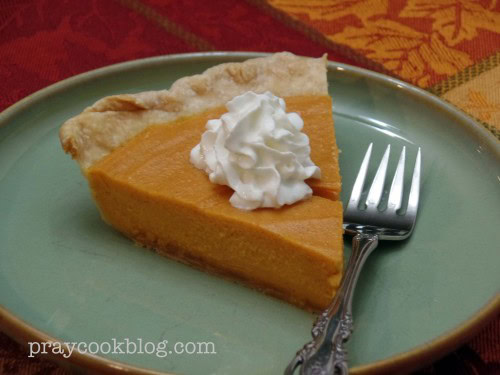 We buy a 40-pound box of sweet potatoes from a local farmer every fall. I cannot tell you the exact science behind why sweet potatoes direct from the farm tastes so much better than sweet potatoes from the grocery store … but trust me, they do!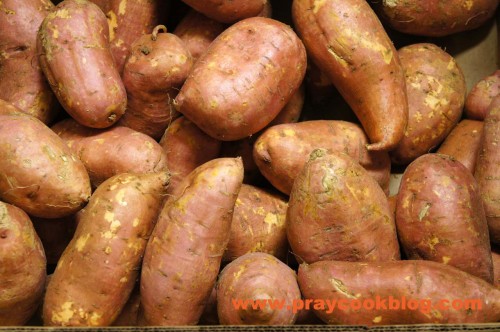 We dine on sweet potatoes all winter long.  When I can't think of a thing to fix for dinner I start with sweet potatoes and the rest just falls in place.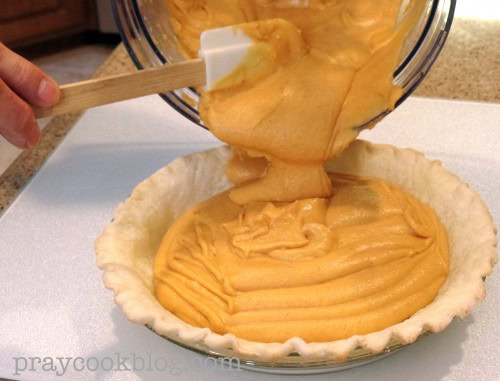 We were at our friend Maribeth and John's house when she asked if I saw the sweet potato pie being made that day on Cook's Country.  I don't watch much TV and hadn't seen it.  She went on to excitedly tell me how she knew we would "just love" this pie!  Before I got home that evening I knew I had to make that pie.  (You can get me excited about recipes just that easy!)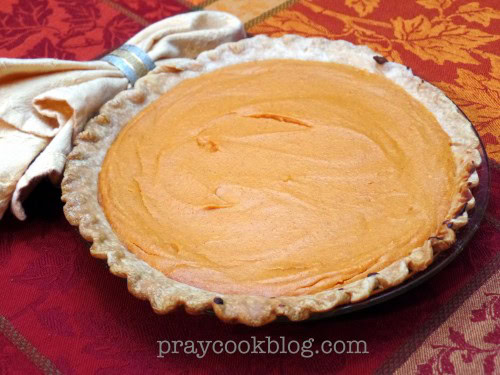 Sometimes Pumpkin Pie is just too spicy for me these days. So when I saw the ingredients in this sweet potato pie I thought the subtle spices may go easier on my stomach while still giving me that creamy pumpkin-squashy-taste!  I was right about there being just the right amount of spice but what I didn't expect was the extreme creaminess of this custard.
This recipe is from Cook's Country and I made it pretty much exactly as written, with only a couple ingredient variations.  According to the recipe, this is why "it works":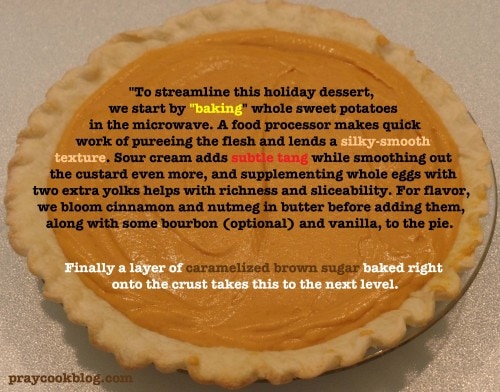 They had me at "finally a layer of caramelized brown sugar baked right onto the crust takes this to the next level."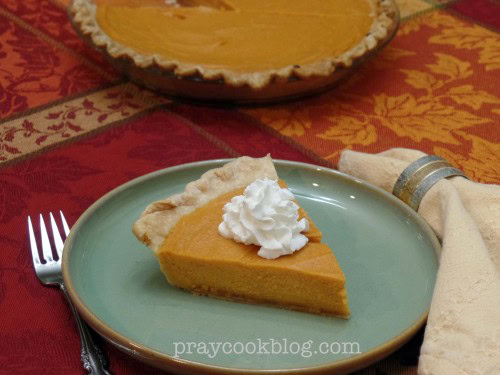 At first glance, I wasn't going to add the 2 extra egg yolks.  After all, there are 3 whole eggs already in there.  However,  I ended up adding the egg yolks and I am so glad I did.  This pie is one of the creamiest I have ever made and it slices beautifully and stays put on the plate. I made two changes to the ingredients adding a little apple pie spice and using Jack Daniel Whiskey instead of bourbon. (The alcohol is totally optional and  you can leave it  out if you prefer).  If you have homemade vanilla be sure and use that too!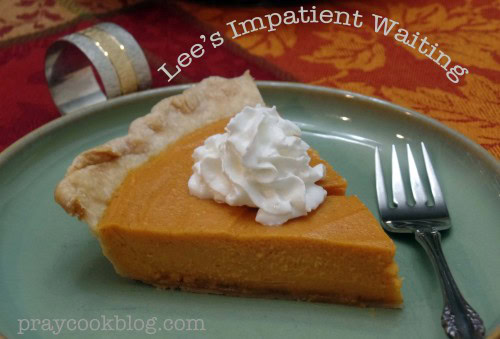 The day I made this pie my sous-chef dish-washing mom (who absolutely loves any kind of pie!) was hovering around clearing the table anxious for the pie cutting.
Our Chief Pie Eater sat at the table and watched as I began to take pictures.  Even though you may only see 4 or 5 photos I admit I shot many, many more than that.  I was slicing the pie, taking pictures, adding whipped cream and just having a good time.
The Chief said, "almost done there?"   I replied, "only a few more." Sometime after that, he began to fidget with the napkins rings on the table. He stacked 'em, swirled 'em and rolled them. This picture was snapped just as his napkin ring rolled over into the camera's line of sight.  That was it. I stopped taking pictures and served the pie.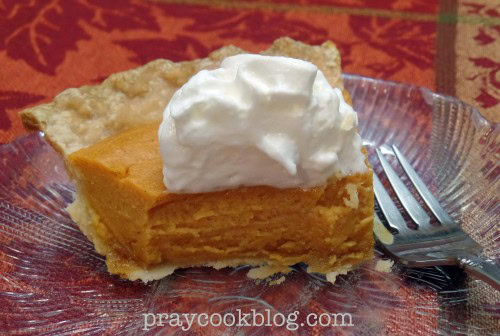 Custard pies, such as sweet potato pie, require careful baking.  I learned something new when making this pie. Underbaked pies won't set up and will be difficult to slice (been there, done that.) Properly baked sweet potato pie is done when just the center jiggles slightly if you gently shake the pie.  But here is what I didn't know: A fail-safe way to know when the pie is done – take the temperature.  When a custard is 165 degrees F. the pie is done.
I used my instant-read thermometer and took the pie out at 165 degrees.  If I had not taken the temperature when I did I would have ended up over-baking the pie (causing cracks.)
A 9″ homemade pie crust or store-bought crust can be used.
Thankyou Cook's Country for teaching me this new technique!
We all gave it a thumbs up and the Chief asked when I was making it again. (Always a good sign!)  You will find the full recipe below.
Many blessings and Happy Holiday Baking!
~Catherine
P.S.  Don't forget to register for the Amazon gift card giveaway.
The Birth of Jesus Christ from Luke 2
In those days a decree went out from Caesar Augustus that all the world should be registered. 2 This was the first registration when Quirinius was governor of Syria. 3 And all went to be registered, each to his own town. 4 And Joseph also went up from Galilee, from the town of Nazareth to Judea, to the city of David, which is called Bethlehem, because he was of the house and lineage of David, 5 to be registered with Mary, his betrothed, who was with child. 6 And while they were there, the time came for her to give birth. 7 And she gave birth to her firstborn son and wrapped him in swaddling cloths and laid him in a manger because there was no place for them in the inn.
The Shepherds and the Angels
8 And in the same region, there were shepherds out in the field, keeping watch over their flock by night. 9 And an angel of the Lord appeared to them, and the glory of the Lord shone around them, and they were filled with great fear. 10 And the angel said to them, "Fear not, for behold, I bring you good news of great joy that will be for all the people.11 For unto you is born this day in the city of David a Savior, who is Christ the Lord. 12 And this will be a sign for you: you will find a baby wrapped in swaddling cloths and lying in a manger." 13 And suddenly there was with the angel a multitude of the heavenly host praising God and saying,
14 "Glory to God in the highest,
and on earth peace among those with whom he is pleased!"[c]
15 When the angels went away from them into heaven, the shepherds said to one another, "Let us go over to Bethlehem and see this thing that has happened, which the Lord has made known to us." 16 And they went with haste and found Mary and Joseph and the baby lying in a manger. 17 And when they saw it, they made known the saying that had been told them concerning this child. 18 And all who heard it wondered at what the shepherds told them. 19 But Mary treasured up all these things, pondering them in her heart. 20 And the shepherds returned, glorifying and praising God for all they had heard and seen, as it had been told them.

Holiday Sweet Potato Pie
A stellar recipe adapted from Cook's Country! Pure, creamy, wonderful. Your holiday baking doesn't get much better than this!
Author:
Adapted by Catherine Daugherty
Ingredients
1 (9-inch) single-crust pie dough
1¼ cups packed (8¾ ounces) light brown sugar
1¾ pounds sweet potatoes, unpeeled
½ teaspoon salt
4 tablespoons unsalted butter
½ teaspoon ground cinnamon
¼ teaspoon ground nutmeg
½ teaspoon apple pie spice
1 cup sour cream
3 large eggs plus 2 large yolks
2 tablespoons whiskey or bourbon (optional)
1 teaspoon vanilla extract
Whipped Cream for garnish
Instructions
Set oven rack to middle position and heat oven to 375 degrees.
Roll dough into 12-inch circle on lightly floured counter. Loosely roll dough around rolling pin and gently unroll it onto 9-inch pie plate, letting dough hang over edge. Gentle press into pie plate.
Trim overhang to ½ inch beyond lip of pie plate. Tuck overhang under itself; folded edge should be flush with the lip of the pie plate. Crimp dough evenly around edge of pie using your fingers. Wrap dough-lined pie plate loosely in plastic and freeze until dough is firm, about 15 minutes.
Line chilled pie shell with 2 (12-inch) squares of parchment paper, letting parchment lie over edges of and fill with pie weights. (Use dry beans if no pie weights are available)
Bake until lightly golden around edges, 18 to 20 minutes. Carefully remove parchment and weights, rotate crust, and continue to bake until center begins to look opaque and slightly about 3 minutes. Remove from oven. Let crust cool completely.
Sprinkle ¼ cup sugar over bottom of crust; set aside.
Reduce oven temperature to 350 degrees.
Meanwhile, prick potatoes all over with a fork. Microwave on plate until potatoes are very soft, about 15 to 20 minutes, turning every 5 minutes. Immediately slice potatoes in half to release steam.
When cool enough to handle, scoop flesh into bowl of food processor. Add salt and remaining 1 cup sugar and process until smooth, about 60 seconds, scraping down sides of bowl as needed. Melt butter with cinnamon and nutmeg in microwave, 15 to 30 seconds; stir to combine.
Add spiced butter; sour cream; eggs and yolks; alcohol (bourbon, Jack Daniel etc.), if using; and vanilla to potatoes and process until incorporated, about 10 seconds, scraping down sides of bowl as needed.
Pour potato mixture into prepared pie shell. Bake until filling is set and center registers 165 degrees F. and jiggles slightly when is shaken, 35 to 40 minutes. Let pie cool completely on wire rack, about 2 hours. Serve with whipped cream!
Notes
* Alcohol optional - can use bourbon, Jack Daniel whiskey or your favorite spirit. Can also leave it out without any problem.

The best pies use a homemade crust. If you're pressed for time, choose your favorite pre-made. Mine is Pillsbury.
Choose sweet potatoes that are about the same size so that they'll cook evenly.
Recipe adapted from Cook's Country.