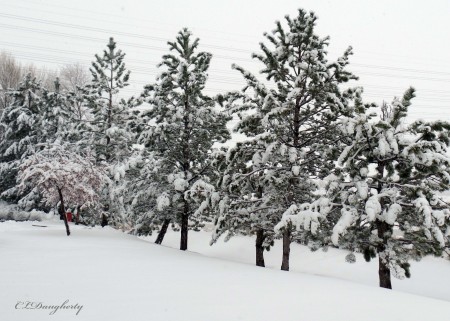 When my niece Crystal called and said her graduation and pinning from nurses training was being held on December 11th in Grand Junction, Colorado I said "UGH!" My mind screamed No! Traveling from Tennessee to Colorado in December is NOT a good idea!
Fast forward through the summer and fall and as quick as ever December arrives. My sous-chef dish-washing mom, traveling hubby and I flew into Salt Lake City and then drove the 4 1/2 hours to Grand Junction. The graduation weekend was wonderful. The weather was cool, crisp and clear — just perfect for December. We had such a good time.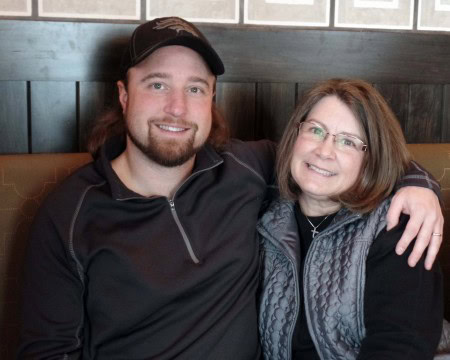 Before flying home out of Salt Lake City, we spent a quick 24 hours with my son and his family in Logan, Utah. On the drive to Logan, the sky was blue, clear, crisp and perfect.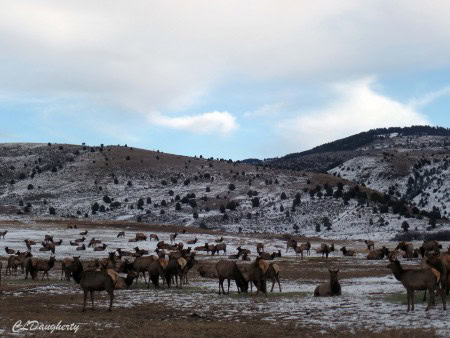 We even took an afternoon horse-drawn sleigh ride through a large herd of Elk at Hardware Ranch, wildlife management area.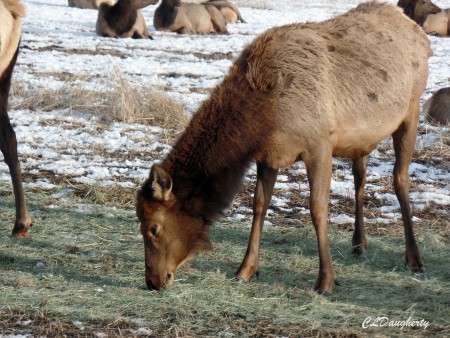 Grazing elk at Hardware Ranch, wildlife management area.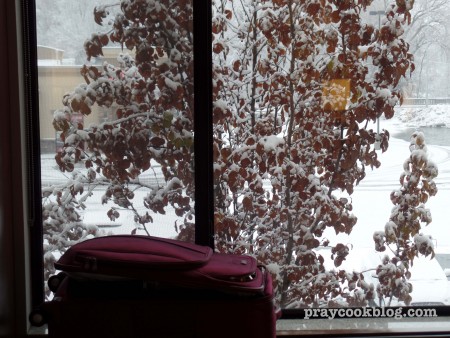 Unfortunately, the night-time brought a big 'ol snow storm that enveloped the western part of the United States from the Rockies to the plains. I had prayed "no snow" for weeks. And now, looking out my hotel room window … snow, and lots of it.
Apparently, 6 to 12 inches of snow doesn't phase Utahns the way it freaks out a Nebraska-born Tennessee transplant like me! I woke up early spending time in prayer. Well, actually spending time begging God to talk with Mother Nature and make the snow stop … NOW.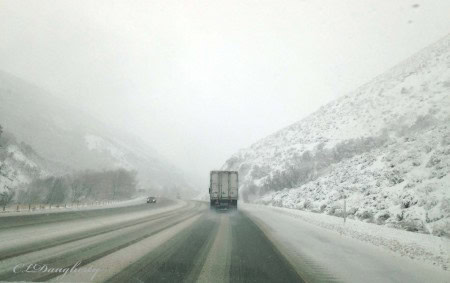 Praise God our Chief driver isn't intimidated by the big ol' snow storm! As we drove through Sardine Canyon from Logan to Salt Lake City I mumbled scripture and quickly realized I need to spend a lot more time memorizing scripture. (I'll save that story for another day.)
Sometimes you just have to do what you have to do.
I do believe God is creative and has a sense of humor. As we were traveling down a snow-covered, icy, slushy I-15, the Chief said, "Wow, that is a big dog in the back of that car."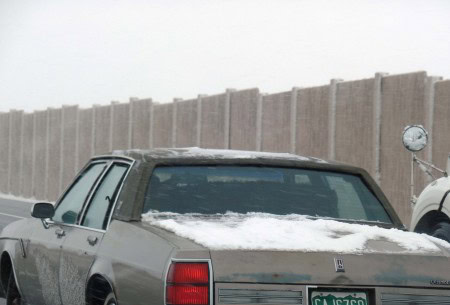 As we drew closer to the car he said, "Holy Cow! It's a calf!"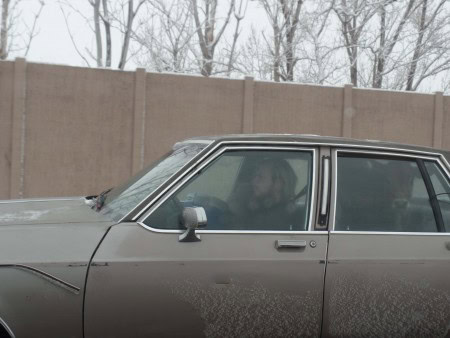 Yep, right there in 4 lanes of snowy-wintery traffic was this guy just heading down the road with his calf in the back seat. We started laughing as I grabbed my camera! What fun we had trying to come up with the reason there is a CALF in the backseat of this car.
A few of our comments went like this:
Is that an Olds"moo"bile? 🙂
This gives a whole new meaning to leather seats.
I wouldn't buy a used car from this guy!
The wild west cattle rustling … one calf at a time!
This gives a whole new meaning to looking for greener pastures.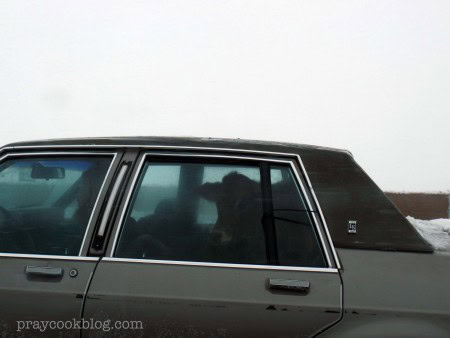 What a cattle trap!
How now brown cow.
BEWARE: Cow patties on the interstate!
And finally, "maybe they are going skiing!"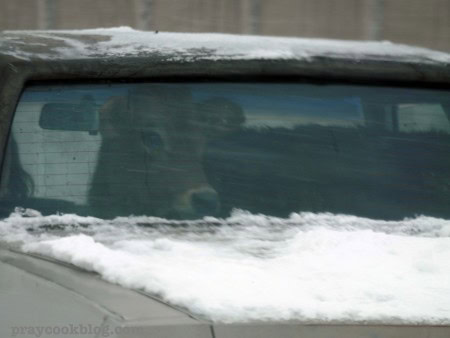 When all was said and done the driver and his calf from Colorado (according to his license plate) sped on ahead of us leaving us in his snowy wake.
Before we knew it our exit off the interstate quickly approached and we headed for a hotel to spend the night and wait out the storm.
We finally decided that we have NO IDEA why anyone would have a calf in the backseat of their car. But what we did decide was that sometimes you just have to do what you have to do. For this guy traveling down I-15 in the middle of a December snowstorm, he apparently needed to have that calf in the backseat of his car.
End of story.
No, it's not quite the end. I am so thankful that God provided a diversion for me. He took my fear away, gave us all a good laugh and provided a few pictures to boot!
Have a good laugh today, it feels great!
Blessings, Catherine

The Birth of Jesus Christ from Luke 2
In those days a decree went out from Caesar Augustus that all the world should be registered. 2 This was the first registration when Quirinius was governor of Syria. 3 And all went to be registered, each to his own town. 4 And Joseph also went up from Galilee, from the town of Nazareth to Judea, to the city of David, which is called Bethlehem, because he was of the house and lineage of David, 5 to be registered with Mary, his betrothed, who was with child. 6 And while they were there, the time came for her to give birth. 7 And she gave birth to her firstborn son and wrapped him in swaddling cloths and laid him in a manger because there was no place for them in the inn.
The Shepherds and the Angels
8 And in the same region, there were shepherds out in the field, keeping watch over their flock by night. 9 And an angel of the Lord appeared to them, and the glory of the Lord shone around them, and they were filled with great fear. 10 And the angel said to them, "Fear not, for behold, I bring you good news of great joy that will be for all the people.11 For unto you is born this day in the city of David a Savior, who is Christ the Lord. 12 And this will be a sign for you: you will find a baby wrapped in swaddling cloths and lying in a manger." 13 And suddenly there was with the angel a multitude of the heavenly host praising God and saying,
14 "Glory to God in the highest,
and on earth peace among those with whom he is pleased!"[c]
15 When the angels went away from them into heaven, the shepherds said to one another, "Let us go over to Bethlehem and see this thing that has happened, which the Lord has made known to us." 16 And they went with haste and found Mary and Joseph and the baby lying in a manger. 17 And when they saw it, they made known the saying that had been told them concerning this child. 18 And all who heard it wondered at what the shepherds told them. 19 But Mary treasured up all these things, pondering them in her heart. 20 And the shepherds returned, glorifying and praising God for all they had heard and seen, as it had been told them.