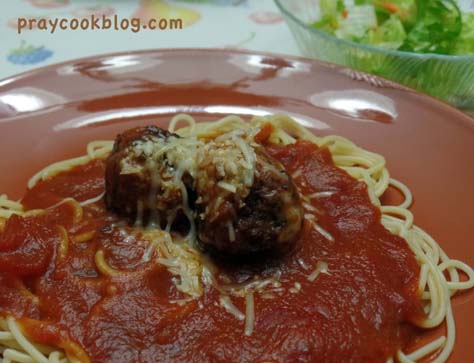 How often do you hear … "These are the best _______ (fill in the blank) you have ever made"?   Ever? I cook …  a lot.  My sous-chef dish-washing mom and The Chief  are very kind and complimentary of my cooking.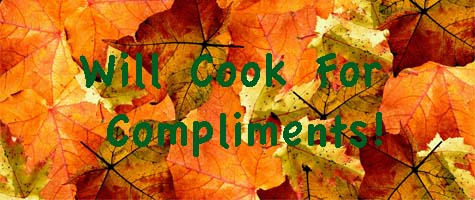 But recently I received the "these are the best meatballs you have ever made" response followed by the appropriate "yummy" and "thanks Babe!"  I was so surprised and elated all at the same time.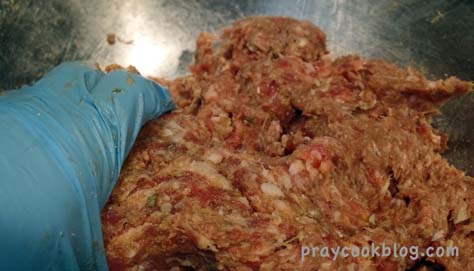 Really?  The best?  I hadn't taken a bite yet.  I think I was still taking pictures of my plate of food.  (Yeah, sorry, but that is how I roll at the dinner table, sometimes.)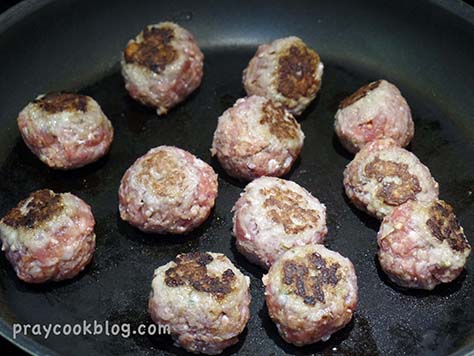 Then … a bite.  And another.  And another.  Excitement filled the air.  These meatballs are GREAT!  I realize that I can get really, really excited over a new food discovery or just plain great food.  But I am telling you now, if you don't have a tried and true family meatball recipe, you've got one now!  The sauce is a keeper too, but it was the meatballs that had us all swooning.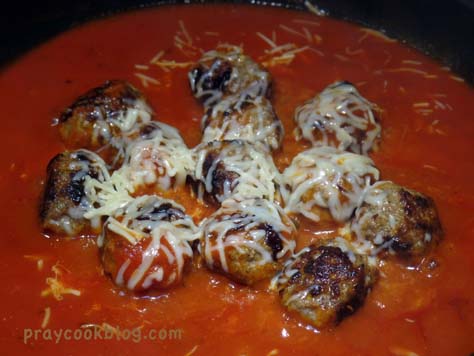 It will be of no surprise that this original recipe came from Ina Garten,  Barefoot Contessa on The Food Network.  The recipe I am going to share is an adaptation because I don't care for veal and her recipe included veal.  I left out nutmeg and added in red pepper.  I left out fresh white breadcrumbs and added in dried seasoned crumbs.  I also added in some sprinkling of Italian Blend cheeses.  So an adaption it is.  But boy oh boy how we liked it!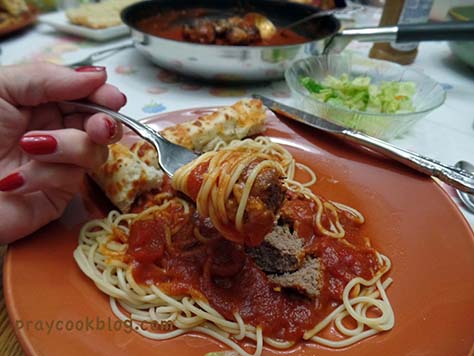 I served this best ever spaghetti and meatballs with a side salad and my new favorite garlic bread — savory monkey bread,
It is has been a couple of weeks since I made this. After writing this blog post today I can't wait to do it again. My mouth is watering and it is early in the morning. Very early.  But apparently not too early to begin dreaming of the taste and texture of these meatballs and sauce!
Buon Appetito and God Bless!
~Catherine
Psalm 31:19 (ESV)
Oh, how abundant is your goodness,
which you have stored up for those who fear you
and worked for those who take refuge in you,

in the sight of the children of mankind!
Homemade Meatballs and Spaghetti Sauce
A super recipe adapted from Ina Garten. A sure family-pleaser and very easy to make!
Author:
Adapted by Catherine Daugherty
Ingredients
For The Meatballs
1 pound ground pork
1 pound ground beef
½ cup seasoned dry bread crumbs
1 teaspoon garlic salt
2 tablespoons chopped fresh flat-leaf parsley or 2 teaspoons dried
½ cup freshly grated Parmesan cheese
1 teaspoon kosher salt
½ teaspoon freshly ground black pepper
1 extra-large egg, beaten
Vegetable oil
Olive oil
¾ cup shredded Italian blend cheeses
For The Sauce
1 tablespoon good olive oil
1 cup chopped yellow onion (1 onion)
1½ teaspoons minced garlic
½ cup good red wine, such as Chianti

1 (28-ounce) can crushed tomatoes, or plum tomatoes in puree, chopped

1 tablespoon chopped fresh flat-leaf parsley or 2 teaspoons dried
1½ teaspoons kosher salt
½ teaspoon freshly ground black pepper
¼ teaspoon red pepper
For The Spaghetti
1½ pounds spaghetti, cooked according to package directions
Freshly grated Parmesan
Instructions
Place the ground meats, bread crumbs, parsley, Parmesan, salt, pepper, and egg in a bowl. Combine very lightly. I like to use my hands (with gloves) but you may also combine with a fork. Using your hands, lightly form the mixture into 2-inch meatballs. You will have 14 to 16 meatballs.
Pour equal amounts of vegetable oil and olive oil into a large (12-inch) skillet to a depth of ¼-inch. Heat the oil. Very carefully, in batches, place the meatballs in the oil and brown them well on all sides over medium-low heat, turning carefully with a spatula or a fork. This should take about 10 minutes for each batch. Don't crowd the meatballs. Remove the meatballs to a plate covered with paper towels. Discard the oil but don't clean the pan.

For the sauce, heat the olive oil in the same pan. Add the onion and saute over medium heat until translucent, 5 to 10 minutes. Add the garlic and cook for 1 more minute. Add the wine and cook on high heat, scraping up all the brown bits in the pan, until almost all the liquid evaporates, about 3 minutes. Stir in the tomatoes, parsley, salt, and pepper.

Return the meatballs to the sauce, cover, and simmer on the lowest heat for 25 to 30 minutes, until the meatballs are cooked through. Sprinkle with shredded Italian cheese. Serve hot on cooked spaghetti and pass the grated Parmesan.
Notes
Adapted from Barefoot Contessa, Ina Garten.

Read more at: http://www.foodnetwork.com/recipes/ina-garten/real-meatballs-and-spaghetti-recipe.html?oc=linkback