Affiliate Disclosure: I receive a small commission for purchases made via affiliate links.
My Chief Starbucks-loving husband and I had an appointment about an hour away from our home.  Since we were leaving early in the morning, I knew it meant a stop at the Starbucks down the road. [Side note: I don't drink coffee.  I have never drunk coffee.  I like to cook and bake with coffee granules but do not care to drink it.  For me, Starbucks is a clean bathroom on the way to wherever we are going or coming from!]
On this particular day, I came out of the bathroom andThe Chief was still in line.  I wandered over and as he ordered I said to the Barista, "what do you have that isn't coffee based?"  She immediately, "OH!  You must try the Caramel Apple Spice.  Caramel. Apple. Spice. What's not to like?   At this point, I did something that is pretty uncharacteristic for me.  I just said "okay."  I didn't ask how much$. I didn't look for calorie count (mistake) I just said "okay."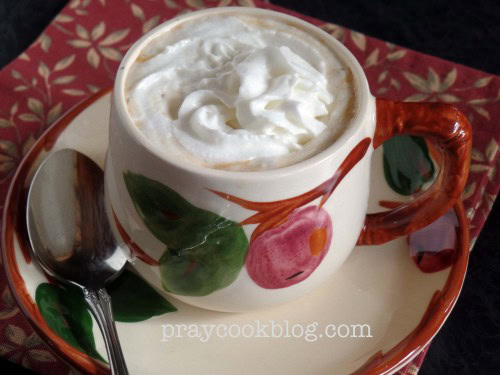 I took one sip and my knees nearly buckled.  I mean this drink was as smooth as homemade caramel, tasty as apples fresh off the tree and without a doubt loaded with sugar!
As we walked to the car my husband asked if I was okay.  Apparently I was groaning  inaudible sounds with each sip.  It was gone before I asked, "how much was that?"  $3.25.  WHAT!  I just paid $3.25 for a drink in an 8-ounce cup?  Well no, technically he just paid $3.25 for a drink in an 8-ounce cup.
The entire rest of the day I obsessed over two things.  1 – how incredible the flavors of this drink blended together and 2 – how EXPENSIVE it is!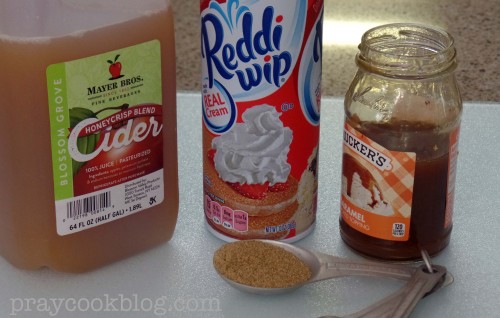 Before we got home we made a stop at the grocery store so that I could  buy fresh cider, caramel syrup, and whipped cream.  That evening I was sharing my enthusiasm for re-creating this drink and my friend Maribeth said she had some mulling spice.  That sounded perfect for me!  She gave me what was left in the opened packaged.
I heated apple cider,  added mulling spice, a spoonful of caramel syrup and it was all over but the shouting!
I used instant mulling spices that just blended into the drink.  But I will include a recipe to make your own mulling spice.  One advantage of making your own blend – you can tailor the flavors to your taste. Either way this is a holiday drink everyone will be talking about!   You will find the recipe at the bottom of this post after the Christmas story.
Happy Mulling,
~Catherine
P.S.  I liked it so much that when planning an Advent Fellowship event for our church, I offered to make Hot Caramel Apple Spice Drink … for 400 people.  They loved it!
The Birth of Jesus Christ from Luke 2
In those days a decree went out from Caesar Augustus that all the world should be registered. 2 This was the first registration when Quirinius was governor of Syria. 3 And all went to be registered, each to his own town. 4 And Joseph also went up from Galilee, from the town of Nazareth to Judea, to the city of David, which is called Bethlehem, because he was of the house and lineage of David, 5 to be registered with Mary, his betrothed,[b]who was with child. 6 And while they were there, the time came for her to give birth. 7 And she gave birth to her firstborn son and wrapped him in swaddling cloths and laid him in a manger because there was no place for them in the inn.
The Shepherds and the Angels
 And in the same region there were shepherds out in the field, keeping watch over their flock by night. 9 And an angel of the Lord appeared to them, and the glory of the Lord shone around them, and they were filled with great fear. 10 And the angel said to them, "Fear not, for behold, I bring you good news of great joy that will be for all the people.11 For unto you is born this day in the city of David a Savior, who is Christ the Lord. 12 And this will be a sign for you: you will find a baby wrapped in swaddling cloths and lying in a manger." 13 And suddenly there was with the angel a multitude of the heavenly host praising God and saying,
14 "Glory to God in the highest,
and on earth peace among those with whom he is pleased!"[c]15 When the angels went away from them into heaven, the shepherds said to one another, "Let us go over to Bethlehem and see this thing that has happened, which the Lord has made known to us." 16 And they went with haste and found Mary and Joseph and the baby lying in a manger. 17 And when they saw it, they made known the saying that had been told them concerning this child. 18 And all who heard it wondered at what the shepherds told them. 19 But Mary treasured up all these things, pondering them in her heart. 20 And the shepherds returned, glorifying and praising God for all they had heard and seen, as it had been told them.

Hot Caramel Apple Spice Drink That Rivals Starbucks!
Don't pay $3.25 per cup from Starbucks ... make your own and you'll be the hit of any holiday gathering! Smooth, creamy, warm and delicious.
Author:
Adapted by Catherine Daugherty
Recipe type:
Hot Holiday Drink
Ingredients
4 cups fresh apple cider
2 Tablespoons instant mulling spice
4 Tablespoons caramel syrup
Whipped Cream
Ground cinnamon for sprinkling
Homemade Mulling Spice (Alternate to instant mulling spice)
2 teaspoons whole allspice
¼ teaspoon whole cloves
1 (3-inch) cinnamon stick, broken in half
1 (3 x 1-inch) strip orange rind
Instructions
Place apple cider in medium size saucepan.
Toss in instant mulling spices and extra cinnamon sticks, if desired. Heat slowly over medium heat until steaming and little bubbles form around the edges (pre-boil.)
Divide between 4 mugs, add 1 tablespoon of caramel syrup to each mug and top with whipped cream and a sprinkle of cinnamon.
If using homemade mulling spice:
Combine all ingredients on a double layer of cheesecloth. Gather edges of cheesecloth together; tie securely making a neat satchel.
Place apple cider in medium size saucepan and add spice satchel.
Heat slowly over medium heat until steaming and little bubbles form around the edges (pre-boil.)
Turn down heat to low, cover and let simmer for 20 minutes or so.
Remove lid, remove mulling spice bag.
Divide between 4 mugs, add 1 tablespoon of caramel syrup to each mug and top with whipped cream and a sprinkle of cinnamon.