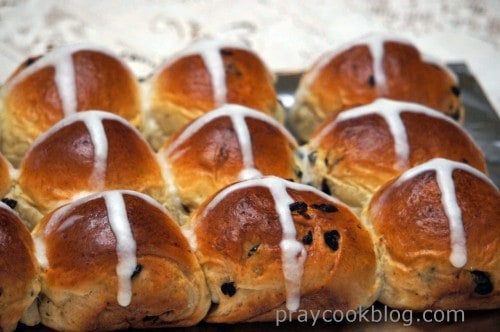 It's Easter week and my sous-chef dish-washing mom and I are invited to a friend's house for breakfast tomorrow.  I want to take a little something to the hostess.  It is the southern way.  So, after church today I decided to make Hot Cross Buns.
I have made them before but not for a long time.  If memory serves me right I think in the past I have made regular yeast rolls and placed a frosting cross on the top! Yikes.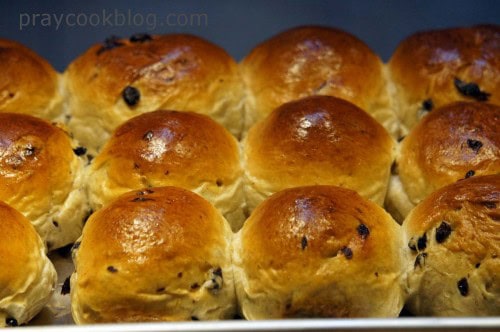 But now I have Google.  Through wandering the internet of hot cross buns I read recipe after recipe that were similar but yet with differing amounts of the usual ingredients.  I read review after review.  Finally I decided on a recipe from The Food Network.   Good reviews, reasonable list of ingredients and a nice picture.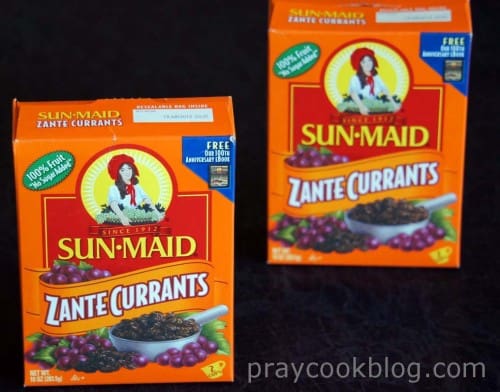 I decided that I didn't want to "just use raisins" instead of currants, which can be hard to find (or so I thought.) That is when I easily found these Zante Currants at the local grocery store.  I am so glad I paid a little more and bought these currants.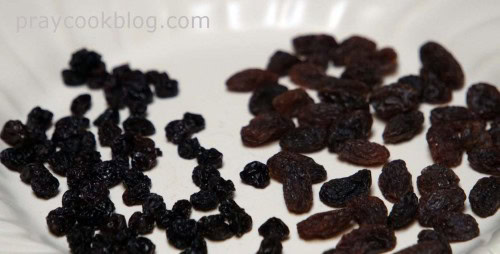 They are smaller than a regular plump raisin but loaded with sweetness.  The little fruits fit perfectly into these hot cross buns.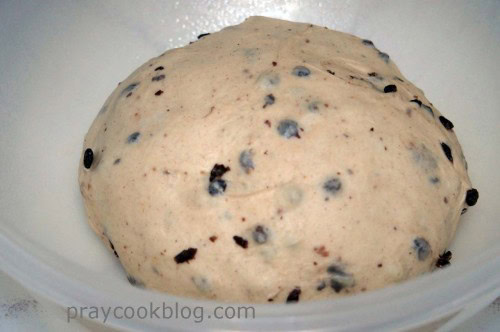 These rolls can be made start to finish in 3 hours with plenty of time while the bread is raising to do other things in the kitchen or out.  I threw in this picture just because I adore making bread and I think each stage is beautiful.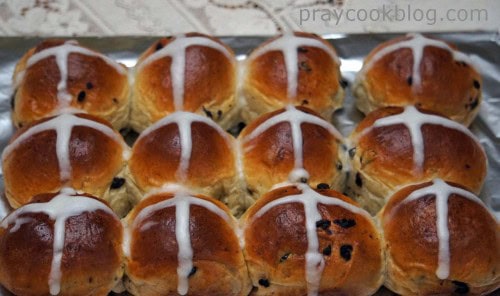 This recipe makes 12 large rolls.  When I was making them I thought about making them slightly smaller and fitting about 18 rolls in a 9″x 13″ pan.  I am so glad that I didn't do that.
My Chief Culinary Consultant and Sous-chef dish-washing mom and I each tried out a fresh hot cross bun with our leftover hashbrown omelette Sunday night dinner.  May I just say, "Oh my gosh!"  This recipe is a keeper and I'll be making these again this weekend for our Easter dinner.
Wishing you a lovely Easter week filled with sweet bread and precious moments spent in prayer and fellowship with our Heavenly Father.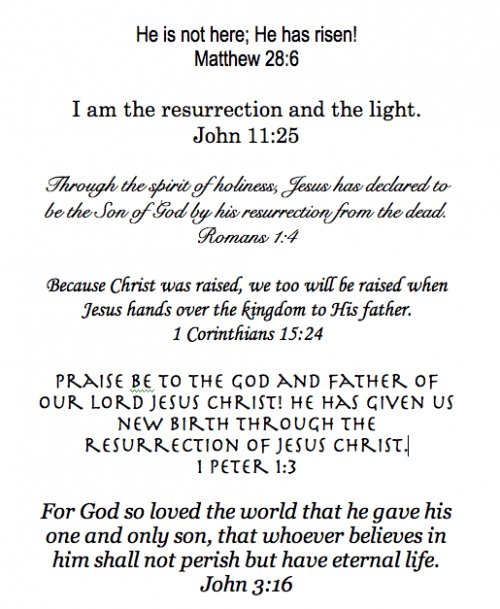 Have a blessed week,
~Catherine

Hot Cross Buns
Let the fun baking begin just in time for your Easter dinner table! These rolls are delicious and memorable.
Author:
Adapted by Catherine Daugherty
Ingredients
½ cup water
½ cup whole milk
½ cup sugar
4½ teaspoons active dry yeast (2 (1/4 ounce) packages)
⅓ cup unsalted butter, melted, plus as needed
1 large egg yolk
1½ teaspoons pure vanilla extract
3 cups all-purpose flour
¾ teaspoon fine salt
¼ teaspoon grated nutmeg
½ teaspoon ground cinnamon
½ teaspoon cardamom
¼ teaspoon ground ginger
½ cup currants
1 egg beaten, for brushing
For the icing/glaze:
2 cups confectioners' sugar, sifted
2 tablespoons milk
¼ teaspoon finely gated lemon zest
1 teaspoon pure vanilla extract
Instructions
Combine the water and milk in a medium saucepan and warm over low heat until about 100 degrees F (but no more than 110 degrees). Using the dough hook in your mixer, add the milk/water, sprinkle the yeast and a pinch of sugar over the surface of the liquid. Set aside without stirring, until foamy and rising up the sides of the pan, about 30 minutes or less.
With the mixer on low, whisk the butter, egg yolk and vanilla into the yeast mixture.
With the mixer on medium beat in the flour, the remaining sugar, salt, cardamon, nutmeg, cinnamon and ginger. Stir in currants.
Continue kneading the dough in the mixer until soft and elastic, about 3 to 5 minutes. Shape into a ball.
Brush the inside of a large bowl with butter. Put dough in bowl, turning to coat lightly with butter. Cover with plastic wrap. Let rise at room temperature until doubled in size, about 1 hour 30 minutes.
To form the rolls: Butter a 9 by 13-inch baking pan. Turn the dough out of the bowl. Divide the dough into 12 equal portions, about 2 ounces each.
Tuck the edges of the dough under to make round rolls and place them seam-side down in the prepared pan, leaving a little space in between each roll. Cover the pan with buttered plastic wrap and set aside in a warm place until the rolls rise almost to the rim of the pan
and have more than doubled in size, about 45 minutes.
Meanwhile, position a rack in the center of the oven and preheat to 375 degrees F.
Remove the plastic wrap and brush the tops of the buns with beaten egg. Bake rolls until golden brown and puffy, and an instant read thermometer inserted into the center of the rolls registers 190 degrees F, about 25 minutes.
For the glaze: Stir together confectioners' sugar, milk, lemon zest and vanilla until smooth. Transfer icing to a zip bag or pastry bag, and make a small cut in the corner of the bag. Ice buns in a thick cross shape over the top of the warm buns.
Notes
Adapted from The Food Network Kitchens.
www.foodnetwork.com/recipes/food-network-kitchens/hot-cross-buns-recipe