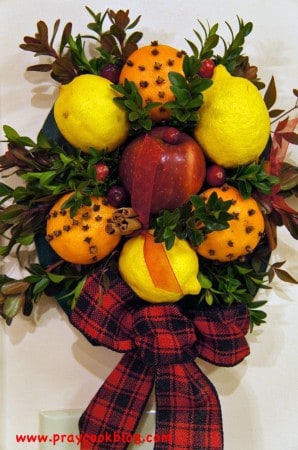 Wreaths on the doors of Colonial Williamsburg homes have inspired holiday spirit for several hundred years even though mixing Christmas greens with fresh fruits in holiday décor did not actually appear in Williamsburg, Va., until the early 20th century. Mary Miley Theobald and Libbey H. Oliver wrote in the December 2005 edition of the Colonial Williamsburg Journal, "The custom of affixing fruits, vegetables, dried flowers, herbs, and other plant life to basic Christmas forms like wreaths, swags, and roping traces its roots to the early years of the twentieth century, a time when Christmas was growing in significance and the Colonial Revival was pulling decorative impulses back toward the eighteenth century." Though the name may be historically incorrect, creating a Williamsburg Christmas wreath is not a complex undertaking.  Fast forward to 2012 when my friend Gaye asks me if I have ever made a Williamsburg Wreath. "No," I said, "I don't even know what that is."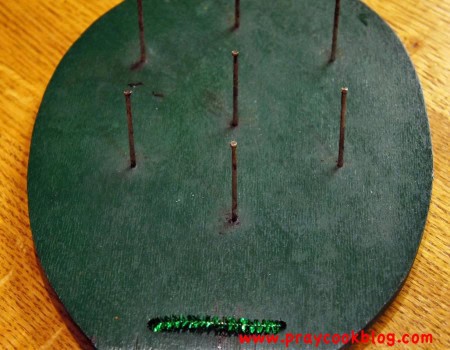 Gaye graciously waited a few days to make hers so we  could get together for a little decorating session.  Some time ago Gaye's mother-in-law gave her this little board with nails.  It was purchased, but could easily be made with a piece of wood and some 3″ nails.  This board is painted green, but really any color will work with any shape you would like.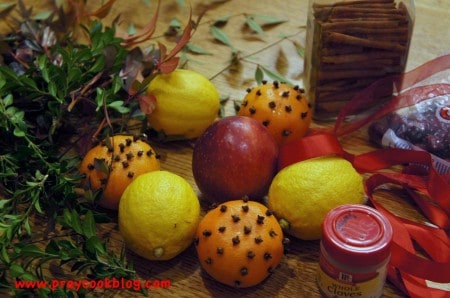 What I especially like about making this decoration is you may items you already have on hand or anything that is plentiful in the area where you live.  Also, this is a fun project to enlist the help of your kids.  Gaye's son placed the cloves around the clementines and did a really nice job.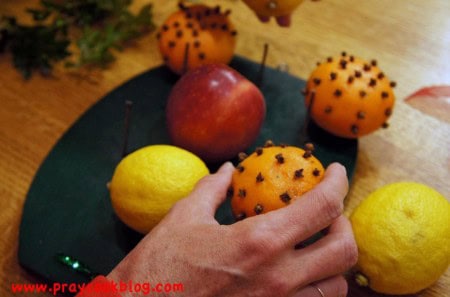 There are 7 nails on this board and so we chose to use 1 apple, 3 clementines, and 3 lemons. We added cranberries and cinnamon sticks in addition to greenery.  The fruit is pierced with each nail in any place you want.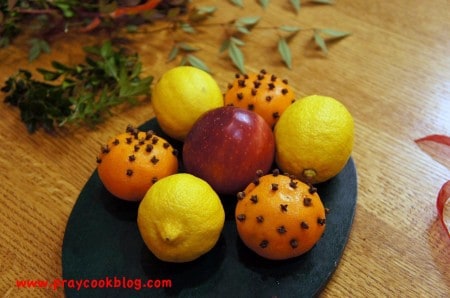 Some fruits will drip a little in the beginning and so we kept a paper towel handy and dab up a little juice as we went.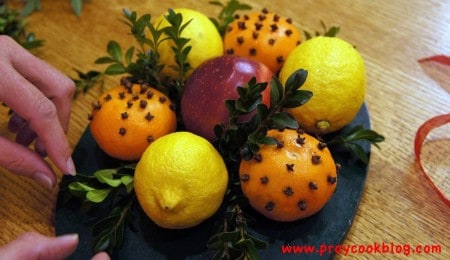 The greenery came from the bushes and trees in the yard. It is so fun to go out collecting because no two yards are alike leaving lots of room for creativity!  The greenery is just tucked into and under the fruit.  For the most part it stays put.  A little hot glue could be used if you have trouble getting it to stay.  In this case we didn't need to use anything.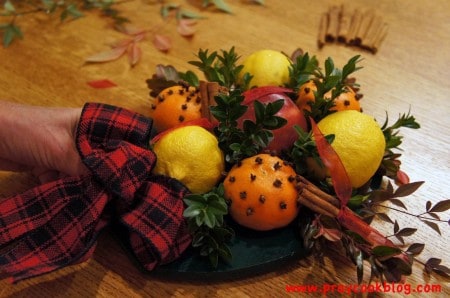 This plaid bow completed the country look Gaye was hoping for!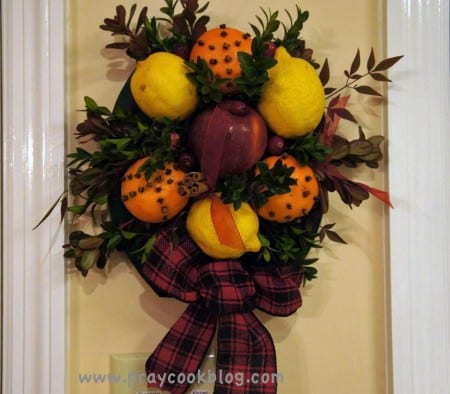 This Williamsburg wreath is hanging in Gaye's kitchen and will last throughout the month of December.  It took us about 10 to 15 minutes to put together this really striking decoration.  I have already asked my Chief Handyman to cut me a swag shaped board for next time!
It's not too late to enter to win this week's cookbook giveaway.
~Blessings, Catherine
Do you want to win the cookbook, BAKING, from my house to yours?
To enter to win, simply leave a comment on this post.
You can receive up to FOUR additional entries to win by doing the following:
1. Subscribe to My Daily Bread Body and Soul by either RSS or email. Come back and let me know you've subscribed in an additional comment.

2. Become a fan of My Daily Bread Body and Soul on Facebook. Come back and let me know you became a fan in an additional comment.

3. Follow My Daily Bread Body and Soul on Pinterest. Come back and let me know you became a fan in an additional comment.

4. Follow Me on Twitter. Come back and let me know you started following on Twitter.
Deadline: Sunday, December 9, at 11:59pm CST.
Winner: The winner will be chosen at random using Random.org and announced at the top of this post on Monday, December 10, 2012. If the winner does not respond within 24 hours, another winner will be selected.
Disclaimer: This giveaway is sponsored by Pray Cook Blog, My Daily Bread Body and Soul. Good luck!