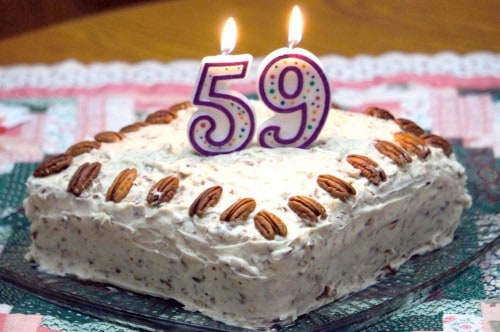 Middle Tennessee has been hit with full-on WINTER all in one week.  This week.  Ice. Snow. Rain. Sleet. Thunder. More Ice.  All this week.  The glorious result for me is that we have been home all week.  This may not sound great to you but for me, it is a blessing to have appointments cancelled.  The news man says "stay home."  The weather woman says "it's getting worse out there – stay home."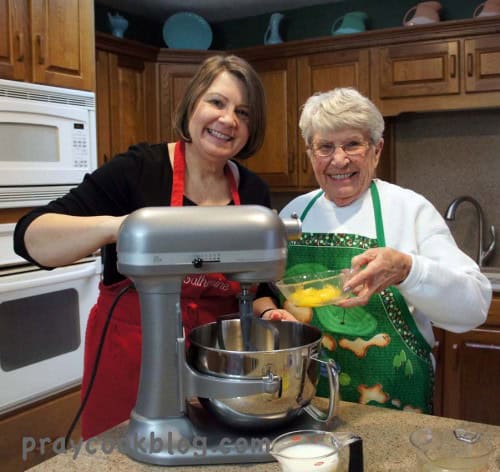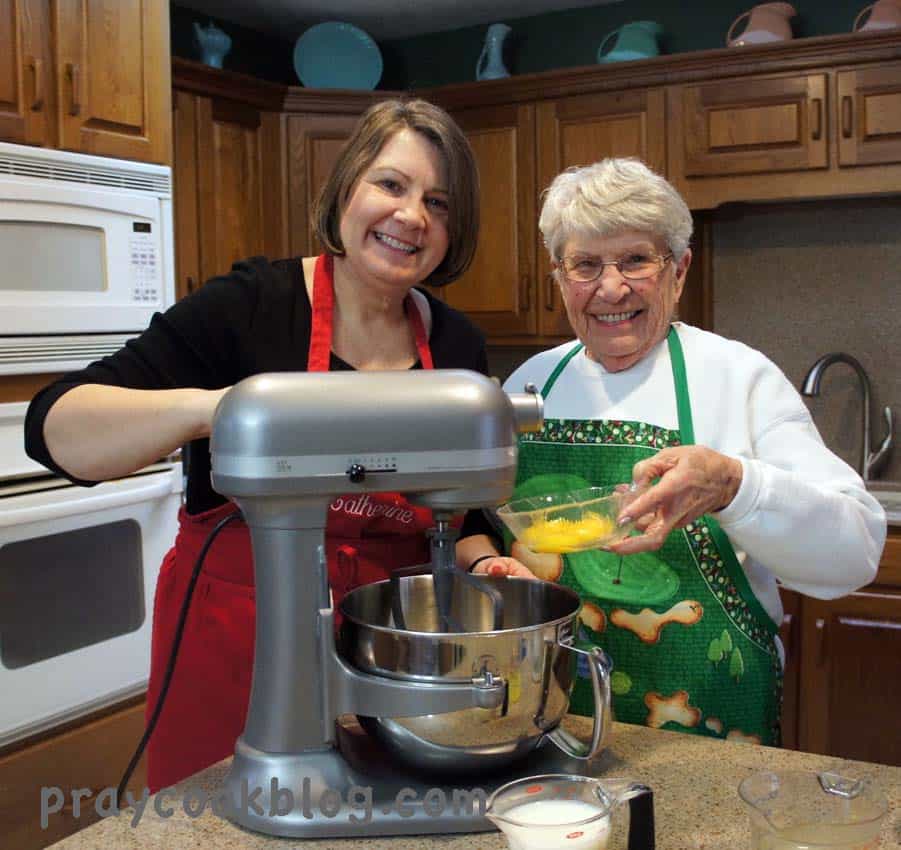 I absolutely love being home!  So when ice and snow kept us indoors for my birthday my sous-chef-dish-washing mom and I hit the kitchen together!  I was telling her that I really, really like Italian Cream Cake but I've never made one.  I added, "I am sure our homemade cake will be better than any I've ever eaten in a restaurant."   (That's a lot of confidence … or arrogance!)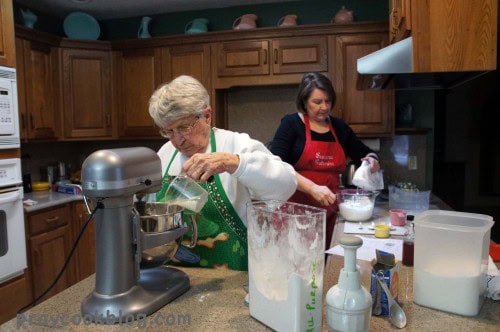 We divided up the recipe, marked out our space on the counter and got to it!  Italian Cream cake is very easy to make with buttermilk and soda combining to make the creaminess of the batter.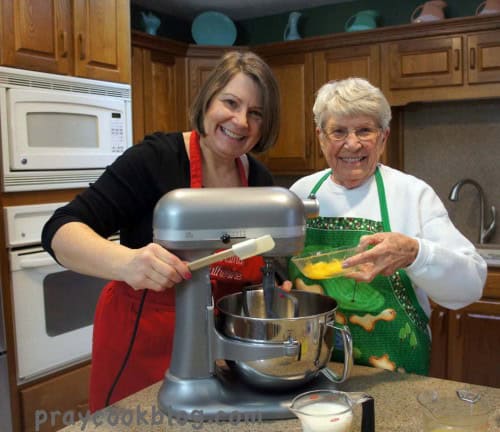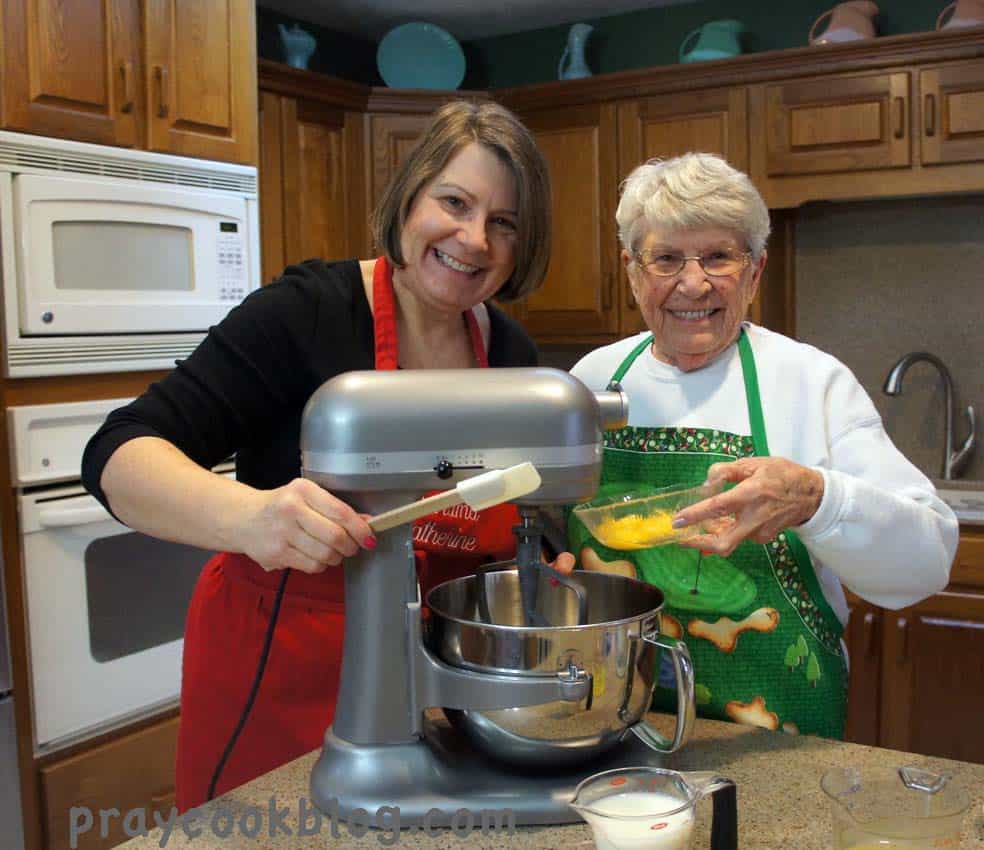 Egg whites are folded in to give the cake a luscious, light texture.  Traditionally flaked coconut is added to the batter.  I adore coconut and so I add a little coconut flavoring as well as vanilla.
We baked the cake in 8″ square pans because I wanted to use my square cake plate.  (I do realize a round cake can go on a square plate, but that scrambles up my brain.)
While the cake was baking we chopped and toasted pecans, made a butter cream cheese frosting and patiently waited to finish up our 3-layer masterpiece!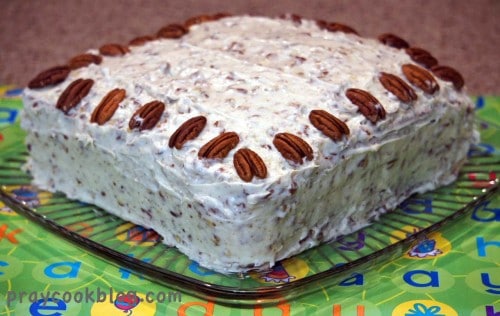 This recipe came from Southern Living Magazine, November 1996.  I wonder what took me so long to make it?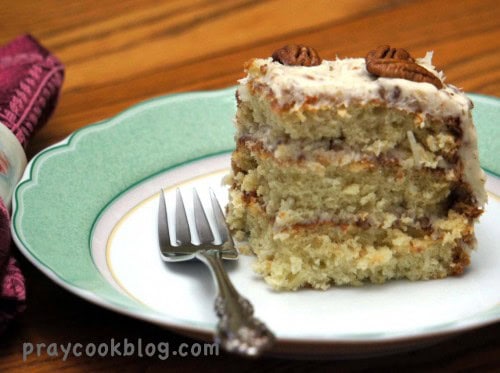 The coconut makes the cake look a little "ragged" but I assure you it is moist and luscious.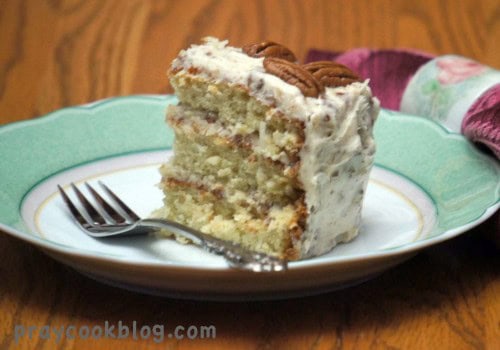 My sous-chef dish-washing mom said "it is perfect" and then added "but next time if you want to add a little more frosting I wouldn't mind." 
I agree about the frosting, so I added to the frosting recipe so you won't run short.  I could have used more frosting between each layer.
All-in-all a perfect end to a lovely birthday, spent partly in the kitchen with my mom!  Aren't I blessed?  Yes!  I know!
Happy Baking and Stay Warm!
~ Catherine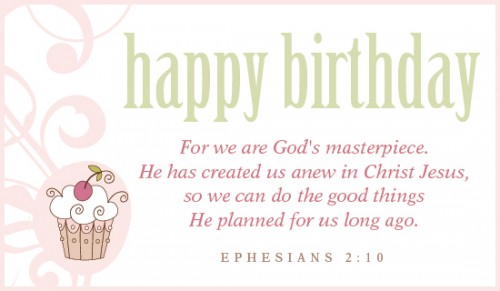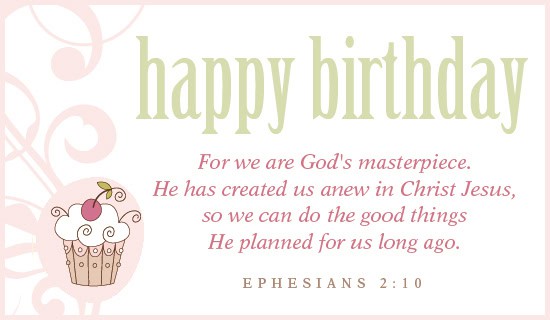 Italian Cream Birthday Bake
Luscious and delicious this traditional 3-layer cake makes a perfect birthday cake or dessert for any occasion!
Author:
Adapted by Catherine Daugherty
Ingredients
Cake
½ cup unsalted butter, softened
½ cup shortening*
2 cups sugar
5 large eggs, separated
1 Tablespoon vanilla extract
1 Teaspoon coconut extract
2 cups all-purpose flour
1 teaspoon baking soda
1 cup buttermilk
1 cup flaked coconut
Nutty Cream Cheese Frosting
1 cup chopped pecans
¾ cup butter, softened
8 ounces cream cheese, softened
1 Tablespoon vanilla extract
1 teaspoon coconut extract
24 ounces powdered sugar (3 cups)
Milk, if needed
*Garnishes: toasted pecan halves, chopped pecans
Instructions
Beat butter and shortening at medium speed with an electric mixer until fluffy; gradually add sugar, beating well. Add egg yolks, 1 at a time, beating until blended after each addition. Add vanilla and coconut extract, beating until blended.
Combine flour and soda; add to butter mixture alternately with buttermilk, beginning and ending with flour mixture. Beat at low speed until blended after each addition. Stir in coconut.
Beat egg whites until stiff peaks form, and fold into batter. Pour batter into 3 greased and floured 9-inch cake pans.
Bake at 350° for 25 minutes or until a wooden pick inserted in center comes out clean. Cool in pans on wire racks 10 minutes; remove from pans, and cool completely on wire racks.
Bake chopped pecans in a shallow baking pan at 350°, stirring occasionally, 5 to 10 minutes or until toasted. Cool.
Beat cream cheese, butter, and vanilla and coconut extract at medium speed with an electric mixer until creamy. Add powdered sugar, beating at low speed until blended. Beat frosting at high speed until smooth, add milk, 1 tablespoon at a time, if necessary, to make your favorite consistency; stir in pecans.
Spread Nutty Cream Cheese Frosting between layers and on top and sides of cake. Garnish, if desired.
Notes
* I use solid coconut oil for the shortening. Coconut oil is ideal for baking.