Walk Through The Bible In One Year
Week 19 reading plan 2 Chronicles through Nehemiah 7
Click on the colored link to read each day's scripture.
Monday 2 Chronicles 30-32, Tues 2 Chronicles 33-36,
Wed Ezra 1-3, Thursday Ezra 4-7,
Friday Ezra 8-10,
Saturday Nehemiah 1-5,
Sunday Nehemiah 6-7
Blessings as you read!
Are you reading through the Bible with me this year? If you haven't started yet today would be a great time to jump right in. If you are already reading then you will know the story is coming alive! Blessings for week 19!
June 4, 2011 – my first blog post at My Daily Bread Body and Soul. The recipe was Asian Salad and did not include any pictures 🙂  365 days later – 236 blog posts, 200+ recipes posted, a bazillion pictures, 536 comments, 100+ followers, and 15,028 page views.  Oh, and a Facebook Fan Page with a growing number of "Likes"!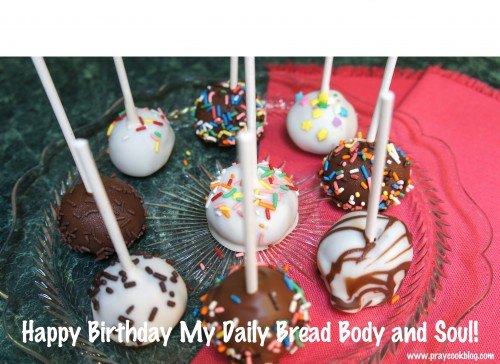 Praying, cooking, photographing, blogging is such a big part of my day I can't quite remember what I did with all my time before.  Maybe it was all just the same — except for the blogging.  The creativity, learning, and  challenge this blog brings just fills my soul with peace and happiness.  I am thankful when I receive comments on a blog post.  I am thrilled when my family gets excited over breakfast, lunch, or dinner.  I have lots of fun meeting kindred-spirit food bloggers through Foodbuzz and Tuesdays With Dorie.  Wherever you fit in,  I am so thankful you are here and joining me on my  journey to share food — for the body and the soul.  Blessings!
I am behind-the-times when it comes to "cake pops."  You may have already been making them but for me I recently heard about this fun activity from a friend.  I have found there are entire websites with recipes, designs, baking equipment, "sticks" and much more just for CAKE POPS!  This was my first go and mom and I had fun making them.  As per usual with our first time adventures we learned some does and don'ts along the way.  My recipe will include lessons learned!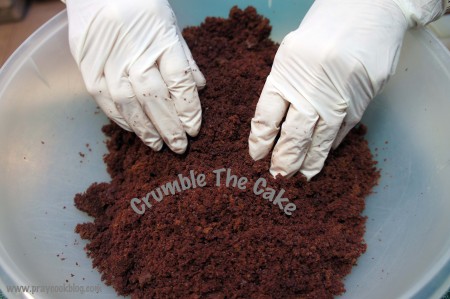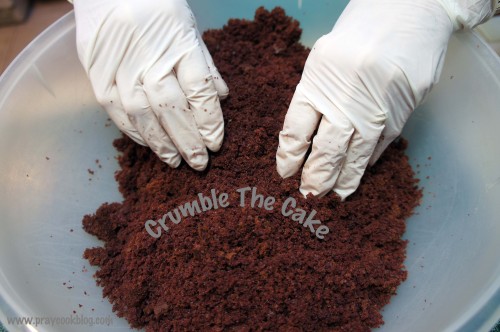 These cake pops are easily made with a cake mix, a can of frosting, almond bark or candy melts and decorating sprinkles.  First- bake a cake mix.  Any one you like.  I chose chocolate cake.  After it has cooled, crumble it up!
This part is fun 🙂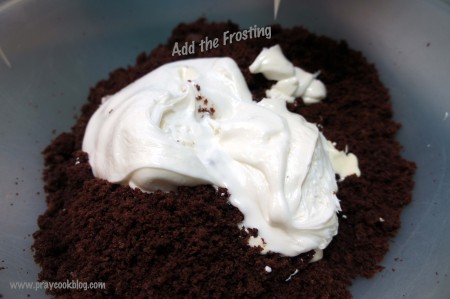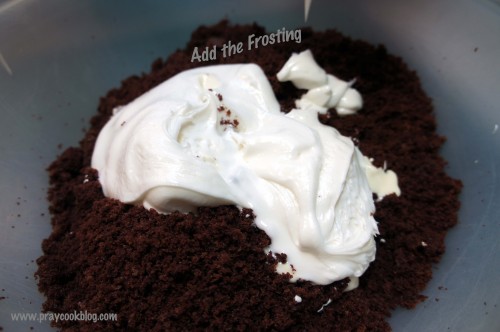 Add 1/2 to 1 can of frosting.  If you add 1/2 a can to one cake mix the pops will end up more like cake.  If you add 1 full can the pops will end up more like fudge truffles.  Mixing by hand is the only way to go!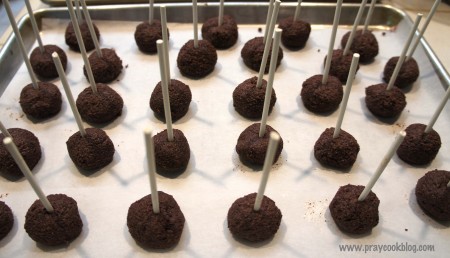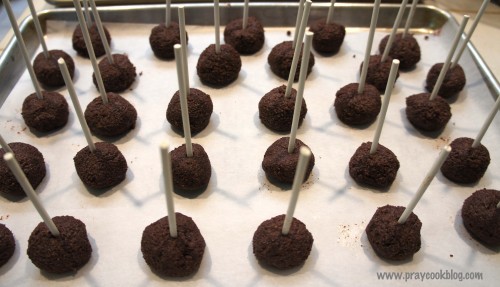 The mixture is then made into little balls.  You can make these any size you want.  We made them bigger than a walnut and smaller than a golf ball.  Here is where we made a rookie mistake.  We stuck the sticks directly into the little balls.  We should have melted a bit of our almond bark or candy melts, dipped the stick in the melt and then stuck them in the middle of the cake ball.  This would have "glued" them in place.  Ah well, next time.  At this point we put them in the freezer for a couple of hours.  If we had glued them properly the candy melt would have hardened making the dipping much easier.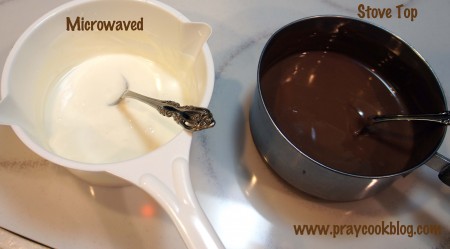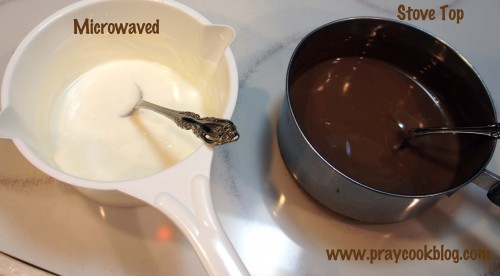 I used white almond bark and chocolate almond bark.  The white I melted in the microwave and the chocolate on the stove.  I wanted to see if one was easier than the other.  Turns out both melt nicely.  The trick is not to "over-melt" or the bark turns into little hard chunks of over-cooked candy. (I know this for a fact, that is all I am saying.)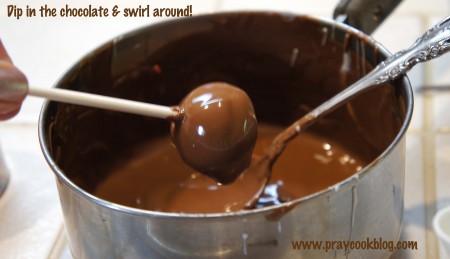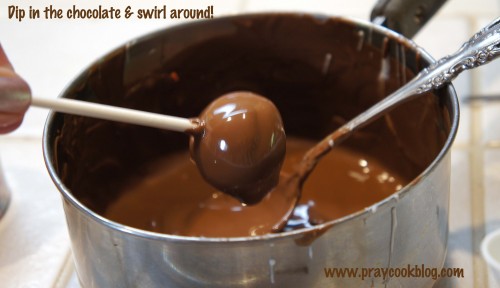 Carefully twirl the cake ball in the melted candy.  Use a spoon to help support the ball as you coat it.  Tap lightly on the side of the pan to let some of the candy drip off.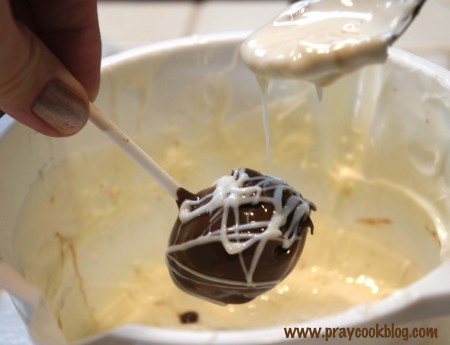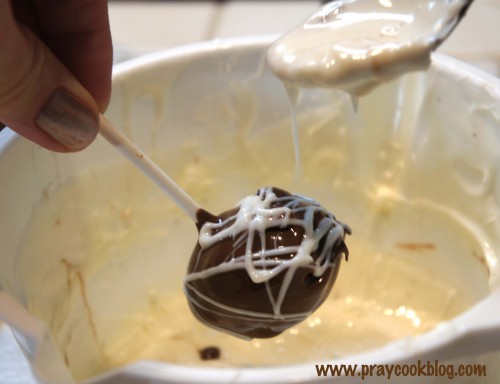 Sprinkle on decorations or in this case just drizzle some of the candy coating on the cake ball.  The coating is drying fairly fast and the cake pop can then be placed on a baking sheet lined with parchment paper or foil.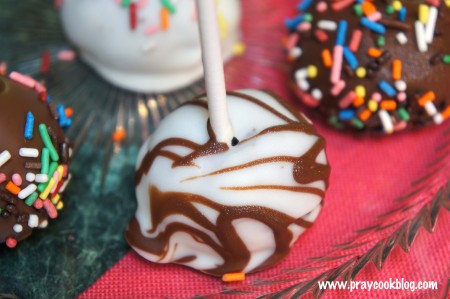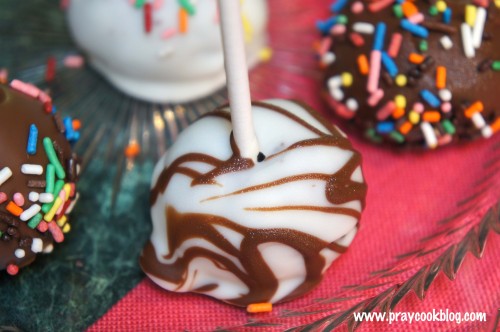 Here are a few things I learned on my first try at cake pops.
(1)  Be sure and "glue" the sticks in place with melted candy coating.
(2)  Store pops in a container at room temperature if you are serving that day.
(3)  If serving the next day, just cover and place in the refrigerator, let come to room temp before serving (coating remains hardened.)
(4)  Pops can be place in a container and frozen for up to two weeks.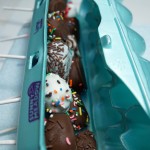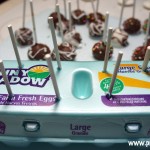 My mom came up with this clever way to store the pops in the freezer using an egg carton, until we are ready to use them.  We are going to transport them to our family reunion and needed to conserve space yet keep them from getting smooshed.  Since making them we have taken 3 out each day for a little dessert treat.  I wonder if there will be any left by reunion time?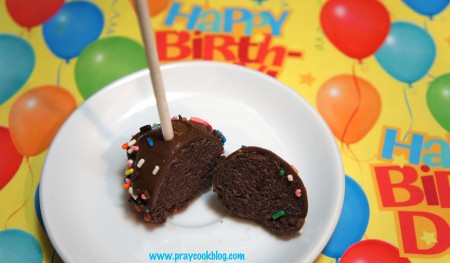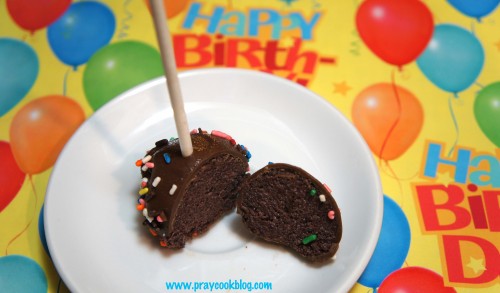 I used a whole can of frosting and the cake pops are decadent like chocolate truffles.  We are definitely going to make them again.  I'm thinking carrot cake with cream cheese frosting, devils food cake with some coconut pecan frosting, or how about a strawberry cake mix with vanilla icing?  The possibilities are endless!  After I made the pops I found a website called Miss Little Momma and let me tell you this little momma knows her cake pops – they are really cute.  I can only aspire to do so well.  Click HERE and take a peak.
Tomorrow is Tuesday's With Dorie and we are making Oasis Nan!  I hope you will join me for the next installment from the Baking With Julia cookbook.
Be sure and join me on Thursday as I am kicking off a birthday celebration giveaway! I hope you will come back for the details on how you can enter to win! 
Happy a blessed week and happy cooking!

Cake Pops
Cake pops are the perfect treat for a birthday, shower, or dessert. A fun cooking session with kids and grandkids!
Ingredients
1 Favorite Cake Mix
1 Can of Frosting
48-60 Cookie sticks
1 Package Chocolate Almond Bark
1 Package White Almond Bark
½ cup Semisweet Chocolate Chips
Instructions
Bake cake mix according to package directions. Thoroughly cool then crumble in a large mixing bowl.

Add ½ to 1 can of your favorite frosting to the crumbled cake mix. Start with ½ a can and add more if the cake doesn't stay together when made in a little ball. Choose a frosting that will blend well with the flavors of the cake. This will mix best by hand.

Using a small to medium scoop dip into the cake/frosting mix. Roll the mixture in your palm into a nice uniform ball. Place on a parchment lined baking sheet.

Slowly melt 1 package of either the white or chocolate almond bark or candy melts according to package directions. I like to do this in the microwave because it is fast, but you have to be careful not to over-melt as they will burn and harden quickly. The bark or candy melts can also be melted on the stove top or using a double boiler. You will only use a bit of this to "glue" the stick to the cake ball.
When candy is melted, Dip a stick about 1" into the candy melt. Then place it into the center of your cake ball. This will act as a glue keeping your cake pop and stick attached. Place on a baking sheet lined with parchment paper. Freeze for 1 to 2 hours to help solidify the cake and the stick.
When ready to dip cake balls, melt both chocolate and white candy according to package directions. (Re-heat the candy used to glue the sticks in place.) * While melting ½ cup chocolate chips can be added to the chocolate bark for a deeper, richer flavor.

Remove cake pops from freezer and gently swirl in the melted candy, allowing excess to drip back into bowl.

Sprinkle with decorations or drizzle with opposite colored candy (white on chocolate or chocolate on white). Let your imagination run wild as you decorate!

These cake pops can go back into the freezer until ready to use, or they can be left on the counter for use later that day, or refrigerated for use within a day or two.

Notes
If bark or candy melt is too thick, a tablespoon of Crisco can be added to thin.