Christmas 2015 – this is an updated picture to this great recipe that I blogged many years ago!
This is the day which the LORD has made;  Let us rejoice and be glad in it.  (NASB)
Every good and perfect gift is from God. It comes down from the Father. He created the heavenly lights. He does not change like shadows that move. (NIRV)
I do believe every good and perfect gift comes from our Father in Heaven.  And once again he gave my family and I a beautiful day to celebrate the birth of our Savior, Jesus.  With family living from coast to coast today's technology allows us to talk on the phone, chat via computer, email, Facebook and even do some Facetime!  We are so blessed and thankful knowing full well there are those whose hearts are broken and hurting during this Christmas season.  It is a gentle reminder that the Lord will carry us when we can't walk for ourselves.  Psalm 121: 1 I lift up my eyes to the mountains— Where does my help come from?2 My help comes from the LORD,   the Maker of heaven and earth.
God Bless You all my friends, as we head into the last week of this year 2011.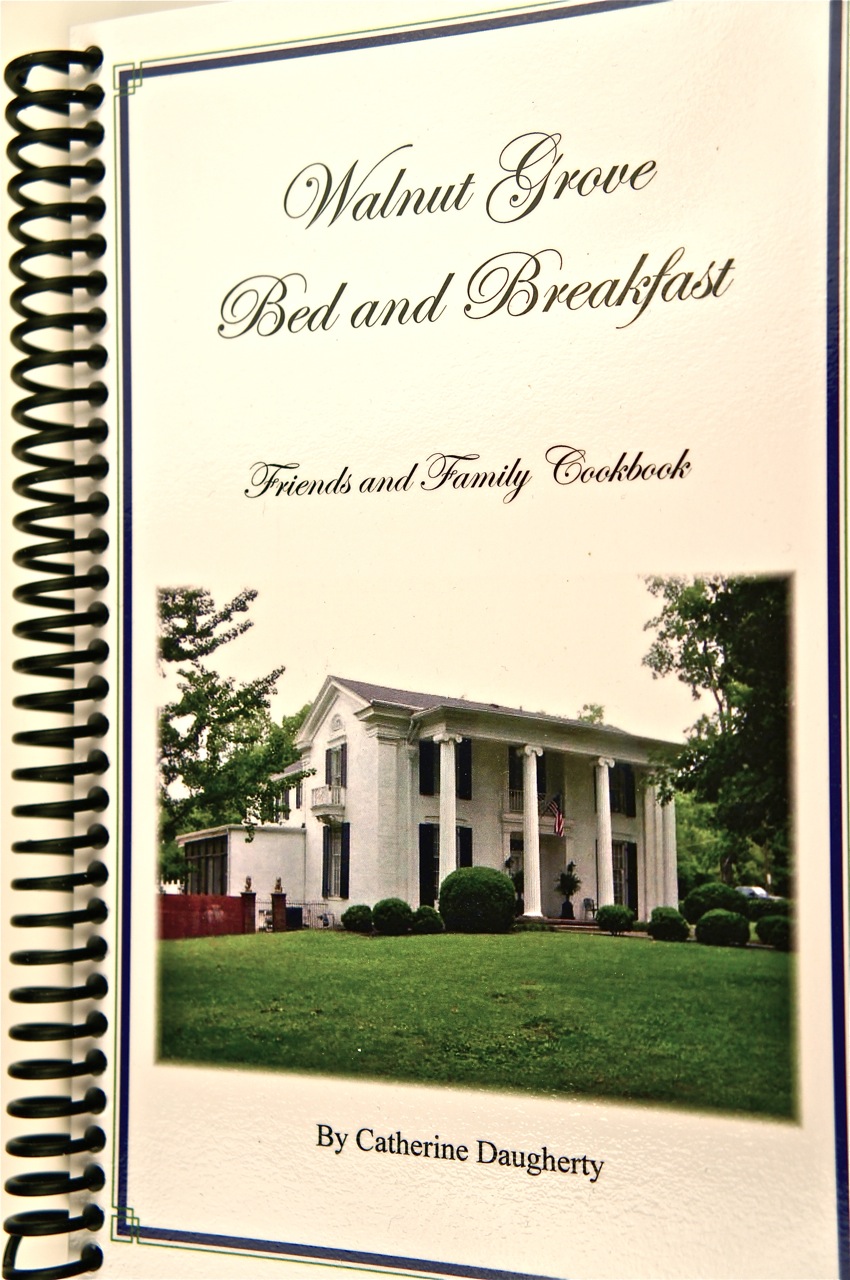 My last cookbook giveaway for this Christmas will be this cookbook I put together while an innkeeper at Walnut Grove Bed and Breakfast. I called it "Friends And Family" because all my recipes have come from, well, friends and family! I have a PDF copy of this cookbook that you can download for free, or it is available for purchase as well.
However, before you do either of those things — leave a comment on any post this week and Friday we will give away the cookbook via a random drawing on Random.org.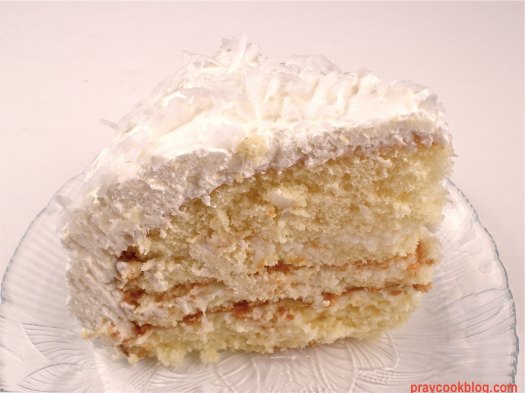 In the meantime I want to share a recipe from our Christmas traditions.  When my sister-in-law joined our family many years ago she made a Sour Cream Coconut Cake at Christmas.  She said that it was her family's tradition to always have this cake sometime during the holidays.  Once we tasted it we enthusiastically embraced the tradition of Sour Cream Coconut Cake for our Christmas dessert.  If you have had all the Pumpkin pie you can stand for this year and yet want a fabulous dessert to end the year and kick-off the new year, I highly recommend this "make ahead" cake.  It can be made up to 7 days before you want to eat it.  That means over the next couple days you still have time to get it made and in the refrigerator for New Year's.  Your friends and family will thank you!
First make the cake.  The recipe calls for a Duncan Hines Yellow Butter Cake mix.  I have tried a Classic white mix and it isn't as good.  I am sticking with the Yellow Butter mix!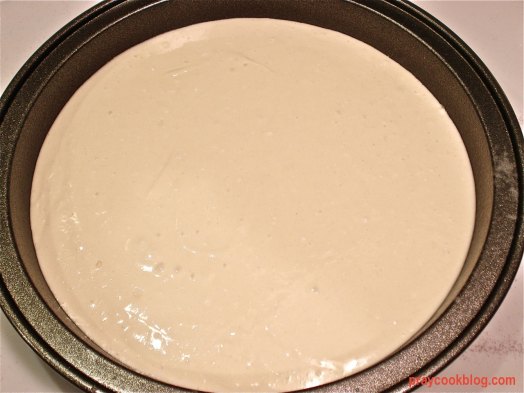 Split it into four layers: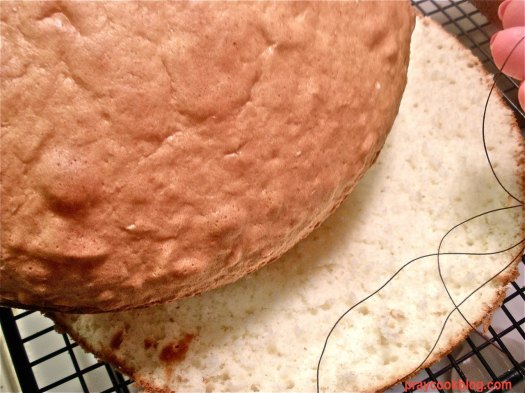 Mix sour cream and frozen coconut (thawed).  Frozen coconut is found in the freezer section by the Pepperidge Farm Puff Pasty, Phyllo Dough and such.  I believe one of the secrets to this cake is using the frozen coconut. I have tried it with flaked coconut only and it just isn't the same.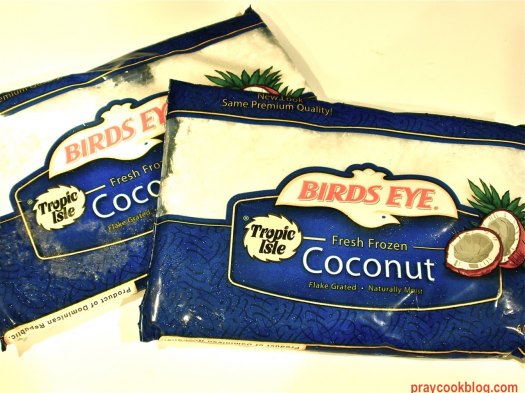 Add the sour cream coconut mixture between all the layers: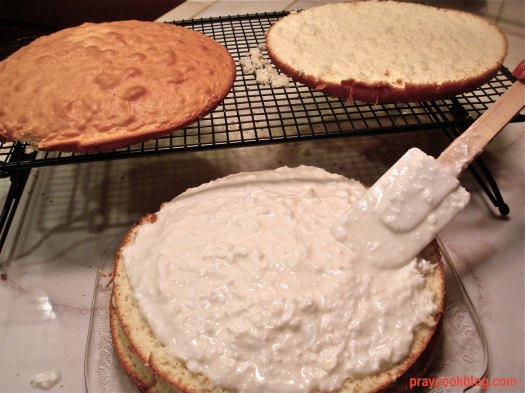 Top with frosting, a little flaked coconut, seal it up and REFRIGERATE.
When the time is right, remove from refrigerate and let set for 30 minutes or so.  Enjoy!
Thank you Liz for this great recipe!  Many Blessings and Happy Cooking!

Sour Cream Coconut Cake
The ideal "make ahead" dessert! Put together and refrigerator up to 7 days. The sour cream and coconut add just the right touch so that in the fullness of time this cake bursts with moisture and flavor.
Ingredients
1 Ducan Hines Yellow Butter Cake Mix
16 oz Sour cream
2 cup Granulated Sugar
2 Packages Frozen Coconut
8 oz Cool Whip
½ cup Flaked Coconut
Instructions
Mix cake mix according to directions on the package. Pour into 2 round layer cake pans (8" or 9" round). Bake according to package directions.

Cool cake on wire rack. Split each layer in half, making 4 thin layers of cake.
(In the meantime, thaw the frozen coconut).

In a medium size bowl, mix together sour cream, sugar and thawed coconut. Set aside one cup of this mixture. Place bottom cake layer on a cake plate. Frost with ¼ sour cream mixture. Add second layer of cake and cover with ¼ sour cream mixture.

Repeat with remaining two layers of cake. Frosting the top layer with the remaining sour cream mixture.

Fold Cool Whip into the 1 cup sour cream mixture that had previously been set aside. Frost entire cake with the Cool Whip mixture. Sprinkle top with flaked coconut (optional) Place cake in an airtight container such as Tupperware. Refrigerate up to 7 days. The longer this cake is in the refrigerator the better the flavor and moistness.
Notes
(1)  To split the layers I use a long piece of strong thread, center on middle of layer, then pull through from both sides, cleanly slicing the cake layer in half.  -- A serrated edge knife works well also.

(2)  This is a "make ahead" cake.  I believe the ideal time for moistness and flavor is 5 to 6 days in advance, although it will keep up to 7 or 8 days in the refrigerator.