When You Want To Be Honest
And if you walk in my ways and obey my statutes and commands as David your father did, I will give you a long life.  1 Kings 3:14
Blessed is the man who does not walk in the counsel of the wicked or stand in the way of sinners or sit in the seat of mockers.  But his delight is in the law of the Lord, and on his law he meditates day and night. Psalm 1:1-2
what is your favorite food you ate this thanksgiving?
Gearing up for the over-eating holiday tomorrow has me thinking that although I love turkey, dressing and the trimmings by about the 3rd day afterwards I am so ready for something tomato-ish and nowhere near mashed potatoes and gravy!  I suspect you may already have your holiday menu put together, but do you have a plan for 3 days later?  How about Chili 3 ways?  I love chili, not just because of the incredible taste — but because you can feed a big family, a bunch of friends, or the whole neighborhood with just one pot – and pretty cheaply too!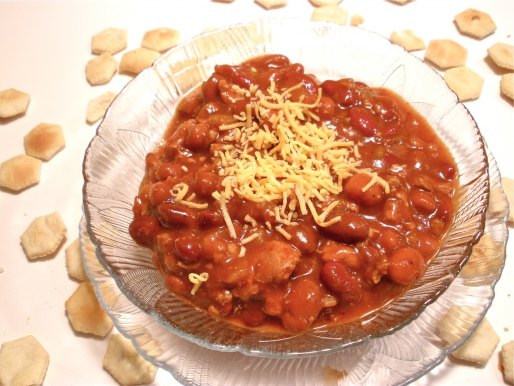 Lots of years ago we had chili soup at a friends and the soup had a deep, rich chili flavor but also an underlying barbeque taste.  When I asked for the recipe, my friend sorta blushed and said, "well, it is fast, easy, and out of a can!"  I couldn't believe it!  However, since that time I have tweaked the recipe to the point that it is fast, easy, and tasty!  Having said that, I will also tell you that I personally only want to eat it as soup – once.  Consequently, there is always chili soup left over and so over the next three blog posts I am going to share Chili – three ways!  Your pot of soup never went so far or tasted so good — three times.  Today – Chili Soup.  Tomorrow — well, come on back and see what's in store!
Kickin' Chili Soup
Loaded with rich chili beans, kidney beans and ground turkey, this Western-style chili soup comes with just the right amount of "kick"!
Ingredients
1 lb Ground Turkey
1 cup onion, diced
1 cup celery, chopped
1 can Bush's Chili Beans
1 can Bush's Grillin' Beans
1 can Red Kidney Beans
2 cup Tomato Juice
Salt and Pepper To Taste
2 teaspoon Chili Powder
1 teaspoon Southern Seasonings, Garlic
½ teaspoon Cayenne Pepper
Instructions
In a large pot saute ground turkey, onions and celery until well cooked, about 15 minutes.

Add in salt and spices.


Stir in beans and tomato juice. Simmer for as long as you have.

Ready in 30 minutes, but can simmer for several hours.

Garnish with cheese and crackers, if desired.

Notes
(1) Bush's Grillin' Beans - can use the steakhouse variety or choose your favorite flavor.
(2) Chili is best if made the day before, cook for 1 to 2 hours.  Cool.  Refrigerate.  Serve within 3 days.  Really helps to meld the flavors.
(3)  Freezes well for up to 6 weeks.
kitchen blessings and HAPPY COOKING and happy thanksgiving!